"I have a collection of M4P files that I want to transform to MP3. Is there any tool I can use to batch convert M4P to MP3 online?"
Are you one of those users who are wondering how you can batch convert M4P to MP3 online? If yes, recommended tools will be presented in this blog post as well as a brief description of processes that are needed to be done. But, before heading to that, let us first have some basic information about M4P files and why people continuously desire to have those transformed to other formats like MP3.
Contents Guide Part 1. Some Basic Information About M4P FilesPart 2. How Do I Convert M4P To MP3 Online?Part 3. Batch Convert M4P To MP3: Another WayPart 4. The Learnings Gained
Part 1. Some Basic Information About M4P Files
M4P is a file format that is a short term for MPEG-4. This is a format utilized by audio files and is being used by Apple Inc. You will usually see these files in the iTunes store and even in the Apple Music store. These files are protected by the so-called DRM protection that hinders the streaming on unauthorized devices. These can be played only on Apple devices (iOS devices) such as iPhones, iPads, and more.
Below are the major reasons why users ought to convert these M4P files to MP3 or other audio formats.
MP3 is the most common audio format that is playable on a lot of mobile devices (smartphones) and handy gadgets like tablets. Files in this format are as well supported by both Windows and Mac computers.
M4P files can only be played on Apple or iOS devices. This will be an issue for users who do not own iOS gadgets.
Since M4P files are protected, it will be a bit harder to have those shared or transferred from one device to another.
In case you want to play files in some media players supporting only CDs, then you may need to have the M4P files converted to MP3 first before heading to the burning process.
M4P files cannot be streamed on Windows Media Player, a popular media player that is being used by many users.
If you have been experiencing the same dilemmas, then surely, you are also in the look for methods to batch convert M4P to MP3 online. We will be discussing this in detail starting in the next part of this article.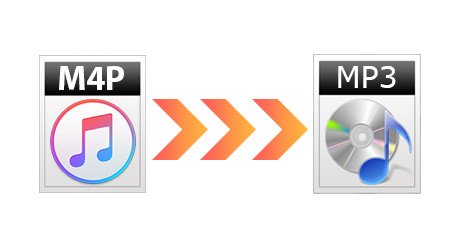 Part 2. How Do I Convert M4P To MP3 Online?
There are a lot of ways or tools that every user can utilize in order to batch convert M4P to MP3 online. Actually, by just looking on the web, you will see numerous suggestions. But, in case you are torn, and you feel it difficult to decide which one to use, maybe, one of these online tools can help you out. You just need to keep in mind that in order to successfully complete the conversion process, there is a need for a stable internet connection as well as a reliable web browser.
One great advantage of utilizing online tools is that there is no need for any software installation. So, if you are a person who is not really into the installation process, online options might work for you.
FreeConvert.com
One of the most used and best M4P to MP3 conversion tool is this FreeConvert.com. This online tool has the ability to batch convert M4P to MP3 online and even supports other file formats like OGG, WAV, and even FLAC. In utilizing this tool, you have two options in adding the files onto the platform – you can either import from your personal computer or make sure of an audio file's URL. Batch conversion is possible but there is a limitation when it comes to the total file size – only at 1 GB.
Here is a reference regarding the steps to proceed with the batch conversion from M4P to MP3.
Head to the official website of FreeConvert.
Do some output settings' adjustment.
Finish by conversion.
The steps are actually simple to follow. But for the sake of the beginners, detailed descriptions are as well presented in the succeeding texts.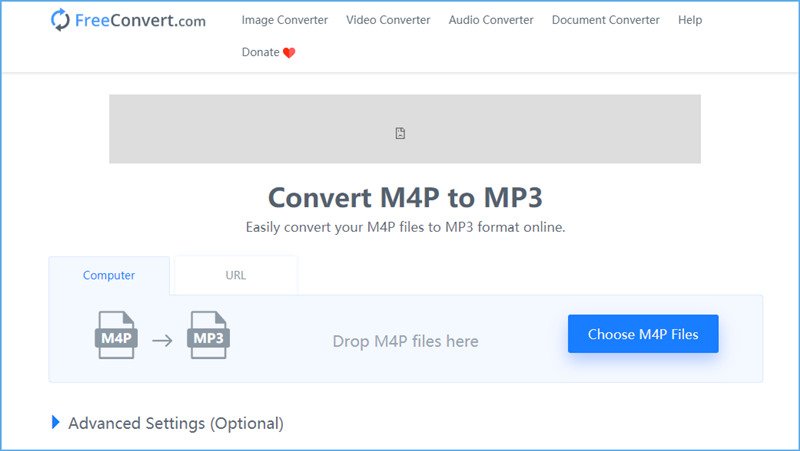 Step #1. Head To The Official Website Of FreeConvert
The first thing that is needed is to head to the official website of FreeConvert. You can access this on any web browser. Once you are already at the site, you can now do the importing of M4P files or pasting the URL. Since batch conversion is possible, you can add more than one file as long as file size won't exceed 1 GB. Do this by hitting the "Choose M4P Files" button that you will see on the screen.
Step #2. Do Some Output Settings' Adjustment
The next step to perform is to do some output settings' adjustments. By hitting the "Advanced Settings" button, you can adjust some parameters including the sample rate, bit rate, channel, and more. You can also cut the file or add some effects if you intended to do so.
Step #3. Finish By Conversion
Finally, you can have the transformation process completed by hitting the "Convert to MP3" option. After a few minutes, the files will be converted to MP3. In order to keep the files, you can simply hit the "Download" button.
Filezigzag
Apart from the first tool, you can also utilize this Filezigzag to batch convert M4P to MP3 online. This has a way to convert M4P files to MP3 quickly and fast online. This has an easy interface that can be used by heading to its site, performing the importing process (dragging or dropping of files or hitting the "Browse for Files" menu), and finally ticking the "Convert" button. Batch conversion is possible as you can convert ten files a day give a certain file size.
For your reference, you can refer to the below perks and drawbacks of using Filezigzag for conversion.
Advantages Of Using Filezigzag
Trusted and reliable when it comes to conversion.
You can be assured that files are protected.
Interface is easy and simple to navigate.
Disadvantages Of Using Filezigzag
There is a limitation for total file size to process.
You can only do the conversion process for ten files per day.
There is a need for strong and reliable internet or data connection during the conversion process to ensure a successful transformation.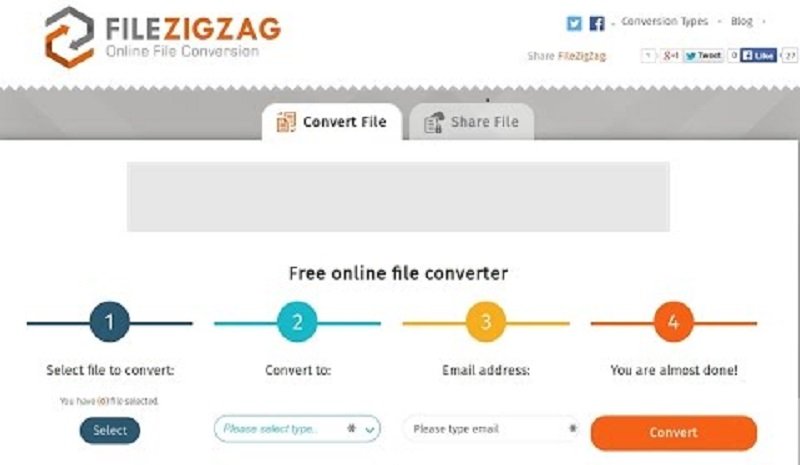 MP3Cutter
Another online tool that you can also consider is MP3Cutter. The same with the first two, this is a free conversion tool that can be used following almost the same processes mentioned above. We also have the advantages and disadvantages of this blog post for your future reference.
Perks Of Using The MP3Cutter
Conversion is easy and fast. This is as well a free online converter.
You can have the M4P files imported in an instant.
Batch conversion is supported.
Drawbacks Of Using The MP3Cutter
There is a limitation of the maximum file size than can be uploaded – up to 20 MB. You will know that uploading more won't be possible since a prompt message will be shown on the screen.
A stable internet connection is needed as well.
These three online tools are the most commonly used in order to batch convert M4P to MP3 online. You can try using any or all these. These are trusted and reliable but just in case you wanted to experience a hassle-free conversion without a need for data connection, you can also check out some professional software applications. And, the best that we suggest is this DumpMedia Apple Music Converter. If you want to find out more about this application, then continue reading.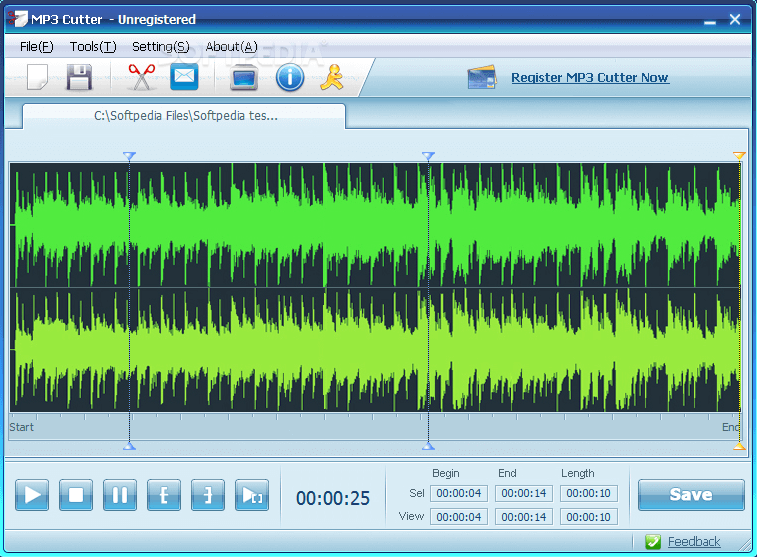 Part 3. Batch Convert M4P To MP3: Another Way
Apart from online tools with the ability to batch convert M4P files to MP3, you can also rely on professional software applications like this DumpMedia Apple Music Converter. With the use of this tool, you can do the conversion even if you do not have any data connected with you. Also, there is no limitation in the number of files or size to convert. You can convert as many as you want. It is possible to convert
Here are some perks that you can enjoy while using this.
Conversion is fast as well as the downloading of converted files to your personal computer.
You can process as many as you want in one go.
DRM protection is being removed during the conversion process.
Software installation is easy to do and there are only a few requirements needed to continue.
You can have the converted files shared with others without worrying if those can be played or not.
You can convert the M4P files not only to MP3 but to many other formats supported.
Audiobook conversion is being offered as well!
If you wanted to know more about the tool as well as the steps needed to be undertaken in order to head to successful conversion, you can always visit the official site for reference. Just take note that before using this, you need to make sure that both iTunes or Apple Music are not functioning in the background to ensure a smooth and successful conversion.
Part 4. The Learnings Gained
Batch conversion of M4P files to MP3 online can easily be performed through the help of many tools such as those presented in this article. There are just some restrictions and limitations since most are free of use. If you wanted to fully enjoy the whole process without worrying anything, then maybe, professional tools like DumpMedia Apple Music Converter can be of help to you.