Do you know what "Scrobbling" is? How about the information about Last.fm? Have you heard of these terms before? Well, if you are indeed a person who loves listening to songs and music other than spending time in reading books and watching movies or television series, you surely got an idea of the terms mentioned.
If you do not have much knowledge, do not worry that much since this article is mainly created to point out the detailed steps and guide to finally scrobble Spotify music with Last.fm. You can easily perform the scrobbling process because Last.fm and Spotify application is compatible with each other.
Let us now begin with the discussion.
Contents Guide Part 1: Information About Last.fm Scrobbler and How it Actually WorksPart 2: Guide To Scrobble Spotify Music With Last.fmPart 3: Advantages And Disadvantages Of Scrobbling Spotify Music With Last.fmPart 4: Additional Tip: Download and Convert Your Most Loved Spotify SongsPart 5: In Summary
Part 1: Information About Last.fm Scrobbler and How it Actually Works
Scrobbling is actually a term developed and introduced by Last.fm which was initially "Audioscrobbler". This was actually created to signify the process of getting a track of all the songs you have listened to using a third-party application like Spotify.
This was made to help users be on track on what music they are listening to and get to check their music listening habit. This will also be a way for the users to get to see the music recommendations based on their listening history.
The scrobbling process works in a way that when there are songs being played from sources connected to the system, the Last.fm finds a way to be able to add some information on its database making it possible for Last.fm to reflect statistics and data. Using this, the user has now got a way to be able to find and discover new types of music and songs they can listen to.
What is fascinating is that this scrobbling process is not only limited to Last.fm's service but also found its way to get connected with other music streaming services including Spotify, YouTube, Deezer, Pandora, Tidal, SoundCloud, and many more. Even those media players you got on your personal computer can be used on the scrobbling process. Well, reason is because all these support Scrobbling.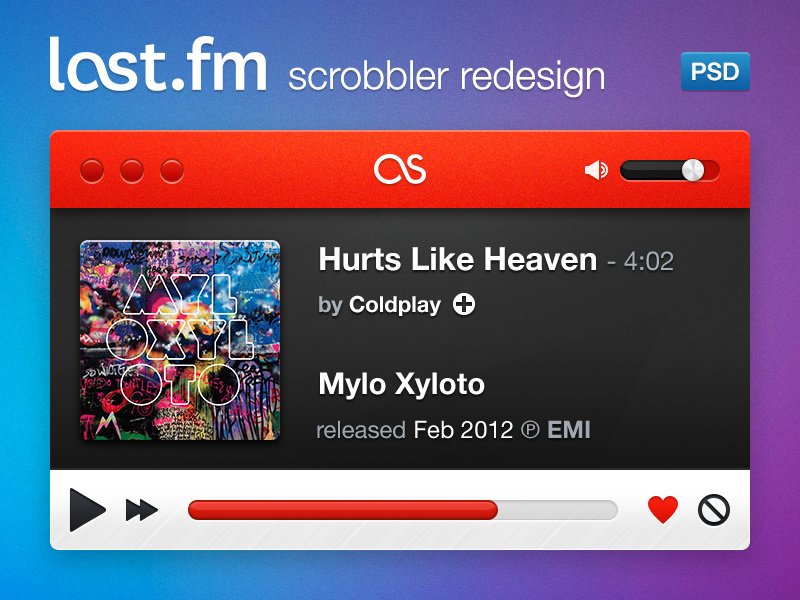 If you have found that the players you are currently using has no built-in scribbler support, you do not need to worry that much since you can have it easily installed on your personal computer.
Now that we got an idea about the Scrobbling process and Last.fm, we can now head to the steps you need to accomplish to finally scrobble Spotify with Last.fm.
Part 2: Guide To Scrobble Spotify Music With Last.fm
Since you are now aware on the benefits and advantages of the scrobbling process, we are now going to introduce the steps that you would need to accomplish in order to proceed with the scrobbling process with Last.fm.
How To Scrobble Spotify With Last.fm
Here are the simple steps to get going.
Head to Last.fm and log in.
Perform Last.fm and Spotify connection.
Let us see these steps in detail.
Step 1: Head To Last.fm And Log In
The initial step that must be done is to head to Last.fm and perform the signing in process. There would be a need for you to have an account in Last.fm. Once you have arrived at the website, just input and provide the necessary details to proceed (including the username and the password).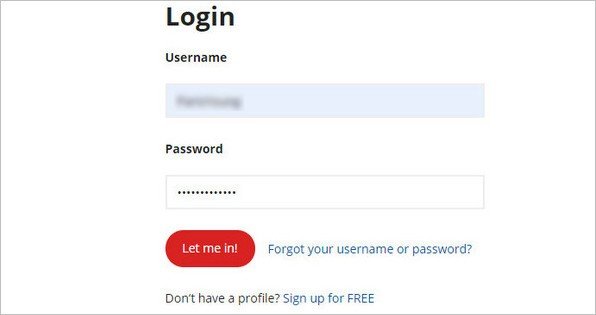 Step 2: Perform Last.fm And Spotify Connection
Now, upon logging in, you will be arriving at the main interface. In the upper right portion of the screen, you will be seeing your profile picture. Tick the picture and from those options that would be reflected, hit the "Settings" button followed by clicking the "Applications" button.
Upon hitting the "Applications" button, you will be seeing suggested applications on the screen. Just make sure to click the "Connect" button alongside the "Spotify Scrobbling" option. If this will be your first time to do this discussed process, there would be a need to enter your Spotify username and password to continue.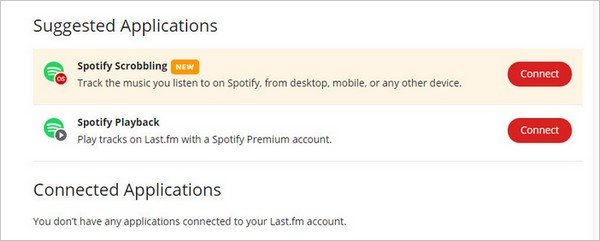 Other Way To Perform The Connection
If you are having a hard time in doing the steps initially mentioned, you can resort to this one. To perform connection between Last.fm and Spotify,
You can just head to the Last.fm's website and look for the "About " option.
Next thing to be done is to click the "Track My Music " button which you can easily see in the top portion of the screen.
Look for the Spotify entry and then finally hit the "Connect " button.
Now that we already know how to scrobble Spotify music with Last.fm, we will be giving you additional information on the next part of this post by giving you both the advantages or benefits and disadvantages or drawbacks of using the Scrobbling system.
Part 3: Advantages And Disadvantages Of Scrobbling Spotify Music With Last.fm
Apart from what was initially mentioned as the main goal and benefit of performing the scrobbling of Spotify music with Last.fm, if you have decided to use it, you can enjoy the following additional features.
Advantages of Scrobbling Spotify Music With Last.fm
The application will let you have the capability of downloading the Spotify songs for offline playing. Though offline, Last.fm can still perform the scrobbling process (the moment you connected to the internet) on the last fifty (50) tracks you listened to while offline.
You can do "Private Sessions ". This means suspending Last.fm's scrobbling process which enables one to prevent the Last.fm data to be clogged.
Since Spotify lets the user add songs from the local folders on your device, Last.fm has the capability of scrobbling any local songs saved and played using the Spotify application.
Upon knowing the benefits, we are now to highlight the slight and few drawbacks.
Disadvantages of Scrobbling Spotify Music With Last.fm
Many people usually worry about their data privacy. Since Last.fm is handled by an entertainment company, many would agree that it is quite bothersome to share all your information as you go along with the scrobbling process. Well, what do you think?
The discovery of great music is great. But since scrobbling can highlight those songs you listened to years ago, will it be fine for you to see those songs every time you are opening the application?
So above are the benefits and drawbacks of scrobbling Spotify music with Last.fm. On the next portion, we are just to give you an idea about an amazing Spotify Music Converter which you can surely use in the future. If you are interested, please keep on ready.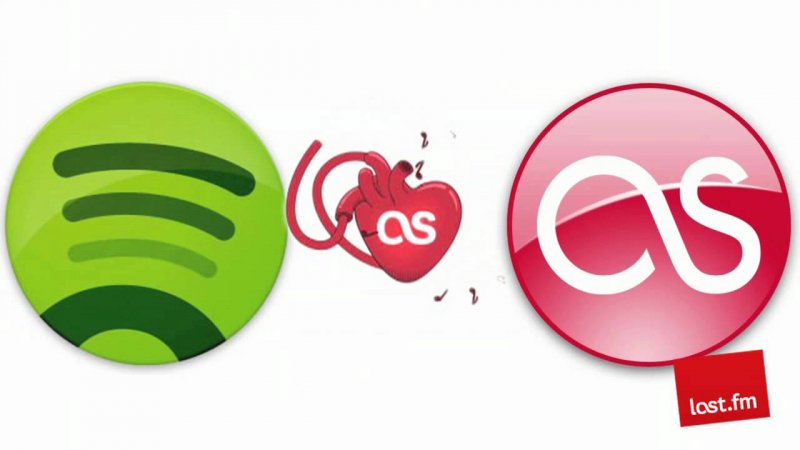 Part 4: Additional Tip: Download and Convert Your Most Loved Spotify Songs
If there would come a time that you would be looking for a way on how you can easily download and convert your most loved Spotify songs to any other format you desire, surely, this portion will help you out. We got the best tool to do that – the DumpMedia Spotify Music Converter.
This professional software application has the ability to convert your favorite Spotify songs to any format not only MP3 (as well as other popular and unknown formats) which makes it flexible enough to respond to any of your needs.
Apart from this great thing, you can as well enjoy its feature of removing the songs' DRM (Digital Rights Management) protection (since we all know that Spotify songs are DRM protected) alongside with conversion. In using this, you can have any songs played offline anywhere and anytime.
Here are the simple steps to use this program to download and convert your most loved Spotify songs.
Download And Install DumpMedia Spotify Music Converter
Of course, the first thing you need to do is to have this DumpMedia Spotify Music Converter downloaded and installed on your personal computer. Once done, just open and launch the program to start as well as your Spotify application.
You can begin adding the files by performing dragging and dropping or even adding just the file's URL (link). This program supports batch conversion which makes it possible to convert not only a file but a number. Converting a lot at a time is not an issue.
Choose Any Format You Desire As The Resulting One
Upon importing and uploading the songs to be converted, the next step would be the selection of the output format. Make sure that you will choose any format you desire among those that you will be seeing in the screen.
In this case, we ought to convert the songs to any format desired by the user such as FLAC, MP3, or any other formats. You can do this by heading to the "Convert All Tasks To " button located in the top right corner of the screen.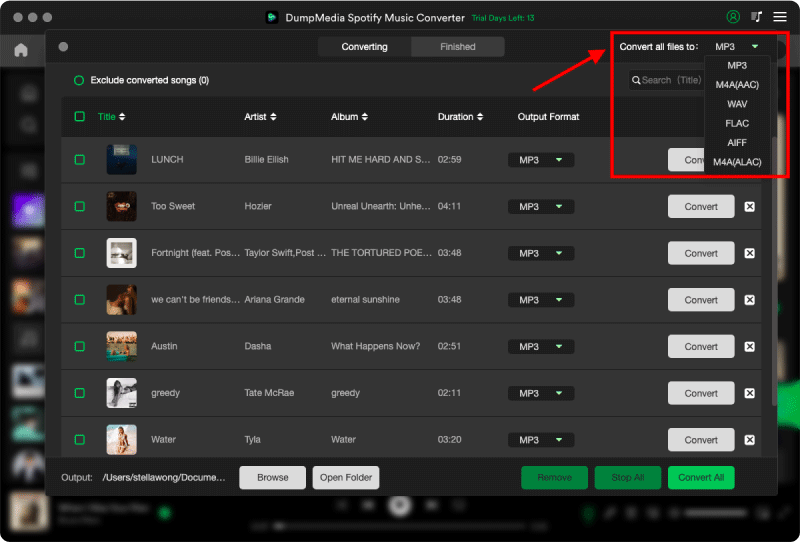 Proceed With Conversion By Ticking The Convert Button
The last step would be hitting the "Convert" button to begin the conversion process. This will only take some time since the program is designed to function five times faster than any other converters.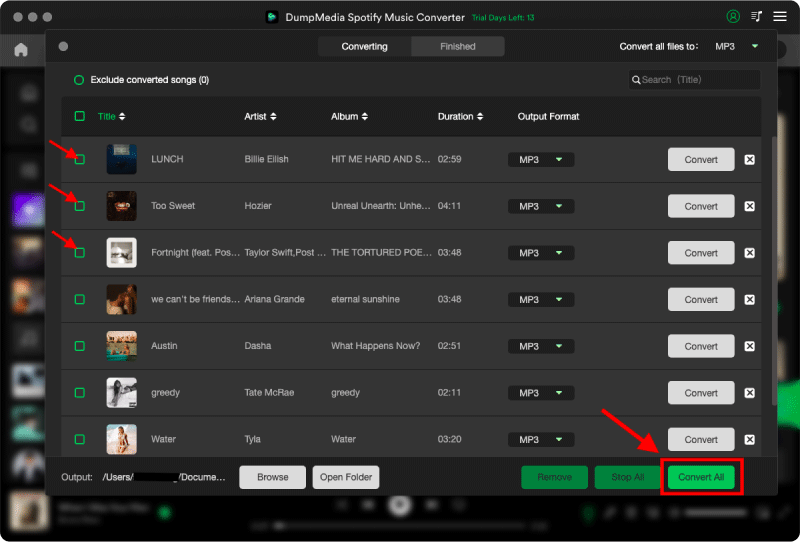 While conversion is being done, status bars will be shown in the screen wherein you can monitor the progress of the process for each song.
By performing just these three easy steps, you can have your Spotify songs converted to any format you desire and finally save those to any devices you have for offline playing!
Isn't the information very appealing?
Part 5: In Summary
This post had discussed the simple guide on how one can perform the scrobbling process of Spotify music with Last.fm. In addition to that, the advantages and disadvantages of doing so is as well highlighted in this article. Surely, those would be of great help to users. Apart from this, we also got some information shown about an amazing tool, the DumpMedia Spotify Music Converter.
What else would you need? Have you got all the information you are looking for?