MP3 was the most sought-after music format during the '90s. It was very popular as everyone was using this format to rip CDs and convert WAV files. As we dive into 2022, streaming and DRM-protected audio is becoming a norm. We'll now teach you how to convert Audible to MP3 to help you adapt and bring MP3 back.
There are several methods to convert Audible to MP3, all of which rely on conversion software. It can be done through an app or even online. We'll help you decide which one is best for you.
I remember me and my high school friends always talked about which software is best at MP3 conversion back then. We would try them out and compare them with each other. We'll do something similar except we'll concentrate on Audible files.
Contents Guide Part 1. How to Convert Audible to MP3 on Mac/PC? Part 2. How to Convert Audible to MP3 Online? Part 3. How to Convert Audible to MP3 for Free? Part 4. Summary
Part 1. How to Convert Audible to MP3 on Mac/PC?
Our editor's choice to convert Audible to MP3 is the DumpMedia Audible Converter. With DumpMedia Audible Converter, you'll be able to convert Audible to MP3 in the fastest way possible unlike any other audio converting software out there. Try it out with the links below. This app is available both for PC and Mac.
When you use DumpMedia Audible Converter, you'll be amazed at how simple it is to use. Just drag and drop your AAX files on the DumpMedia's browser window and you're ready to go! You have the option of using the browse button if you want the classic way of doing it.
You have the option of selecting your output format besides MP3. Just click the list menu above and choose Output Setting. DumpMedia Audible Converter can convert your Audible files into MP3, M4A, WAV, and FLAC formats.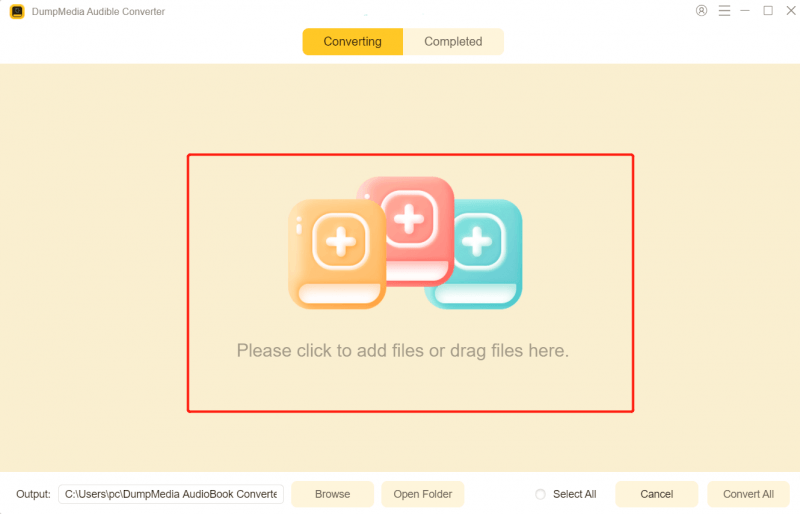 Once you have your audio book/s listed on the Converting tab, click the tag icon beside it. You have the option of modifying its ID3 tags. Choose a title that best describes it for you! You can even change the photo shown for your audiobook to a photo that you like! The output format can also be changed with a simple drop-down menu on the far right of your audiobook.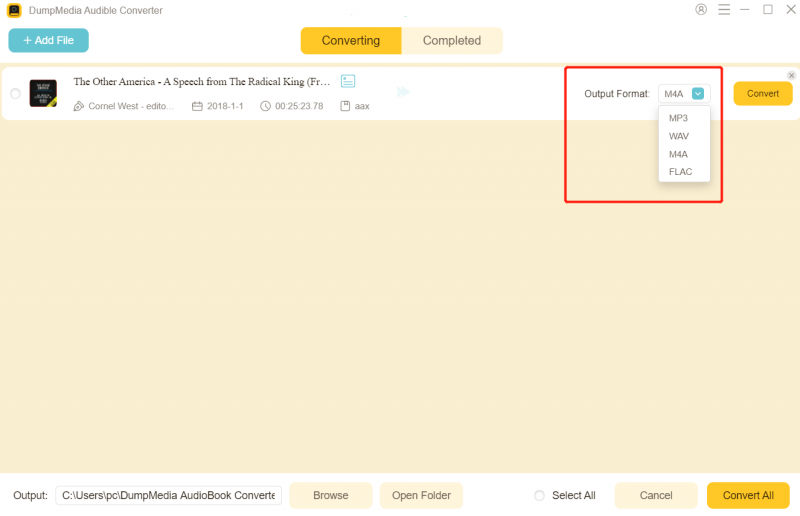 All that is left is to convert your audio book/s! Click Convert to start converting. You'll be amazed how fast it can convert those long-running audio files with DumpMedia's optimization technology!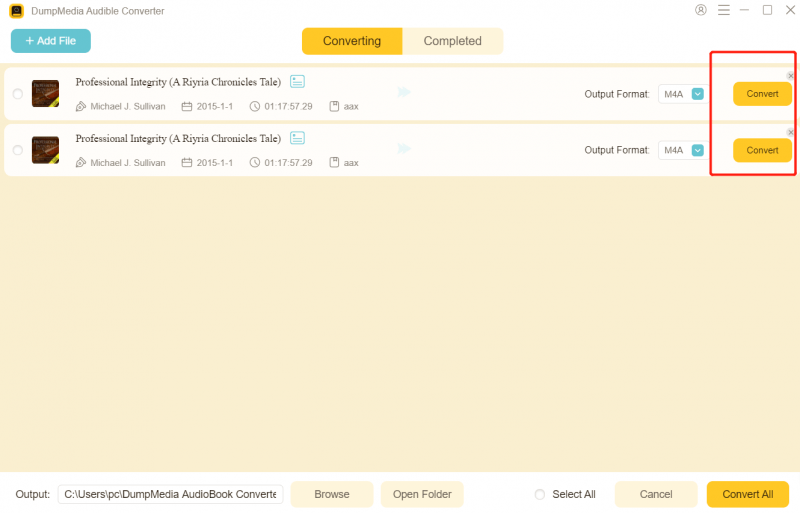 Your completed conversions are listed in the Completed tab. Check them out there. You can automatically browse these files by clicking Open File beside them.
There's nothing like DumpMedia's Audible Converter. Converting audible to MP3 has never been this fast, easy and reliable. You'll also be able to remove the restrictive nature of DRM on your audible files. This means you'll be now able to make backups of your audiobooks unlike before. You'll also be able to edit them and use them for themes. Play them anywhere now even with a simple MP3 player! You won't be restricted to using Audible or iTunes Software.
If you really like DumpMedia Audible Converter, purchase a time-limited or perpetual license key. This will unlock all features of this useful converter tool. This will also give you the privilege of timely software updates needed by this software. There's no need to worry as this software is always maintained. And here has a similar course also about audible to mp3.
Part 2. How to Convert Audible to MP3 Online?
We've researched how to convert Audible to MP3 by online means (not using installation software). The best tool we can find is the Online Audio Converter by 123APPS.
This seems to be a good all-in-one online audio conversion tool, but there's a catch. There's a limit of 10MB for each audio file. This means you won't be able to convert those long Audible files stored on your devices.
Another catch is the long waiting time you'll undergo when doing conversions. They don't seem to have the best optimization technology when it comes to conversion speed.
Here are the steps to convert Audible to MP3 through online means:
Choose your audiobook by using the browse button, your Google Drive link, DropBox link, or another URL.
Change settings below. You can find different output formats and audio quality settings. Go to Advanced settings to change more settings. You can also change ID3 tag info.
When you're satisfied then click Convert below. Wait for a while to finish. The bad thing about this is once you're internet has been cut then you're audio conversion process has to be restarted again.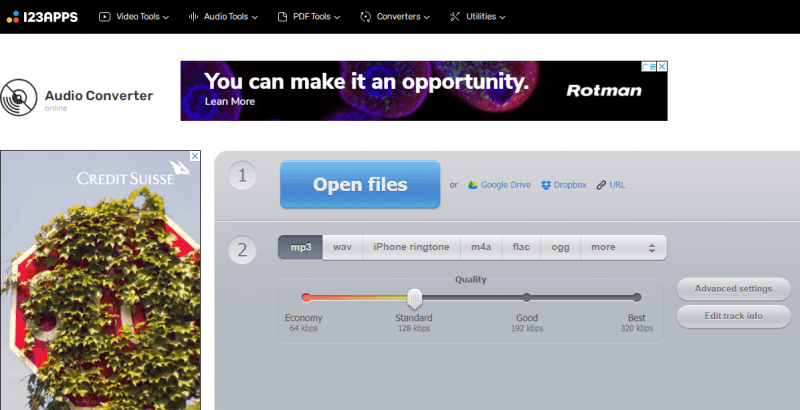 Hope you've learned how to convert Audible to mp3 online well!
Part 3. How to Convert Audible to MP3 for Free?
If you can convert Audible to MP3 online then there's also an Audible to MP3 free software. This software is called Audible to MP3. It was written by aaxman and you can try to search for him. Install the software on your PC. It's completely free and open source. There is a requirement of another software installer called the Audible Manager that can manage your Audible audiobooks for you. Apparently, it works together with this.
To use the software follow the steps below:
Download and install the Audible Manager program. Keep it open and make sure you're logged in and authorized.
Install the Audible to MP3 free software from aaxman. It's found in SourceForge.net.
It's in German! Click the only button. It means browsing for your audible book.
Next hit the Convert button. It's that easy to convert Audible to MP3 !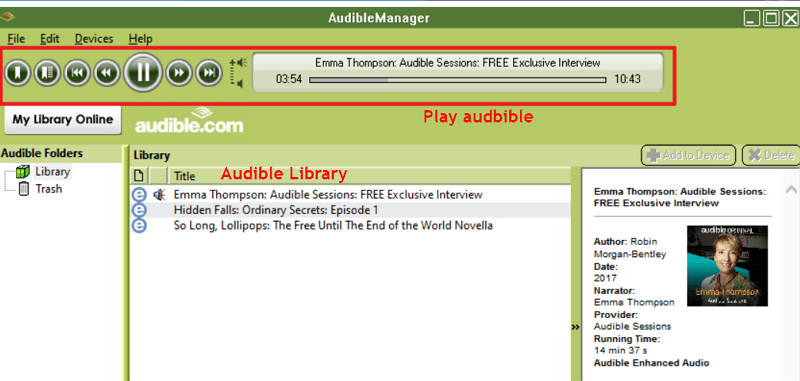 There's a caveat to this program. One is that it's in German but never mind that. Two, the author seems to have stopped updating the software. This is a bit of a problem. Software not being updated will never get incoming bugs fixed. So take a look at this. It seems there are already users getting some errors.
Part 4. Summary
In summary, we've discussed the ways how you can convert audible to MP3. There were 3 methods. First is the editor's choice, with the use of DumpMedia Audible Converter. This is the most optimized and reliable way. It converts audibles into different audio formats, removes DRM, and converts them quickly. You'll never regret obtaining this software.
The second is through a free online service using the Online Audio Converter by 123APPS. This converter is versatile in that you can adjust conversion rates and output formats. You can also add files using Google Drive, DropBox, or a URL link. The biggest drawbacks are files size (which is limited to 10MB) and internet disturbances that can reset your audible conversions to the start.
The third is through free software called Audible to MP3 by aaxman. This is crafted ingeniously, unfortunately, it's in German and it's now never updated. You'll have to be wary of the bugs you may encounter with this un-updated tool. All-in-all converting audible to MP3 is an exciting journey. You'll discover different tools. It' 's up to you to decide which best suits you. We suggest the most reliable and optimized way of doing it. This can remove headaches in the future.