DRM, the abbreviation of Digital Rights Management, enables intellectual property owners to set and impose copyright protection. Usually, you will find digital content like audiobooks, movies, or music under DRM protection. As a result, what you can do to the content is restricted.
Although DRM protects the right of authors, it brings much inconvenience to customers who buy their products. If you are an audiobook lover and want to purchase titles on Amazon Audible, you may wonder whether Audible books are under DRM protection. If yes, then how to remove DRM from AAX format? This article will answer your questions.
Contents Guide Part 1. Are Audible Books under DRM Protection?Part 2. Why Do You Need to Remove DRM from AAX?Part 3. How to Remove DRM from AAX Format?Part 4. Summary
Part 1. Are Audible Books under DRM Protection?
The answer is yes. Audible books are DRM protected. When downloading audiobooks from Audible, you'll find they have a file extension ending in .aa or .aax. AA and AAX file extensions are developed by Audible, the latter of which is considered an enhanced format of the previous one.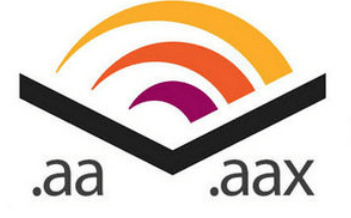 Apart from its audio, AAX files include images, links, videos, bookmarks, and timelines that can enhance the listening experience of Audible users. However, AA and AAX files are also encrypted and protected by DRM, making users can only play them on supported devices and media players. Following are more details about why you need to remove DRM from AAX files.
Part 2. Why Do You Need to Remove DRM from AAX?
In order to help protect the authors, voice actors, and other creators from piracy and abuse, Audible use a variety of technologies such as DRM that can restrict unauthorized modification and distribution of the content of titles on Audible.
On the one hand, it's definitely nice for Audible to safeguard the copyright of creators. But on the other hand, it may cause users some trouble. For instance, users can only listen to Audible books purchased and downloaded on authorized and supported devices and media players. And it's obvious that not all devices and media players are compatible with Audible AA and AAX files.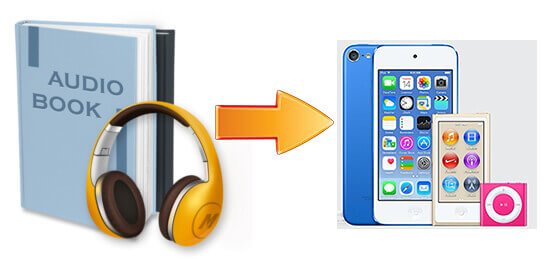 If you are an Android user, you have to download an Audible app and listen to Audible books with it basically. If you have an iPod Nano, it will be even more difficult for you to play Audible books on it because you cannot download and install an Audible app on your iPod Nano.
As a result, it may prevent you from listening to Audible books on your MP3 player when you do not have access to your phone. What's worse, if you want to uninstall the Audible app, you'll lose access to all your purchased and downloaded audiobooks. To some extent, it locks you into certain proprietary software and devices.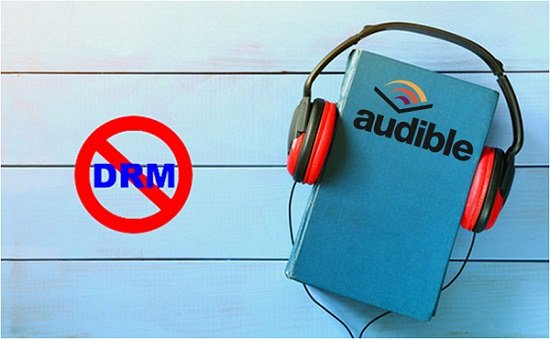 Therefore, it's necessary for you to remove DRM from AAX files if you want to fully enjoy the Audible books you purchase. Fortunately, there is a powerful tool that can help. Keep reading to know more detailed information.
Part 3. How to Remove DRM from AAX Format?
To remove DRM from AAX files and make them compatible with different devices and media players, you'll need an Audible DRM removal tool as well as an Audible converter. What I recommend is DumpMedia Audible Converter, which saves you time and effort by doing these two things simultaneously.
What's more, it will keep the original audio quality and the ID3 tags after converting. You can also listen to the converted files on various devices and media players by selecting different output formats. You can even decide how to split an audiobook into several pieces.
In order to be user-friendly, the interface is simple and the software is really easy-to-use. Here is a step-by-step guide on how to remove DRM from AAX files. If you have any problems, feel free to contact the support team for help.
Step 1. Purchase the Audible Books You Want
Go to audible.com and sign in with your Amazon/Audible account. Find an audiobook you want to buy and click the Add to cart button. In your shopping cart, you can choose to use a credit or credit card to pay for the book. Click Proceed to Checkout and Complete Purchase.

Step 2. Download the Audible Books You Purchase
Click Library in the upper left corner and choose Titles. Find the audiobook you want to download and click the Download button next to the title. Once finishing, you'll get an AAX file. Don't forget in which folder it locates.
Step 3. Install DumpMedia Audible Converter
Click the Free Download button to download DumpMedia Audible Converter to your Windows or Mac computer. After installation, launch the software and you'll see a simple user interface. Open the audiobooks' file location as preparation for the next step.
Step 4. Add Audible Books into the Converter
Select the audiobooks you want to convert in the folder, then drag and drop them into the converter. Click Browse in the bottom left corner to change the output folder. You can also select the output format and edit the ID3 tags. Click the triple-bar icon in the upper right corner to see more settings.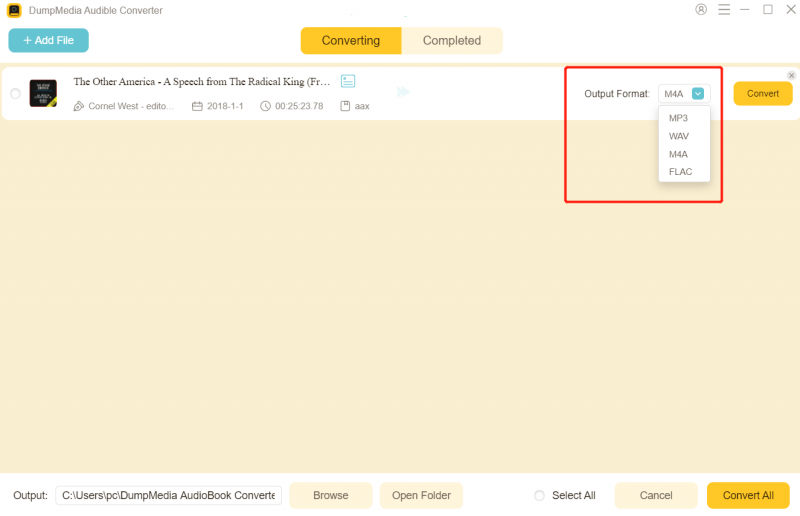 Step 5. Convert and Transfer the Audible Books
When you complete the previous step, click the Convert button to start conversion. You can now transfer the converted files into any device and media player with a USB cable. Enjoy your time and fully immerse yourself in audiobooks without limitations.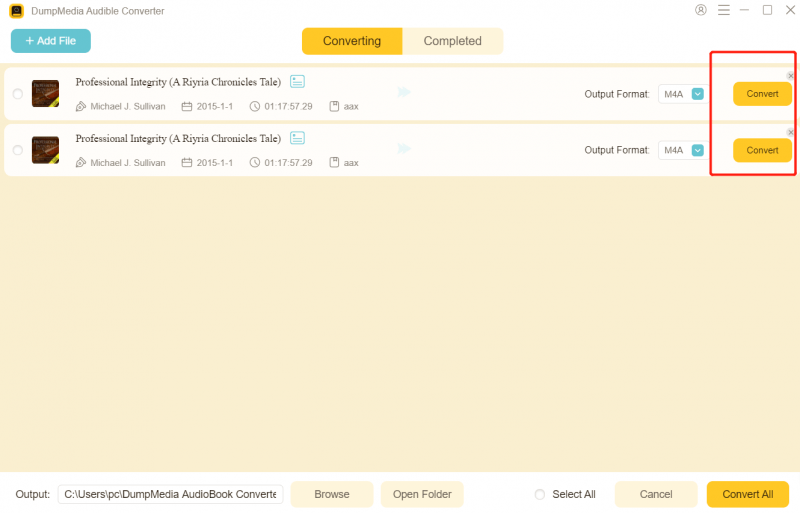 Part 4. Summary
Like many other digital content sellers, Audible also protects its audiobooks with DRM. It helps reduce the piracy and abuse of titles produced by authors and other creators. But in the meantime, it brings inconvenience to users who buy them. If you are troubled by this issue, DumpMedia Audible Converter can help you remove DRM from AAX files downloaded from Audible and convert them to more common formats. You are able to listen to them on any device and media player after conversion.