If you thought that Audible is only available as an app, you're totally wrong. To download Audible to MP3 players might seem weird, but some users are more comfortable with their own media player. They would love to convert and download Audible books to MP3 and listen to them with their favorite device.
When Audible signed up with iTunes, every Apple fan was delighted with the news. User can add their Audible audiobooks to iTunes easily. However, nothing beats the miniature size of MP3 players.
In this article, we'll discuss different kinds of players that can play Audible. We'll feature different kinds and surprise you with how easy to download audible books to MP3 devices.
Contents Guide Part 1. How to Download Audible Books to Any MP3 Player? Part 2. Other Ways to Transfer Audible Books to MP3 PlayerPart 3. Summary
Part 1. How to Download Audible Books to Any MP3 Player?
There's almost no easier way to download Audible books to MP3 than by using a professional converter that can simply convert AA/AAX files to MP3.
DumpMedia Audible Converter is a universal tool for this purpose. It can work with any kind of MP3 player, whether it is Audible compatible or not. It can do this because it removes the restrictive nature of DRM. And it will not lose audio quality or metadata throughout the converting process. This software also offers a variety of audio formats and quality adjustments, allowing you to make your own decisions.
Use these steps to download Audible books to MP3 using DumpMedia Audible Converter:
Step #1:You need to drag and drop your AAX/AA files on the DumpMedia window. However, you can still use the browse button if you want the classic way of doing it. Work according to your style.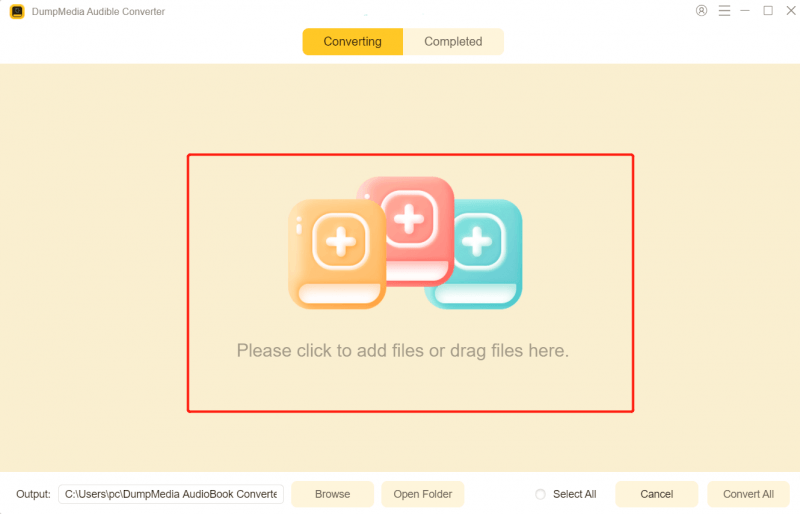 Step #2: The output format can be chosen. It can be other than MP3. Choose the list menu above and select Output Setting. DumpMedia Audible Converter has various output formats. You may choose MP3, M4A, WAV, and FLAC.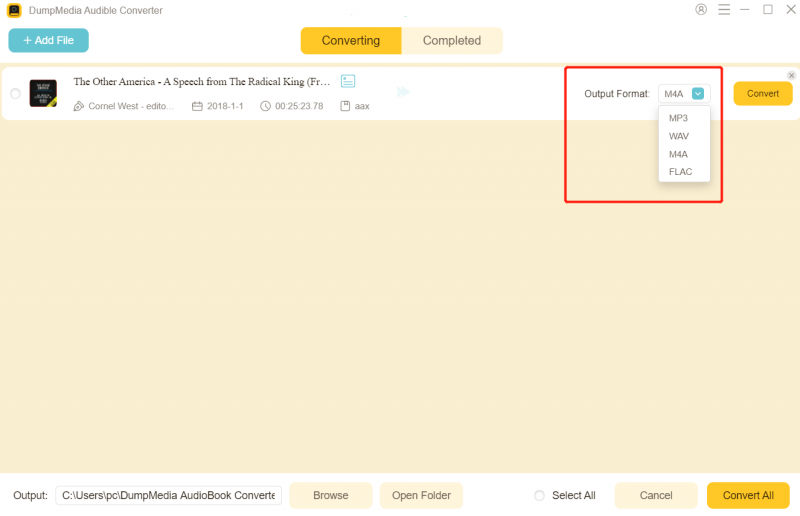 Step #3: Your chosen audio book/s will be listed on the Converting tab. Next, click the tag icon beside it. You can change ID3 tags according to your preference. To change output formats, click a simple drop-down menu on the far right of your audiobook.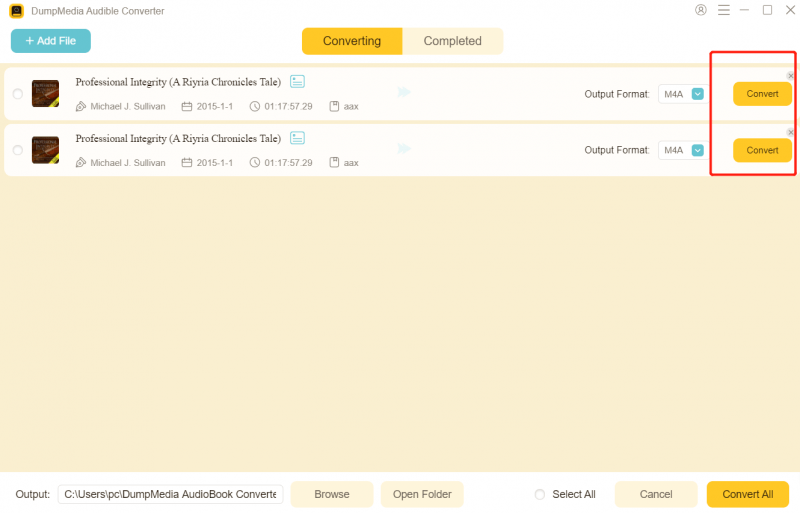 Step #4: To begin converting your audiobooks, click Convert to start the process. Through DumpMedia's optimized recording algorithm, you can convert long-running audio files in a fraction.
Step #5: If your conversions finish, they will be listed in the Completed tab. You can browse these files by clicking the Open File icon beside them. It will automatically open an Explorer or a Finder window.
There's no tool like DumpMedia's Audible Converter. The process to download Audible books to MP3 players has never been this easy. Take into account speed and reliability and you have the perfect tool for the job.
Part 2. Other Ways to Transfer Audible Books to MP3 Player
You can download Audible books to MP3 player-compatible devices by using this guide. Examples of popular Audible-compatible MP3 players are:
- Creative (Zen) MP3 Players
- Sandisk Sansa, Clip Jam, Clip Sport, and Clip Voice
Since Audible has authorized these devices, we can use with them the Audible app, Audible Download Manager, or Audible Sync app.
As an example, we'll use the Sandisk Sansa MP3 Player and use Audible Sync on Windows 10.
Step #1: Download the Audible Sync app for Windows 10. This tool will help download your audiobooks to Audible compatible MP3 players.
Step #2: Open the app and sign in to your Audible account. Moments later you'll see your Audible library appear.
Step #3: You'll have to download the audiobook to your PC first. Click the Download icon next to the title. The time for it to finish depends on the length of your audiobook.
Step #4: Now connect the Audible compatible MP3 player (such as the Sandisk Sansa MP3) to your PC. It should show on the left side pane as a device. Click on it.
Step #5: Now click Activate Device to enable it. Enter your credentials if required.
Step #6: If you want to transfer certain audiobooks, drag and drop them to your device. You can also simply click Copy to Device.
Step #7: There you have it! Download Audible books to MP3 was just finished!
In Windows 10, the Audible app can already download audible audiobooks to MP3 players. You can use the app in tandem with Audible Sync.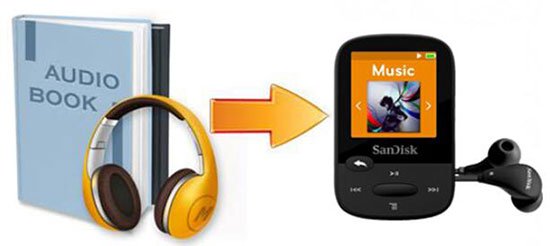 For Windows 7 and 8.1 users, you'll be using the Audible Manager app. Similarly, like Audible Sync, you'll have to add your MP3 player and activate it. Go to Device-> Add New Device and add your MP3 player. Right-click on your player then click Activate… to activate it. When adding a song to your device, click Add to Device on the current audiobook.
Mac OS users are out of luck when it comes to activating your Audible compatible MP3 players. You'll have to use a PC first to enable activation. After that, you should be able to transfer audiobooks already to your device.
Part 3. Summary
In summary, we've discussed how you can download Audible books to MP3 players, both using an Audible compatible player and any MP3 player. With the latter, we used a versatile tool which is the DumpMedia Audible Converter. With this converter, we make downloading audible books to MP3 players a universal process. Additionally, you'll be able to remove DRM and make backup copies of your Audible audiobooks.
We highly recommend DumpMedia Audible Converter than using free Audible converters apps and online tools which may contain ad-wares. When using an Audible-compatible MP3 player, you'll have to use Audible tools such as Audible Sync, Audible Manager, or the Audible app. In Windows 10, the Audible app is specially mentioned because it can do both library management and device management.
For all else, use Audible Sync if it's readily available. For a Mac, unfortunately, you'll have to find a PC to activate your Audible-compatible MP3 player. We hope you've found this article helpful in your journey to download Audible books to MP3. Comment below if you have any questions. Share it with your friends to help them out too!