If you are a bookworm or have been in a college or university, it's hard to miss Barnes & Noble, once known for being the largest bookstore chain in the world. It's no surprise they entered the e-reader market with a charmingly named tablet called 'Nook.' Low-priced but beautifully built, Nook boasts of compatibility with every reading app available in the Google Play store.
You will appreciate the Nook's simplicity, unlike Amazon's gimmick-filled Kindle. However, you can't deny Amazon's impressive audiobook collection from Audible. Are we allowed to play Audible audiobooks on Nook tablets? An audiobook aficionado will most likely have purchased content from Audible.
B&N jumped into the e-reader market more than a decade ago, competing with Kindle, among others. However, subsequent Nook models have been losing market share in recent years. Now, the book retailer seems to be making a comeback with the Nook HD 10, designed and built with no other than Lenovo.
Contents Guide Part 1. Can A Nook Read Audible Audiobooks?Part 2. How to Play Audible Audiobooks on Nook Tablet?Part 3. Conclusion
Part 1. Can A Nook Read Audible Audiobooks?
Nook has proved to be more than an e-reader as it can support various media formats. It can play music, videos, and, yes, audiobooks with both a headphone jack and loud dual speakers. Audiobooks enthusiasts will appreciate this feature, including Nook 10" HD tablet's 32GB memory plus a MicroSD slot (up to 256 GB). However, the audio formats supported are only MP3, MP4, AAC, AMR, WAV, and Ogg.
For audiobook content, Audible's popularity and size are unsurpassable. Amazon has amassed thousands of spoken word content and produces 10,000 titles a year through their Audiobook Creation Exchange. Their content is encoded with propriety AA/AAX format, including digital right management to prevent unauthorized playback. These are exclusively purchased and intended to be played on their Audible app and Amazon's Fire and Kindle devices.
As you can see, Nook cannot support Audible's AA or AAX format. If you own Audible titles, you can't download and play them directly on your Nook tablet. To play audiobooks in Nook, you need to remove the encrypted DRM protection somehow and convert Audible's format to supported formats mentioned above.
Does this mean you cannot play Audible audiobooks on Nook tablets? Not entirely. This article will demonstrate how to convert Audible files to play and listen on your Nook tablet without any trouble.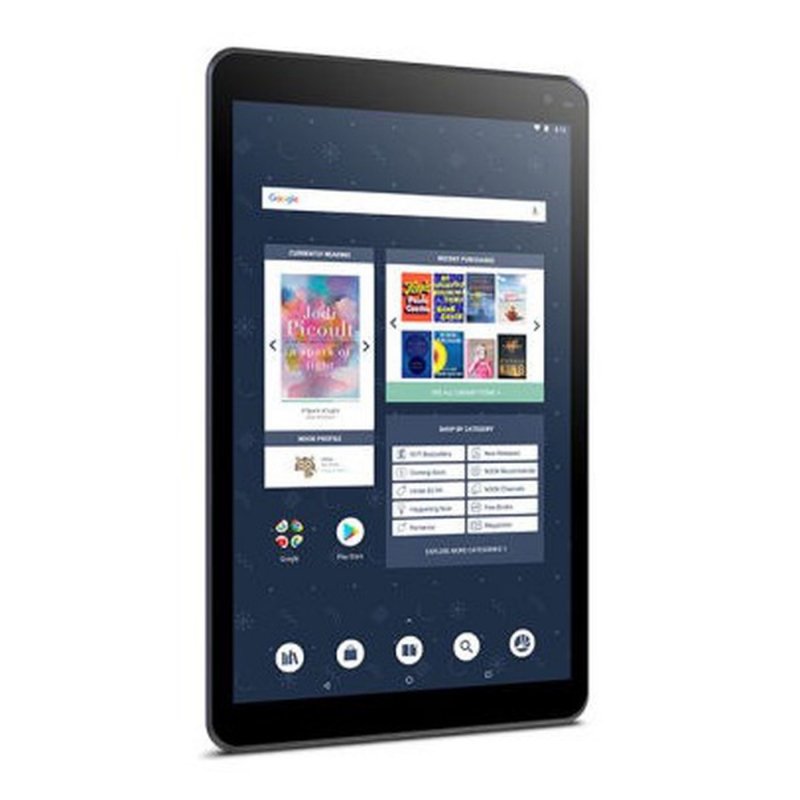 Part 2. How to Play Audible Audiobooks on Nook Tablet?
To play Audible audiobooks on Nook tablet, you will need only one tool –a software converter that will remove the DRM protection and convert the AA/AAX file to MP3 (or WAV if you prefer) for the Nook tablet to recognize. A highly recommended tool would be the DumpMedia Audible Converter.
DumpMedia Audible Converter not only converts your Audible content but also keeps the audio quality and information for the best audio experience (and management). Audiobooks can be rather large, or if you have several collections, this software won't be taking your precious time as it provides fast conversion speed. DumpMedia Audible Converter even has a split function that can divide your large audiobook into more manageable chapters.
Follow these simple steps to be able to play Audible audiobooks on Nook tablet:
Step 1. Download and Install the converter
DumpMedia Audible Converter is free to download, available for Mac or Windows. Execute installation and activate the software on the registration page. (The purchased version provides more functions with no time limit, but you can still use the free trial.)
Step 2. Launch the software and Add AAX/AA Audio Files
Before converting your AAX/AA audio files, make sure you have them on your computer. Then, launch DumpMedia Audible Converter. You can click on the interface or drag and drop the audio files into the window.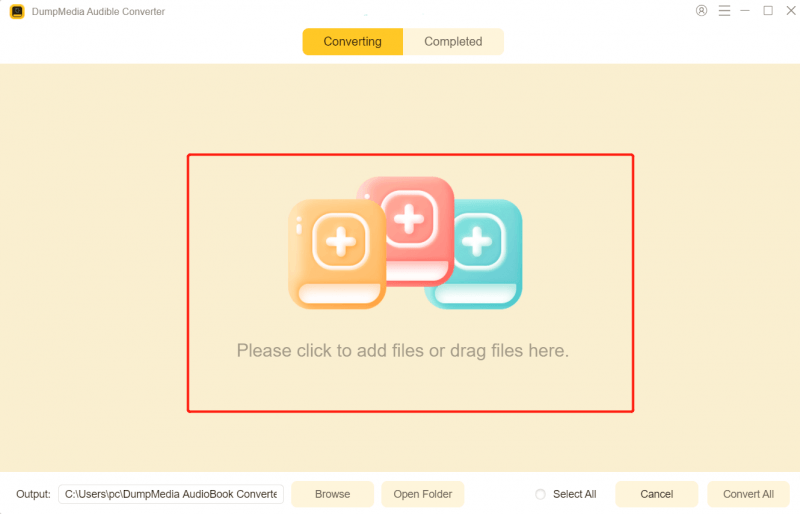 Step 3. Choose the audiobooks to convert and set the output format
Tick on the track's corresponding radio button to select the file to convert or tick on "Select All." Then, click on the drop-down button beside "Output Format" to choose MP3. You can also set the converted files' destination folder by clicking on the Browse button beside 'Output.'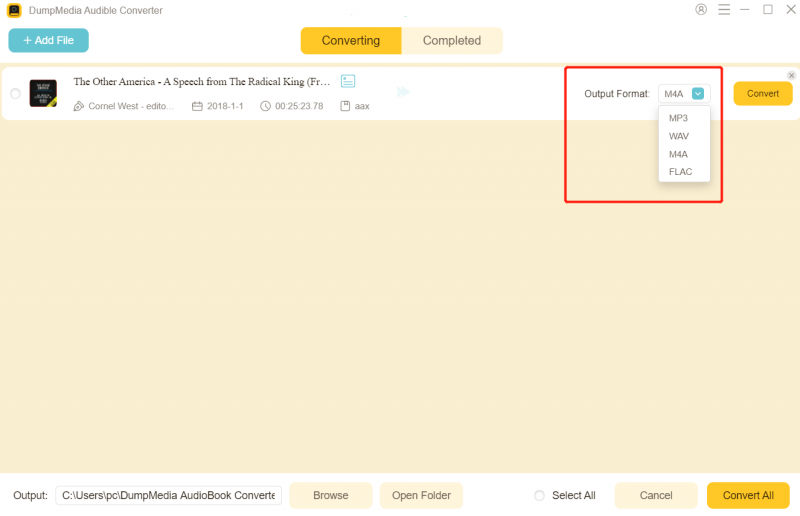 Step 4. (Optional) Split Audiobooks into Chapters
If you want to divide the audiobook file into multiple parts, select "Output Settings" from the hamburger button in the upper right corner.
Step 5. Convert AAX/AA Audio Files to MP3
Click the "Convert" button to start the conversion process.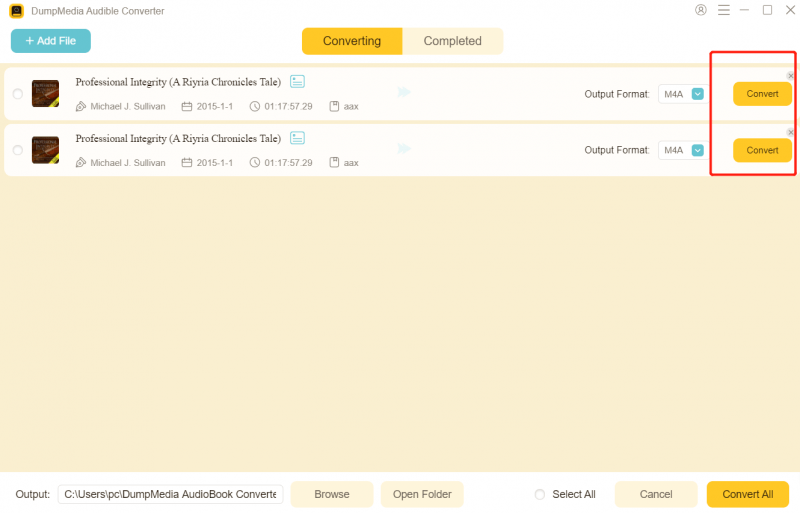 Step 6. Transfer the converted files to your Nook tablet.
Transfer via micro USB cable or copy the audiobooks to its microSD. Nook should recognize your converted Audible files.
Part 3. Conclusion
E-readers have come a long way and have transformed into high-performing tablets. Amazon and its Kindle are so popular that it wouldn't be a surprise to only have a few Nook users. Nook tablets have their advantages. But if you love audiobooks, Audible would be your invaluable source.
Because Nook does not support the Audible's format, we have provided a solution for you to play Audible audiobooks on Nook tablet. From this article, you have discovered how the DumpMedia Audible Converter will help you convert Audible's audiobooks, improving your Nook experience.
As an additional takeaway, DumpMedia will convert Audible content not only for your Nook but also for other devices that support MP3, M4A, WAV, and FLAC. You can apply the steps provided in this article to virtually any multimedia device.
Were you able to play Audible audiobooks on your Nook? What other audio devices do you have? Please share them in the comments below!