Audiobook lovers would surely have an Audible account and subscription. There are several perks that are being offered by Audible making their users too hooked with the app. If you wish to create an account, it is so easy to have one.
Now, if you already have an existing Audible account, you are surely checking some other things like trying to share Audible account with a friend or a family member (apart from utilizing the given advantages of having an account).
They say sharing is caring. Thus, if you want a loved one to experience and enjoy or try streaming those Audible content that you are so hooked to, finding out about the best methods on how to do it would surely be beneficial. In order to share Audible account with someone, we will be giving you two easy ways that you can use as guides or references.
Both will be presented and explained in detail in the second part. Aside from giving this information, a tip on how the limitation to share Audible account will be solved as you go ahead and read the third portion.
Contents Guide Part 1. Can I Share Audible Account?Part 2. How to Share Audible Books with Others?Part 3. Bonus: How to Share Audible Books with Others Without LimitationPart 4. The Summary
Part 1. Can I Share Audible Account?
Surely, for first-time users of the Audible application, the question if sharing an Audible account is possible would pop up especially if you have a loved one who also wants to enjoy what type of audiobooks you are streaming.
The answer if sharing an Audible account with others is possible is definitely a "YES". The only dilemma here is how it would be possible. Actually, technically, transferring your favorite audiobooks from the account you are using to another is not possible. What we can do is to share a chosen content. And, basically, there are two easy ways to share Audible account.
Both will be highlighted as you jump to the next part of this post – sharing via the Audible application itself (send book feature) and by utilizing the Amazon Household Sharing perk. All details will be given so you have nothing to think about but reading and trying if the methods would be suitable for your needs.
Part 2. How to Share Audible Books with Others?
As we have been mentioning in the earlier portions of this post, in this section, we are about the present detailed guides about how to share Audible account in two easy and simple ways. We will be starting with the "Send Book" process.
Share Audible Account Via The Audible App Itself Or Official Website
Before trying this method, take note that the people you have shared the audiobook with will be entitled to redeeming only one free audiobook recommendation. After doing so, if the recipient further intends to redeem another audiobook recommendation, purchasing or using the Audible credit is a must.
Now, here are the steps to share Audible account via this "Send This Book" procedure.
"Send This Book" Feature Via The Audible App
We have four steps here.
You need to have the Audible app on your device and log in using your Audible credentials.
Once you have the app, go to the "My Library" menu. You will be seeing all your audiobooks there. On the chosen audiobook, you have to tap the "three-dot icon" on the right side. By doing so, a new window will pop out.
From the options displayed, click the "Send this Book" option.
You have to select how you want the chosen audiobook to be shared. You can share via mail, via messaging, or even via Whatsapp.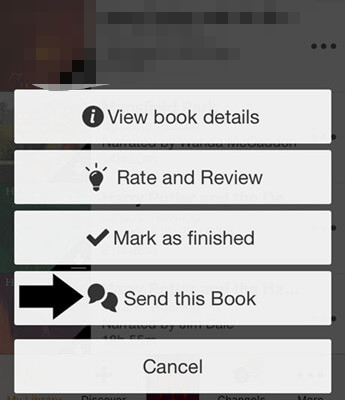 "Send This Book" Feature Using Your Web Browser
If you want to share Audible account using the "Send This Book" option using your web browser, you can follow the below procedure.
Head to your web browser and then sign in using your Audible credentials on the Audible official log-in page. You have to go to the "Library" menu and then choose the "My Book" option.
Select an Audible book you wish to share from your library. On the screen, you will see the "Send this book" option at the lower portion.
You would need to fill out a form for this "Send This Book" option with an email address. Once you are done with this, just tick the "Send" button.
Share Audible Account Via The Amazon Household Sharing Option
Apart from utilizing the "Send This Book" menu, you can also try the "Amazon Household Sharing" option. This feature allows you to share Audible account and its content as well as your payment method with another Audible account. You have nothing to worry about because your account's security and privacy will still be maintained.
There are three major steps that you have to accomplish, and each will be explained in detail here.
A Household must be created.
Begin sharing your content.
Allowing access to the shared content.
Here are some other details you need to be aware of.
Step #1. A Household Must Be Created
For you to have a family library, the members should join an Amazon Household together. The members should be composed of:
Two adults with their own Amazon accounts
Up to four children (wherein profiles are created as part of the accounts of the adult users)
To begin creating, you have to:
Head to the "Manage Your Content and Devices" option and log in to your account.
Under the "Preferences" tab, choose the "Households and Family Library" menu.
You have to select the "Add Adult" that you will be seeing under the "Households and Family Library" option.
The adult account owners should be signing in to their Amazon account.
Keep in mind that you can only share an Amazon account with another at a specified time. If you tend to leave that Household, you would need to wait for six more months in order to join a new one.
Step #2. Begin Sharing Your Content
Upon setting up the mentioned Amazon Household and having the Family Library enabled, you can now begin sharing any content. You can have even Kindle books, games and applications, and of course audiobooks via the "Family Library".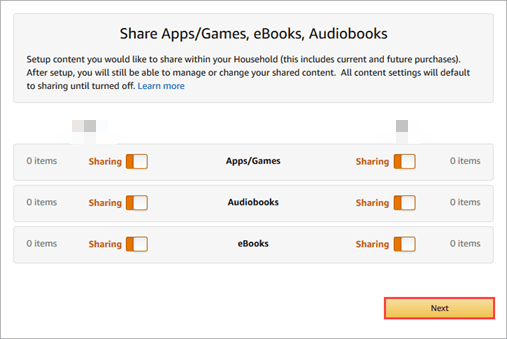 Step #3. Allowing Access To The Shared Content
Once everything is done and the setup is successful and good, all the members of the Household should be able to access any content shared. All these can be accessed on Amazon devices or even Kindle apps. You just need to take note that enabling the device you are using to view the shared content is a must.
Upon reading both ways, you surely know now how to share Audible account. If you wish to learn another good tip and added information, hop on to the next section.
Part 3. Bonus: How to Share Audible Books with Others Without Limitation
Since there are some given limitations if you wish to share Audible account, you would surely look for references if there are things you can do to avoid these. Luckily, you have apps like this DumpMedia Audible Converter.
This DumpMedia Audible Converter is very capable of supporting the conversion of audiobooks and downloading to your device for offline streaming while maintaining the quality of the audiobooks. When it comes to the conversion time, it's too fast. It can even keep the chapters and ID3 tags. Another good thing is that the app is so easy to use. Here is a guide for your reference.
Step #1. Install DumpMedia Audible Converter, Launch, And Add The AA / AAX Files
Once you have registered and activated your DumpMedia Audible Converter, you can just launch it and start adding the AA / AAX files that you want to convert and download. During the importing process, you can click the main screen or just drag and drop the files.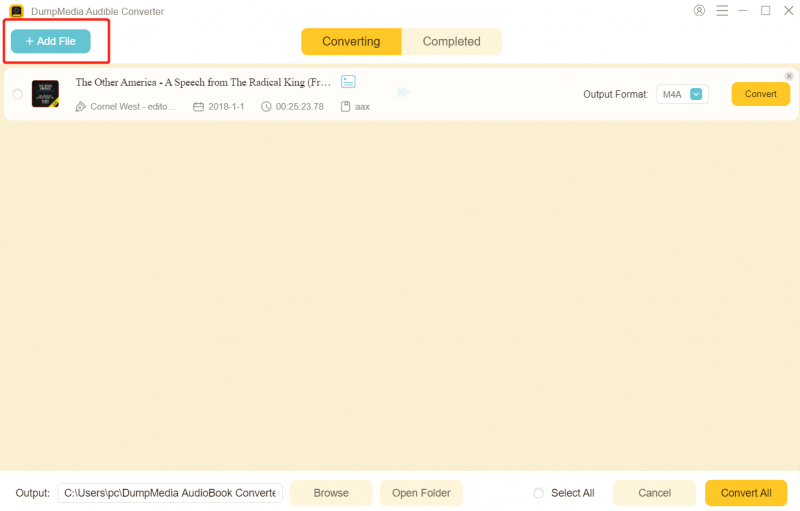 Step #2. Setting Of The Output Format And Split Them Into Chapters
You have four available selections here. You can convert the files to MP3, FLAC, M4A, or even WAV. If there are any settings that you wish to change, you can just head to the "Output Settings" and you will see the "Preferences" menu.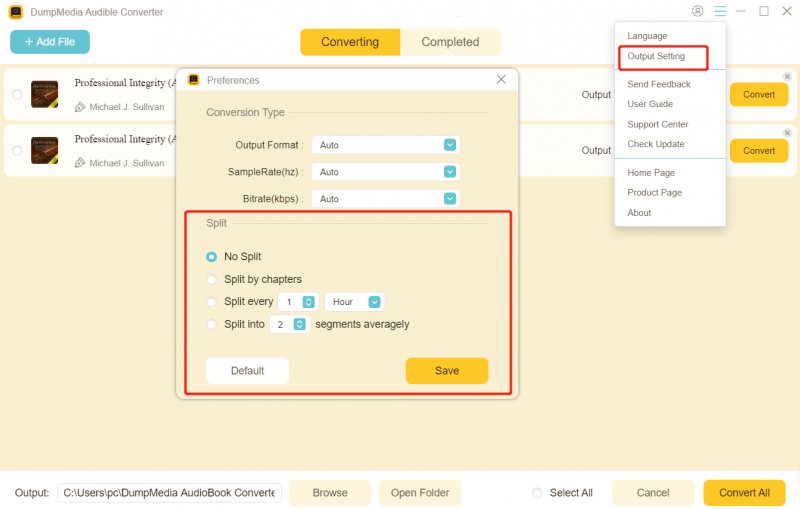 Step #3. It's Conversion Time!
Once you click the "Convert" button, the DumpMedia Audible Converter will begin the conversion process and afterward, the output files in chosen output format will then be available for streaming. You can find the converted audiobooks under the "Complete" portion.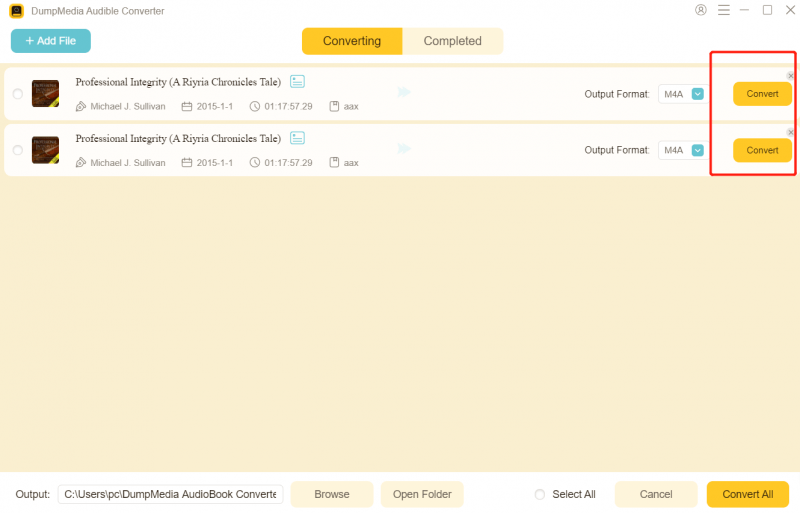 Part 4. The Summary
We are glad to share with you the two simple ways to share Audible account as well as a good app that can help you keep the audiobooks that you love on your PC or any device forever. If you wish to know more information or if there are any queries you want to be answered, let us know by leaving your thoughts below!