Rather than watching movies, TV shows, or series, browsing on social media channels, or playing video games, streaming audiobooks is definitely a better activity especially for students who need to gain more knowledge while studying. One application that can offer great audiobooks is Audible. But, is Audible free for students? Can a student enjoy all the perks the Audible application can offer? How about student discounts?
The Audible team is great for offering Audible student discounts to help the students further enrich their knowledge about a subject matter while using advanced technology. They are targeting to gain not only adult audiobook lovers but as well as those students who need to learn more about something while utilizing the greatness of the current technology.
The student discount is totally a win-win thing for both Audible and student users. However, some students are still not fully aware of this "Is Audible free for students?" or "Is there an Audible discount for students?". What is the procedure? How much does the total pay cost?
To further learn about the main topic of this article - Audible free for students, continue reading this article.
Contents Guide Part 1. Is Audible Free for Students?Part 2. How to Get Audible Student Discount?Part 3. Bonus: How to Listen to Audible Audiobooks Without RestrictionsPart 4. Conclusion
Part 1. Is Audible Free for Students?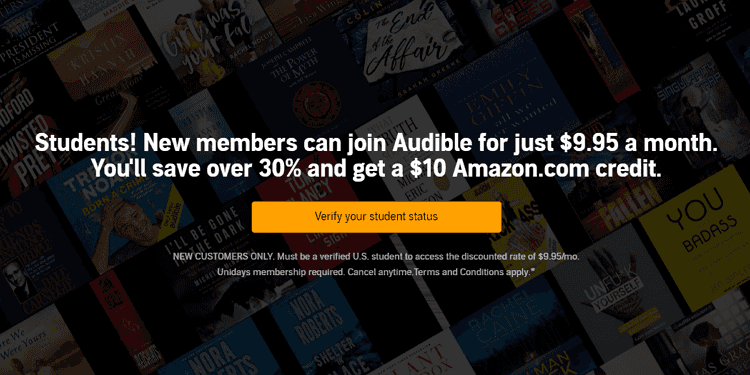 Unfortunately, the answer to - "Is Audible free for students?" query is a "No". Students cannot enjoy or access all Audible books for free via the app. But the good thing is that there is a huge discount for students – over 33%.
If you are not yet aware, the Audible membership for students only costs 9.95 USD per month. Via this membership plan (which will last for a year), a student can enjoy 3 titles (that is one audiobook and two originals from Audible) every month. Added to that, you can also get a 10 USD Amazon promotional credit. This can be used to buy items on the Amazon website.
Also, in case there is an audiobook that you don't like, you can have it returned or exchanged (for free!). You can also have the plan canceled anytime you want to. However, you can only redeem this offer one-time. So, if you wish to cancel, you must think hard first before you proceed.
Take note that you can enjoy the discounted rate of 9.95 USD per month for a maximum of 4 years timeline. There is a need as well to do the re-verifying of your student status with Audible within the 30-day period after the 12-month period in order for you to continue using your plan. Otherwise, you will be renewed under the standard Audible membership plan (current rate – 14.95 USD per month)
Since Audible is not free for students and there is this Audible discount available for them, how can anyone avail of it? What are the considerations to be eligible for this discount? You will be learning more about these items as you go to the second section of this post.
Part 2. How to Get Audible Student Discount?
In this portion of the article, you will be learning more information about the eligibility of enjoying the Audible discount for students and how it can finally be received. We will begin with the "who can get Audible student discount" topic first.
Who Can Get Audible Student Discount?
Once you saw a promotional ad, you will surely be curious about the considerations to avail of it. Of course, there are always things to check first because you get a certain discount or a promo that is being offered by a store, an online shop, or even applications like Audible.
In this case, since the topic we are dealing with is about "Audible free for students" or the discount that the app is giving to any student, we will be sharing how one can enjoy this by stating the eligibility criteria first.
In order to enjoy the student discount under the Audible app, you must be a student that is currently enrolled in a college or university located in the USA and is at least 16 years of age. There is a need to show some proofs regarding your enrollment and of course, a need to pass the verification process.
Of course, you need to create an Audible account. Added to that, one can only enjoy this if he is a new or a first-time Audible user. Thus, if you have been a member ever since, you won't be able to avail this promo.
How to Get Audible Student Discount
Once you passed all the verifications needed by Audible to finally enjoy the discount being offered for students, you may proceed to check out the procedures you have to perform to get and enjoy it. And, here are those.
Note: Since Audible had partnered with UNiDAYS to offer this discount exclusively for students, there is a need for you to have a UNiDAYS account first to proceed with claiming the offer.
You have to visit the Audible website via this link - https://www.audible.com/ep/students. Once you are on the page, you need to tick the "Verify your student status" button that you will see on the screen.
Afterward, you will see that the sign-in window for UNiDAYS will open. As mentioned, you must have an account here to proceed and finally prove your eligibility for the student discount. If you do not have an account yet, you can sign up to get one.
After logging in to your UNiDAYS account, you should be able to see the link to redeem the "Audible discount offer" for students.
Simply redeem the discounted membership for students via the official Audible website. Take note that the page will require you to put your billing address and of course your payment details (or method). Begin adding the required information.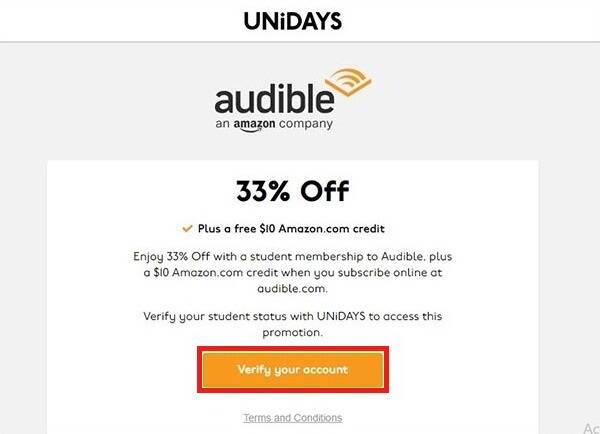 After the completion of the above activities, you can now begin adding Audible audiobooks to your library that you can start listening to immediately. Regarding the 10 USD Amazon promotional credit (stated in the earlier part of this article – part 1), you should be able to see an email related to this on your email address in the next 72 hours.
This amount credited will be expired after 90 days so make sure to use it immediately. You can use this to buy products on Amazon but not those being sold under third-party sellers or even Amazon entities.
Part 3. Bonus: How to Listen to Audible Audiobooks Without Restrictions
It is true that having an Audible membership or account is definitely an advantage especially to students who do not have a firm source of income yet (especially if there is this "Audible free for students"). Therefore, being able to know how one can enjoy Audible audiobooks without thinking about the restrictions is a great thing.
Actually, we have this bonus information for you that can lead to the avoidance or removal of any hassle of accessing Audible audiobooks. That is via the help of a third-party software application named DumpMedia Audible Converter.
This DumpMedia Audible Converter is an app that lets the user remove even the DRM encryption of Audible audiobooks. It also does a very quick job in converting those into any chosen supported format and downloading them to your PC for streaming. Added to this, the whole conversion process is totally lossless. Thus, quality won't be at stake. Rest assured that all ID3 tags and chapters will be kept after the conversion process.

Plus, you won't be worried that much when it comes to application updates. The whole DumpMedia team assures that updates on the app will be done on a regular basis to continuously promote a good experience to users.
In any case, there would be issues while this DumpMedia Audible Converter is in use, the support personnel is always available to cater to any questions coming from the users to of course help resolve those the fastest possible.
The app is totally user-friendly! There are only three easy steps to perform to use it in converting your Audible audiobooks to any format and finally have them downloaded. For more details, you may visit the official website – installation and procedures to use.
Part 4. Conclusion
You may know the answer to "Is Audible free for students?". Students are indeed lucky to have easy access to educational tools including audiobooks. It is very good to know that applications like Audible have this discount being offered to students.

If you are currently studying, always take advantage of offers like these. Also, we are glad to share an additional way to have the Audible audiobooks available anytime (in case you can no longer support paying the subscription fee). We do hope this had helped in any way as well.