Audible has been a great help to a lot of people who are into streaming audiobooks. If there is a way to just listen to your favorite books via audio, it is so much better than reading the actual books. Would you agree to this?
Because Audible has been so popular around the globe with several users utilizing all its perks, subscribers are always commending how good it is when it comes to satisfying their needs. This article will be discussing more about Audible and Audible Download Manager (an advantage that you can use if you are using Audible as your platform for audiobook listening).
Either you are a first time Audible user or a subscriber for quite some time now, if you are unaware of this Audible Download Manager and how it can help you, this post is definitely dedicated to you.
So, what else are you waiting for? Hop to the first section of this post!
Contents Guide Part 1. What is Audible Download ManagerPart 2. How Do I Get Audible Download Manager?Part 3. How to Download Audible Books with Audible Download Manager?Part 4. Effective Alternative to Audible Download ManagerPart 5. Bonus: How to Play Audible Books without LimitPart 6. FAQs
Part 1. What is Audible Download Manager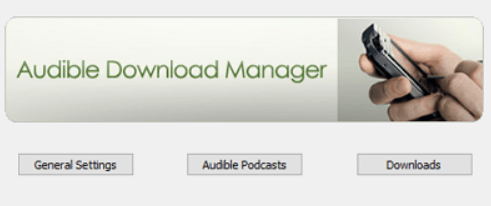 Of course, we will be starting this discussion by explaining what Audible Download Manager is.
The Audible Download Manager is actually a software application that helps you keep or download any audiobooks that you like from a certain website for saving and safekeeping on your PC or even on your mobile devices (if you prefer to).
The good thing about Audible Download Manager is that it has an interface that is so easy to use and navigate. The whole application actually has menus and options that are totally straightforward making the navigation simple to do. Added to this, the application has the ability to let you select another application wherein you'll import the downloaded audiobooks – examples are Windows Media Player or even iTunes.
And, as mentioned, if you just want to keep those on the devices that you are using, you can also do that. During the downloading process, you will be seeing progress bars showing the status of each. You have the ability to pause, stop, resume, or cancel any process.
Another awesome thing here is that if you have an Audible account. If you are using the Audible Download Manager and tries to download the audiobooks you wish to save, you can set to have those downloaded automatically to your PC. It is definitely a practical application when downloading audiobooks as commended by many users as well.
Part 2. How Do I Get Audible Download Manager?
If you think that Audible Download Manager would be a good application to satisfy your needs when it comes to the downloading of audiobooks from your chosen platform or website, you must know then how this software can easily be activated to finally proceed with the downloading process. Here is the complete procedure that you must know and follow.
You have to firstly install the software on the PC that you are currently using. After making sure that the installation has been successfully done, you must take note that the next steps about activation are vital to continue with the downloading process.
Make sure to launch the Audible Download Manager first. Once you are on the main page, look for the "Options" button, and then from the new selections presented on the screen, select "Activate PC".
After doing so, a new pop-up window should be seen on your screen. This will ask for the Audible activation. You would need to provide your Audible account details to proceed (email & password).
Once finished, a window will be shown saying that that activation has been successfully accomplished. Just tick the "OK" button and everything is now done!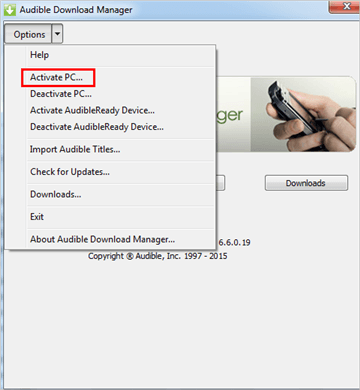 Once you have the Audible Download Manager perfectly running (and activated) on the PC that you are using, then it is an important thing to know how you can fully utilize it to download all those Audible books that you love to your personal computer. And, you will get to know even the smallest details regarding the procedure once you move on to the third portion of this post.
Part 3. How to Download Audible Books with Audible Download Manager?
Now that you have your Audible Download Manager up and running on your PC, all you have to do now is to accomplish the steps needed to finally download those Audible audiobooks that you love.
Here are the steps that must be taken.
Make sure to sign in to your Audible library using your account credentials. After choosing a specific audiobook, you must click the "Download" button that is next to the title of that book. You will notice that instead of getting a real audiobook file (as you might expect), you will be getting a ".adh" file.
You have to double click on that ".adh" file. A new window will be shown. Make sure to select the option to open it using your Audible Download Manager. The app will then download that file to "AA / AAX" format. Once downloading is done, the audiobooks will automatically be imported to either your Windows Media Player, Audible Manager, or even iTunes depending on your choice of media player (based on your settings).

Here are also some tips for you.
In case you want to change the location of the downloaded files, you just have to move to the "General Settings" and then choose the "Change Location" option.
There would be a window shown on the screen wherein options to set which media player you'll use will be seen. Do this by ticking the "General Settings" and then choose the checkbox before the certain program you want your audiobooks to be saved or imported. Of course, you need to make sure that the programs are installed on your PC.
Audible Download Manager is great. But what if you realized that you want to use an alternative to it? What reference should you look for?
Well, we have some recommendations as you continue reading to the next part.
Part 4. Effective Alternative to Audible Download Manager
Alternative to Audible Download Manager: Windows 10 Audible App
You can try using the Windows 10 Audible app. Apart from having the ability to download Audible audiobooks, this app can also be used to manage all those audiobooks you purchased before and can even be used as an Audible player.
However, the restriction is that this was only released by Audible for Windows 10 PC users. It could be a pity for other users but if you are one of those Windows 10 users, then this is definitely an advantage to you.
Part 5. Bonus: How to Play Audible Books without Limit
The Audible books are protected by DRM encryption. We can only play them on limited devices. Do you want to play these books on other players without any limitation?
Well, you can use the DumpMedia Audible Converter. This is a great app that lets you remove the DRM protection and convert those Audible books to MP3 or any other supported output formats. Speaking of the quality, there is nothing to worry about. You can get 100% original Audible books to enjoy.

With the use of this third-party software application, you can have the audiobooks played and streamed on any media player or device that you like (since the DRM protection of the audiobooks will be removed after the whole conversion process).
Part 6. FAQs
Here are some frequently asked questions with provided answers for your reference.
What's the Difference Between Audible Manager and Audible Download Manager?
You might have heard about the Audible Manager as well. Have you ever wondered how it actually differs from Audible Download Manager? These two are totally different from each other but both are working to help you ensure that the playing of the Audible audiobooks on your PC would surely work well. The Audible Download Manager is the application responsible to download the Audible audiobooks and the Audible Manager is being used to play and organize those downloaded audiobooks.
How to Remove Audible Download Manager?
In case you wish to remove the Audible Download Manager, to close it, you have to:
On your keyboard, press the "Ctrl + Alt + Del" buttons and then choose "Task Manager" from the options.
Tick the "Processes" tab.
Choose the "Manager.exe" if this is running and then tick the "End Process" button. Do this for the "AudibleDownloadHelper.exe" as well.
If you want to have this uninstalled, then you have to follow the below.
Go ahead to the "Programs and Features" on your PC.
Look for the "Audible Download Manager" and then choose "Uninstall/Change". Afterward, click the "Yes" button.
If you are asked to delete all the Audible audio files that you have, click the "No" button. This will make sure those downloaded before are still on your PC.
You just have to click the "OK" button once the process has been completed. You might need to restart your PC if required.
How to Get Audible Download Manager for Mac?
If you wish to have the software running on your Mac computer, you just have to follow these procedures.
Using the Audible desktop website, head to your "Library" page.
On the chosen Audiobook, tick the "Download" button alongside. The downloading process will then begin. The progress of the downloading process will also be shown on the screen.
After the download has been completed, those audiobooks downloaded will be found on your iTunes app. In case this will be your first time to get an audiobook on your Mac, you have to provide the authorization needed to proceed.
Just click the "OK" button once done.