Have you heard that much about AAX files and AAX players ? If you are a person who loves listening rather than reading books, probably, you have an idea about the AAX file format and where it is being used.
AAX is actually a file format that is being utilized in audiobooks. This was developed by Audible (one of the leading audiobooks providers). It is known to be a format containing bookmarks, markers, hyperlinks of images, and more. Such files are encrypted in M4B and are usually protected by DRM protection. This is one of the reasons why some users are having difficulty playing audiobooks on any device like kindle paperwhite.
But, since you have seen this post, there is nothing to worry about that what can play AAX files now. Actually, we will be discussing some AAX players that you can use in order to easily listen to your favorite audiobooks. Actually there are some converter can help you do that. But now we talking about AAX player. If you are looking for such, luckily, we got some recommendations here. Added to the above, you will also be getting an idea of how you can have all your AAX files playable in any gadget even without having an AAX player with you. Are you ready to find out? Then hop in!
Contents Guide Part 1: What Can Play AAX Files: AAX Players for WindowsPart 2: AAX Player for Mac ComputerPart 3: Online AAX PlayerPart 4: AAX Players for Android And iOS Mobile PhonesPart 5: Additional InformationPart 6: The Major Takeaways
Part 1: What Can Play AAX Files: AAX Players for Windows
Surely, a lot of users have a Windows personal computer. Since M4B is a format that is usually supported by Apple devices, some could be bothered that they can't have those audiobooks played on their windows computers. But there is nothing to be problematic about. We got some solutions for you. Here are the AAX players that you can install and use on your Windows personal computer.
Audible Application (For Windows 8 And 10)
As initially mentioned, Audible is one of the leading audiobooks providers in the world. They are offering lots in different genres and lengths. With the increased popularity of audiobooks, apart from giving the users quality audiobook files, they also developed this Audible app in order to help users easily stream their purchased audiobooks in AA and AAX format. The only drawback of using this is that this can only be utilized if you have a Windows 8 or 10 computer.
Here are the features of the Audible app that you can enjoy upon installation.
You can be able to manage your library.
This application lets you download the Audible files for offline streaming.
You can even do chapter navigation with this app.
In case you want the speed and mode to be changed, you can do it as well.
You can do bookmarking as well.
The syncing of audible bookmarks can be done between devices.
You can also transfer audible books to some compatible player through this application.
If you have subscribed to Audible premium or Amazon prime, you can get to listen to unlimited audible audiobooks via this app.
Audible Manager
Another AAX player that can easily be utilized by audiobook lovers is this Audible Manager. This one was created years ago that is why this may seem to be out of date if compared with the Audible Application. But when it comes to playing your AAX files, this works fine as well. Both AA and AAX file formats are supported as well.
Here are its functions.
The ability to play AA and AAX files.
Bookmarking can be done.
Capable of supporting the transfer of audible files to MP3 players that are non-apple.
Audible Manager is good at playing AAX files, but it lacks in some means. It has very limited capabilities as it does not support the downloading of audible files, navigation of chapters, and others.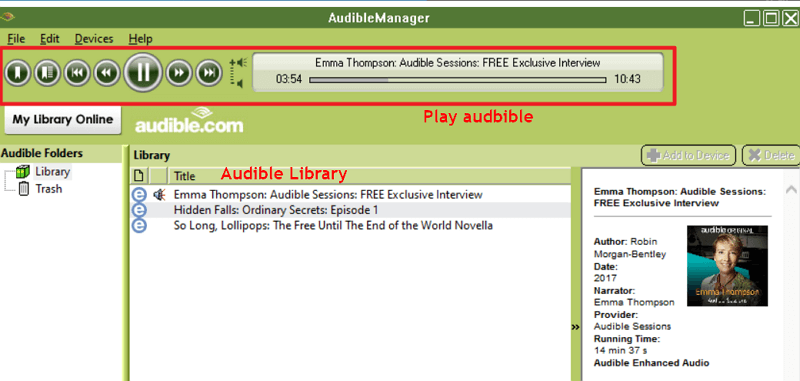 Windows Media Player
If you have a Windows personal computer, surely, you have this Windows Media Player with you. This has been very useful to every user and another good thing with this is that you can even play AAX files using this player. Apart from being able to play AA and AAX files, this can also play MP3, AMR, AVI, and WMA files.
With Windows Media Player, you can get to enjoy the following:
You can burn the audible audiobooks to either CD or DVD.
The casting of audible files to other devices is possible.
You can also rate the audible audiobooks using this application.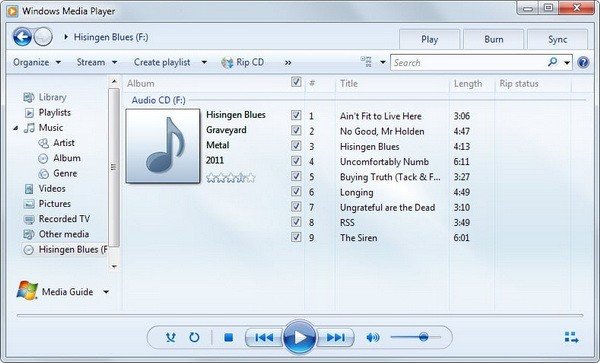 Part 2: AAX Player for Mac Computer
Now if you own a Mac personal computer, here are the AAX players that you can use. Though the Audible application is only available on Windows computers, you still have some options left.
The iTunes Application
Being an Apple user lets you enjoy Apple-created applications like iTunes. Apart from being able to play audiobooks, you can enjoy a variety of other things using this – being able to manage or download media files like videos and music. What makes it loved by many is because of its interface is can easily be managed by anyone. This also supports a lot of file formats apart from AA & AAX files (including EPUB, M4V, MP4, AIFF, and more).
Enjoy the following with the use of the iTunes application.
Easy managing of media files.
It is connected with the iTunes store that lets the user easily purchase any media anytime.
This is capable of navigating chapters.
You can also edit the metadata of the AAX files that you are to play or import.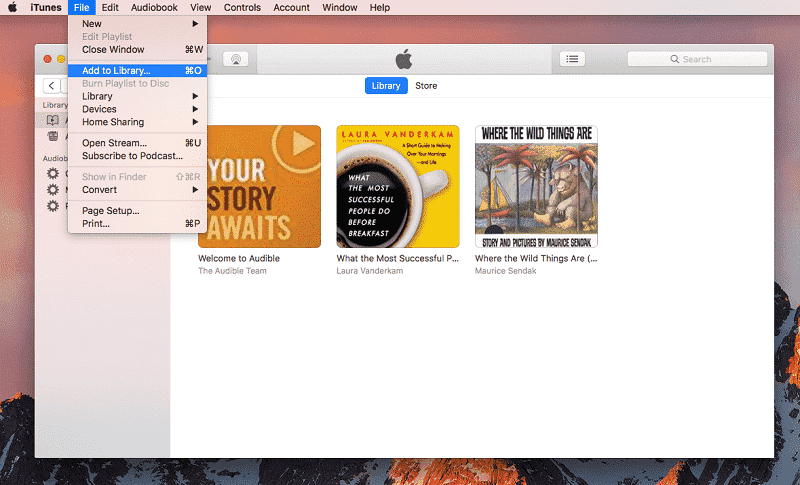 Apple Books
Apart from the iTunes application, you can also utilize this "Apple Books". Apple Books are also capable of managing and playing Audiobooks in AA or AAX file formats. This can play even AAC, MP3, EPUB, Apple audiobooks, PDF, and more.
Here are the features of Apple Books.
Managing both ebooks and audiobooks is easy and simple.
It also has a built-in store that lets one to search and buy those audiobooks they love.
The setting of sleep timer (in case you want to) is possible.
The playback speed in case you prefer to.
Connect to a speaker for playing.
It also supports the navigation of chapters.
You may notice that the "Apple Books" has almost the same features as the iTunes application but they are totally different from one another.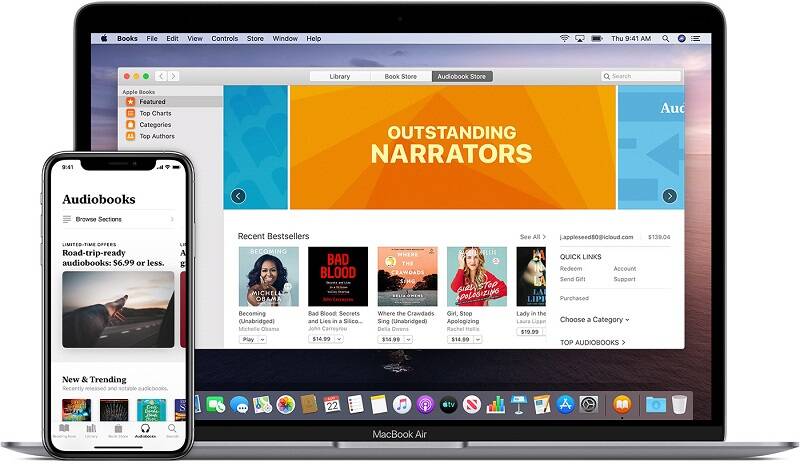 Part 3: Online AAX Player
Surprisingly, you can also utilize an online AAX player. If you don't feel like using any from the above applications mentioned or you want to avoid the installation of those on your personal computer, an easier way of playing your favorites would be via an online tool. An example of an online tool is this Audible Cloud Player. The only drawback in using such is a need for a stable internet connection. Since this is an online player, you will find this not as functional as the other AAX players that were discussed in the previous parts of this article. However, the benefit of using this that no installation will be performed, and no storage space will be consumed.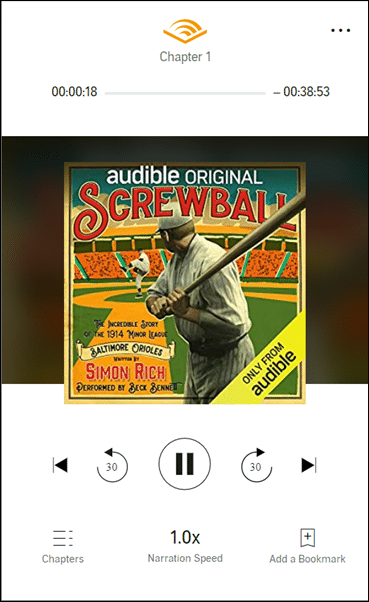 In order to use this, you can simply go to your online library and hit the "Listen Now" button in order to start playing. You can also play AA and AAX files using this online audible player.
The features:
There is no need for downloading. You can listen to Audible files online.
Nothing to worry about the navigation of chapter or bookmarking since you can also do it here.
You also have the ability to change the narration speed in case you want to.
How about playing Audible files on your mobile devices like Android or iOS phones? Learn how you can do that in the next part of this article.
Part 4: AAX Players for Android And iOS Mobile Phones
In case you would like to listen to Audible files via your Android or iOS mobile phone, you can use the Audible app for Android or iOS as an AAX player. This is almost the same as the Audible application for Windows computer, but it has some differences.
You can purchase Audible books using your Audible application on your Windows computer & Android device, but you can't do it on your iOS phone.
If you will download audiobooks via Audible on your mobile phone, those would be saved in .aaxc format and not in .aax one.
Part 5: Additional Information
What if you want to just play audiobooks in any media player regardless of whether it supports audiobooks or DRM protected files? What shall you do? Well, a good recommendation is to use a converter, the DumpMedia Apple Music Converter, and transform the audiobooks in a format that is generally supported by many media players.
DumpMedia Apple Music Converter is very capable of supporting the conversion of not only audiobooks by many types of audios as well as it supports many formats. Also, you can be assured that DRM protection will be removed alongside the transformation process.
This has a lot of features every user can enjoy. You can refer to full details by accessing its official website. Just make sure that before using this tool, your iTunes and Apple Music applications are not running the background to make sure that conversion will be smooth and successful.
Part 6: The Major Takeaways
There are numerous AAX players that you can use and install on your devices. Whether you are using a personal computer or mobile device, you can play any audiobook you love as long as proper installation is conducted. Also, if you find it tiring to look for players that suits your needs, might as well check some application that can convert files like this DumpMedia Apple Music Converter.