Listening to audiobooks has been known to be one of the past times and hobbies of many aside from listening to music, reading books, performing outdoor activities, and more. Who would have thought that the usual book reading could be upgraded to book listening?
Technology indeed was amazing. Now that audiobooks have been introduced to the public, people are surely looking onto the best audiobook converter they can make use of to have those playable in any gadget they want!
You are on the right page as we are to show you the list of the top and the best!
Contents Guide Part 1. What Is DRM and Why They Use Those Mentioned FormatsPart 2. 5 Best Audiobook Converters Part 3. Recommended Websites for Audiobook DownloadingPart 4. In Summary
Part 1. What Is DRM and Why They Use Those Mentioned Formats
What Is DRM
FairPlay Digital Rights Management protection or popularly known as DRM protection has been created and introduced by Apple Inc.
This was made to be able to avoid the unauthorized transfer, copying, playing, and listening in other gadgets and devices. Materials and items which are DRM protected are considered as copyrighted items that must be authenticated first. But don't worry, deleting DRM for your own use is not illegal.
Why They Are Using Those Mentioned Formats
M4B and AA or AAX are audio formats that are being utilized by either iTunes or Audible.com (a website offering numerous audiobooks that can be purchased by users just by paying for a monthly subscription).
You won't be able to play such on every device you want because such files are encrypted and are DRM (Digital Rights Management) protected. With this, you can only play such on devices authorized including iOS gadgets and iTunes or Audible itself.
They are doing such because both are avoiding the illegal copying and pirating of content.
Now that we got a brief overview of the topic and the reason why we would be looking for the best audiobook converters, we will now head on to the list.
Part 2. 5 Best Audiobook Converters
In this portion of the article, we will be delving onto the best audiobook converters in town. Those that would be shown in this part are the most used and proven to have great results. Of course, tested by a lot of users.
1. DumpMedia Apple Music Converter
First on the list is this DumpMedia Apple Music Converter.
DumpMedia, being a great tool offering video and audio converters, has been a great help for many users nowadays. Aside from having amazing video/audio converting features, it also has an Apple Music Converter which lets you convert your favorite and most loved audiobooks to MP3 or any other popular format to be highly playable in any media player!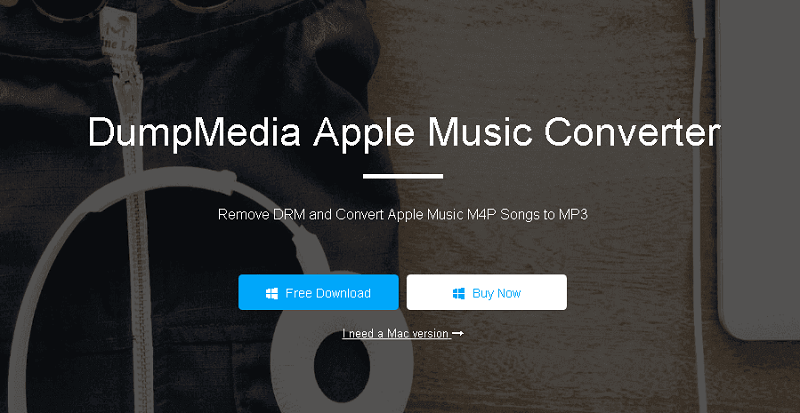 This audiobook converter is capable of removing DRM protection and allows you to convert audiobooks or songs to thousands of available formats. It even lets you listen to Apple Music songs offline, and even keep your songs running although your subscription has ended! Great, right?
Well, here is how you can proceed with the conversion of audiobook to MP3 or any other format using this DumpMedia Apple Music Converter.
Install and download this DumpMedia Apple Music Converter.
Select the desired output format from the list that would be shown.
Tick the convert button to begin the process.
Let us look into the steps in detail.
Step 1: Install And Download This DumpMedia Apple Music Converter
Of course, we need to ensure that DumpMedia Apple Music Converter has been downloaded and installed on your personal computer. Once installed, open, and launch the program. Under the "Library" menu, tick "Audiobooks" and select the desired file to be converted to any format desired by the user.
Step 2: Select The Desired Output Format From The List That Would Be Shown
Once audiobook has been selected, head to the "Output Format" section which you will see at the bottom portion of the screen. Make sure to choose MP3 or other formats (depending on your preference) among the selections that would be listed.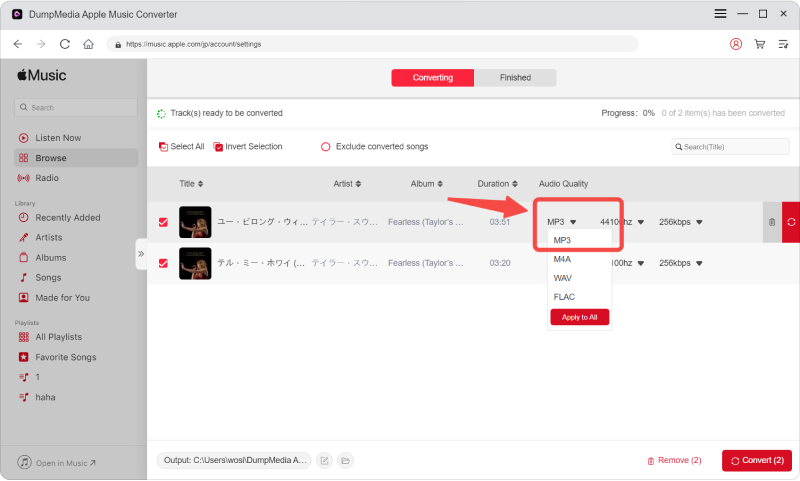 The tool will also allow you to change other options such as the bit rate and sample rate. You can as well perform the renaming of the resulting file. In this step, you would also need to specify the output path or the target location wherein the converted file will be saved.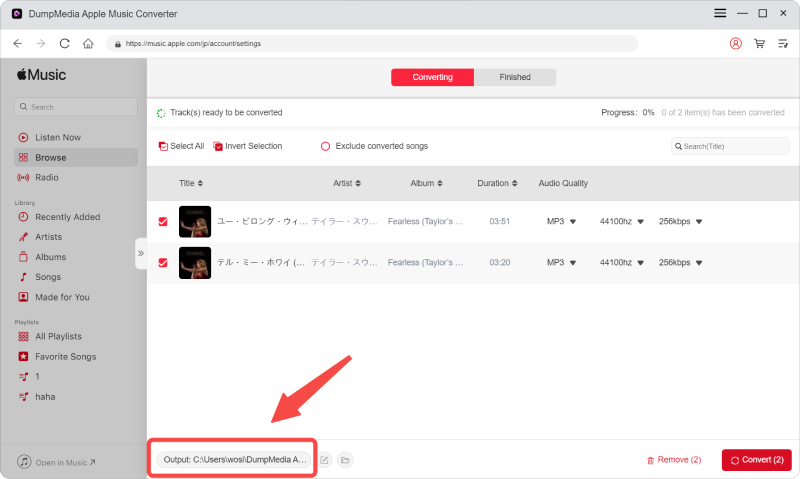 Step 3: Tick The Convert Button To Begin The Process
Upon completing all the adjustments wanted for personalization or customization, the final step would now be the conversion process. You can just hit the "Convert" button which is located at the bottom right corner of the screen.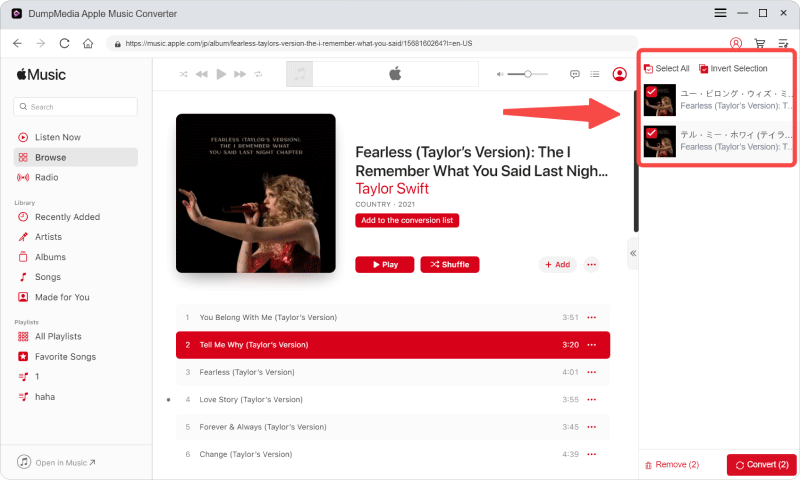 After some time, your converted file would be available which you can now play on any device you want to.
2. DumpMedia Audible Converter
DumpMedia Audible Converter is a professional audiobook converter focusing on the conversion of Audible AA/AAX books. You can use this converter to convert your favorite Audible books to MP3 or other commonly-used formats and download them for offline listening.
Using DumpMedia Audible Converter, you can get 100% original audio files because the tool won't cause quality loss. You can have an amazing listening experience.
3. TunesKit Audiobook Converter for Windows
Same with the first one, this audiobook converter is as well capable of removing the unwanted DRM protection from all your audiobooks downloaded from either iTunes or Audible.
This supports numerous output formats including the most used ones – MP3, WAV, FLAC, AAC, or M4A. This application also lets you customize and edit the parameters and settings for the resulting file.
4. ThunderSoft Audiobook Converter
Apart from the first two, you can also try using this ThunderSoft Audiobook Converter for Windows. This of course has the capability of transforming your audiobook files to any format your desire. Having a very user-friendly interface, you can easily utilize this tool and eventually remove the DRM protection to make the audiobooks playable in any device.
What is more exciting about this software application is that this works both on Mac or Windows computers. You can have the tool downloaded directly from the web. You would only be required to pay a certain amount to proceed.
5. Epubor Audible Converter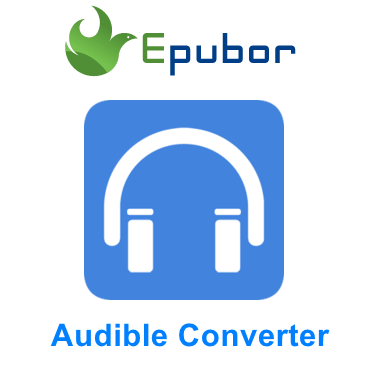 Next on the list is this Epubor Audible Converter. This tool can also help you out for this can also convert your most loved audiobooks to any other popular formats which are supported by any gadgets – personal computer, tablets, mobile phones, and more. This software works sixty times faster than any other and assures that original quality is maintained all throughout the process.
Upon presenting the top four among all audiobook converters in this part of the post, we also prepared some additional information for you. In the next part, we will be giving some ideas about the websites wherein you can download different audiobooks of your choice!
Tip: If you need to convert iTunes audiobooks to MP3, just check out the link.
Part 3. Recommended Websites for Audiobook Downloading
There are actually a lot of great audiobooks downloading sites that you can freely check and use. Those which have been proven to be trusted, reliable, and can satisfy many users will be discussed on this portion. After downloading the book, you can try the audiobook converter recommended above.
Audiobooks.com

One of the several sites for audiobooks downloading is this Audiobooks.com. Same with Audible, this one is as well a product from Canada.
Although this one will also require you to pay a subscription fee which is almost the same amount as Audible, your advantage of using this would be the opportunity to choose or select one among the thousands of premium titles in their catalog and another from their exclusive VIP options.
In addition, Audiobooks.com as well offers a reduction in the prices of any audiobook among the hundred thousand titles it has. And, this application is highly compatible with both Android and iOS devices.
Downpour
Another application that can be considered as a great audiobook downloading site is this Downpour. This is somehow the same as Audible.com. Using this, you can as well read as many audiobooks as you can by paying a subscription which is lesser than that of Audible.com's ($ 12.99).
What is amazing about this tool is that this lets you purchase and rent any DRM free audiobooks which will allow you to play those in any other media player. Moreover, you can also get a free book every month once you subscribed.
Another fascinating fact is that this can be used on your Android or iOS devices and even your web browsers. In case you initially subscribed would not want to continue anymore, they accept subscription cancellation which is fair enough for the users.
Kobo Audiobooks
Kobo Audiobooks or also known as Rakuten Kobo emerged from a Canadian book company that was popularized as Indigo. Currently, this Kobo audiobooks is a Japanese online store selling electronic books (e-books) which are somehow similar to audiobooks.
This has an application that is highly compatible with both Android and iOS devices or even to Windows of Mac personal computers. Of course, this also has a membership fee which is lower than that of Audible ($ 9.99).
This contains lots of audiobooks as well, five million to be specific, wherein you can choose from. The only drawback this has is that you can only play those audiobooks on the Kobo application (for mobile devices).
Tip: If you are also looking for software that can be used to play audiobooks, you will find a suitable one in this article.
Part 4. In Summary
As initially mentioned, this post had discussed the top and the best audiobook converters which can be fully utilized by anyone. There were five presented and the most suggested are DumpMedia Apple Music Converter and DumpMedia Audible Converter.

Having all the features one can surely make use of, conversion using these converters is too easy and simple – letting the user enjoy the amazing results in just a span of time.
Aside from the main topic, the best audiobook converters, great audiobook downloading sites were as well presented. You can also have the list as your reference.