Audiobooks make taking a good read of your favorite stories and enjoying literature easier and more convenient wherever you want to go. Whether you are on a long drive, doing your dishes, cooking, or even while you are doing your daily exercises. You can also check out celebrity biographies without any hassle on your mobile phones or desktop computers.
So in today's discussion, we will be giving you 10 of the best audiobook players for mobile devices and desktop computers that you should try this 2019. So keep on reading if you want to know more!
Contents Guide Part 1. Top Audiobook Players for Mac/WindowsPart 2. Top Audiobook Player for Android & iOSPart 3. How to Remove DRM-Protection From Audiobooks and Download ThemPart 4. Wrapping it Up
Part 1. Top Audiobook Players for Mac/Windows
#1. MusicBee
Users can use it to play WAV, MP3, and WMA files including others more.
You can search by artist or title via its filter.
Aside from playing audiobook files, you can also create playlists.
Supports pausing, rewinding, stopping, and viewing its equalizer.
It comes with a lockdown option.
Its speed for scanning can lower along with the increase in the number of your audiobooks.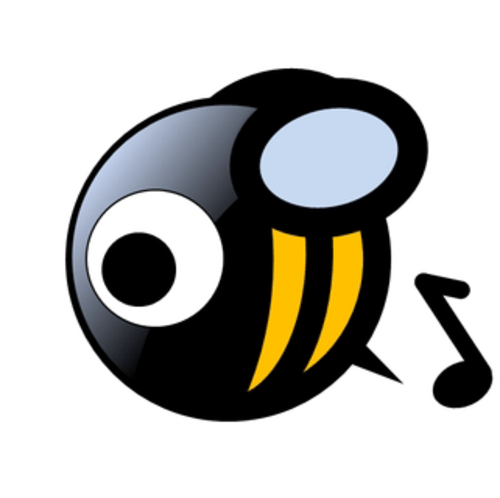 #2. Trout
It is designed for Mac users.
It has a manageable capacity.
Users can sync their audiobooks with their accounts, transfer files to other storage devices, and import CDs.
It supports many formats such as MP3, WAV, and OGG.
#3. WorkAudioBook Player
It is ideal for users who want to learn how to speak foreign languages.
Users can edit subtitles and auto-save their work.
You can use it to bookmark files for playback later.
It cannot support a lot of file formats.
Users can use this app for:

Splitting folders
Splitting audio files intro phrases
Pausing between the split phrases, etc.
#4. Angel's Vox
This audiobook player is designed for Windows and supports a lot of file formats such as OGG, MP3, and MPEG-4.
It comes with a good user interface which makes it comfortable to use.
It includes a tutorial enabling users to learn different foreign languages.
Users can speed up the playback as well as use the app's sleep timer.
Uses can use it to import and export any playlists and even transfer them to other devices.
The main drawback is Angel's Fox does not support a lot of operating systems.
#5. MP3 Book Helper
Users can use this audiobook player's FreeDB database to find information about audiobook narrators and artists.
You can organize audiobooks using this as well as import and export tags.
It has previous, pause, and stop features.
Users can generate playlists with it.
You can import tags from CSV file formats and others.
You can even swap fields and edit tags of files.
The main drawback is this audiobook player does not support iOS and Android.
Part 2. Top Audiobook Player for Android & iOS
#1. Audible
It offers a $14.95 monthly subscription
It has over 470,000 audiobooks.
Its player offers chapter navigation, sleep mode, bookmarks, playback speed that is variable, and support for multitasking for simultaneous playback and download.
It integrates seamlessly with the Kindle system of Amazon.
It has a Whispersync feature which allows you to switch from text to audiobook and vice versa.
You can use Tap, Echo Dot, and Tap for reading your audiobooks.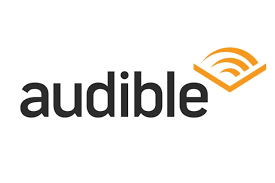 #2. Audiobooks.com
It offers a $14.95 monthly subscription
It is a cloud-based platform from RB Audiobooks.
It has an audiobooks library that contains over 150,000 items of every genre.
Users can stream and download audiobooks for offline playback.
The app includes automatic bookmarking, a playback speed that is variable, a sleep timer, etc.
It includes syncing on various devices which allows users to transition from one device to another easily.
#3. Google Play Books
It has an audiobook feature that allows users to listen to their purchased audiobooks on different devices and platforms (Android, iPhone, and desktop PC).
It does not run on monthly subscriptions.
It allows you to preview your chosen audiobook before buying it.
Its controls allow users to:

Skip ahead
Jump to different chapters
Scroll along the timeline
Snooze timer
Configure the speed of the playback
#4. Kobo Books
It offers various audiobooks and ebooks in its reader apps and online marketplace.
It covers the basics including a scrubber bar for the timeline, time skip buttons, snooze timer, chapter navigation, and configuration of the playback speed.
It provides syncing for different platforms and an ebook reader that is customizable aside from your audiobook player.
For new users, they are given a discount of $5 on their very first purchase of an ebook.
#5. Serial Box
Users can enjoy episodic content rather than long audiobooks
It provides bite-sized novels perfectly suited for your breaktimes and commutes
It offers a wide variety of genres from fantasy and sci-fi to drama
You can have your first episode for free but pay for the next episodes for $1.99 (both audio and text versions)
Part 3. How to Remove DRM-Protection From Audiobooks and Download Them
We recommend using DumpMedia Apple Music Converter for downloading and converting iTunes M4B audiobooks and Audible AA/AAX audiobooks as well as Apple Music songs to various formats for enhancing your listening experience.
Since you can't listen to Apple music on your other devices because they are protected by DRM, this tool helps in removing the DRM protection of various Apple songs such as the following so that you can play your favorite songs anywhere:
Apple Music tracks
Purchased M4P songs in iTunes
iTunes M4B audiobooks
Audible AA/AAX audiobooks
Moreover, DumpMedia Apple Music Converter is a powerful Apple Music Converter with up to 16x conversion speed and retains the original quality of your songs, 100%.
Features of DumpMedia Apple Music Converter
Conversion of thousands of audiobooks and songs from the iTunes music library.
It allows you to listen to Apple Music tracks on various devices offline.
It helps you keep all of your Apple Music songs playable even after canceling your subscription.
Retains ID tags of the original songs.
Supports customization of the output song.
Now, onto the step-by-step guide on how to use DumpMedia Apple Music Converter.
Download, installs then register the app.
Open the software.
Select the files you want to convert.
Choose your desired output format & destination folder.
Start the conversion process.
Below are the detailed steps of the process.
Step 1. Download, Install then Register the App
Of course, you need to download the app first before you can use it. Whether you want to try the software first or purchase it, you can find the links here. Then install the app and proceed to the registration page to activate it. You should have received an Activation Code which you need to type in the registration window.
Step 2. Open the Software
Once activated, launch the software. After this, all of your downloaded iTunes music, Apple music, podcast files, and videos will be automatically uploaded to the Converter. Thus, you have to ensure that you have already downloaded your desired songs to your computer. If you want to check your upload files, you can find it in the app's Playlists section.
Step 3. Select the Files You Want to Convert
You will find the video or audio types of your uploaded files on the app interface's left portion. If you want, you can select one category first. This allows you to see your desired files on the app's right column. Choose your files by checking the box in front or you can also search your desired songs directly on the app's search box found on the upper portion before ticking them.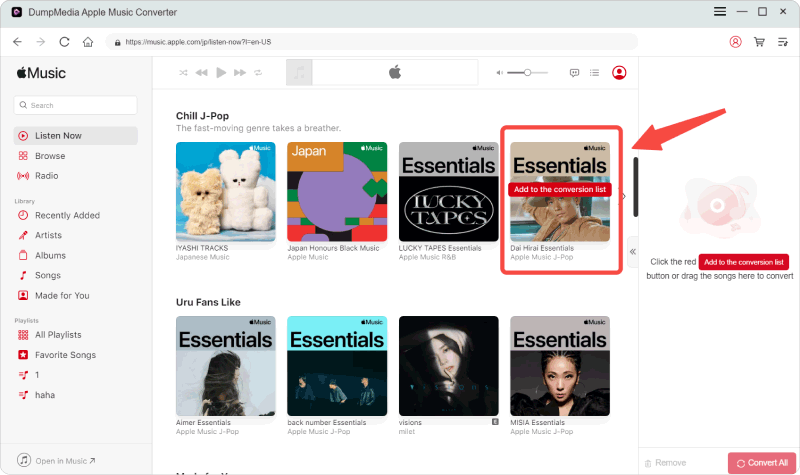 Step 4. Choose Your Desired Output Format & Destination Folder
Next, proceed to the app's Output Settings then select your desired output format on the drop-down list. The default parameters are already set for you but you can also customize them yourself including the output file's Channels, Sample Rate, Bit Rate, and Codec.
Tip:
If you are converting audiobooks, you will be provided the following formats: AIFF, M4R, MKA, AU, AC3, FLAC, M4A, MP3.
After you are satisfied with your settings, select a destination folder for your converted files.
Step 5. Start the Conversion Process
Click the Convert button to start the conversion process. Wait for the conversion to finish. The length of the conversion will depend on the number of songs you converted.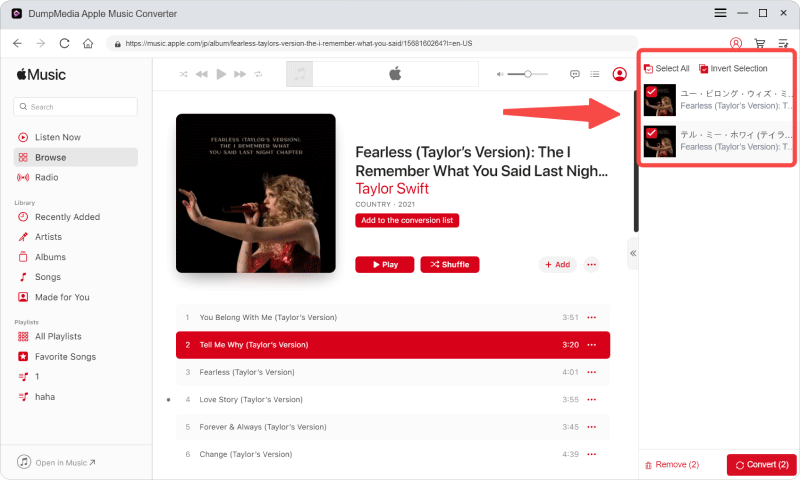 Part 4. Wrapping it Up
With the audiobook players we have listed above, you are given many functionalities from the creation of your own playlists to bookmarking as well as editing tags. Go on and check out which audiobook player works best for you.
By the way, if you are looking for a way to download and convert various Apple Music songs and save it on your computer or mobile device, we recommend using DumpMedia Apple Music Converter. You are free to try this software anytime.