The modern era brought about lots of changes in the lives of people. The improvement in the technology we currently have is very much evident in the way humans live. We also got the chance to have amazing and powerful gadgets which are of course beneficial in our daily lives.
One of the recent technologies introduced is VR videos. Through this kind of video, we got to experience a different atmosphere while watching. But are you aware that we can convert these VR videos using numerous tools and applications? We've got VR video players as well.
Do you want to take your video viewing to the next level?
If your answer is yes, you are on the right page as we are to show you the ways you can use to do the abovementioned and might as well introduce great VR video players available.
Are you thrilled and excited? Let's us find out how below.
Contents GuidePart 1: Best VR Video PlayersPart 2: Best Ways On How To Convert VideosPart 3: In Conclusion
Part 1: Best VR Video Players
There are actually a lot for VR video players which are readily available for users. There are ones which are highly compatible with lots of gadgets and there are some with limited capabilities. We are to present to you the best VR players you can definitely use if you prefer to.
#1. VR Gesture Player (for Android Device)
VR Gesture Player is one compatible with an Android Device. If you got an android device, you can definitely make use of this. This is a software that allows gesture control. You've got to experience VR viewing through the use of a phone camera, gyroscope sensor, and related keywords. You can use your fingers as a virtual mouse. By just tapping the virtual menu and screen, you got to control your viewing experience. This one supports 2D videos in SBS with VR headsets, 360/3D videos in SBS and Top-Bottom as well as YouTube online videos.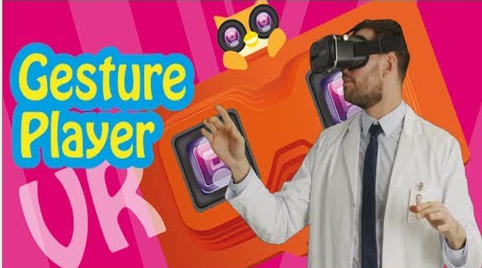 #2. FreeVRPlayer (for Android and iOS Device)
FreeVRPlayer, on the other hand, is a VR video player which is proven to be compatible with both android and IOS devices. One great advantage of using this one is that this saves some storage space on your devices due to its lesser size. Moreover, this application also allows streaming and downloading VR videos via the web and of course performs really great. This is available in the app and googles play store.
#3. VR Player (for Android, iOS, and Windows)
If you are looking for a player you can utilize for android, IOS, or Windows, VR player would be the best for you. By using this you got to have free services for VR headsets like Oculus Rift, accesses to 2D, 3D SBS, 3D Top/Bottom Videos and even 360 degrees. In addition, this VR Player Free has numerous projections methods such as Sphere, Dome, Cube, and a lot more which helps on achieving a realistic 360 Degree Imax theater experience. If you decided to use this, you can have this application download via the app or play store.
#4. Kolor Eyes (for Android, iOS, Windows, Mac, and HTML5)
Aside from the first three VR video players, there is this one best tool you can use to enjoy VR viewing -- Kolor Eyes! What is great about this one is that this could be downloaded easily and get well with Android, iOS, Windows, Mac, and HTML5. Kolor Eyes presents VR video watching with the best resolution and sound quality using a headset. Additional features are zooming in and out, changing the video's projection and even applying visual effects.
Upon showing the several VR video players, let us then take a look at some of the ways to convert those videos.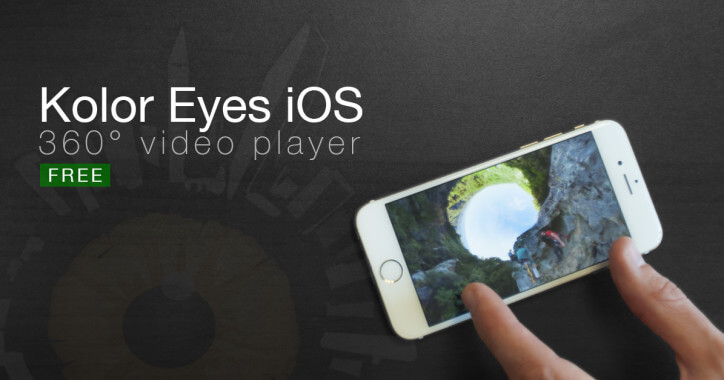 Part 2: Best Ways On How To Convert Videos
#1. DumpMedia Video Converter: A brilliant piece of software to Convert videos
Upon discussing the numerous ways to convert VR videos and the best VR video players you can use, I will now introduce this DumpMedia Video Converter which has been used and trusted by a lot of users nowadays. This is an application which is very helpful if you are looking for a tool which you can use to convert your video or even audio files to different desired formats. You can easily play all videos and audios and get snapshots instantly using its mini clear box if needed.
We are highly recommending to check and test this converter.
This is one is application software that has a user-friendly interface and offers easy steps to perform the desired processes.
It might sound unbelievable but downloading and even the installation of this program could be done in just a few minutes and would require only a few clicks.
To proceed with video conversion, you must do this simple step by step guide.
Step 1: Of course, you are required to ensure that this DumpMedia Video Converter would be downloaded and installed on your Windows of Mac computers.
Step 2: Launch the program and click the "Add files" button to select the desired file to convert. You can as well drag and drop the files directly from the location to the application.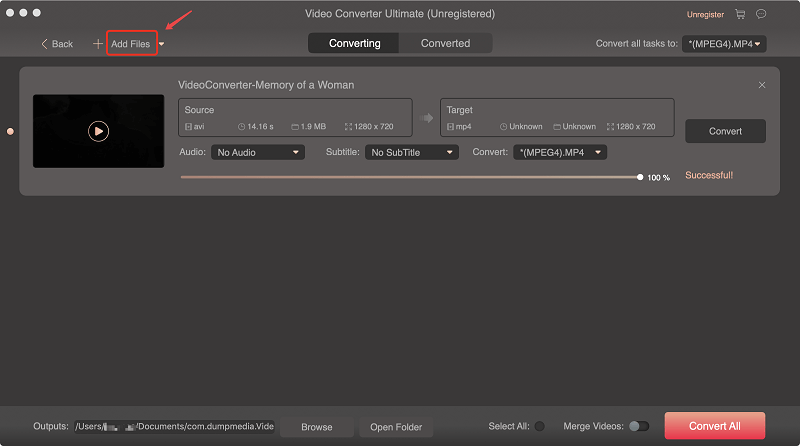 Step 3: Select the format wanted from "Convert all tasks to".
Step 4: Once done, choose the destination folder wherein the output file would be saved.
Step 5: Click the "Convert" button to begin with the conversion process.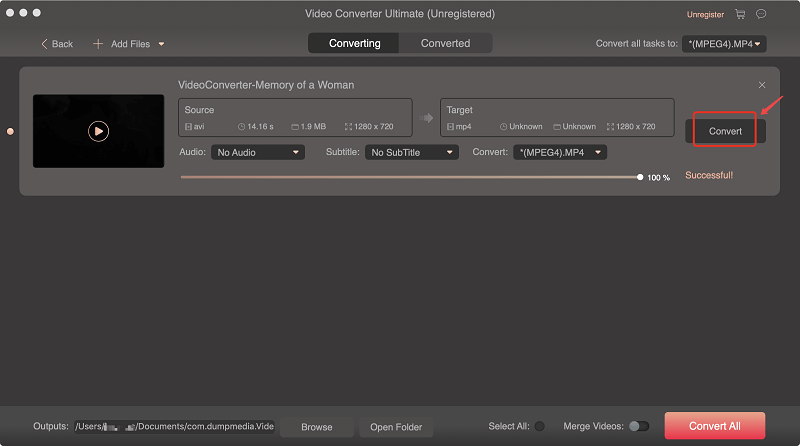 #2. VideoSolo Video Converter Ultimate: Convert common videos to VR in 3D format
One of the best methods you can use to convert common videos to VR ones is by using VideoSolo Video Converter Ultimate. This is a powerful tool to perform the conversion process. Moreover, this one offers various functions, features, and operations which you can do easily because of its user-friendly interface. Aside from the conversion feature this has, one can also execute video editing like clipping, cropping, adding watermarks, subtitles, and a lot more. With this application, VR videos could be just in your hands and reach.
To find out how this works, let us dig in the below steps.
Step 1: Ensure that you have this VideoSolo Video Converter Ultimate downloaded and installed on your Mac or Windows computer.
Step 2: Open the program.
Step 3: Once you have seen its interface, click the "Add Files" button to add or import the desired common video you wanted to convert.
Step 4: Click the "Profile" option and select "3D Video". In the popup list, select one format of your choice.
Step 5: Lastly, tick on the "Convert" button which you can see at the bottom right part of the screen.
#3. Wondershare UniConverter: Convert common videos to VR videos
Wondershare UniConverter is another useful tool one can use in converting common videos to VR ones. This as well is compatible with both Mac and Windows computers. Aside from the conversion feature, you can perform downloading, burning, or video editing.
To make use of this, below step by step guide must be followed.
Step 1: Make sure to download and install this Wondershare UniConverter.
Step 2: Have this program launched on your personal computer.
Step 3: Go to the "Toolbox" section and click the VR Converter which you can find on the bottom part of the screen under the Media Tools category.
Step 4: Click "…" to import the video file to be converted. Then select video mode and your VR device. Once you are done with this, you can now specify the located wherein the converted videos will be stored.
Step 5: Click the "Convert" button to begin converting videos to VR. The bar at the bottom of the screen shows the progress of the process.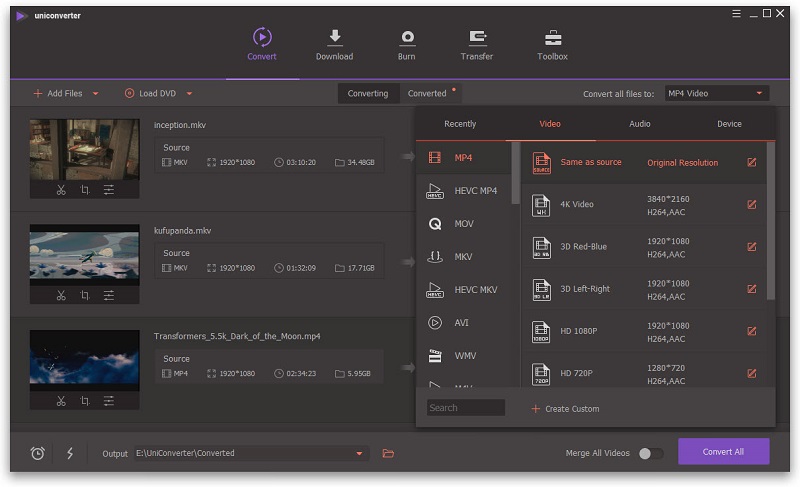 Part 3: In Conclusion
By looking onto this VR video player available, you can now have the best VR viewing experience you are aiming for. If you would want to have common videos converted to VR ones, you also got the methods above. By following the simple step by step guides, VR video viewing could just be at the tip of your fingers!
Do you have any queries or opinions? You can leave your comments in the below section!