If you have already tried downloading DRM-protected songs from the internet, then you also probably know how restrictive DRM protection is which can be quite annoying. The majority of media content you buy online are DRM-protected. Even if there are some places that sell content that is DRM-free, you will not find it on major studios such as Netflix, Sony, Hulu, iTunes, Amazon, and others.
Also, even if you have already purchased the DRM-protected content online, things will still be difficult for you because this can limit your enjoyment of the content. This is where DRM removal freeware tools come in. Through these tools, you can easily remove DRM-protection from various media files for free. So What is the best DRM removal software? If you want to know more, keep on reading!
Contents Guide Part 1. Our Most Recommended DRM Removal FreewarePart 2. Top 5 DRM Removal Tools That Offer Free TrialsPart 3. Top 5 DRM Removal Freeware That is Totally FreePart 4. Wrapping It Up
Part 1. Our Most Recommended DRM Removal Freeware
We recommend using DumpMedia Apple Music Converter for downloading and converting any Apple M4P songs, albums, and playlists to MP3, AC3, M4A, M4R, FLAC, MKA, AU, AC3 and more for enhancing your listening experience.
Since you can't listen to Apple music on your other devices because they are protected by DRM, this tool helps in removing the DRM protection of various Apple songs such as the following so that you can play your favorite songs anywhere:
Apple Music tracks
Purchased M4P songs in iTunes
iTunes M4B audiobooks
Moreover, DumpMedia Apple Music Converter is a powerful Apple Music Converter with up to 16x conversion speed and retains the original quality of your songs, 100%.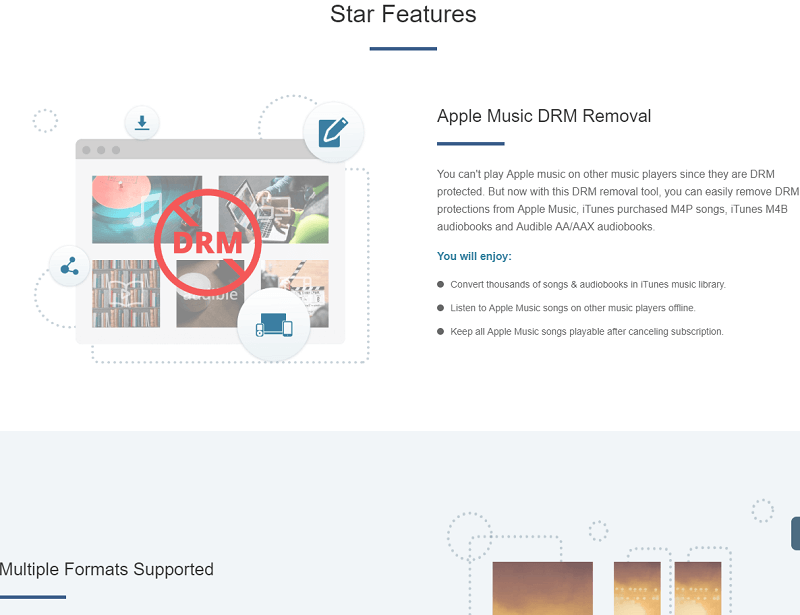 Features of DumpMedia Apple Music Converter
Conversion of thousands of audiobooks and songs from the iTunes music library.
It allows you to listen to Apple Music tracks on various devices offline.
It helps you keep all of your Apple Music songs playable even after canceling your subscription.
Retains ID tags of the original songs.
Supports customization of the output song.
For the steps on how to use DumpMedia Apple Music Converter as DRM removal freeware, proceed to the provided link.
Part 2. Top 5 DRM Removal Tools That Offer Free Trials
#1 AppleMacSoft DRM Converter
Advantages
Integration with the iTunes app.
Has versions for both Mac and Windows users.
Offers a free trial for the software.
Supports AAC, MP3, AIFF, WAV, and Apple Lossless as its output formats for the converted files.
Disadvantages
Very costly license fee.
The design of the software's interface is outdated.
In addition to the advantages, AppleMacSoft DRM Converter makes use of a virtual CD writer that works with iTunes to produce DRM-free copies of the original media content in a legal process. This software uses iTunes' importing feature in capturing a specific media format.
#2 Noteburner
Advantages
Available for both Mac and Windows users.
Supports various sources such as Spotify and Apple Music.
Offers a free trial for the tool.
Disadvantages
The tool's product offerings are duplicative and confusing.
It only offers free licenses to users who give good product reviews.
Noteburner removes DRM-protection from your selected media files by installing a virtual CD writer on your computer. Similar to AppleMacSoft DRM Converter, Noteburner works with your desired media player tool in burning audio files that are not DRM-protected onto virtual CDs.
The only drawback of using Noteburner is that you have to have a media player tool that can burn files onto a CD. But no worries because once the burning process finishes, you can now transfer your DRM-free media content to any MP3 or media player you want.
#3 Tunebite
Advantages
It does not actually crack DRM-protection from media content so it is completely legal.
Boasts an outstanding list of extra tools.
Offers a free trial for the software.
Supports a lot of file formats.
Comes with additional functionalities such as the following:

An integrated module for CD burning
Editing of ID3 tags
Ringtone maker
Recorder for streaming audio
Video conversion
Disadvantages
Uses a subscription-based model.
The software offerings of Audial are very complex.
Being among the media suite of Audials One, Tunebite is one of the DRM removal tools you will find out there that exploits the analog hole or analog loophole. Instead of illegally removing the DRM protection from your original files directly, Tunebite records the protected files in order to produce versions that are DRM-free.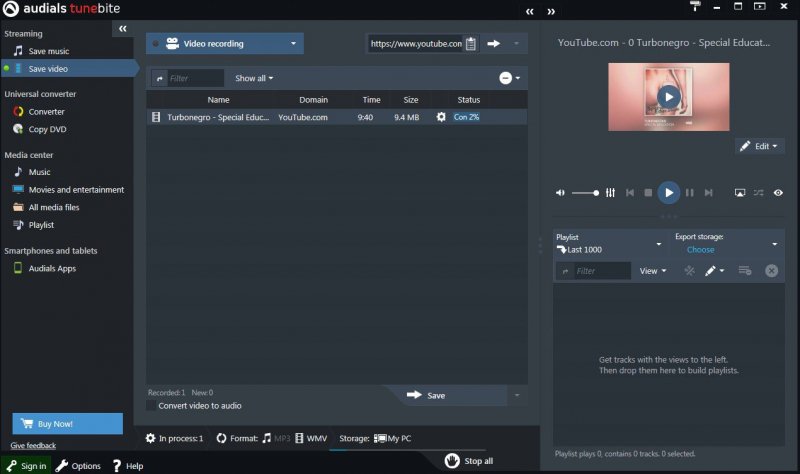 #4 SoundTaxi
Advantages
Supports a wide variety of file formats.
It offers a free trial (but has limits).
Has good compatibility with various file formats (audio and videos).
Can process folders containing media files that are DRM-protected in batch.
It is able to recreate your folders' original structure and save the output DRM-free files on these.
Disadvantages
The tool has not been updated for many years.
The licenses for the app suite's individual components are expensive.
SoundTaxi removes DRM-protection from media files by making use of Windows Media Player. It records your original files at a high speed and produces DRM-free versions of these. Moreover, this tool comes in Pro+VideoRip, Professional, and Platinum versions. The Pro+VideoRip version supports the processing of audio and videos while the professional and platinum versions support audio-only.
#5 MuvAudio
Advantages
It offers a free trial for the tool and has a reasonable price for the app.
Supports various plug-ins. Thus, extending functionality.
It is only a single program, unlike many other programs that offer different prices.
Has the feature of automatically searching for missing ID3 tags and albums.
Disadvantages
Needs the Windows Media Player app.
The app's interface is archaic-looking.
MuvAudio is similar to the SoundTaxi app which needs the Windows Media Player app before it can process media files that are DRM-protected to produce DRM-free versions. Also, it can simultaneously convert multiple media files with 10x the typical playback speed.
Furthermore, MuvAudio offers built-in support for both audio and video file formats. You can even download extra plug-ins from their website if you want to extend the app's support for file formats to handle less popular ones.
Part 3. Top 5 DRM Removal Freeware That is Totally Free
#1 Requiem - DRM Freeware Remover for iTunes Media Files
Pros
Can strip out DRM-protection from both audio and video files in iTunes.
Can convert your favorite iTunes audiobooks, songs, and videos without loss of quality.
Allows direct dragging and dropping of files onto the application.
Has versions for Linux, Windows, and Mac users.
Cons
It requires you to downgrade to lower versions of iTunes (below 10.7) before you can use Requiem.
You need to have your computer authorized so that you can play your DRM-protected files while using the app.
It does not offer any technical support.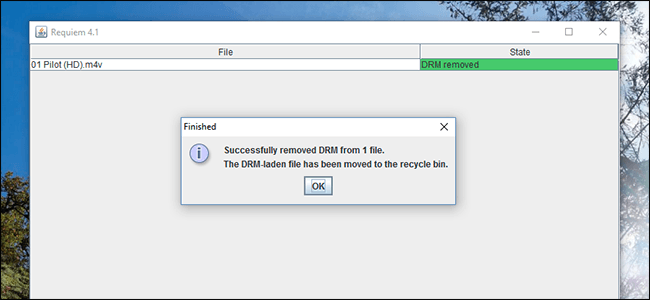 #2 myFairTunes - DRM Freeware Remover for Music (Windows)
Pros
Specially designed for working with M4P music in iTunes.
Supports searching for DRM-protected music in your whole collection.
Can create M4P backups of your original media files before it removes them from the iTunes app.
Cons
It does not have versions for Mac and Linux users.
Is not able to convert Apple audiobooks and Apple Music tracks.
You cannot set settings for output preferences such as the output music quality and file size.
Has not been updated in a very long time.
It can only support earlier versions of iTunes (10.7 or lower).
Requires you to install the Microsoft .NET Framework version 2.0.
#3 FairUse4WM - DRM Removal Freeware for Windows Media Files
Pros
Cons
It can only support Windows Vista and Windows XP.
#4 FreeMe2 - WM-DRM Removal Freeware
Pros
Can strip out DRM-protection from WMA, ASF, and WMV files.
Cons
It can only support Windows XP.
#5 Free DRM Removal
This tool is able to easily decrypt M4V videos that are DRM-protected and convert these to MP4 files that are DRM-free.
Pros
It offers a streamlined and simple interface that allows for easier conversion of DRM-protected videos to MP4 formats.
Totally free to use.
Supports batch conversion of files.
Cons
Has an available version for Windows users only.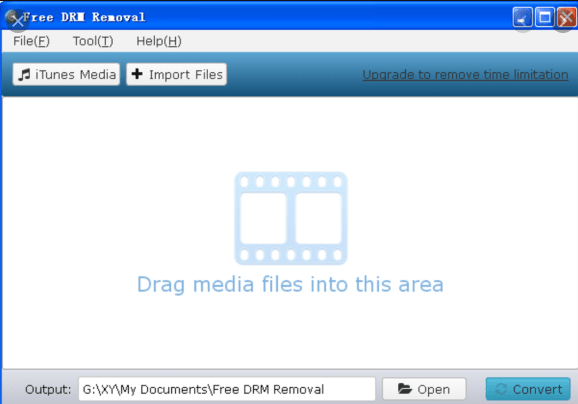 Part 4. Wrapping It Up
DRM-protection technology is a good tool that many companies use to protect their content. But, this technology restricts users from enjoying their favorite content. One of the main reasons is that it is hard to find media players in which these contents can work on even if users had already bought the content.
Our most recommended tool in removing DRM-protection from your desired Apple Music songs is DumpMedia Apple Music Converter which you can also use to download and convert various Apple Music songs and save it on your computer or mobile device. You can also choose from the other 10 freeware we have listed in this article.
Hopefully, you were able to find the one that suits your taste.