Reading books with your lap and hands is no longer the trend now. Bringing of bulky books with you as you go to the office or travel far away from home is not the usual "reading" method nowadays. If you are not aware, with the advancement of technology, you can now listen to your favorite stories using your handy devices. Audiobooks are nowhere! But, one dilemma for many is that there are cases that the audiobooks they have are not supported by the mobile phones or tablets they are using. Ever wondered about the free AAX To MP3 converter ?
Surely, if you want to listen to audiobooks every time you go out of the house (even offline), you wanted to save all those favorites in your device. You can do that through the use of free AAX To MP3 converters. For tight budget audiobooks lovers out there, having knowledge about that is really beneficial. We will be discussing these converters as we go along this article and give you some more information that would be useful to you going forward.
Contents Guide Part 1: What Is AAX File Format?Part 2: Best Free AAX To MP3 ConvertersPart 3: Can I Convert AAX to MP3 for Offline Playback?Part 4: To Wrap It All
Part 1: What Is AAX File Format?
Since the major topic of discussion in this blog post would be about the free AAX To MP3 converters, it would be best to know what AAX format first is. And, in this portion, we will be dealing with its definition.
When you here AAX file format or AAX file extension, you should know that this is a format being used by Audible enhanced audiobooks. Both were developed by Audible. The files containing this AAX extension in this file format include images, videos, timeline, or even links. And, they are known to be the advanced version of the AA format. AAX files are supported by media players such as Creative Zen, iTunes (both in Mac and Windows computers), Microsoft Zune, Amazon Kindle, Apple iPod, and more. In order for you to stream these AAX audible audiobooks, you must have an Audible account and you should be paying the subscription needed on a monthly basis.
The usual problem of AAX files/ audiobook lovers is the compatibility of these files with other gadgets which make it hard for them to stream the files. This is why knowing some free AAX To MP3 converters would surely help. MP3 file format is the most popular and most supported file format among all. And, having your AAX files converted to MP3 through these converters will definitely matter! Now that you have the basic knowledge about AAX file format and the reason why converting to MP3 is necessary, we will now start tackling these free AAX To MP3 converters that you can use.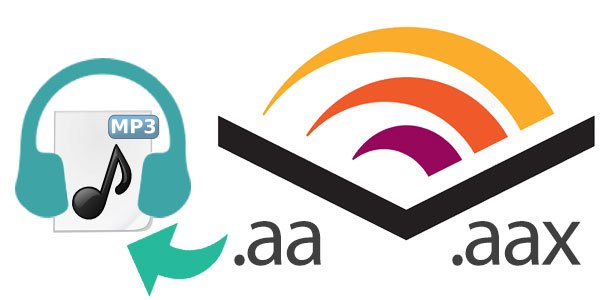 Part 2: Best Free AAX To MP3 Converters
Converting AAX to MP3 is a simple thing. Well, for those without knowledge of how to do it, it would be quite difficult. But this is why we are here! We can make every conversion thing easier for you. In this portion, you will now be learning about the free AAX To MP3 converters that would help you remove the burden of streaming audiobooks on your devices. We are to discuss two main clauses of these converters here – the freeware (software applications) and the online tools that you can access from the web.
Free AAX To MP3 Converters (Software Application)
At first, you could be wondering if there are some software applications offering free AAX To MP3 conversion. Well, of course, there are. Here are some of those.
AudibleChapters
AudibleChapters is one of those applications which you can install on your personal computer supporting the AAX to MP3 conversion. Here is a brief guide on how you can use this tool.
Install this freeware, AudibleChapters, on your personal computer. Once you search on the web, you will get a zip file so there is a need for you to unzip the file in order to use it.
Now, the next thing needed is to launch the exe file. You will see some options in the new pop up window that will be shown on the screen. Choose "I have an AAX file, which plays fine in Audible Manager".
You can now upload your AAX file by hitting the "Browse" button. Under the "Compression options", make sure to tick "MP3". Specify the target director as well. There are other output options. You can have it changed depending on your preference. After doing so, hit the "Start" button.
After hitting the "Start" button, all screen will be grayed, and you can no longer edit any details. You can see all the notes or statuses about the conversion process on the screen. If you have an AAX that has a bigger size, it may take you some time to complete the conversion. After completion, you will see a new window showing that process has been completed. All you need to do is hit the "OK" button.
However, many people have reported a lot of issues about this AudibleChapters. They are complaining that the conversion process is quite long. Also, the computer that is being used does not work smoothly during the process. Added to that, batch processing is not supported.
AAX to MP3 Converter 1.1.0
Apart from AudibleChapters, you also have this AAX to MP3 Converter 1.1.0. The same with the first one, this as well falls under the free AAX To MP3 converters category. The only disadvantage here is that this can only be played on Windows computers. While using this tool the process of conversion is a bit fast and easy and there is no need to have the iTunes application along with you. This should run smoothly on a Windows computer with 7, 8, 8.1, or 10 operating systems.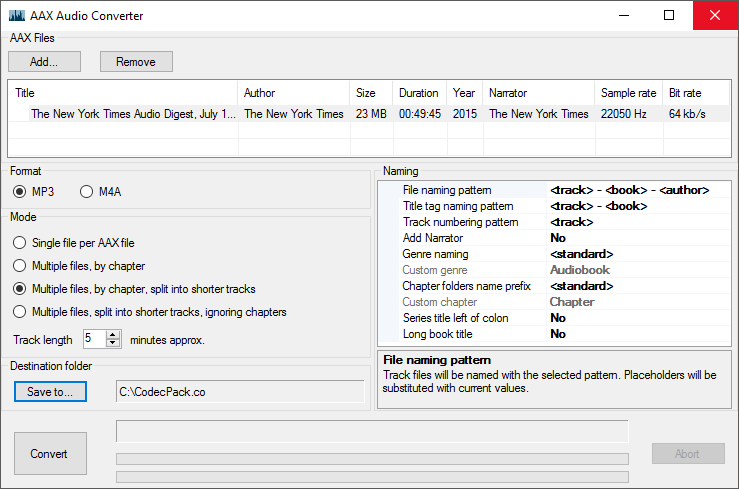 OSAC 3.0
Another free AAX To MP3 converter is this OSAC 3.0. This has the ability to convert AAX files to MP3, AAC, and even FLAC. You can even adjust the quality of the converted files using the quality slider that you will see in this application.
Now that we are done with freeware capable of converting your AAX files, let us now head to some online and free AAX To MP3 converters that you can also check and try.
Free AAX To MP3 Converters (Online Tools)
Online and free AAX To MP3 converters are also beneficial to many users. Aside from being free of use, you can have the tool utilized as long as you have a stable data connection and a personal computer that works fine. Apart from this, there is no need for you to install any applications on your personal computer reducing the hassle in case you are not a person who loves installation that much.
Here are some of the most used and trusted online tools.
Convertio Website
Convertio is one of the most used online tools when it comes to conversion. And, what makes it so popular is that it supports free AAX to MP3 conversion. Here is a brief overview of the guide on how you can use Convertio in the transformation of your AAX files to MP3.
Head to the main website – Convertio.com, in any web browser.
When you arrived at the main screen, hit the computer icon that you will see in the middle to browse AAX files in your computer's library. You also have the option to add files from online storage clouds like Dropbox and Google Drive or paste the link of the AAX file.
Make sure that you are to set the input format to AAX and the output to MP3.
Now, just hit the "Convert" button to begin the conversion process online and free.
Just wait for some minutes and you will be having the converted file in while.
Zamzar.com
Zamzar is another platform offering free and online conversion of AAX files to MP3. The same thing with Convertio, the adding of files can be from your computer, from online storage clouds, or links. You are to follow the same process, but the difference is that you are only to set MP3 as the output format. Also, there is a need to add your email address to be able to receive the converted file after the conversion.
Online-audio-converter
Apart from the two, you also have this Online-audio-converter. The uploading method is the same as the first two. Here, you have the option to edit or change some settings depending on your preference and even edit the track's information.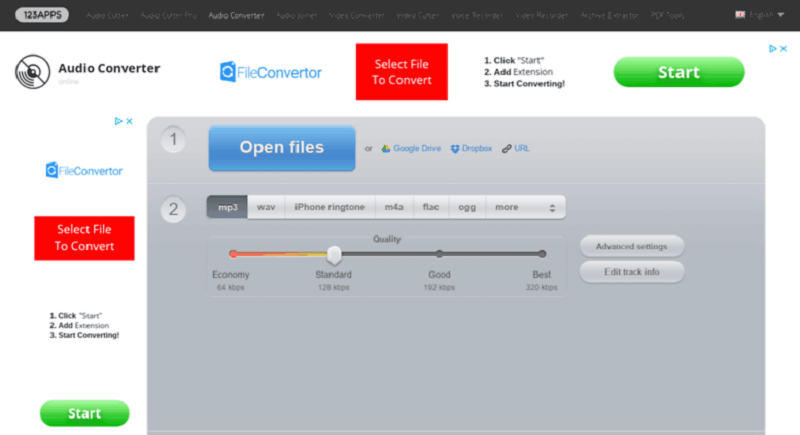 Part 3: Can I Convert AAX to MP3 for Offline Playback?
Upon learning those free AAX To MP3 converters, we are also giving you some additional information. Surely, you also know that conversion can be done the easiest and simplest through professional software applications and converters. There is a lot on the web but what is known to be the best is this DumpMedia Apple Music Converter. This seems to be an all-in-one package catering to Apple music and audiobook conversion.
If you are looking for such a converter, why not try this one?
Part 4: To Wrap It All
The use of free AAX To MP3 converters is surely great. Who would not want a free way to get things done? However, since these tools are free, you should at least have some expectations that there are always limitations and drawbacks. You can try these but if you wanted to avoid nuisances, the best is still to use professional converters like DumpMedia Apple Music Converter.
Have you tried AAX to MP3 conversion before? What did you use?