If you are an Audible user, you may notice that when you download an audiobook from Audible, the file extension will be AAX. What is AAX? It is the enhanced Audible file format developed by Audible. An AAX file contains not only basic information like its title but also images, bookmarks, chapter markers, etc.
But AAX is also a DRM-encrypted format, making only Audible-authorized players can play it. Maybe you are busy searching for an AAX player that can solve this issue. Don't worry. I will introduce several AAX players for Windows/Mac/Android/iOS users respectively.
And instead of recommending you use what I've found, I will also show you a wonderful tool that can help you play AAX on any player or device. After that, you don't need to have a particular player just for Audible audiobooks.
Contents Guide Part 1. Recommended AAX Player for Windows/Mac/Android/iOSPart 2. How to Play AAX on Any Player or Device?Part 3. Summary
Part 1. Recommended AAX Player for Windows/Mac/Android/iOS
AAX Player for Windows
Audible App for Windows 10
Audible Windows 10 app is the official app released by Audible for users to listen to audiobooks. You can manage your Audible library and download all your Audible books for offline listening in this app. What's more, you can change the listening speed depending on your need. Most importantly, it allows you to transfer your books to compatible MP3 players.
However, it has been removed from Microsoft Store and is unavailable now. Audible has announced that the Audible app for Windows 10 has been deprecated and can no longer be used to access Audible or listen to titles in your Library after July 31, 2022.
Windows Media Player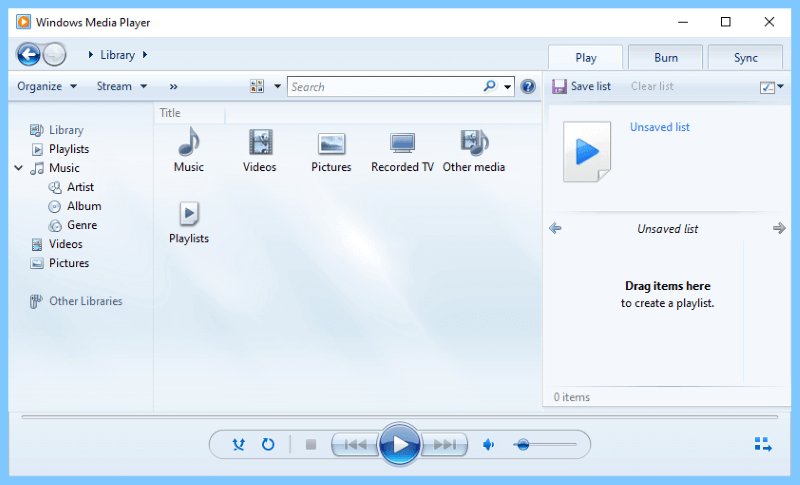 Windows Media Player is a default media player installed on all Windows platforms. You can not only listen to AA or AAX files on it, but also burn Audible to CD. After importing your Audible audiobooks into the program, you can manage the books by rating them.
AAX Player for Mac
iTunes
Although there is no official Audible app for Mac computers, you can still listen to AAX files with some programs. iTunes is the pre-installed media player for Mac. You can purchase and listen to Audible books if you authorize your computer with Audible.
Apple Books
iTunes has been transitioned to Apple Books on new macOS platforms. They share some same features but are different. You can buy and manage both e-books and audiobooks. You can also set a sleep timer, change your listening speed, etc.
AAX Player for Android/iOS
Audible App for Android/iOS
The Audible app seems to be the only AAX player for both Android and iOS. It shares almost the same features as the Audible app for Windows 10 but has some differences. It just looks like some of your music streaming apps.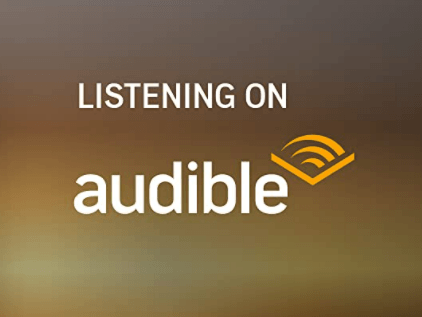 But you should be aware that you're not allowed to buy Audible audiobooks through the Audible app for iOS. Instead, you can do that on Audible for Android. In addition, newly downloaded Audible books are in AAXC format but not AAX now.
Part 2. How to Play AAX on Any Player or Device?
You may be not satisfied with the AAX player I've mentioned above because most of them are official apps. I have to admit that these AAX players do have many limitations as long as the file format is AAX. If you can get rid of the restriction, things will get much easier.
To state it more clearly, if you can remove the encryption from the books and convert them to other common audio formats, you can play AAX on any player or device. You don't have to be trapped in AAX player anymore.
With the help of DumpMedia Audible Converter, you can easily do that. It is an easy-to-use program that can convert Audible AAX to non-encrypted MP3 files at a fast speed. What's more, the software supports batch conversion. It will be perfect for you if you have a huge backup to convert.
DumpMedia Audible Converter will keep the 100% lossless audio quality of the original audiobooks. And it will maintain the ID3 tags and metadata information, including titles, authors, cover art, and so on, helping you manage your library more easily.
What surprises me is that it can split audiobooks into chapters and segments depending on your need. Usually, a whole title is too big to carry on the MP3 player or other portable devices. But with this converter, you can feel free to separate and import the piece you want to different devices.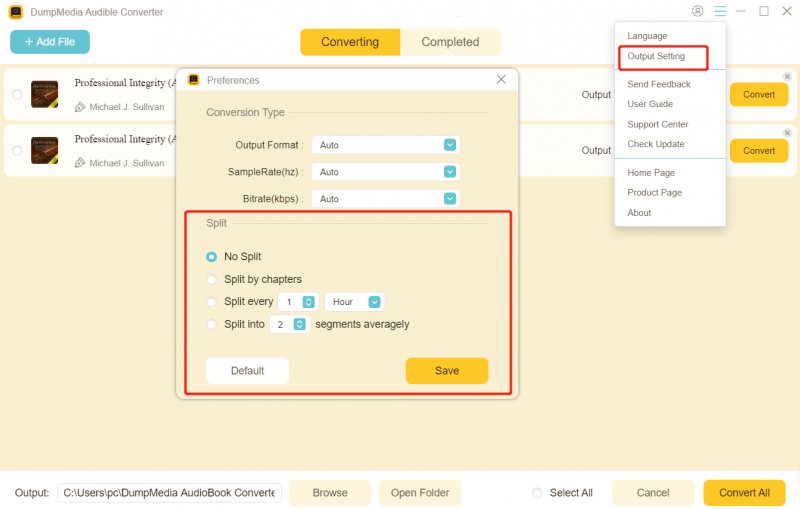 If you get interested in DumpMedia Audible Converter, you can follow the instructions below to have a try.
Step 1. Import Audible Audiobooks to the Converter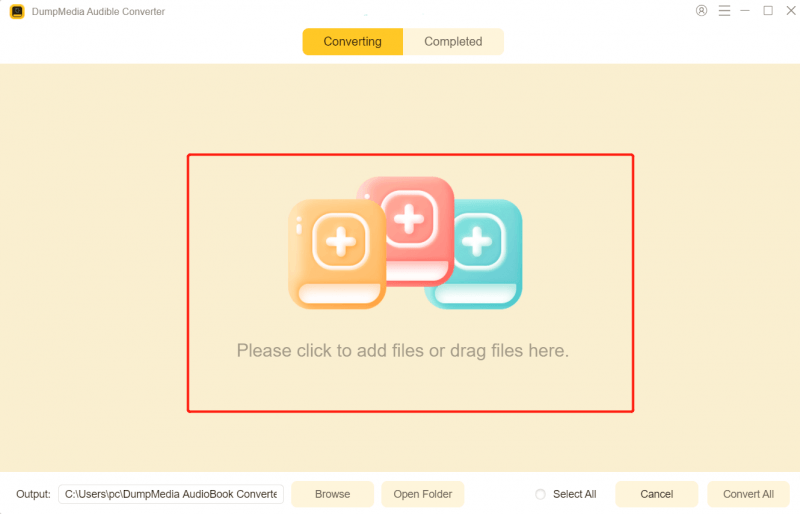 Click the Free Download button to install and run DumpMedia Audible Converter on your computer. You can click on the main interface to add the audiobooks you've downloaded from Audible. Or you can simply drag and drop them into the converter.
Step 2. Choose an Output Format for the Audiobooks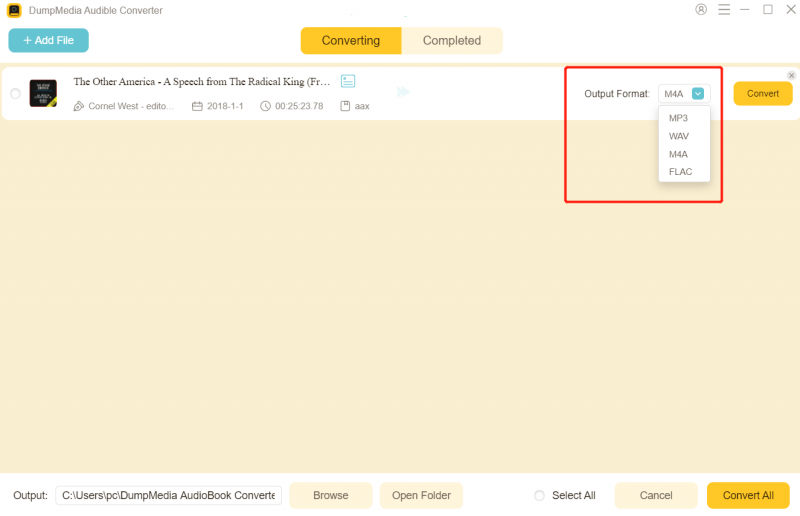 You can choose MP3 as the output format. Click Browse in the bottom left corner, and you can change the output folder as you like. What's more, you can click the triple-bar icon in the upper right corner and select Output Setting to modify more details.
Step 3. Convert and Transfer the Audiobooks
Click Convert All so the software will start the conversion. You can go to the Completed tab and click the Open File button to immediately locate the files. Finally, you can transfer the audiobooks to any device or media player you like.
Part 3. Summary
Listening to Audible audiobooks in your free time is very pleasant. However, many devices cannot recognize and play AAX files. Here I recommend an AAX player for Windows/Mac/Android/iOS respectively. You can choose the one you like.
However, it will be more convenient if you convert AAX files to other common formats using DumpMedia Audible Converter. That will make your AAX files playable on any device and media player. It is professional but very easy to use. Hope you can enjoy your time with audiobooks!