Nowadays, many people have changed their way of enjoying books from reading to listening. And Amazon Audible is one of the prominent online audiobook services that enables you to listen to a huge collection of audiobooks and podcasts. However, the format of Audible audiobooks is AAX, meaning that you can only play your downloaded files on certain devices and media players.
If your device does not support AAX files, you may be looking for a way to convert AAX to MP3. Luckily, we will offer the ultimate solutions in this article. It will be much easier for you to listen to Audible audiobooks on different platforms. Keep reading to enhance your experience with Audible.
Contents Guide Part 1. Can You Download Audible AAX to MP3Part 2. Best Way to Convert AAX to MP3Part 3. Other AAX to MP3 ConvertersPart 4. Summary
Part 1. Can You Download Audible AAX to MP3
If you want to download Audible AAX to MP3 on the Audible app, you might be let down because Audible doesn't offer a native option to do so. AAX is a multimedia digital audiobook format developed by Audible. When you download audiobooks on Audible, you'll get files in AAX format, which is protected under DRM—Digital Rights Management.
This protection will stop you from transferring the AAX files to other devices and media players for playback. Devices compatible with Audible audiobooks are limited to iTunes, Apple iPod, some Amazon Kindle models, and so on. It is likely that other devices cannot recognize AAX files as you try to play them.
Although DRM protection is mainly used to ensure the rights of the authors and producers, it also brings some inconvenience to Audible users. What if you want to listen to audiobooks with your MP3 players when jogging? What if you have to uninstall the Audible app and switch to other platforms?
To solve these problems, this article will introduce the ultimate ways for you to remove the DRM protection from the AAX audiobooks and convert AAX to MP3. If you are interested, read along to get more detailed information.
Part 2. Best Way to Convert AAX to MP3
In order to make AAX files available on unauthorized devices and keep your downloaded audiobooks locally, what you need is an Audible Converter that can convert AAX to MP3. There are many converters you can find. As a result, we've found some for you to save time and effort.
The first one I want to recommend is DumpMedia Audible Converter, a professional and well-designed program aiming to remove Audible DRM and convert AAX to MP3. It is easy to use and user-friendly, so you can easily handle the operation without much effort.
It is the best Audible AAX to MP3 converter with many impressive features. For instance, it supports keeping the ID3 tags of the original audiobooks, which contain chapter information, covert art, title, and so on. It can also maintain lossless sound quality at a fast conversion speed.
What's more, DumpMedia Audible Converter supports batch conversion and enables you to split audiobooks by chapter or time. You can also modify output parameters such as bitrate and output format. With the quick guide below, let's learn how to convert AAX to MP3 using DumpMedia Audible Converter.
Step 1. Download Audiobooks from Audible
Before converting AAX to MP3, you have to download your purchased audiobooks from the Audible website. Go to your Library, click Titles, and press the Download button next to the book. Usually, you can find your downloaded books in the Download Folder on your computer.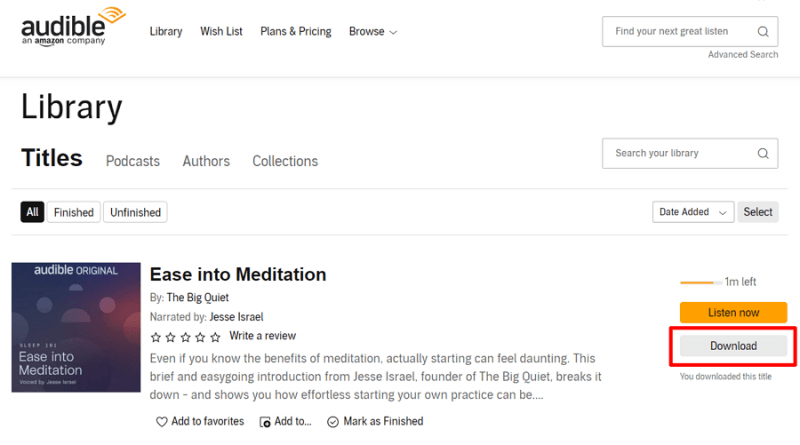 Step 2. Add Audible audiobooks to the Converter
Download and install DumpMedia Audible Converter on your computer. After launching it, you can click the book icon on the main interface and choose the books you want to convert. Or you can drag them into the converter to add them to the list.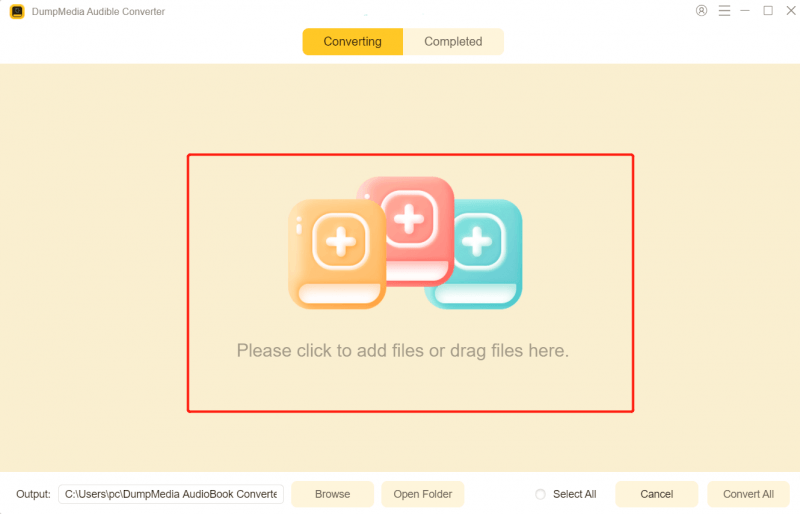 Step 3. Change Output Parameters for the Books
Click the dropdown list next to each title and choose MP3 as the output format. Press the Browse button to change the output folder if needed. Click the tag icon beside the title, and you can modify the ID3 tag. Click the triple-bar icon and select Output Setting to split the audiobook.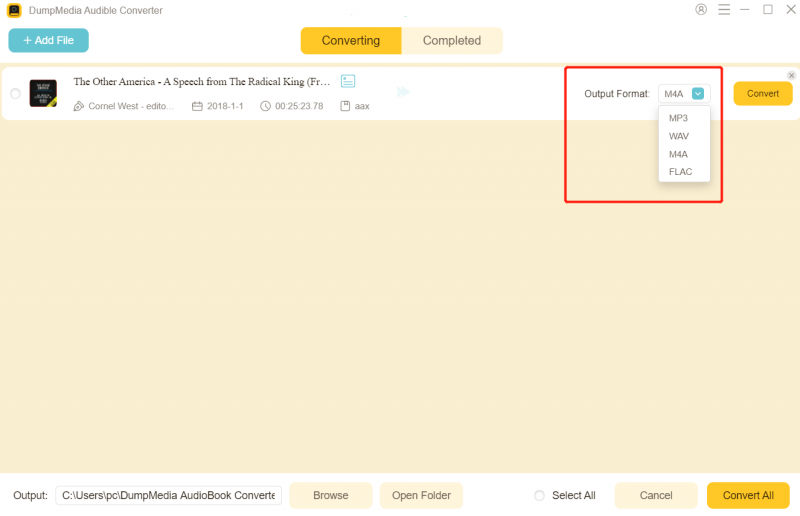 Step 4. Convert the Audible audiobooks
Once you've done the settings, press the Convert button at the right of the window to start the conversion. Wait for a few seconds, and you can go to the Completed tab to see the conversion results. Click Open File to locate the converted audio quickly.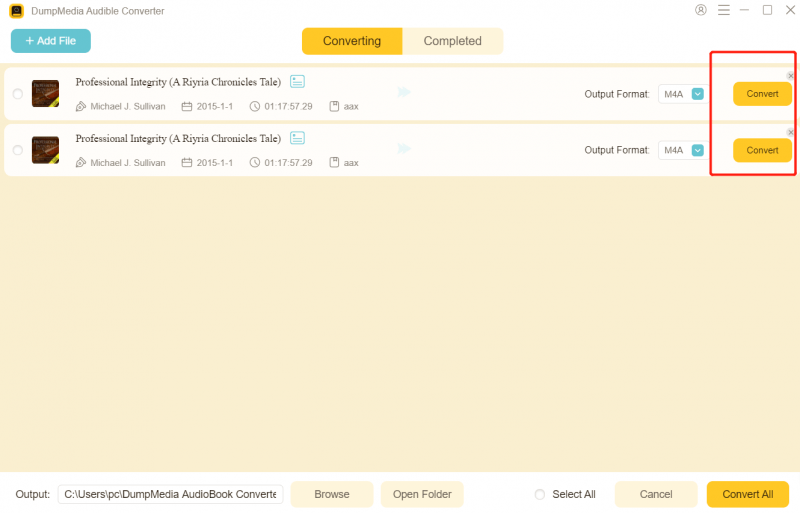 After the whole process, you can now freely transfer your audiobooks to other devices and listen to them on any platform and media player. I've also discovered some online Audible Converters that can also convert AAX to MP3 but have some limitations, unlike DumpMedia Audible Converter.
Part 3. Other AAX to MP3 Converters
Online Audio Converter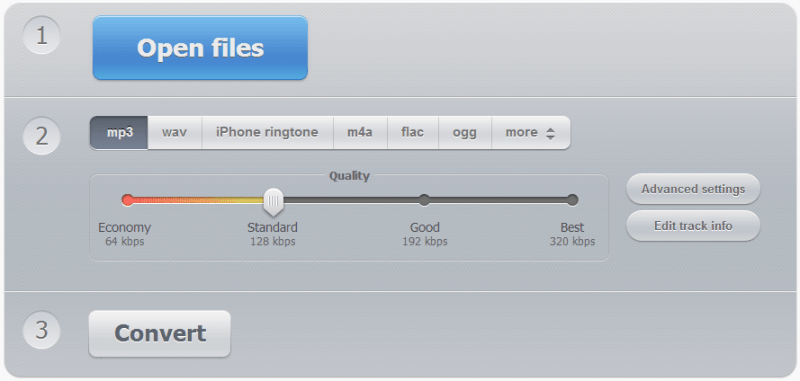 It is an online tool for converting audio files. It enables you to modify output quality, bitrate, sample rate, and track information depending on your need. Its advantage is that you do not need to download a program on your computer.
However, it will require a stable and fast internet connection for uploading and downloading files compared with desktop apps. It is more suitable and convenient if there is a need for batch conversion and large-size audiobook conversion.
Audacity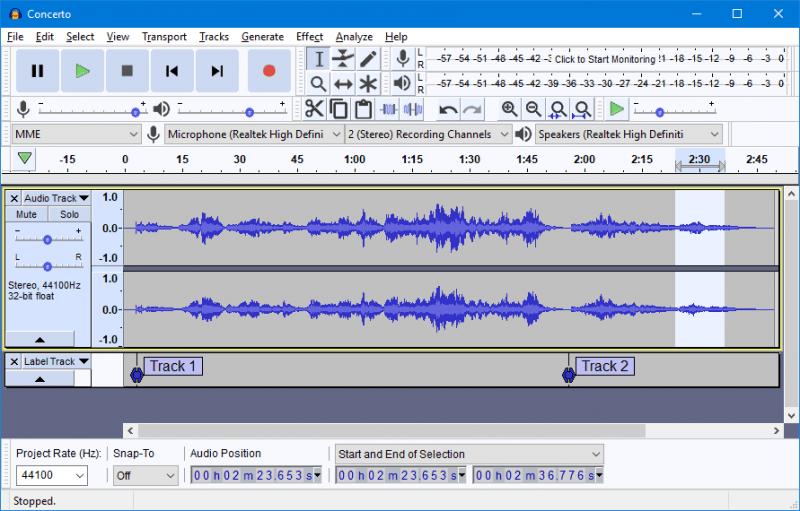 It is famous audio recording software that allows you to record the soundtrack you're playing on your computer. So, you can record Audible audiobooks as MP3 when they play in the background using the system sound.
The drawbacks are obvious, too. The program may be complicated for beginners because it has many different buttons and options on the interface. Additionally, it will compress the output audio. Therefore, you cannot have the original sound quality of the audiobooks.
Apowersoft Online Audio Recorder
It is also an audio recorder like Audacity. Although it is an online tool, you still need to download and install a launcher on your computer. Besides, it cannot record more than one audiobook simultaneously. So, it is more suitable for small-size audiobook conversion.
Part 4. Summary
Because of the AAX extension of the downloaded Audible audiobooks, users cannot export and play their purchased books on other devices and media players. It's necessary to have an Audible Converter to convert AAX to MP3.
Here I recommend some AAX to MP3 converters, among which DumpMedia Audible Converter has the best performance. It is powerful, easy to use, and user-friendly. You should not miss it if you want to keep your audiobooks and listen to them freely.