If you're a student or someone who enjoys listening to audiobooks or podcasts, Audible is the place to go. Whether you're a long-time user or a newcomer, audible allows you to discover and acquire audiobooks all at once! As a result, it is extremely popular on the market.
Today's exciting news is that Audible has launched an Audible Manager! Yes, you read that correctly. Audible now includes an Audible Manager to help you keep track of your podcasts and audiobooks. Also, to provide its users with an exceptional Audible experience for easier and more enjoyable navigation!
As a result, we'll go over the features and functions of Audible Manager in this article. We'll go over how effective and efficient this manager is for your audible app.
Contents Guide Part 1. What is Audible Manager?Part 2. How Do I Download Audible Manager?Part 3. Bonus: How to Listen to Audible Books on Any Player?Part 4. Summary
Part 1. What is Audible Manager?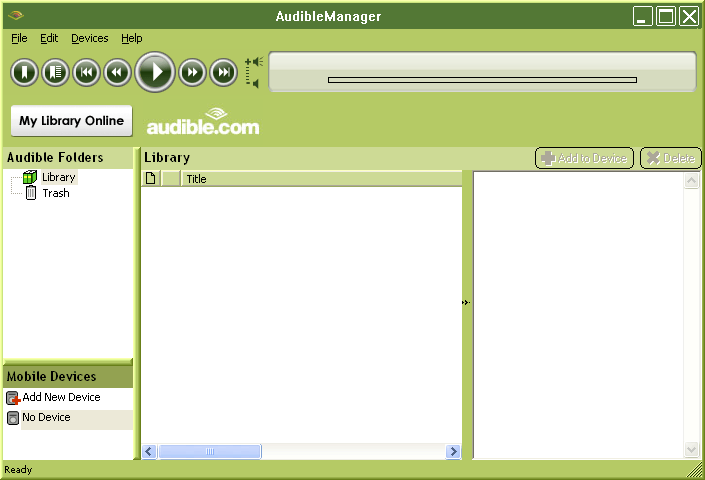 Audible is a well-known free audiobook shop that allows its users to purchase audiobooks or podcasts playlists on the app. It provides a wide variety of book and podcast resources that are very helpful and enticing to students as well as book lovers.
Now, subscribers of Audible can use Audible Manager to categorize their procured books, podcasts, and other media in a simple way. The software works perfectly for its consumers. But consumers that use iTunes to control their Audible digital copies will find Audible Manager isn't very useful.
The service's user interface is simple and intuitive, helping its users to have a convenient experience while using. Also, the consumers need to simply transfer media from Audible then export the files to a range of different smart devices.
Downloading Audible Manager allows you to transfer audio tracks from your computer to your mobile audio player. Also, it burns CDs and listens to the Audible audios through your PC. Even managing audio tracks on your mobile audio player is all possible with Audible Manager.
Part 2. How Do I Download Audible Manager?
Since Audible Manager makes your audiobooks experience convenient, a lot of Audible users are fond of it. Aside from being free, it lets its users stream their purchased audiobooks even offline.
Also, Audible Manager serves as an Audible player for its users permitting them to listen to their favorite audiobooks and podcasts. Now, to download Audible Manager, here are the things you must follow.
The first is, download the Audible Manager. You can get it from Audible's official website, then install it and run it once you've found it. Second, it's time to place your downloaded audiobooks on your computer. In doing so, you must go to the File menu and select Add Audio Files from the drop-down menu.
After that, extract the music files you want to hear. You can now listen to any audiobooks that have been imported into the system. But first, make sure your device is turned on.
To check whether the device is turned on, a pop-up window will appear.
It will be asking you to activate your device when you click any book title to listen. To activate, press the OK key. After doing so, you can now listen to your books after entering your Audible login information.
The drawback of Audible Manager was it is only compatible with Windows operating systems. However, if you own a Mac, you can only listen to your audiobooks through iTunes. On the other hand, you can still play those audio files if you have Windows 7 or 8.
Even though it makes Audible files easier to organize and use. There are still people who are not satisfied with the service of Audible Manager. Since its features are not so unique and special. That is why some Audible users will be attracted to switch on Audible Manager.
Part 3. Bonus: How to Listen to Audible Books on Any Player?
Audible Manager is just a player and has limited compatibility with your devices. You may be asking if there's a way or an alternative to help you play and get your Audible tracks and files? As well as ways on how you may be able to play those tracks and files offline?
Well, no need to worry as we give you an alternative that will save you from this dilemma. DumpMedia Audible Converter will provide users with a simple tool for converting their absolute favorite audiobooks to other audio formats. For example, users can convert Audible files to MP3.
Moreover, DumpMedia Audible Converter is a program that enables its users to simply download audiobooks to their devices. In doing that, the consumers can now listen to Audible books offline or on any device without needing to log in to their Audible account.
The goal of DumpMedia Audible Converter is to grant its users complete control over their beloved audiobooks purchased from the website Audible.com. Also, DumpMedia Audible Converter permits its users to listen to audiobooks on any MP3 player, like the iPod, Walkman, and others.
Not only that but also, the software provides users with a variety of ways to add input data. This includes using the provided database navigation or simply dragging and dropping files across the software interface. The users also can add multiple files at once and process and convert them in order.
Additionally, the app will show metadata for the loaded audio content, which is useful when loading multiple files.
That is why to have a good copy and streaming experience with your Audible tracks have DumpMedia Audible Converter.
Part 4. Summary
For your convenience, Audible has made every effort to improve your listening experience even when you are offline. The Audible Manager is one upgrade that has proven its worth. It's a major upgrade that makes it easier for users to organize and play their Audible files.
However, not all updates are good or effective right after they are released. When it comes to upgrading, there's always a scope for change. While you wait for that, there are other ways to continue enjoying your Audible experience.
That is made possible by DumpMedia Audible Converter. This converter will allow you to listen to your Audible tracks and playlists offline. You will not require an account subscription or payment to use this software to experience its magical conversion.
Because this app is designed to meet the needs of its users. So, if you want to improve your Audible experience, get DumpMedia Audible Converter now!