Being the earliest music streaming services in the market, Spotify has gained popularity among its users of both its free and paid plans worldwide. It allows you to stream various music from across the globe as well as follow podcasts. The app is available for iOS, Android, Windows, and macOS platforms. Plus, you can use its web app if you prefer that one.
However, users are having a problem on how to stop Spotify from opening on startup. This a common problem that you will encounter with Spotify's desktop app.
Upon installation, it automatically sets the app to open on startup without asking the user. As a matter of fact, this shouldn't be allowed. Every app should only open on startup with the permission of the user or if the user sets it to.
However, both the macOS and Windows apps start automatically without even asking permission from the user. So today, we are going to give you solutions to disable automatic Spotify startup on Mac and Windows.
Contents Guide Part 1. Disabling Spotify from Startup on WindowsPart 2. Disabling Spotify from Startup on MacPart 3. Bonus Tip: Best Way to Enjoy Songs Offline without Spotify PremiumPart 4. Wrapping It Up
Part 1. Disabling Spotify from Startup on Windows
Windows users can use 2 solutions on how to stop Spotify from opening on startup as will be shown in the next sections.
Solution 1. Using the Spotify App
Do note that Mac users can also use this solution. The key to disable Spotify from automatically starting is in the app itself though it is a bit hard to find. So, we will show you where it is and how you can disable it in the steps below:
Step 1. Launch Spotify on your computer.
Step 2. Once the app has opened, look for Spotify's menu located at the top-right corner then click on it. Select Settings from the options. Another way to open Settings is by pressing Ctrl + P on your keyboard.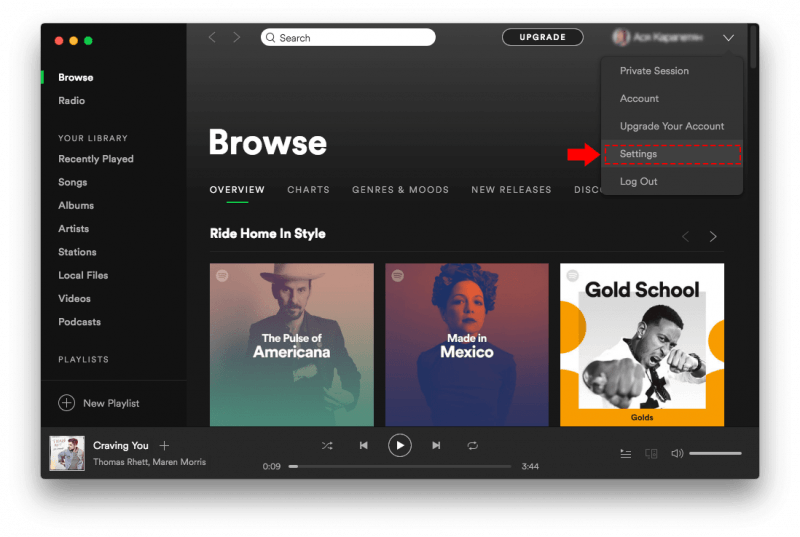 Step 3. Scroll down until you find the SHOW ADVANCED SETTINGS button at the bottom.

Step 4. Scroll down again until you see Startup and Window Behaviour.
Step 5. Click on the Open Spotify automatically after you log into the computer dropdown icon and then choose No.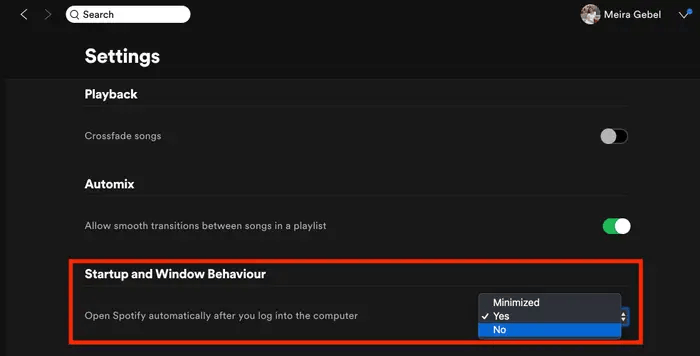 Solution 2. Using the Taskbar
Don't want to open the Spotify app? You can also use your computer's Task Manager. However, the steps for Windows 7 and Windows 8/10 are a bit different so we will show the steps for both.
But take note that if automatic Spotify startup has already been disabled using the first method, then you will not be able to use this second method because the option will no longer be available.
Using Taskbar in Windows 7
Click on the Start menu and then type msconfig. Click on msconfig from the results.
Once the System Configuration window opens, click Startup from the tabs. Different software and apps will be displayed and you will notice that some are checked and others are not.
Find Spotify, check the box beside it and then click on the OK
Once a prompt for computer restart appears, click on the Restart button so that the changes will be implemented.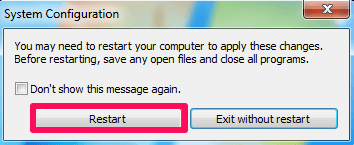 Using Taskbar in Windows 8 & 10
Launch Task Manager. You can search it using the Start menu on your computer or right-click on your taskbar and then locate Task Manager. Another option is by pressing Alt, Ctrl, then Delete on your keyboard and then choose Task Manager from the options.
Proceed to the Startup tab once the Task Manager window is open.
Locate Spotify and then right-click on the app. Choose Disable from the options. Spotify will no longer automatically open on startup.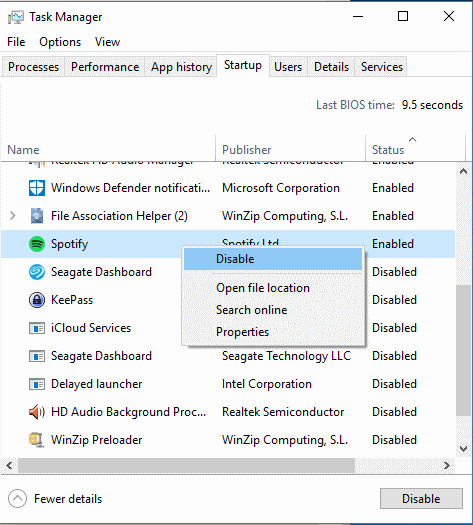 Part 2. Disabling Spotify from Startup on Mac
Solution 1. Through The Dock
This solution is the easiest and simplest one to stop automatic Spotify startup. You only need a few steps.
Find Spotify on your dock and then right-click on the app.
Choose Options and click on Open at Login to uncheck it.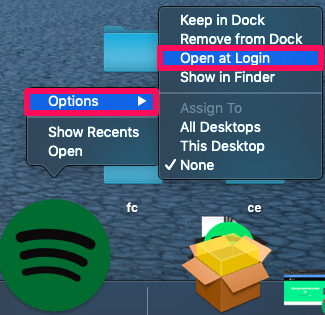 Solution 2. Through System Preferences
Look for Apple's icon located at your screen's top left corner and then click on it. Choose System Preferences...
Look for Users & Groups in the 4th row and then click on it.
Click on the Login Items tab beside Password.
Find Spotify. Click on the app.
Lastly, below the same panel, you will find a + and - icon. Click -.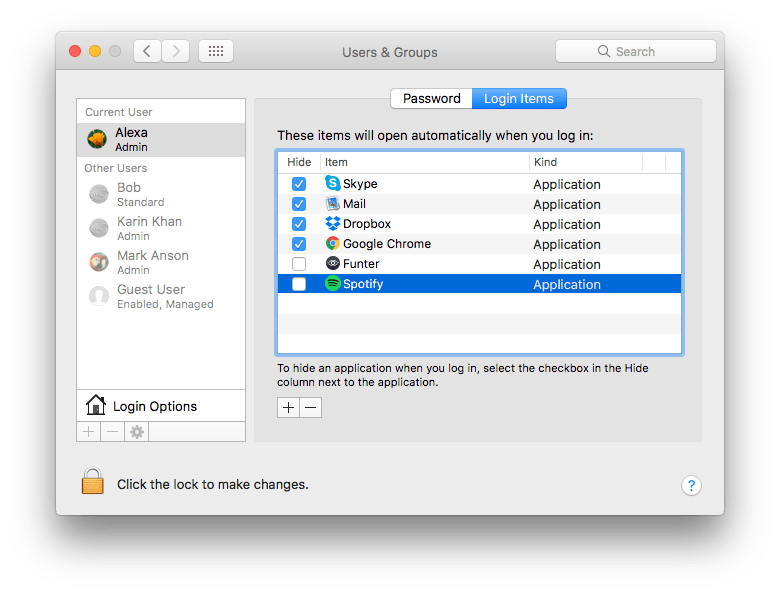 Part 3. Bonus Tip: Best Way to Enjoy Songs Offline without Spotify Premium
We recommend using DumpMedia Spotify Music Converter for downloading and converting any Spotify music, playlists, or albums to MP3, M4A, WAV, and FLAC. This tool can keep the original quality of your Spotify files. It is a powerful and high-speed Spotify converter that allows you to enjoy your Spotify music without a premium subscription. Thus, giving you free Spotify for offline listening!
Features of DumpMedia Spotify Music Converter
Quick Download and Conversion of Spotify Songs
Support For Free Offline Playback of Spotify Music on Various Devices
Preservation of Metadata Indo and ID3 Tags
Aside from the above-mentioned features, DumpMedia Spotify Music Converter is also available in three languages but we are working on adding more. You can even customize the quality of the output audio file according to your needs.
For the steps on how to use DumpMedia Spotify Music Converter, proceed to the provided link.
Part 4. Wrapping It Up
Spotify is a great music streaming platform to enjoy your favorite songs. However, there are times that you will encounter problems that can hinder your listening experience. But all you need is a few minutes of your time so that you can find the solution you are looking for. Hopefully, we were able to help you solve your problem.
By the way, if you want a Spotify downloader which you can use to download Spotify songs and save it on your computer or mobile device without any limits, we recommend using DumpMedia Spotify Music Converter. You are free to try this software anytime.