If you may not know, Reddit is actually a platform that can be accessed online and is being used by a community of people. And, the usual idea here is people are voting for content. Reddit has a lot of visitors and subscribers who are all wanting to download Reddit videos and save those in their devices.
Are you as well fond of Reddit videos and aim to keep copies of those? Here, we will be providing a guide to easily download Reddit videos. Two ways will be presented here – downloading those using software applications or recording the videos. Being able to download Reddit videos will allow the users to keep those in their gadgets as long as they want to and even share with others.
If you are interested to find out how the downloading can be done, you can use the below methods to be presented as a guide. You try all these options or choose one that you think will mostly suit your needs and wants when it comes to downloading.
Contents Guide Part 1: How Do I Download Reddit Videos?Part 2: How to Download Reddit Videos Via Recording?Part 3: How Do I Download Reddit Videos to My iPhone or Android?Part 4: The Major Takeaways
Part 1: How Do I Download Reddit Videos?
The quickest way to download Reddit videos to your personal computer is by using professional software applications like DumpMedia Video Downloader. This supports numerous platforms like YouTube and Reddit. You can easily download YouTube or Reddit videos using this tool as long as you are aware of the steps which are needed to be accomplished. With this tool, you can enjoy numerous features.
Not only video, but the tool also supports audio files.
Apart from the ability to download, this also supports the conversion of files to output formats desired. For the complete list of the supported formats, you can visit the official site here.
You can be assured that downloaded files are of high quality.
When it comes to downloading, you can expect a fast conversion speed.
Batch processing is supported as well.
To learn more about using this DumpMedia Video Downloader to download Reddit videos, you must follow the below guide.
Get the video's URL.
Choose the output format and Hit the "Download" button to start.
Download Videos Finished.
We also include a brief discussion for each item above.
Step #1. Get The Video's URL
Upon finishing the installation of the tool, have it launched on your personal computer. Make sure to copy the Reddit video's URL that you aim to download. The video's URL can be from any website. Once done, under the "Copy and Paste URL here" option, paste the URL and hit the "Analyze" button on the right side. Remember that you can process numerous videos, add a URL one at a time.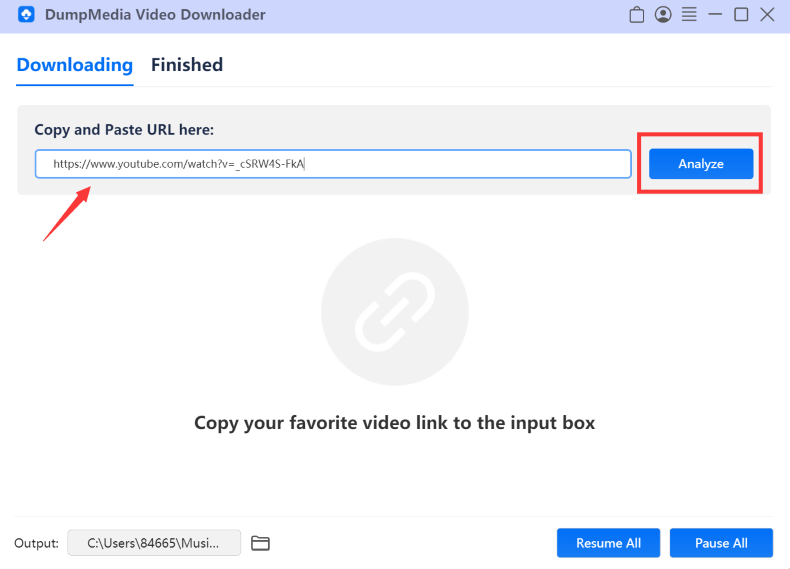 Step #2. Choose The Output Format and Hit The "Download" Button To Start
The next thing needed is to select the output format that you want to use. You can also choose the resolution you want. Make sure to choose the output path or folder wherein the downloaded Reddit videos will be saved.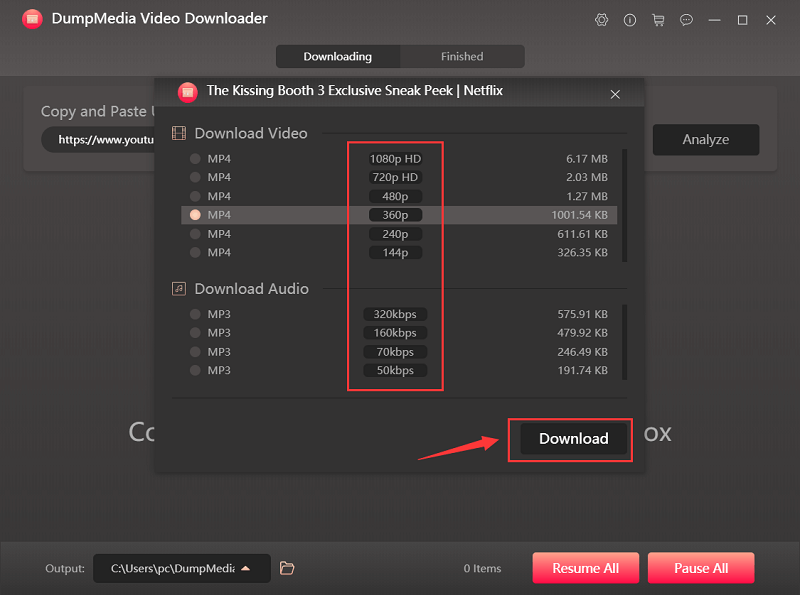 Step #3. Download Videos Finished
After everything has been settled and fixed, you can just simply hit the "Download" button at the lower right corner of the screen. Upon doing so, the downloading will begin in a bit. After a few minutes, the videos will be available under the "Finished" section of the tool.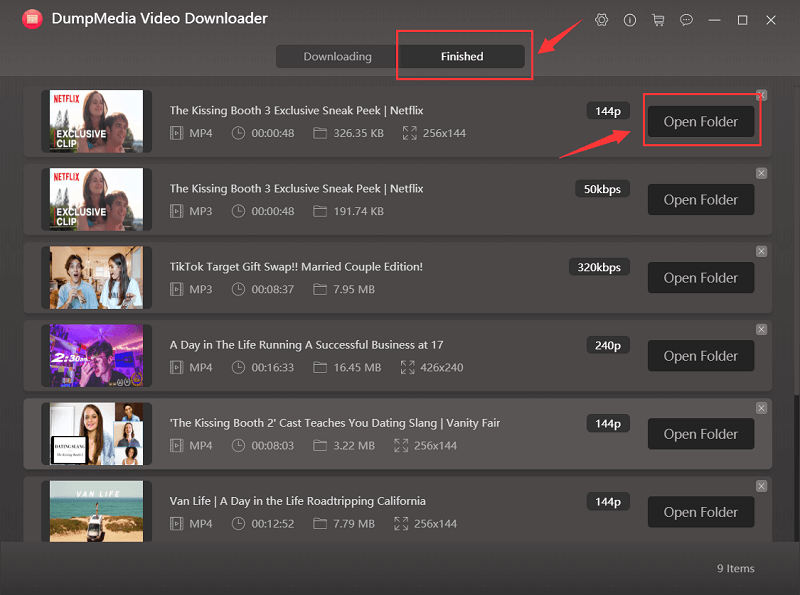 The use of DumpMedia Video Downloader to download Reddit videos is too simple, right? Plus, this guarantees that your personal computer will be safe from any viruses or malwares unlike when you are using online tools.
Part 2: How to Download Reddit Videos Via Recording?
One of the most efficient and easiest ways to save or download Reddit videos is by utilizing those tools with the ability to record your screen's activities. One great software application is this ShowMore. This third-party tool is designed to record any activities of a user's screen including those videos from Reddit. What is great about this one is that you can have it accessed for free and you can use the recording feature unlimited. During the process of recording, you can even add microphones, webcam, and other tools for better output. Moreover, it also gives every user a free cloud space in order to easily save and manage all those recorded videos. This is very beneficial for every user since service can be enjoyed for free.
In order to use the mentioned recorder to download Reddit videos, the below action items must be followed and completed.
Head to the main website or install the recorder.
Open the Reddit video to download.
Finish the recording and save.
To know more details about the above three mentioned, you can refer to the below descriptions corresponding to each step.
Step #1. Head To The Main Website Or Install The Recorder
The first thing that is needed to do is to head to the main website of ShowMore. You can easily access this in the web browser of your personal computer. Nothing to worry in case you are using Windows or Mac as it is supported at both. Once you are on the main page, you will easily see the "Start Recording" button. If you are to use this recorder for the first time, there is a need for you to install the online launcher for the normal usage of the tool. After doing so, you need to choose the audio source that you prefer. You can do this by using the "microphone" icon that you will also immediately see on the screen. You can either use system sound or microphone or even both (if you want).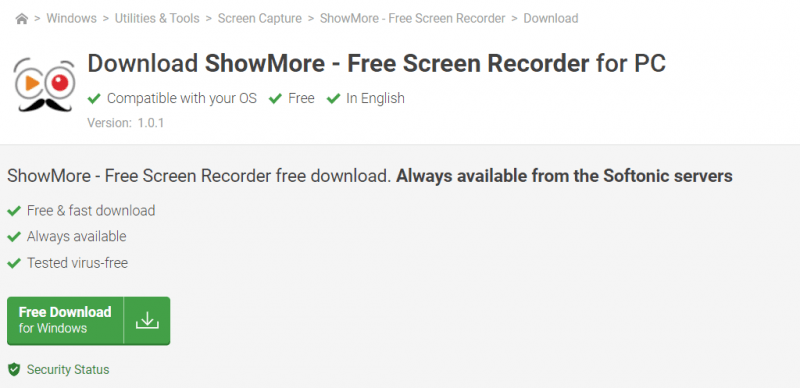 Step #2. Open The Reddit Video To Download
After completing the first step, you need to open the Reddit video that you aim to be recorded and select which recording mode you desire. If selected "Region", you need to set the frame depending on the area you wanted to capture before finally hitting the "Record" button. You should expect that the recording process will be starting after the three-second countdown.
Step #3. Finish The Recording And Save
After finishing the recording of the Reddit video, you can just hit the "Stop" button. You will be seeing a preview of the completed recording after ticking the mentioned button. You can now download the Reddit video and save it on your device by hitting the "Save as video file" option. After finishing this, a new popup window will appear. You will be asked if you wanted the recorded video to upload in the cloud, play it, or just open the folder wherein it was saved.
So, the recording is the second method to download Reddit videos easy and fast.
Part 3: How Do I Download Reddit Videos to My iPhone or Android?
Maybe, you are wondering if you can also download Reddit videos to your mobile devices. Well, you are right. You can have this done as well. Actually, there is a mobile application named "Video Downloader" which you can utilize. Just make sure to have it installed and proceed using this, you need to of course open the Reddit video which you desire to download. By doing so, the application will automatically show up in the screen after detecting the video.

However, there were responses received from the use of this. Some users are finding it too slow which makes them repeat all processes again and again.
Another alternative is the use of ApowerREC application. This works well with both iOS and Android devices. Though you can download Reddit videos directly, you might be worried about malwares and viruses, thus, another good recommendation is the use of mentioned. This is actually a recorder that works well with mobile devices. The same idea, this can record your screen's activities. There are no other requirements needed to use this application. You can have this downloaded either from the Google Play Store or Apple store depending on the type of device you are using.
Part 4: The Major Takeaways
In this article, there are two methods presented in order to download Reddit videos easy and fast. You can either download the Reddit videos using a professional software application like DumpMedia Video Downloader or do some recording using a tool named ShowMore.
Apart from those two, you can also do the downloading on your mobile devices (whether Android or iOS phone). You have seen two recommendations in the third part of this post. The decision is yours on whether you will be trying out both first or immediately choose one. Just make sure to be keen enough to avoid damages on your phone's files and even system.
Are you as well looking for the same guides mentioned in this post? Which do you think is a much better option that will work for you? Or, have you ever tried downloading Reddit videos and used a way other than those presented here? Why not share it with other readers? We are looking forward to it!