Before, there is always a need for a certain plugin to be able to play videos in a browser. But because of the development of this HTML, people can now watch videos on online and social media platforms such as Youtube, Facebook, and Twitter. However, most people are still encountering issues in downloading videos in these platforms since the conventional "save to" function is not very applicable.
This article will be helping you out if you would want to download HTML5 video on your personal computer or save HTML video as a single file. In this post, we are to present the ways which would be a lot beneficial to you. If you love this topic, make sure to stay on this page to know more.
Contents GuidePart 1. Tools To Download HTML5 VideoPart 2. Convert Your HTML5 Video to Other FormatsPart 3. In Conclusion
Part 1. Online Tools To Download HTML5 Video
#1: DumpMedia Online Video Downloader
One powerful and multifunctional downloader is this DumpMedia Online Video Downloader. This is one of the most recommended tools of a lot of users since this one makes sure that downloading is safe, secure, and easy. Using this downloader, you can enjoy lots of advantages and perks such as:
Being able to download SD and HD as well as 4K videos from YouTube and other video sites and platforms like Facebook, Instagram and many more.
Downloading video, audio, and even subtitle from many supported websites is possible as well as saving them in the format you desire employing the quality options you prefer.
Compatibility with all major browsers, including Google Chrome, FireFox, Safari, Internet Explorer, and even Microsoft Edge.
This online downloader is free of use can be utilized by anyone who needs to.
As mentioned, you can use this tool to download videos from several platforms. In the steps that would be presented below, Youtube will be used. The procedure would also be the same if you wanted to have you HTLML5 videos downloaded from sites other than Youtube.
Step 1: Make sure to go to your browser and go to the Youtube site. From the site, look for the video you wanted to download. Once seen, copy the link of the video which you can see in the address bar.
Step 2: Once copied, go to DumpMedia Online Video Downloader's website and paste the link to the input space you will see on the screen. Once pasted, you can tick the "Download " button which is located alongside the text bar. The site will perform the analysis of the URL pasted.
Step 3: Scroll down to see the list of output formats wherein you can choose from. You can choose any format you want. Once done with the selection, click the "Download" button you will see next to the format. This will begin the downloading process.
Upon performing these three easy steps, you now have your HTML5 video downloaded in just a few minutes and a few clicks!

#2: Video Grabber
Aside from the first tool mentioned above, Videosolo Online Video Downloader, another way you can utilize is this Video Grabber. This as well is free of use and is readily available on the web. Using this, you can be able to easily grab your HTML5 video in just an instant without too much hassle.
This is of course very convenient and easy to use. You only got to follow the below methods to proceed.
Step 1: Make sure to look for the video you wanted to download. Once you have your video, copy its URL.
Step 2: Go to Video Grabber's site, open and launch it.
Step 3: You will be seeing an input box on the screen. You must paste the link into the box to begin the whole process.
Step 4: You can also choose a format from the list that you will be seeing on the screen.
Step 5: Once the output format has been selected, you can now tick the "Download" button to begin the process immediately.
Aside from this video downloading feature, the program also helps you to perform other amazing features such as Video to MP3 download, Video Converter, and even Screen Recorder.

Part 2. Download HTML5 Video with Amazing Softwares
Apart from using online websites to download HTML5 video, you are possible to try some offline software to get your videos. The following part will make a recommended list of some offline sites.
1. DumpMedia Video Downloader
we are now to present one amazing video downloader which is performing lots of awesome functions. If you are one of the many people who are in search, you might want to check this DumpMedia Video Downloader which has been used and trusted by a lot of users nowadays.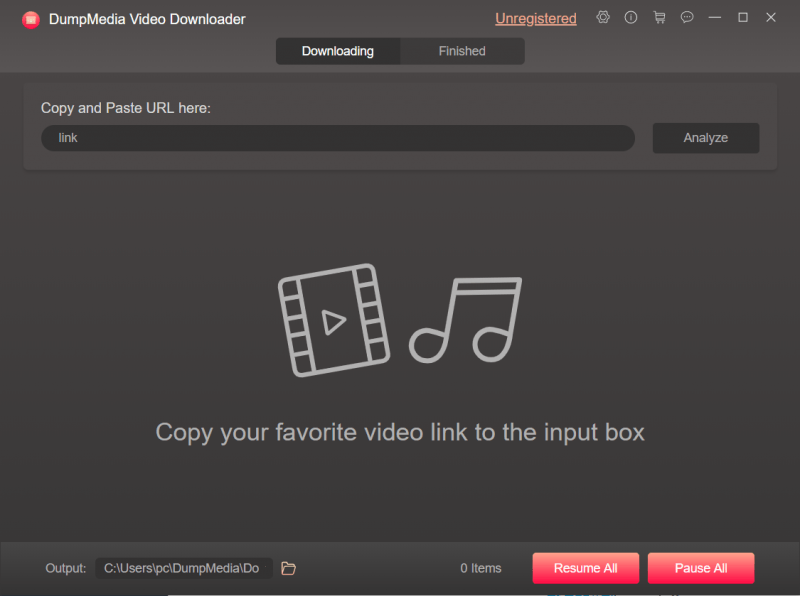 This tool is capable of downloading video and audio from a number of popular websites like YouTube, Facebook, Instagram, Vimeo, and more with high speed. You can enjoy your own videos offline after getting the files in 100% original quality.
It supports audio output format in MP4 and audio in M4A. Popular video resolutions including 720P (1280 x 720, HD), 4K (3840 x 2160, UHD), 8K (7680 X 4320, FUHD) are available for you to choose before downloading the video. At the same time, if you want to save the audio files, they will be saved to M4a file for your playback on Mac as well.
Aside from its main function, this one is software with a user-friendly interface and offers easy steps to perform the desired processes.
To proceed with the video downloading process, you must follow this simple step by step guide.
Step 1: Of course, you are required to ensure that this DumpMedia Video Downloader would be downloaded and installed on your Windows or Mac.
Step 2: Launch the program after installing it to your computer. Copy the Video URL that you want to download and paste it to the bar. Then click "Analyze" to get the video source.
Step 3: Select your desired output format as well as output folder in order to save the video to your offline device. You can choose to download the original video to mp4 format or M4A format.
Step 4: Simply click on "Download" button to start the downloading process of the HTML5 video. Then open it to enjoy watching under "Finished".
Once you are done with these steps, you can check the downloaded HTML5 file by tapping the "Open " in the "Finished " section. It is possible to transfer the downloaded video to your iPhone as well.
2. Video Download Capture
Video Download Capture is another tool that can be used to download your HTML5 video in an instant. This is an advanced program which is considered to be the most accurate, most trusted, and reliable video downloader that is fit to perform the downloading process in spite of the new HTML advancement in the modern era.
To make use of this one, you must check below simple guide.
Step 1: Download and install this Video Download Capture program.
Step 2: Make sure to open and launch this program on your personal computer.
Step 3: Once opened, you must enable the Video Detector option.
Step 4: Once done, look for the video to be downloaded and make sure to have the link copied.
Step 5: Go back to the program and paste the link.
Step 6: Finally, you can go ahead and tick the "Download" button to proceed with the downloading process.
Getting HTML5 videos is now made easier by using this tool. Aside from this function, the user can also perform other amazing things such as being able to convert your HTML5 video, using the program as an editor, and as well as a player.
3. HD Video Converter Factory Pro
HD Video Converter Factory Pro also comes on top of the list of the programs you can use for HTML5 video downloading. This supports HTML5 video downloading in 300+ sites including the popular ones – Youtube, Facebook, Vimeo, and a lot more. Aside from this feature, you can also perform the conversion of any videos to MP4, MKV, AVI, MOV, FLV, H.264, H.265, and more. This is, of course, user-friendly, you got to see no ads, reliable, and full-featured. Another fascinating fact is that you can download the program for free!
To be able to use this, you must make sure to follow below.
Step 1: Download the application and install it on your personal computer.
Step 2: Once installed, launch the program and open it.
Step 3: Select the Downloader and press the "+ New Download " button which is just located on the top left of the interface. By clicking this, the program will take you to the "New Download " window.
Step 4: Go to the site wherein the video to be converted is located. Make sure to copy the URL of the video.
Step 5: Go back to the program and paste the video URL into the URL box and click on the "Analyze" button.
Step 6: Once the analysis is done, you will be able to see all the formats, sizes and resolutions this HTML5 video downloader originally has. Choose your desired option and hit "OK " once done with selection.
Step 7: You can specify as well the output folder wherein the video will be saved once downloaded by ticking the inverted triangle button next to the folder icon.
Step 8: Finally, you can now tick the "Download All " button on the bottom right of the interface to begin downloading the video.
Apart from this downloading function, using this HD Video Converter Factory Pro also offers you the opportunity to convert HTML5 videos such as MP4 to OGV, WebM to AVI, WebM to MP4, and many more.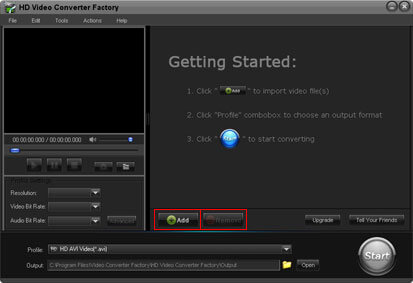 4. Video Keeper
Another application software that is also included in the run of the amazing tools for HTML5 video downloading is this Video Keeper. This is an independent, reliable, and a desktop video downloader which is, of course, needed to be downloaded and installed on your personal computer. What is fascinating with this one is that you can perform batch downloading in case you need to. Aside from the downloading function, you can also utilize this tool in editing videos, screen recording, and even video converting. With this, users often call this program as an all-in-one tool with amazing built-in features. Of course, this as well offers a user-friendly interface with procedures that are too easy to follow.
Step 1: Once you made sure that Video Keeper has been installed on your personal computer, launch the program and install it.
Step 2: By using this tool, you got options to continue:
The first one is the conventional way of downloading wherein you will perform the following:

Look for the video desired to be downloaded.
Copy the video's URL.
Click the "Download" tab on the top of the screen.
Paste the link on the "+ Paste URL " button you will see in the top left corner of the interface. Your video will be downloaded.

The next way is by downloading the video using the auto-detection.

Go ahead to the "Detect " tab which you will see on top of the screen next to the "Download" button.
Use the built-in browser you will see on the screen to directly search for the site and the video.
Once the tool detected that there is a media playing, it will automatically recognize and download it in no time. If you will be downloading HTML5 video using the detect tab on YouTube, you can just click the "Download" button below the video you are trying to download.
Upon performing any of the two ways presented, you will now have your HTML5 video downloaded on your personal computer.
Part 3. In Conclusion
Presented above are the ways you can resort to in case you need to download your HTML5 video. You have free online websites as well as amazing application software you can use. The steps are presented above which can serve as your reference while doing the process.
We have also presented some softwares in the above part. You can choose one of them that suits you a lot. DumpMedia Video Downloader is a great help to download HTML5 videos in a pretty fast speed.
If you have any other suggestions or thoughts you wanted to let us know, you can leave your comments in the below section. Hope this article helps!