There is much music streaming hosts on the internet, but there is only one that really fits your needs. However, it can also be up to your preferences, whether you'll choose Amazon Music, Spotify, iTunes, or many others.
But it's already an established fact that Spotify is one of the favorites of music lovers everywhere. Not only do they offer millions of songs to their users, but you'll also gain access to dozens of features that you won't get anywhere else.
Spotify Free vs. Premium: However, once you decide to use Spotify out of all the other options out there, you will have to make another decision again. This decision requires you to choose whether you'll stick to the Free version or pay for the Premium subscription.
Of course, it can be difficult since both have their own perks. So let's take our time thinking of the best option.
The best way to start this is by comparing the two from each other.
Contents GuidePart 1. How Far Can You Get on Spotify Without Paying?Part 2. Spotify Free VS. PremiumPart 3. Final Thoughts
Part 1. How Far Can You Get on Spotify Without Paying?
Once you create a Spotify account, you will gain access to a wide-ranging selection of music. So you won't run out of music to choose from when you're with Spotify.
Additionally, you can add up to 10,000 songs in your music library. There's also no need to worry about being unable to organize your songs.
Free users of Spotify can create playlists from different albums, artists, and genres.
Also, regardless of whether you're a Spotify Free vs. Premium user, you can still use the app on different platforms. These include Desktop, Tablet, or mobile devices, although some brands aren't compatible.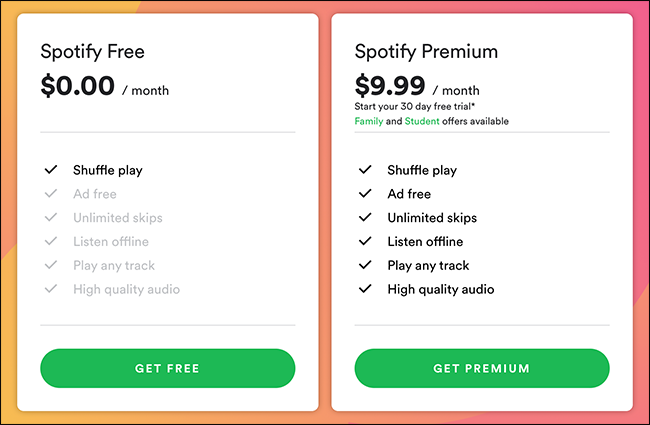 Part 2. Spotify Free VS. Premium
For music fanatics, paying for Spotify Premium is the most logical option. It allows them to use several features that weren't available in the free version.
Here we look at the benefits of Spotify Free vs. Premium.
Skip Track: Free users of Spotify can only skip six tracks an hour. With Spotify Premium, you can skip as many tracks as you want.
Audio Quality: Spotify Free users can only listen to music in audio quality of 160Kbps while Premium users can gain access to music at 320Kbps.
Ad-Free: Ads can strip off the terrific music experience. That's why Spotify Premium is a great option as it gets rid of all ads.
Updated: Spotify users can only listen to new music two weeks after it was released. Premium users can listen to the same music once it gets officially released.
Offline Listening: Spotify Premium users can download up to 10,000 songs for offline listening. That means you won't need to connect to a WiFi, unlike what you were doing whenever you use Spotify for free.
There are features that aren't changed even with the upgrade, but the features are enough for a hardcore music lover to pay for the Premium version.
Regardless, if we're going to do a Spotify Free vs. Premium comparison, the latter is much more convenient. So there's really no surprise if you're thinking of joining the Premium plan.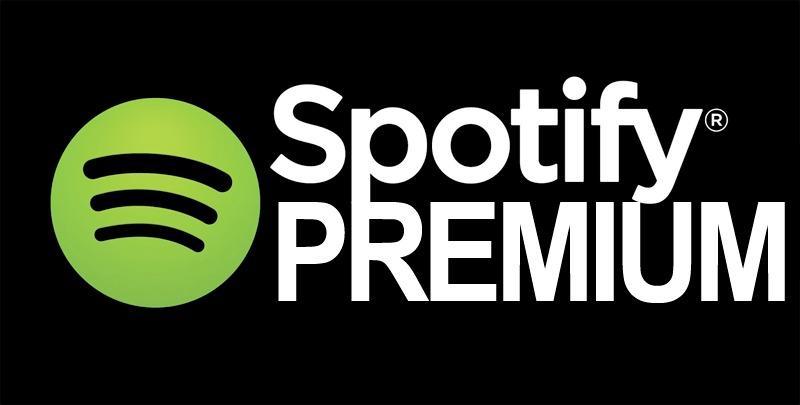 How to Get the Premium Version
After learning about the Spotify Free vs. Premium comparison, you should consider some other things as well. The following will take you to some of the most important parts of joining the Spotify Premium plan.
Price: The Spotify Premium Plan costs $9.99 per month for one user. There is also the Family Plan that costs $14.99 that will allow more than one user to use the Premium version.
I'd say the price is comparable to most music streaming apps such as Amazon Music or Google Music. So there's no need to fret over the difference in their prices.
Accessibility: Anyone can buy the Basic Premium Planas long as they have the funds. This is the standard plan and the most popular plan for Spotify users.
In the case of the Family Plan, you can purchase it and distribute the plan up to six users. However, all of these six users, which includes yourself, need to be using the app in the same address.
Another plan is the Student Plan, but as the name suggests, you'll have to be a student to join the plan.
This gives you a 50% discount and such promo can only be used for four years and cannot be used along with the two previous plans. You'll also have to confirm that you're really a student.
So now that you're finished using Spotify, how can you cancel the plan?
The following are the step-by-step guide to canceling Spotify Premium.
First, you'll need to visit com/us/account
You can then see a panel that shows a Subscription button, which you'll need to click.
Then, choose the Plan that you're currently in.
Choose Cancel Premium then click Ok to confirm the action.
Once you're done with this step, you will still have access the features exclusive to the Premium version. However, once the duration of your plan ends, you'll lose access to such features.
But what if I tell you that you can access the benefits provided by Spotify Premium from free software?
Spotify Premium in a Free Package!
Spotify Premium isn't for everyone. In fact, there are many cases where you'll gain nothing by paying the Premium version.
For example, take a look at these following situations where opting for the Premium plan isn't the best option.
You need to download a few songs from Spotify and leave the app once you're done.
You need to remove DRM from Spotify music for some reason.
You need to listen to music on your MP3 players.
You need to download music of various file formats besides OGG Vorbis.
There are many other cases where you'll need to gain access to the features of Spotify Premium, but it's not worth it.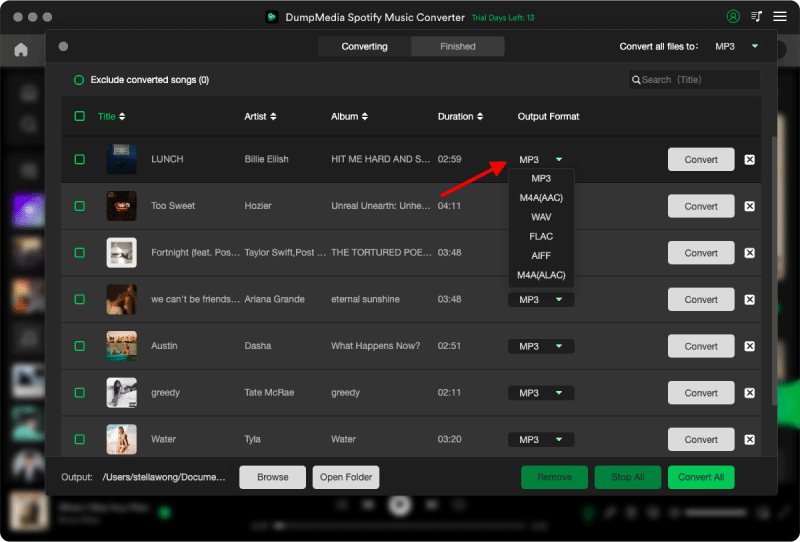 This is where DumpMedia Spotify Music Converter comes in handy. It basically does everything you'll get from the Spotify Premium version, and more.
Download Spotify music for offline listening. Rather than being limited to 10,000 songs, you can download as much as you like.
Convert Spotify music to different formats, including MP3, WAV, M4A, and more.
Configure the settings of the Spotify music you're going to download, including the bitrate. That way, you can improve the audio quality of the songs.
Remove DRM from Spotify music instantly. You can then listen to music offline in your MP3 players.
Listen to the downloaded music without being bothered by ads.
You can gain access to these features after a one-time payment. If you're not convinced, you can also opt for the 30-day free trial. This is also perfect for those who are only looking to download a few songs.
Click to have a try! It's 100% secure!
Part 3. Final Thoughts
Free users of Spotify have lots of features to enjoy. However, it goes without saying that if we are to do a Spotify Free vs. Premium comparison, we'll see just how great the Premium version is.
But alas, you'll have to go through a lot, such as payment processors, canceling, and more. Fortunately, you learned about all these in this blog post.
There's really no need to compare Spotify Free vs. Premium because each has its own perks. However, there's a way for you to enjoy the benefits of the Premium version while minimizing your risks.
DumpMedia Spotify Music Converter is a software that allows you to use the features of the Premium version and more. Technically, Spotify Free vs. Premium pales in comparison with the benefits of DumpMedia Spotify Music Converter.
At the end of the day, you're free to make your own decision. Be it to buy the Premium version, stick to the free version, or opt for DumpMedia Spotify Music Converter.