For many game lovers who are also addicted to Spotify music, everyone will agree that being able to play your favorite games on PS4 while listening to your most loved Spotify songs is indeed a great thing. Imagine? You can jive to the beat while playing PS4 games! But, is Spotify free on PS4? Can you play games while streaming Spotify songs?

In this blog post, we will be explaining how you can listen to Spotify songs while playing on your PS4 as well as answer this question – "is Spotify free on PS4?". So, if you are curious to know more, make sure to keep on reading until the end of this article.
Contents Guide Part 1. How To Play Spotify On PS4Part 2. Is Spotify Free On PS4: How Is It Possible? Part 3: The Major Takeaways
Part 1. How To Play Spotify On PS4
Because many users had wished for the presence of the Spotify application on a PS4 gaming console, this was granted. The Spotify app has been made available on PlayStation Music.
This means that you can now access your favorite Spotify songs and playlists on both PS3 and PS4 systems. Apart from that, to boost the gaming experience of users, streaming of movies and even utilization of many social media applications have been made available as well.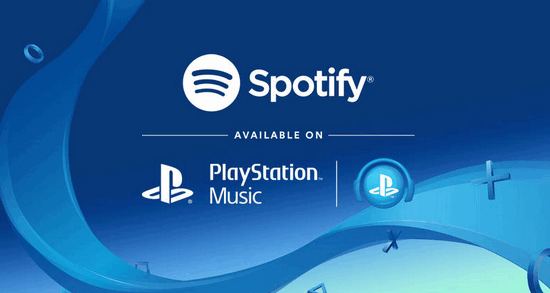 However, is Spotify Free on PS4? The answer is that when it comes to listening to music, the above scenario is possible only if you have a Spotify premium account. You need to pay the monthly premium fee to get your monthly subscription running. And, this will cost about 10 USD per month. Well, for music fanatics out there, this is only a little amount to pay, right?
If you intend to do so, apart from getting a premium account, you will be experiencing some disturbances or limitations during your playing time. Check out this list.
Because you are to play the Spotify application while playing games on PS4, there could be an issue with your internet connection. Your internet speed could slow down or even be interrupted at times.
Premium account owners can download songs for offline and uninterrupted playing. But, that will only last as long as you have the subscription. Once it ended, all downloaded songs will be gone.
If you cannot afford to pay the monthly premium and would like to stay as a free Spotify user, this is possible as well. However, be ready for advertisements during your listening experience.
Playing Spotify songs is possible for selected PS4 games only.
For your information, if you have a premium Spotify account and would like to have it utilized, you can refer to the below steps to do it.
Open and run your PlayStation.
Make sure to log in to your Spotify account.
Enjoy your gaming and music streaming experience!
Below are more detailed descriptions for each step.
Step #1. Open And Run Your PlayStation
The first thing that you need to do is to open your PlayStation and run it. After doing so, make sure to tick the button located at the center of your gaming controller. This will bring you to the PS4 home screen. Once you are already on this page, scroll until you see the "PlayStation Music" application. Tick on this app.
Step #2. Make Sure To Log In To Your Spotify Account
The next thing needed is to ensure that you will be logged in to your Spotify account using your credentials. If you do not have one, you can easily create one by just downloading the application on your mobile or handy devices. Ensure as well that you have downloaded playlists or albums in case you would like to experience offline and interrupted listening to Spotify songs.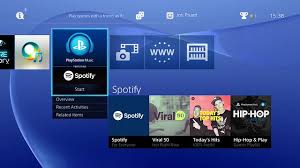 Step #3. Enjoy Your Gaming And Music Streaming Experience
You need to link your Spotify account to your PlayStation Network account to proceed. After successful linking, you can now listen to your most loved Spotify songs using your PS4 gaming console the same way you are doing on other gadgets.
Now, is there a way you can listen to Spotify songs on PS4 for free? This query, "Is Spotify free on PS4" will be answered in the next part of this post.
Part 2. Is Spotify Free On PS4: How Is It Possible?
One good method that lets you stream free Spotify music while playing your favorite PS4 games is by having those Spotify songs downloaded from the application and saved on an external drive like USB. But how can this be done given that Spotify songs are protected by Digital Rights Management (DRM) protection? Well, this is a good question.
So, is Spotify free on PS4? The answer to this question is – yes, it could be!
Nowadays, there are pools of people who had made the downloading of DRM-protected songs possible! And, that is through the use of reliable and professional software applications such as DumpMedia Spotify Music Converter. Through this tool, all limitations that were presented above will be removed leaving the user with only great music listening and game playing experience.

What is the benefit of using tools like this DumpMedia Spotify Music Converter? Well, a lot of things can be enjoyed!
Removal of DRM protection allows the playing, sharing, and transfer of files from one device to another.
Downloading is being made at a fast speed and rate.
Not only downloading but as well as conversion from one format to another is possible through this tool. You can have the Spotify songs converted from the original format to other available formats as this tool supports a lot.
Simple and easy interface to navigate.
Allows you to create an album for your offline music player as it can cater to a batch of songs to convert and download.
The above perks are good to know but what particularly are the steps needed to be performed to proceed with conversion and downloading? That is simple! Below is a created guide for you.
Install the DumpMedia Spotify Music Converter.
Specify the output format and preferred settings.
Do the conversion process.
Note: For successful conversion and downloading, you need to make sure that the Spotify application is not running in the background.
Here are the descriptions for the above steps enumerated.
Step #1. Install The DumpMedia Spotify Music Converter
Since there are only a few requirements that you need to accomplish before installing DumpMedia Spotify Music Converter, you can do it fast. Make sure to visit the official website to get the list of the things needed to proceed. After completion of the installation process, you need to launch and run the software.
Step #2. Specify The Output Format And Preferred Settings
Once you are already on the main page, you can now proceed with the importing of Spotify songs. Luckily, since this tool supports batch conversion, you can add as many songs as you want and have those processed one time. After uploading Spotify songs, head to the "Convert All Tasks To:" button to choose the preferred output format.
The recommendation here is to have those transformed into MP3 format to ensure smooth playing on many media players including PS4. In this step, you have the option to change some settings depending on your preference and specify the output path under the "Output" option.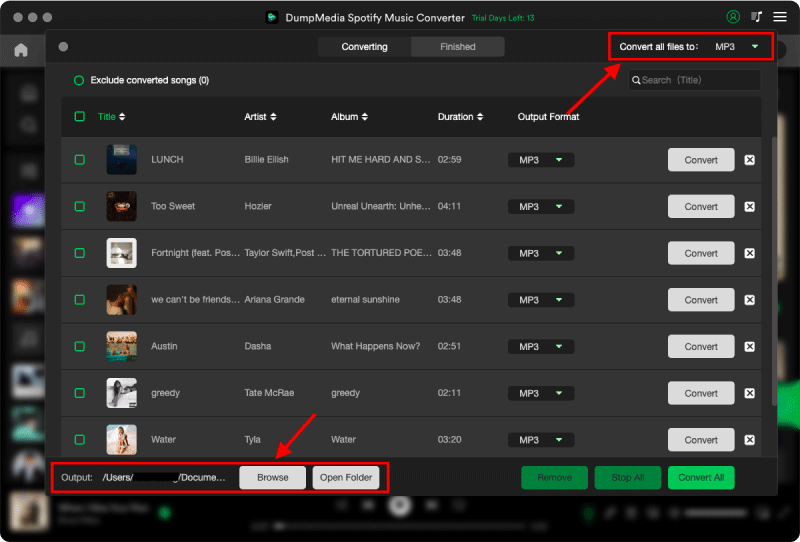 Step #3. Do The Conversion Process
Finally, after finishing the first two steps, you can now begin the conversion process. Just simply hit the "Convert" button that is located at the bottom area of the main screen. There would be status bars that will be shown on the screen as well to help you monitor the progress of the conversion process for each song. After a few minutes, the songs will be converted and finally downloaded to your personal computer.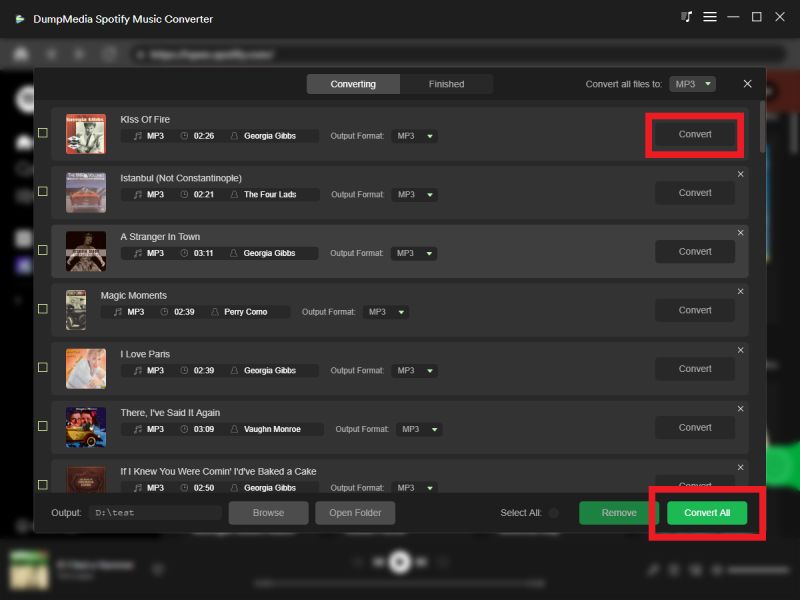 What To Do Next?
After downloading all the Spotify songs you love using the DumpMedia Spotify Music Converter, you now need to transfer those to a USB drive for playing on your PS4. Here is what you need to do.
Create a folder on the USB drive and have it named the way you want to.
Connect the USB drive to your PS4.
Under the XMB™ home menu, head to the "Music" category, and choose your USB drive. Once done, hit the triangle button that you will see.
Highlight "Display All" and click the X button. By doing so, it will display all the content that is playable.
Play the song you want just by highlighting it and pressing the X button.
Part 3: The Major Takeaways
The above guide that "Is Spotify free on PS4" and "How to make it" presented is too simple to follow, right? Now, which option do you think is better? Play the Spotify songs on your PS4 using your premium account. Or, download the Spotify songs first and stream those for free on your PS4 while playing your favorite games?
Click to have a try! It's 100% secure!