The Spotify application is somehow similar to other social media platforms out there. Actually, if you are using Facebook, Instagram, or even Twitter, you are very much aware that people from anywhere the world can follow your accounts.
Well, the same thing happens with Spotify. Though it is a music streaming service (not actually a channel wherein you can share photos, videos, or posts), it also has the "follow" mechanism in it.
Yes! Spotify playlists created can gain followers as well. Do you have your own playslits? Are you curious how to see who follows your Spotify playlists ?
Contents Guide Part 1: A Brief Overview to SpotifyPart 2: Reasons Why People Aim to Have Their Playlists Followed by OthersPart 3: How to See Who Follows Your Spotify PlaylistPart 4: What If You Wanted A Person to Unfollow Your Playlist?Part 5: Is It Possible to Download Spotify Playlists?Part 6: To Wrap It All
Part 1: A Brief Overview to Spotify
Spotify is among the best and top sites we could actually use nowadays. It keeps on leading the list of applications that can provide the best music. With millions of subscribers active – both premium and fee, it can't never be denied that it has taken much of the percentage in the industry.
With the application's ability to support a number of devices – both computers and handy ones, it has been widely utilized by music lovers around the globe.
Added to the above, the application contains a number of amazing, great, and cool features anyone can enjoy. This is actually one of the reasons why the Spotify application has been getting all the success it can get.
With the application, millions of tracks and albums can be accessible with high-quality and even high-speed streaming (no bugs). Talking about playlists, you can also create yours, modify it, and even have those shared with anyone you like.
Being an active user or Spotify subscriber, you must have been aware that specifically for playlist creation, you have a lot of things you can do. Gaining followers and sharing what you got is also a thing nowadays.
Specific to playlist discussion, finding out that a number of people actually follows and listen to what songs your created playlists have can boost your confidence in some way. I bet anyone would be so happy knowing that others are fond of streaming the playlists they compiled.
If you are one of the many people who also love creating playlists and is curious about how to see who follows your Spotify playlist then you might not want to skip any details of this post. Make sure to continue on reading to learn more about the main topic in this post.
First off, let us discuss some reasons why playlist creators work hard to get their playlists known.
Part 2: Reasons Why People Aim to Have Their Playlists Followed by Others
Based on researchers, a lot of Spotify users or playlist creators actually aim to have their playlists popularized and followed by other people. Below are some of the reasons why they aim for such.
One possible reason is because of the income they can get out of the playlists create. Are you even aware that famous creators are getting paid? Well, the idea is that once an unpopular artist found out that once playlist is being streamed by numerous people, they will find way to collaborate with the playlist creator to popularize their content. This is some sort of promotion or marketing.
Others just want recognition. Creation of Spotify playlists is not easy. And, getting a number of people who stream yours is really overwhelming. This means you are doing cool and great.
Some creators' reason is just to be famous and get a job in the music industry. Well, the number of followers you have can actually influence an employer's decision.
Now, if you are getting more curious about knowing how to see who follows your Spotify playlist, keep on going on the third part of this article.
Part 3: How to See Who Follows Your Spotify Playlist
Getting the Number of Followers You Have
If you only aim to see the number of people who follow your Spotify playlist, then you must follow below guide.
Step #1. Go ahead and open your Spotify application. Make sure to enter all the credentials needed to proceed – both username and password.
Step #2. At the bottom of the screen, look for "Your Library" option. Hit this option.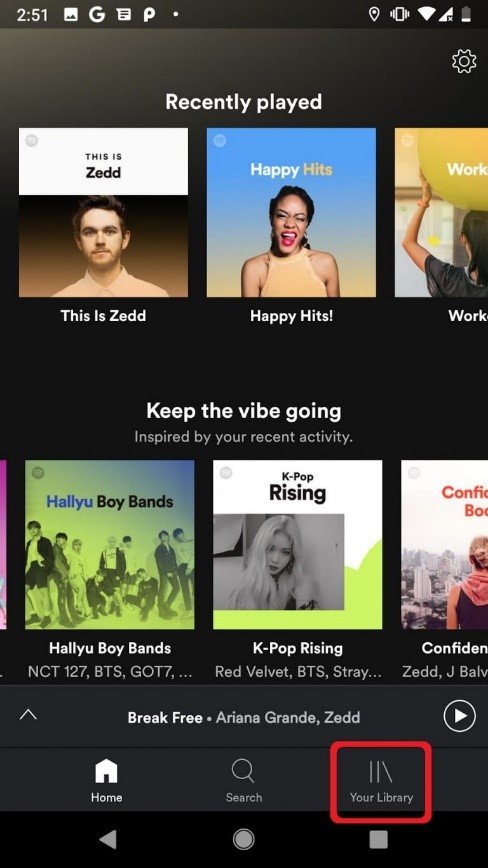 Step #3. Now, you will be seeing all the playlists you have created. Choose or tap one playlist to be able to see how many follows that one.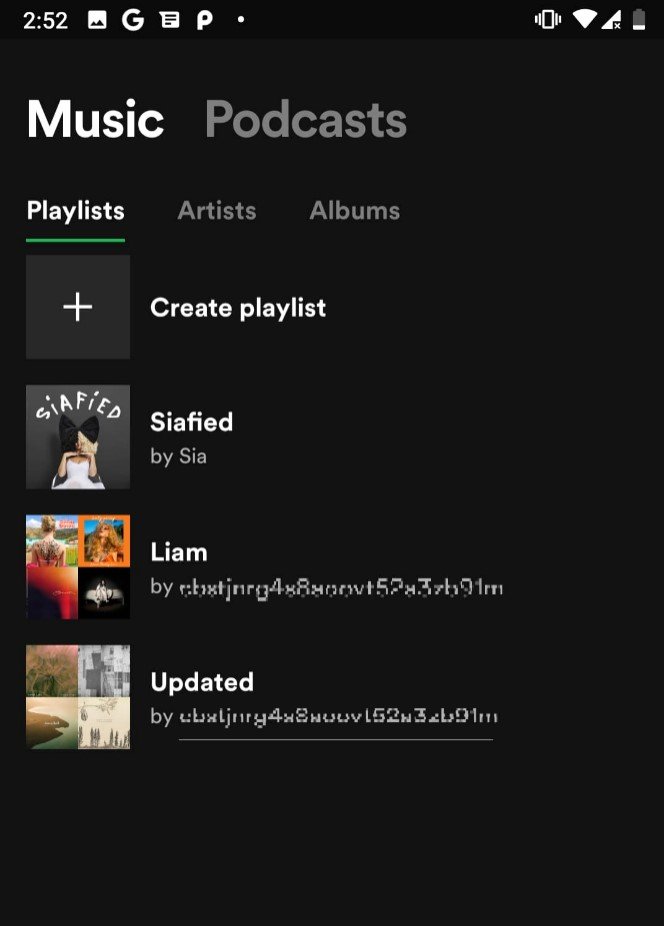 Step #4. This is the time that the number of followers will be shown in the screen.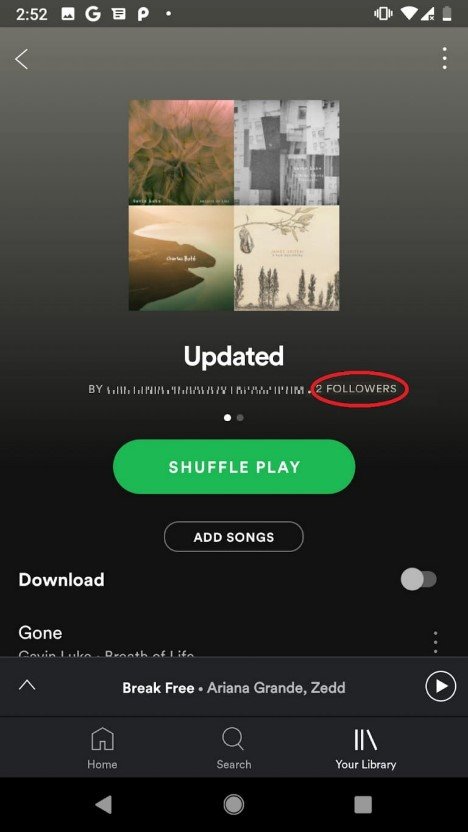 If you wish not only to see the number of your playlist's followers, you can use below to determine and see who specifically follows your Spotify playlists.
Knowing Your Spotify Playlist's Followers
You just need to perform the same steps which were initially discussed above – open your Spotify account, tap one playlist, check the number of followers.
When you already arrived at that screen, you just need to hit the "Followers" button. Now, the list of users who are following your playlist will be shown.
If you wish to know more about the user, then you can tap the username to visit his or her profile in Spotify.
Well, the guide is too easy to follow. You can now see the number of your Spotify playlist's followers and who they are!
Part 4: What If You Wanted A Person to Unfollow Your Playlist?
If the other way around happens – you wanted a person or a bunch of people to unfollow the playlist you have in Spotify application, that can also be done easily. If you wish to do it, then you can just refer on below guide. The answer is use the Spotify application's "Make Secret" feature. Want to learn more about this?
Check out below.
Step #1. Launch or open your Spotify account. Provide all the details needed including your username and password.
Step #2. Go ahead and tap your "Your Library" menu located at the bottom area of the screen.
Step #3. All the playlists you have in Spotify will be shown in the screen. Now, you just need to choose one playlist and tap it.
Step #4. You will notice ay three-dot icon vertically in the upper right corner of your device's screen. Tick this one. New options will be shown.
Step #5. From the new options reflected, scroll down and browse to see the "Make Secret" option. Just simply click this one. After doing this, you already made a specific playlist of yours hidden to people.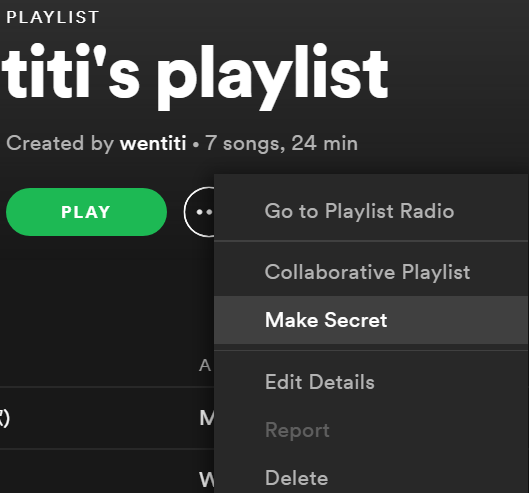 If you wanted to do it for more playlists, the you can just do the same process again and again.
The above method is just simple, right? By any chance, if you are also a follower of some Spotify playlists, are you also looking for a way to download those songs in the playlists you are following? You must be aware the music in Spotify application are DRM (Digital Rights Management) protected. This only means that you can't have those easily saved on your device if you feel like you wanted to. Ever wondered about a tool who can do the job for you? We will introduce one tool here as an additional reference for you. If you are looking for such, then you are lucky to see this post.
Part 5: Is It Possible to Download Spotify Playlists?
There are a lot of applications that you can use in order to download Spotify songs. And, the best we recommend is this DumpMedia Spotify Music Converter. Have you read or somehow heard about this converter? I bet, yes? This is actually very famous in the converter industry.
What can it do for every user?
With this tool, you can easily remove the DRM protection of Spotify songs.
Convert the songs into several output formats.
Perform personalization of the output settings.
Faster conversion speed and proven high-quality result.
And of course, the downloading of Spotify songs is possible! You can save not only one song at a time but a bunch as it supports batch processing!
Isn't it amazing and great? Well, if you wish you download or install this tool on your personal computer and have it utilized for Spotify playlists' downloading, you can get the version in its official website and even the detailed guide on how to use it.
Part 6: To Wrap It All
Finally! You already knew how to see who follows your Spotify playlists. Through the guide presented, you can also see the numbers of your followers and even make some of your playlists hidden in case you wanted to hide it to people.
Moreover, you have learned about a tool capable of downloading all the songs in a certain Spotify playlist – the DumpMedia Spotify Music Converter. If you wanted to know more about this converter and the guide to have it fully utilized, you can check all those in the official website. What else are you doing now? Perform what is needed!