"Is there any way I can keep all the songs in my Spotify playlists in my computer or other external storage devices so that I could have it played in my car's speakers and even share with friends?"
The above is a usual query from Spotify users. Nowadays, we always wanted to have the songs we love saved in all devices we have (regardless of whether it can support the Spotify songs' format or not) and have those played even if offline.
Are you one of those who are also looking for ways to download Spotify playlist to MP3 ?
Since Spotify does not allow the downloading unless you are a premium subscriber, are there any options left? We will be presenting the alternatives wherein you can choose from in this blog post so keep on reading.
Contents Guide Part 1: Why Would You Convert Spotify Playlist to MP3?Part 2: How Can I Download Spotify Playlist to MP3 On Computer OfflinePart 2: Download Spotify Playlist to MP3 Using Browser OnlinePart 3: Download Spotify Playlist to MP3 Using Mobile DevicesPart 4: To Sum It All
Part 1: Why Would You Convert Spotify Playlist to MP3?
Spotify songs come in OGG Vorbis format. And, this format seemed to be quite unpopular. Although mentioned has some capabilities exceeding that of MP3, many users are still in search of methods of conversion in order to transform those files in MP3 format.
Why would users do the above? The reason is that the MP3 format is much more popular than OGG Vorbis. This is very widely used by many and is proven compatible with a lot of devices and media players making it too flexible. Below are some scenarios showing how disadvantageous OGG format is compared to MP3 in terms of gadgets' compatibility.
Windows computers do not play files in OGG format by default. There would be a need to have other applications or installation of codecs in order to do so.
Handy devices such as iPods do not play OGG files which makes it a bit disadvantageous for people fond of bringing handy gadgets with them.
The iTunes application installed in Mac computers does not support files in OGG format.
There are cars with audio CDs that do not support OGG files as well.
Do you have the same ultimate reason why you ought to save your Spotify songs in MP3 format? We will tackle three fast and easy procedures for downloading Spotify playlists to MP3.
Part 2: How Can I Download Spotify Playlist to MP3 On Computer Offline
Professional software applications are the top one option for users in case they aim to save all favorite Spotify playlists to MP3 format. For people who do not mind paying a fee in order to obtain the best output possible, the use of professional applications in computers is not an issue. What tools are we recommending?
Download Spotify Playlist to MP3 with DumpMedia Spotify Music Converter
One of the many tools you can use to keep all songs under your Spotify playlists (converted to MP3) is this DumpMedia Spotify Music Converter. With this tool, you can perform the downloading without thinking about the DRM protection since that can be removed along the process.
Plus, the interface is easy to navigate and the procedure of downloading and conversion is simple. Below is the basic guide to further utilize the mentioned tool.
Selection of Spotify songs to be converted.
Choose MP3 from the list of output formats.
Head to conversion.
The above three seemed to be so simple. But, in case you wanted to know the details, you can check out below.
Step #1. Selection Of Spotify Songs To Be Converted
Once you have this DumpMedia Spotify Music Converter on your personal computer, open it and choose the Spotify songs under the playlists you love which you aimed to be transformed into MP3 format. Copy the URL or do the drag and drop mechanism.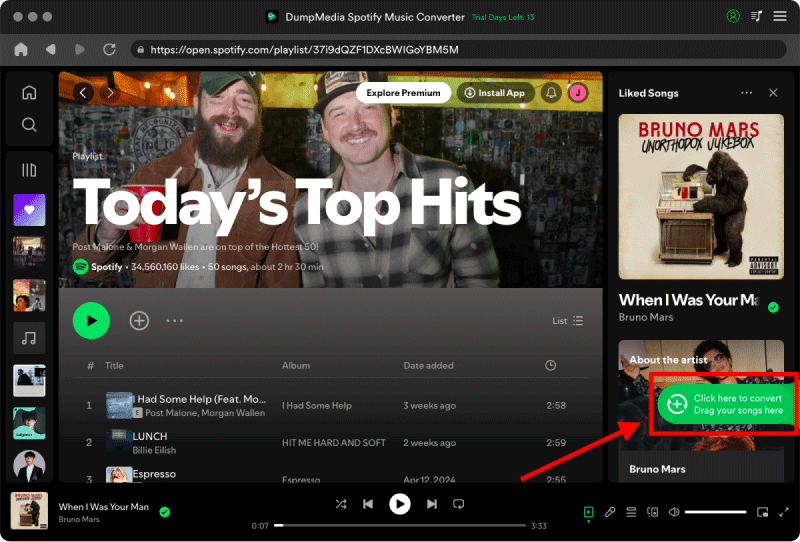 Step #2. Choose MP3 From The List Of Output Formats
Since there are a bunch of formats supported, you need to choose MP3 from the list. Do it by going to "Convert All Tasks to:" option. Make sure to define a folder where the output will be saved after conversion.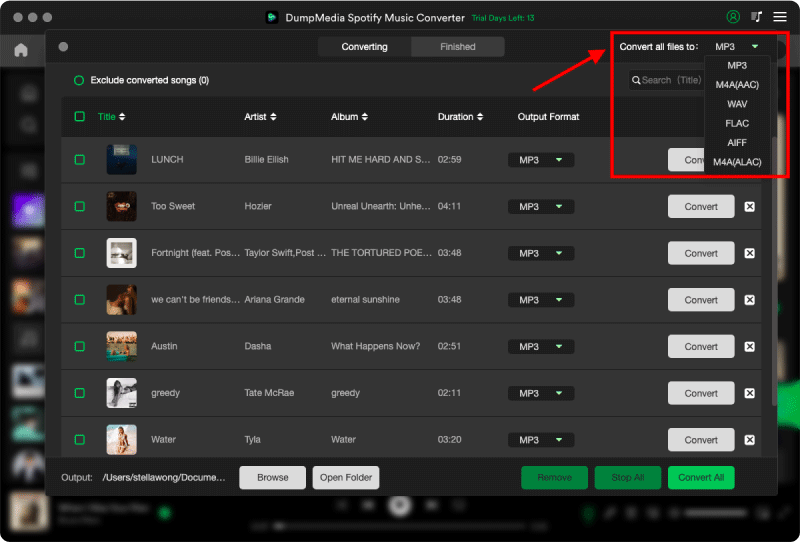 Step #3. Head To Conversion
Finally, after finishing the above two, you can hit the "Convert" button to finish the process. The songs will be downloaded after a few minutes and will be saved as MP3 on your computer. You can now have the files transferred even to external storage devices.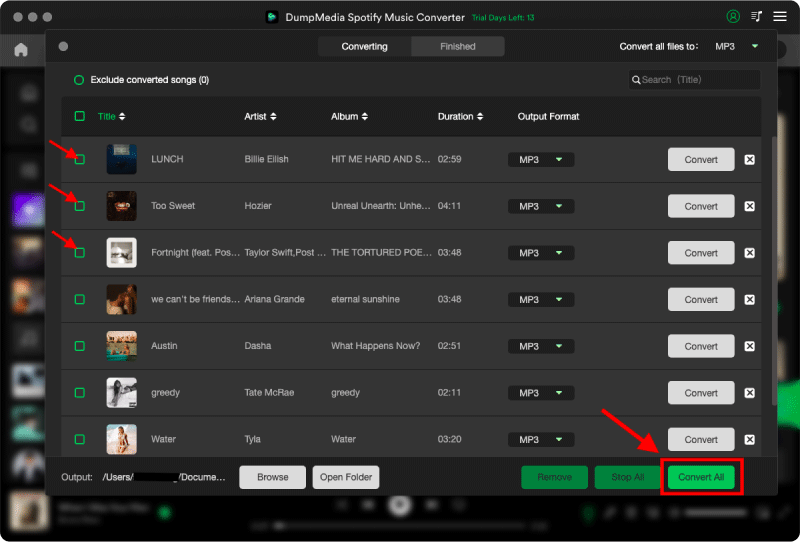 If you wish to know more about this tool, you can always visit the official website for guidance.
Download Spotify Playlist to MP3 with Cinch Audio Recorder
Apart from DumpMedia Spotify Music Converter, you can also rely on audio recorders. One great example is this Cinch Audio Recorder. This supports a number of sites not only Spotify. This will surely be useful to a lot of users.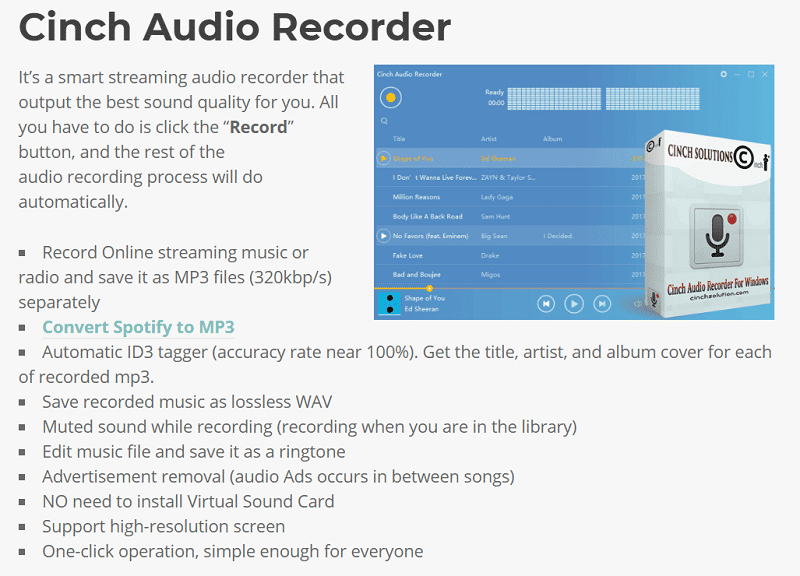 Nothing to worry about the sound quality since the tool can record the audio and save it in the same quality as the original.
How can you do the downloading of Spotify playlist and conversion to MP3 using this Cinch Audio Recorder? You need to follow the below.
Of course, you need to install this Cinch Audio Recorder on your computer and have it launched once ready and click the "Record" button.
Look for the Spotify playlist you wanted to be recorded. Play it. Cinch Audio Recorder will begin recording. There is no need to set the output format since, by default, the setup is MP3.
Once a recording has been completed, you can just right-click on the file which you will see in the library, and choose "Open folder" from the options.
And, that is it! You now have the Spotify playlist in MP3 format!
Part 2: Download Spotify Playlist to MP3 Using Browser Online
Another alternative to download Spotify playlists to MP3 is the use of online tools that you can access on your browser. You can see some of the most used ones on the succeeding texts.
Download Spotify Playlist to MP3 on AmoyShare
AmoyShare can easily be seen on the web. This has an official website that you can check. This is totally free and can be accessed through Windows, Linux, or Mac computers. The conversion process is straightforward. You just need to enter the URL of the Spotify songs and playlists and have them downloaded in MP3 format.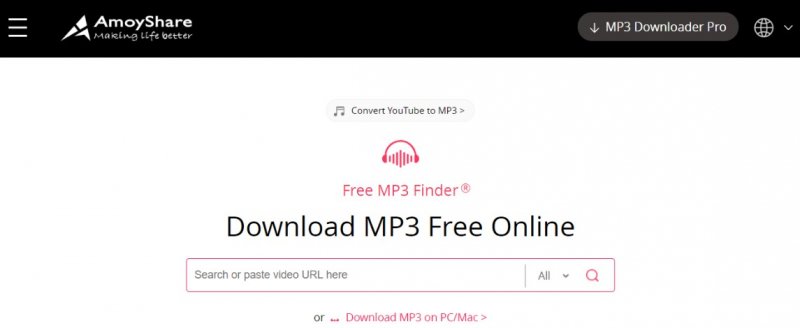 Download Spotify Playlist to MP3 using Chrome Extension
You can also check out chrome extensions such as Spotify and Deezer Music Downloader. This is as well completely free. You only need to complete below.
Install the mentioned chrome extension on your browser.
Open your Spotify application in your browser and play the playlist.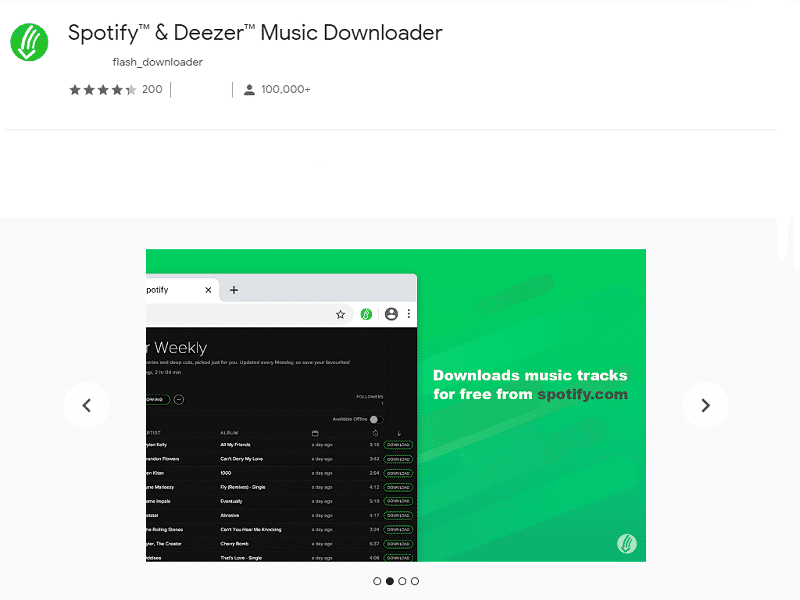 However, this has a bit of limitation as it only supports the Spotify application, and quality is reported to be not as good as expected.
Part 3: Download Spotify Playlist to MP3 Using Mobile Devices
If you are thinking about using your mobile devices while downloading Spotify playlists to MP3, that is possible as well. You can also take a look at the applications below which can work on your Android and iOS phones.
For Android Devices
In case you are using Android mobile phones, Fildo is an application most recommended to use in order to transform Spotify songs to MP3 format. Before, it was announced that an iOS version will be released. However, up until now, no updates are available. This is how you can use Fildo.
Install the apk on your Android device.
Once done, hit the "More" button which you will see at the bottom page, and then tap "Import Spotify".
Now, you would need to sign into your Spotify account to begin the importing of playlists.
Once imported, hit the "dot" icon alongside each song to download the music on your device.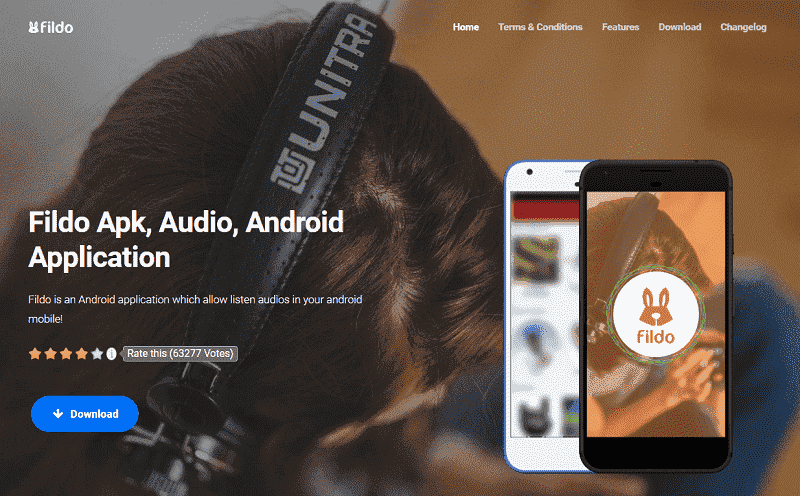 For iOS Devices
If you have your iOS mobile device with you, you can utilize Telegram. This also works well with Android devices and is a free application. Here is how you can do the downloading.
Get the "Telegram" application from the Apple store.
Copy the list of the song or Spotify playlist you want to download.
Open Telegram and look for "Spotify Music Downloader" using the search bar. You will see the "START" button. Tap it.
Pate the URL initially copied and click the "Send" button.
You just need to wait for some time until the bot replies with the song downloaded in MP3 format. You will notice a download icon. Just hit that one and enjoy listening offline.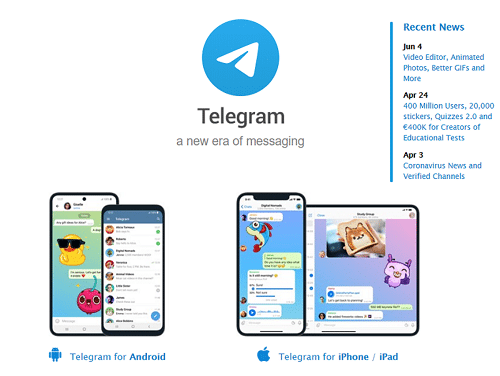 Part 4: To Sum It All
Three methods to download Spotify playlist to MP3 format have been presented in this article. Which do you think is the best option that will work for you?
If you prefer professional software applications, it will always be best to use DumpMedia Spotify Music Converter.
Do you have any other ideas which you want to leave in the section below? We are open to suggestions!