If you will be asking a number of people about the music streaming site or service, they are making use of, surely, almost eighty percent would say that it is "Spotify". Well, some would say other popular applications like Apple Music or Google Play Music. If you happen to be included in that 80% who are utilizing Spotify, then this blog post could be of help to you.
Actually, the main topic of discussion would be about the NoteBurner Spotify Music Converter review. We will be delving into detailed information about this software application and how this could be beneficial to you in a larger picture.
Contents Guide Part 1: An OverviewPart 2: NoteBurner Spotify Music Converter ReviewPart 3: An Alternative to NoteBurner Spotify Music ConverterPart 4: To Wrap It All
Part 1: An Overview
Millions of songs can be accessed through the Spotify application. Name any genre and artist, and the application can give it to you in just a matter of seconds after keying in the words in the search option. Because of its compatibility with a number of devices, you can have it installed on your personal computer, mobile phones, smart speakers, smart TVs, and more.
Usually, users tend to get a wrong connotation when it comes to the advantages of being a premium Spotify user. Well, yes, it is true that once you have subscribed to the premium account and continuously pay the monthly subscription fee, you will be enjoying a lot of amazing features being offered by the application including the ability to keep any songs from several playlists and albums. This is what is lacking when you only have a free account.
Why did we say "the wrong connotation"? This is because although you can stream the Spotify songs offline while being subscribed to the application, there are as well a number of limitations.
The songs downloaded via the Spotify application will disappear after the subscription has ended. Once you got a new plan, you need to have the previous songs downloaded again.
Not only that, if you failed to log in after thirty days, then songs kept will automatically vanish. By then, there is a need for you to perform redownloading.
Another limitation is that you can't have the songs downloaded via the application shared with other people.
See? It is as well disadvantageous for people to obtain a premium account. This shows that in terms of downloading, the premium users do not have many advantages over the free account users. This is why when it comes to Spotify song saving, there is a need to look for a software application that has the capability to download any song and save it into any devices for sharing, forever keeping, and offline streaming. One good recommendation is by using this NoteBurner Spotify Music Converter.
Have you ever heard about this mentioned tool - NoteBurner Spotify Music Converter? We will be tackling the tool more and how it can help in the Spotify songs downloading and conversion in the next part of this post.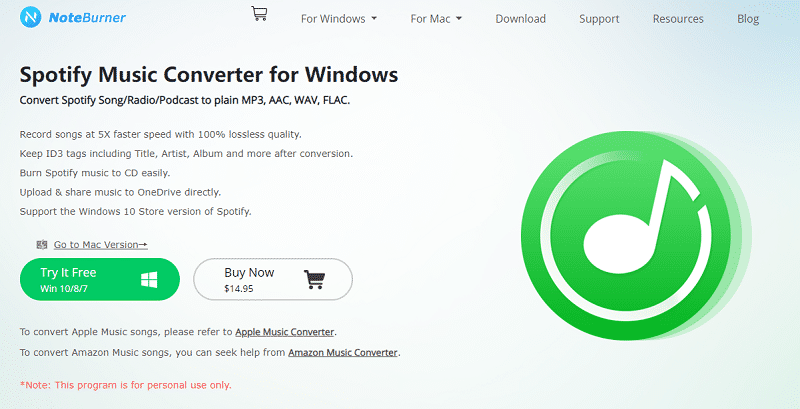 Part 2: NoteBurner Spotify Music Converter Review
NoteBurner Spotify Music Converter is one of the tools which has the main feature of downloading Spotify songs and having those converted to several different formats depending on the user's choice.
What is The Best Feature of This NoteBurner Spotify Music Converter?
Same with other Spotify converters, NoteBurner Spotify Music Converter would also not miss the best and star features it can give to every user. The following can be enjoyed while utilizing the tool.
Of course, the downloading and transformation of Spotify songs has been made possible with this NoteBurner Spotify Music Converter.
It is as well assured that the original quality of songs will be maintained even after the downloading process.
Talking about the speed of conversion, it has been measured to be five times faster than the usual Spotify converters.
The tool can also support the burning of songs in discs or CDs.
Wanted to share the downloaded songs with anyone by email? That is as well possible while using this third-party software application.
Most importantly, the application fully supports Windows 10 version and the latest version of the Spotify application.
But How Can You Use This NoteBurner Spotify Music Converter?
Well, the procedure that you need to follow in order to accomplish successful Spotify songs downloading and conversion is too simple and easy to follow. Below is an overview of the step by step guide.
Add all the Spotify songs to be downloaded and transformed.
Customize the output settings and options.
Finally, complete everything by ticking the "Convert" button.
Of course, an explanation for each step has been created in this article as well. Check out the details one by one below.
Step #1. Add All the Spotify Songs to be Downloaded and Transformed
Once NoteBurner Spotify Music Converter has been downloaded and installed on your personal computer, then you must proceed with the importing of Spotify songs to be converted into the platform. You can easily do this by hitting the "+" or add button located at the top left corner of the interface. By doing so, you will arrive at a window wherein you can see the Spotify songs. You can highlight the songs or perform the dragging and dropping of songs. Hit the "OK" button once you are finished.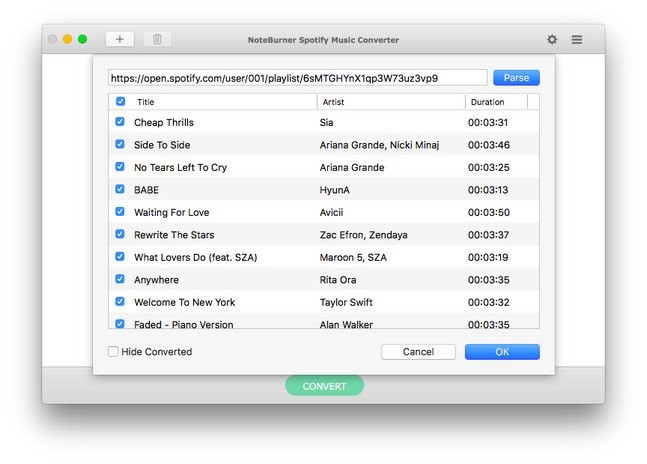 Step #2. Customize the Output Settings And Options
The easy customization of songs can as well be done with this tool. You can personalize and customize the settings by heading to the "Settings" button located at the top-most part of the interface. From there, you will see all the settings you need to check and review. You can choose the output format from those available (MP3, FLAC, WAV, or AAC). You can also set the output quality, conversion speed, the designated output path (wherein converted files will be saved), and of course the desired file name.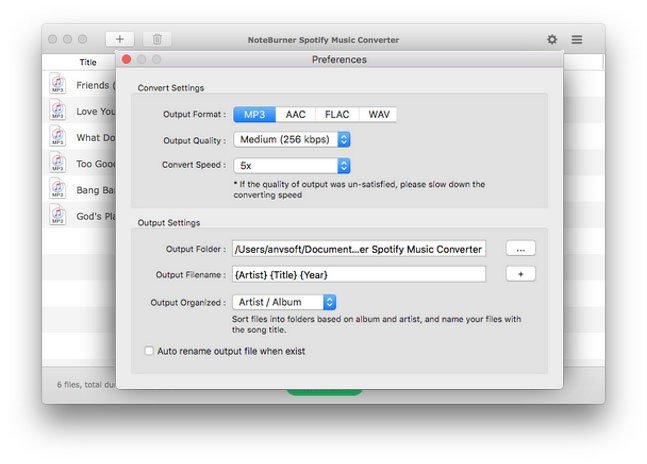 Step #3. Finally, Complete Everything by Ticking The "Convert" Button
Now, finally, you can finish the procedure by hitting the "Convert" button (the green button at the lower part of the screen). While conversion is being performed, you will notice the status bars of each signifying the progress of the transformation is done. You can use this as a way to monitor those songs loaded into the application. After a few minutes, songs must be converted and saved into the specified file location on your computer's library.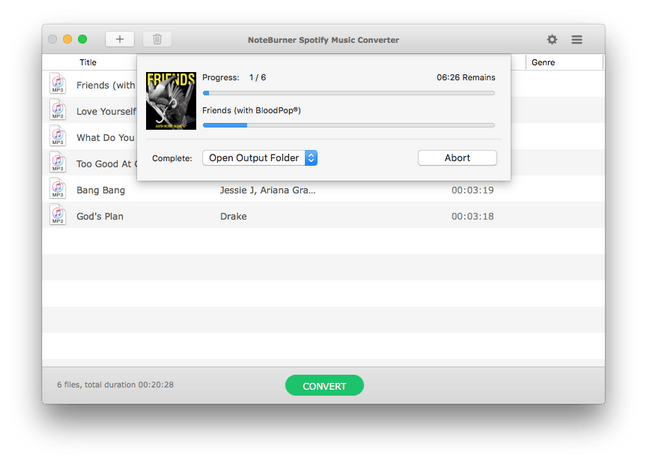 Just keep in mind that if you are to use this NoteBurner Spotify Music Converter, you have the option to have it in free mode or in the paid version. By using the free version, you will only be capable of converting the first three minutes of each song. You can unlock additional features once you have purchased the premium version.
Part 3: An Alternative to NoteBurner Spotify Music Converter
If upon review, you still find this NoteBurner Spotify Music Converter lacking with features you are looking when it comes to a tool capable of downloading and converting your favorite Spotify songs, you can also check out other alternatives in the web. Actually, there are numerous – both professional and free or online tools.
DumpMedia Spotify Music Converter
Actually, DumpMedia Spotify Music Converter has been one of the most recommended applications capable of converting a bunch of Spotify songs. It is packed with great advantages and amazing offers. Created by an amazing group of smart people under the DumpMedia team, you can be assured that you can only get the best of the best when it comes to the mentioned function.
Added to mention, personalization in the output file can also be done. This has the ability to remove the DRM (Digital Rights Management) protection of all the Spotify songs aimed to be converted allowing users to enjoy sharing the converted files to anyone they want.
If you are too curious to know more about DumpMedia Spotify Music Converter and how it can really help you in the same case, then you must try visiting the official website to learn more. Detailed information about the tool and an easy guide to use can be seen on the website as well.
Online Tools
Apart from professional applications, there are online Spotify converters as well. You can have those accessed for free as long as you have a secured internet connection with you. Just keep in mind that there are some drawbacks that you are likely to face including the quality of the output file and a bit more.
Part 4: To Wrap It All
No doubt, NoteBurner Spotify Music Converter is a great tool that can aid in the conversion of Spotify songs. The free version it offers is very much helpful to users. If you wanted to upgrade, you can always get the paid version.
Other than NoteBurner Spotify Music Converter, you can also try other tools such as DumpMedia Spotify Music Converter and online ones.
Which do you think will work for you? Comment down below.