"I keep on looking for the best Apple Music converter to use, can you recommend me one?"
Apple Music is one of the best platforms ever introduced to the public when it comes to music streaming. In fact, it's been ranked as one of the top 5 ever since up until at present.
With its million subscribers around the globe, there is no doubt that it can keep its place at the top. There are several advantages that you can actually enjoy out of your Apple Music subscription.
It's true that having an active Apple Music subscription is totally an advantage. However, there are still some users who find it annoying that Apple Music songs are encrypted under Apple's FairPlay Protection policy. With this, they can't have the songs streamed on any device. You should be using an authorized one.
In order to remove the issues with compatibility on any media player, there would be a need for you to perform Apple Music song conversion. And with this process, there is a need for you to have a reliable Apple Music converter installed on your computer. We know that finding one could be tedious especially if you are not into such stuff. And so, we are here to help!
In this post, we will be sharing the best Apple Music converter that you can make use of. Additionally, we'll also present some free Apple Music converters just in case you are also interested in learning about them.
Contents Guide Part 1. What Is the Best Apple Music Converter?Part 2. Other 4 Free Apple Music ConverterPart 3. Summary
Part 1. What Is the Best Apple Music Converter?
When looking for something, the first thing that will surely pop up in your mind is to browse the web and search. But the dilemma is that there will be a lot of answers presented to you. How will you then decide which one to use?
When talking about choosing which Apple Music converter to use, there is no need for you to look and search. We got you! We have here the best Apple Music converter in town – the DumpMedia Apple Music Converter. This is a professional, reliable, and trusted professional converter that has been used and is currently being used by a lot of users worldwide.
What makes this DumpMedia Apple Music Converter different from the other apps out there? Well, we have detailed here the features of the app that we know you'd love to find out.
The DumpMedia Apple Music converter can let you transform your favorite Apple Music songs not only to MP3 format but to other supported formats like FLAC, AC3, and more.
It's a good DRM removal tool as well. You have nothing to worry about the DRM encryption of the Apple Music songs as it can be removed easily by this Apple Music converter giving you more flexibility when it comes to accessing your files on a wide variety of devices or media players.
It works 10x faster than other converters ever introduced to the public. With this speed, you can expect the files to be ready within just a few minutes.
It ensures that the output files will be high-quality and that the ID tags of the songs will be maintained.
It can also function as a powerful audiobook converter. So, if you are into audiobook streaming, using this Apple Music converter can be of great help to you.
Of course, this Apple Music Converter was designed to be very user-friendly. It has functions that can be navigated even by beginners or first-time users. The procedure you have to complete is too simple to understand.
There are only a few things you need to complete to finally have this DumpMedia Apple Music Converter installed on your computer.
It offers a free trial period and even has a 1-month refund policy!
What else would you look for? Now that you know a lot of amazing features this DumpMedia Apple Music Converter has, we'll now move on to the steps of how you can use this during conversion. Well, there are only 3 steps that you need to take.
Step #1. Install the DumpMedia Apple Music Converter on your PC. After the successful installation, just launch the app and then start previewing or choose those Apple Music songs that you wish to undergo conversion.
Click to download and follow the step-by-step guide!
Step #2. Select the output format that you wish to utilize. Also, it is always suggested that you define an output folder for easy access to the transformed files. You can also modify some options under the output settings if you wish to.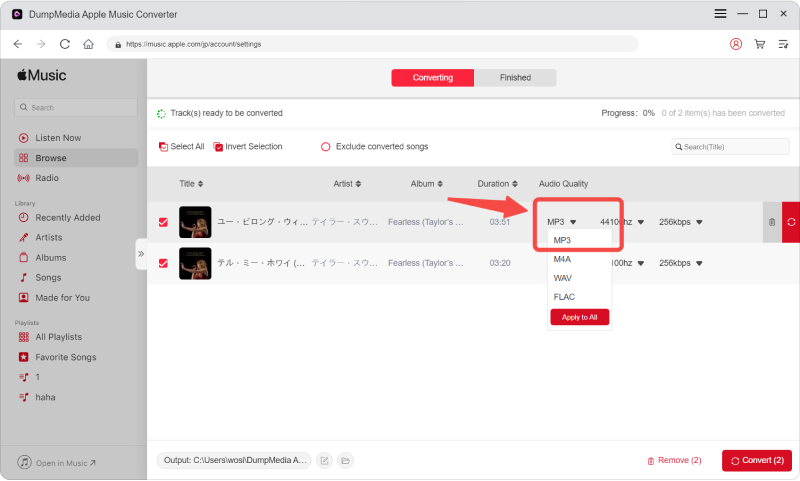 Step #3. Once you have set everything as you wish, you can just hit that "Convert" button at the bottom, and then the conversion process will start. Also, the DRM removal process will also be done alongside conversion.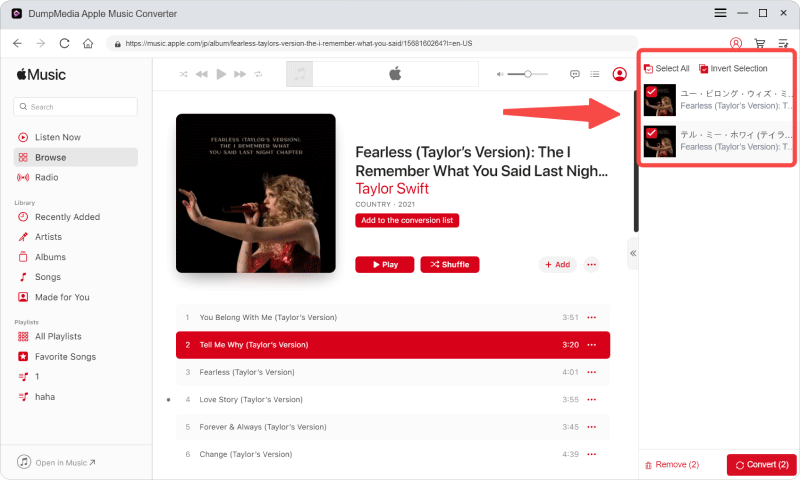 The whole conversion and DRM removal process will only take a few minutes as this Apple Music converter are too fast. So, you shall expect the output files to be ready right away. You can have those moved or transferred to any device or media player as you like!
Part 2. Other 4 Free Apple Music Converter
"Apart from a professional Apple Music converter like this DumpMedia Apple Music Converter, are there any other free Apple Music converters available?"
To answer the above, of course, "Yes"! If you are not keen on paying a fee for professional converters, there is no wrong with trying some free tools.
We have here 4 free Apple Music converters that we'd like to share with you. Get to know each in detail as we are to highlight them one by one in this section.
Freemake Audio Converter
One free Apple Music converter that you can check out is this Freemake Audio Converter. You can use this to convert your media files into formats like M4A, WMA, MP3, WAV, and more. Others are also very fond of using this as this functions too fast, has a preset editor, can support batch conversion, and more.
You can even use this app to combine some audio files if you wish to. This also lets the user get songs that are compatible with every device. If you are to try this, you'll be happy to know that after the conversion process, the output files will be saved automatically on your iTunes media library.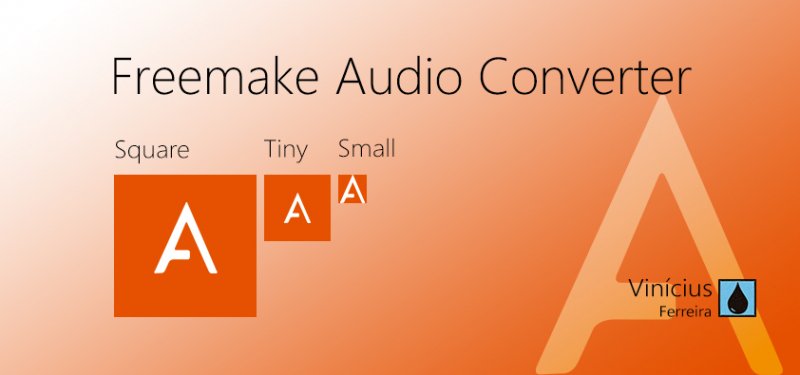 Free M4a to MP3 Converter
The good thing about this Free M4a to MP3 Converter is that it lets you transform your M4A file to MP3 format with ease. If you are worried about the compatibility of M4A files on some devices, you can rely on this app as it can help you save your audio files in MP3 format making the files accessible on any media player.
It also has a very easy interface that is easily understandable. But you should be aware that you can't have M4B files or videos played or converted through this application.
AnyVideo Converter HD
AnyVideo Converter HD is an app that won't let you down as well. This is also free of use. You can process Apple Music to MP3 conversion through this app easily without risking the audio quality of the output files. It can also process a bunch of songs in one go.
More so, it allows the easy uploading of the files on the platform as you can also perform dragging and dropping. The speed of this app is also notable. You might be confused the first time you read this converter's name as it actually suggests that this app processes videos.
But don't worry, it also handles audio conversion pretty well. You can also enjoy some other features like language selection, automatic de-interlace, subtitle selection, and more.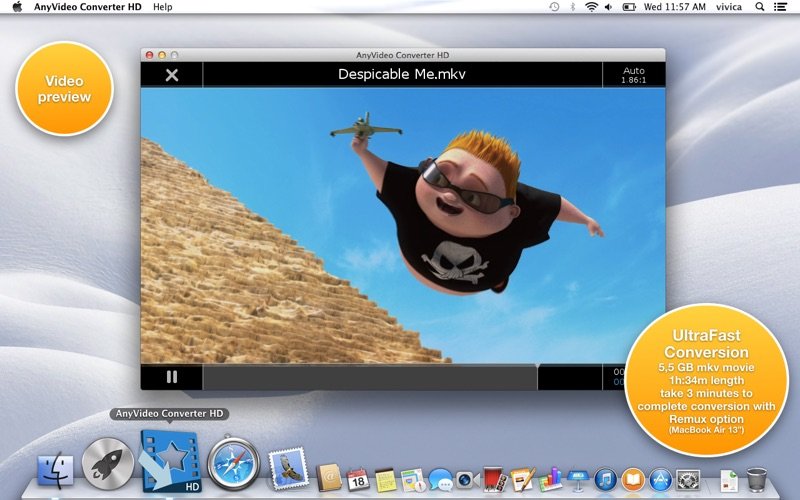 CloudConvert
Apart from apps, you can also check out online Apple Music converters. One of the most recommended is this CloudConvert. It has the ability to process audio conversion as well as video processing. You just have to visit the official website of CloudConvert to process audio conversion.
Once you arrived at the site, you just have to click the "Select File" button to start adding the files to the process. Afterward, just select MP3 as the output format to utilize. Once you are done here, you just have to click the "Convert" button and this online tool will do the job for you.
Part 3. Summary
You now learned more about the best and great Apple Music converters in town. There are free tools that you can use but, of course, we are always recommending that you install professional apps like the DumpMedia Apple Music Converter to always ensure that you'll be getting the best output files that you are expecting to have!