There was once a time when music lovers are only limited to radios, vinyl records, and cassette tapes when they want to listen to music. But in the modern days, as technology evolved, walkmans and CDs took over these old means. While vinyl records and CDs are still around today, you cannot ignore online services for streaming music.
Spotify and Google Play Music are among the two greatest players in the market which allow you to listen to your favorite songs conveniently. But in the battle of Spotify VS Google Play Music, which would you choose?
At first glance, Spotify and Google Play Music seem similar. However, these two have major differences that you might want to know in this article. So keep on reading to know more!
Contents Guide Part 1. Comparing Spotify and Google Play MusicPart 2. Pros and Cons of Spotify and Google Play MusicPart 3. Bonus Tip: Enjoy Your Desired Songs Offline Without Spotify PremiumPart 4. Wrapping It Up
Part 1. Comparing Spotify and Google Play Music
#1 Pricing
Both Google Play Music and Spotify have the same pricing for their product offerings. For individual users, you need to pay a subscription fee of $9.99 while family accounts comprising six users can be acquired for $14.99. They also offer free versions that only have minimal skips with ads, of course.
Spotify
In Spotify's family subscription, users need to be in the same house because the service will not allow the members to change their addresses once the subscription starts. However, if one insists on relocating, this user needs to shift to a separate individual account.
Spotify would also be the ideal deal for students because the service offers Spotify Premium, Showtime, and an ad-supported Hulu for $5 a month. While for family plans, they can enjoy these for $15 per month.
Google Play Music
The members of Spotify's family plan need to be in the same address but in Google Play Music, they do not need to be. Google Play Music gives the members full freedom to change their addresses.
Moreover, Google Play Music only offers its premium features if you unlock them. But, you will need to pay more than Spotify's family plan. For individual subscriptions, you need to pay $12 per month while for family plans, you can get it for $18 per month.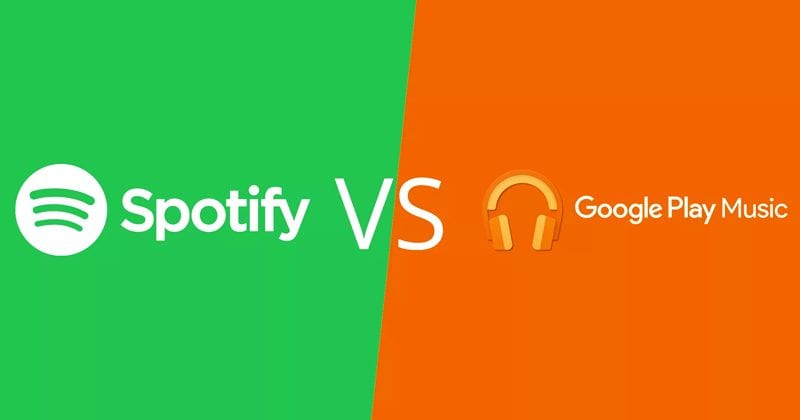 #2 Features
Spotify
It offers more than 30 million songs for streaming but it only allows its users to add not more than 10,000 songs from the catalog.
Its huge collection of songs gives you the newest tracks along with older ones.
It has various stations where users can choose from based on their tastes. Spotify Premium will guarantee that your playlists are well-curated based on your mood.
It allows its users to tweet their problems and issues to Spotify care.
Users of the Premium version can enjoy luxury because they can download over 3,000 songs in every device on up to 3 devices.
You can listen to playlists offline.
Its desktop app will ensure that you will enjoy listening to music while you are working.
Google Play Music
Also offers more than 30 million songs but it has a collection of diverse tracks you can choose from
You can have access to up to 50,000 songs without any subscription.
Its customer support only includes chats and phone calls, unlike Spotify.
While Google Play Music allows its users to enjoy offline listening, but you need to subscribe to their streaming application.
#3 Interface
While Google Play Music's songs appear to be extremely high in quality, it cannot match Spotify's dark theme. Spotify's dark theme gives the app a very appealing and calming look especially when you are on your jam sessions at night. It is way better compared to the hamburger drawer of Google Play Music because Spotify has a layout that makes it easier to jump between the app's sections.
You can find all of Spotify's library, radio, and settings below the app's panel that is easy to move around with. You will also find Spotify's interface well-organized which reduces stress for users when they are looking for a specific playlist.
The automatic station and suggested tracks of Spotify is also more accurate compared to Google Play Music. Spotify also gives its users daily and weekly mix playlists which keep their songs updated every time compared to Google Play Music.
#4 Sound Quality
When it comes to the quality of sound, both Google Play Music and Spotify offer over 30 million songs in their music libraries which makes it a little hard to ascertain the sound quality. But, both platforms stream at 320kb/s. Moreover, how you use your data will also determine the quality of the music's sound.
For Spotify, it will give its users audio qualities that range from automatic to extremely high. But, premium subscribers are the only ones who can use the extremely high sound quality.
For Google Play Music, it allows its users to choose the quality of the music being played whether they need a low, normal, or high Mobile Network or Wi-Fi plan.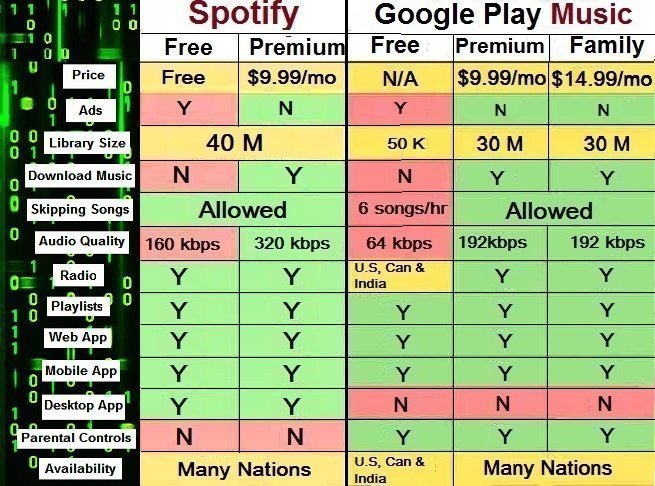 Part 2. Pros and Cons of Spotify and Google Play Music
Spotify
Pros
Its subscription catalog is topnotch.
It offers best-of-class playback between devices.
It has the most ideal streaming bundles for students.
It allows several people to share a single playlist and edit it. This is very useful if a group desires to play songs at a party.
Its discovery feature gives its users nice recommendations which are based on their listening habits and genre as well as radio stations that are artist-led.
Cons
The 10,000 song limits for libraries can easily be hit through time.
It does not offer cloud integration when it comes to your uploaded and purchased music.
It only has inferior support capabilities, especially for Android 1 users. You can use videos and podcasts on Android. However, this will fail on Browse.
It cannot offer comprehensive audio libraries overseas because of licensing issues.
Google Play Music
Pros
Users can use its web player to listen to their cloud music.
It offers excellent integrations of uploaded/purchased music.
It is stable has consistent performance along with fast bug fixes.
While streaming, the cache can build offline libraries without any effort.
You can have access to about 50,000 tracks without having to pay.
You can easily upload whole collections using Music Manage.
You can access YouTube Red. This means that users can use YouTube offline without any ads and watch the majority of YouTube music videos. This is the most notable feature that Google Play Music offers.
Cons
There is a possibility that YouTube music might replace Google Play Music.
It has a low deauthorization limit for devices.
The app has become a little stale and bloated.
It does not work well when it comes to recommending songs. There are times that the app may recommend tracks that you will probably not like and are too old.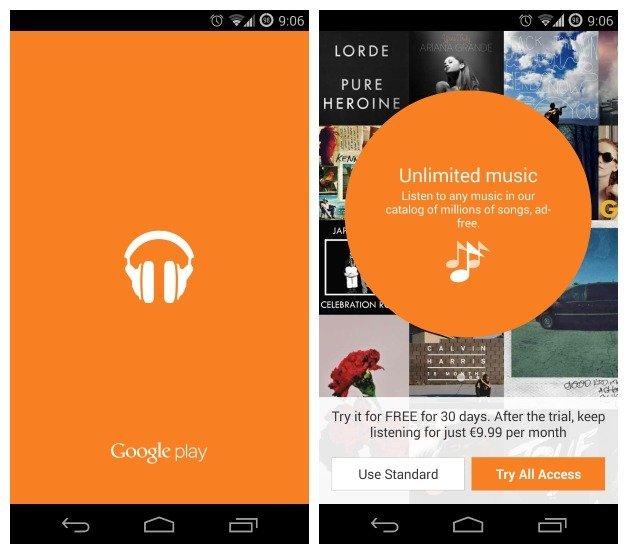 Part 3. Bonus Tip: Enjoy Your Desired Songs Offline Without Spotify Premium
We recommend using DumpMedia Spotify Music Converter for downloading and converting any Spotify music, playlists, or albums to MP3, M4A, WAV, and FLAC. This tool can keep the original quality of your Spotify files. It is a powerful and high-speed Spotify converter that allows you to enjoy your Spotify music without a premium subscription. Thus, giving you free Spotify for offline listening!
Features of DumpMedia Spotify Music Converter
Quick Download and Conversion of Spotify Songs
Support For Free Offline Playback of Spotify Music on Various Devices
Preservation of Metadata Indo and ID3 Tags
Aside from the above-mentioned features, DumpMedia Spotify Music Converter is also available in three languages, but we are working on adding more. You can even customize the quality of the output audio file according to your needs.
For the steps on how to use DumpMedia Spotify Music Converter to enjoy your Spotify songs without Premium, proceed to the provided link.
Part 4. Wrapping It Up
For music listeners who do not want to buy songs, Spotify would be your ideal choice if you trust it to serve music that suits your tastes using its algorithms. It is also recommended for users that only need a little music to spice up their lives and for tech fiends who are switching devices frequently that which would not be ideal for the device limit policy of Google Play Music.
On the other hand, Google Play Music is for users who have already established their music libraries and for those with specific playlist tastes which subscription catalogs are not able to satisfy alone. You can even unlock YouTube Music and YouTube's premium features for $2.
By the way, if you want a Spotify downloader which you can use to download Spotify songs and save it on your computer or mobile device without any limits, we recommend using DumpMedia Spotify Music Converter. You are free to try this software anytime.