Spotify remains undisputed when it comes to on-demand tunes. It has set the standards in the music streaming marketplace with millions of both free and paying subscribers compared to its competitors. However, iTunes is quickly catching up with its large library, exclusive releases, radio feature, and full compatibility with Apple's popular ecosystem. These make it hard to decide which would win in the iTunes VS Spotify battle.
The listeners of the music streaming service of Apple has been growing impressively and has reached over 60 million subscribers a month since its launch in 2015 - almost 10 years after the release of Spotify.
In fact, Apple Music is the most popular paid music streaming service in the US. But, Spotify still remains the choice of global users with more than 100 million paying subscribers. Which of these two deserves the throne? Keep on reading to know more!
Contents Guide Part 1. Comparing iTunes and SpotifyPart 2. Bonus Tip: Best Way to Convert Your Apple Songs For Offline PlaybackPart 3. Wrapping it Up
Part 1. Comparing iTunes VS Spotify
#1 Free Trials
iTunes
iTunes (Apple Music) has a three-month free trial version of the paid service. This will automatically convert to a paid service unless you cancel it before your trial period expires.
Spotify
On the other hand, Spotify offers a 30-day free trial of the Premium plan. Billing begins after the trial although users have an option to continue the free version without any limits if they want more time before they can decide if they want to continue using the service or not.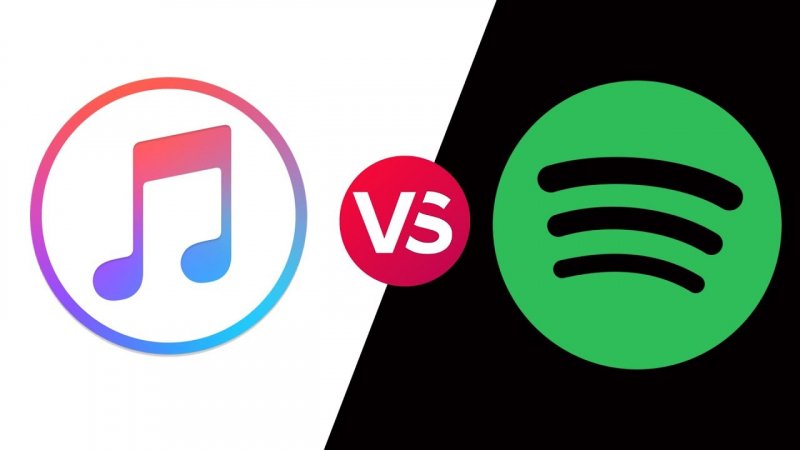 #2 Subscriptions and Prices
iTunes
Apple Music offers a monthly subscription of $9.99 in the US with variations in the price in other territories and countries.
It has a student ($4.99/month) and a family plan ($14.99/month).
Up to six persons can access the family plan, and they can share their purchases on iTunes. However, each member of the plan needs to use a single credit card.
Its subscriptions automatically renew every month but you have an option to cancel them.
Spotify
Spotify offers a Premium plan worth $9.99 a month with a few regional variations.
It has a free service that is ad-supported that allows you to shuffle and play tracks although premium features are still off-limits.
It has a student ($4.99/month) and a family plan ($14.99/month) that can be assessed by 6 persons.
Its student subscription includes ad-supported access to Hulu TV and unlimited use of the SHOWTIME service.
Its subscriptions automatically renew every month but you have an option to cancel them. A canceled subscription to Spotify Premium reverts to a free and ad-supported service once your current billing ends.
#3 Offline Listening and Libraries
iTunes
It has 50 million tracks in its catalog.
You can only download up to 100,000 tracks to your library for offline listening. You can sync these songs on devices using a single Apple ID through the iCloud Music Library.
Spotify
It has more than 35 million tracks.
If you use Spotify Premium, you can download a maximum of 10,000 tracks on each device (maximum of 5 devices) but this does not include your saved playlists.
Users can access podcasts and audiobooks. Since Spotify invests heavily in its offered podcasts, you can expect more content soon.
#4 Discovery Feature
iTunes
Upon signing up, Apple will ask you to choose some artists for the service to get an idea of what your tastes are. The app regularly updates its For You section using this data.
Various playlists can be composed of a single artist, genre, etc.
It has a non-personalized collection of songs found on its Browse tab which showcases trending playlists and artists, music videos, and top charts.
Spotify
Spotify centers its personalization on its Home screen. It adds a 2-hour Discover Weekly playlist every Monday. This playlist contains personalized song recommendations that are based on the user's listening habits.
It has a Daily Mixes section that features artists and tracks in a specific genre that you have been streaming and some extra recommendations.
It has a Release Radar playlist containing recommendations for newly released songs.
It includes a Made for Everyone section which containers playlists that are categorized into moods and genres.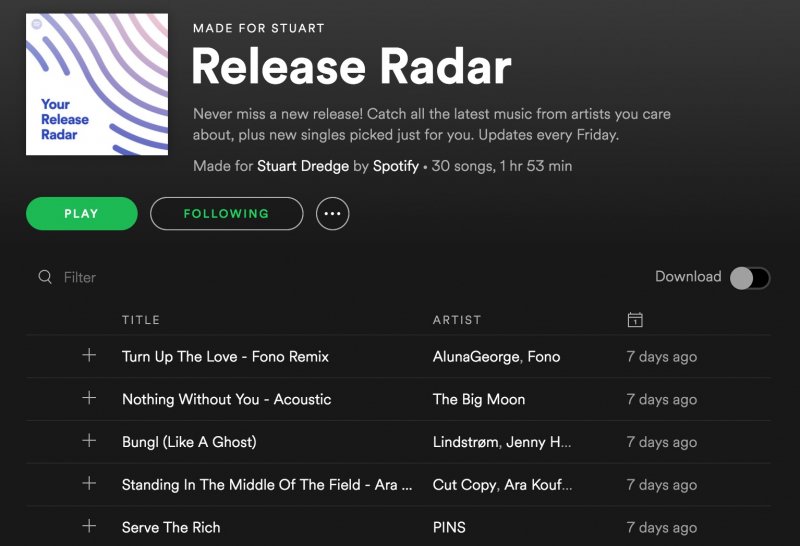 #5 Streaming Quality
iTunes
Apple Music can stream AAC files in 256kbps
Spotify
Spotify uses Ogg Vorbis as the format for its songs and allows you to select the bitrate based on your device. For mobile devices, you can choose to stream in the following qualities:

Very High Quality (320 kbit/s)
High Quality (160 kbit/s)
Normal Quality (96 kbit/s)
Low Quality (24 kbit/s)
#6 Web, Mobile, and Desktop Apps
iTunes
It can be accessed using the preinstalled Music app on every iPod, iPod touch, and iPhone.
It has a downloadable Android app version.
You can sync the songs on your local library to Apple Music using iCloud Music Library.
The desktop app can be accessed via iTunes. However, Apple Music's desktop app is not as pretty and navigable as its mobile app. The good thing is, the web app includes a Smart Playlists collection which is generated automatically by iTunes based on loved/disliked, date added, genre, etc.
It does not have a web player but you can use any third-party web players like Musish.
Spotify
It is available on both Android and iOS devices.
The iOS app version does not allow you to merge local songs on your devices with your library.
It has apps for both PC and Mac users. The desktop version is an excellent recreation of the mobile app. Moreover, it is slimmer and more navigable compared to iTunes.
It offers a web player where you can access the service using any browser.
#7 Compatibility with Voice Assistants & Speakers
iTunes
Subscribers are allowed to use Siri for controlling song playback, queuing up songs, finding song facts, adding songs to a library, and playing your playlists. This is an advantage over Spotify because Spotify needs a more complex solution when used when Siri shortcuts.
The HomePod speaker of Apple was essentially made for use with Apple Music.
Spotify
Spotify supports many different devices from smart speakers to game consoles.
#8 Music Sharing
Both iTunes and Spotify allow their users to follow other subscribers. They can also share personally-created their playlists to them. Moreover, you can share links of songs through social media or text on both services.
Spotify's desktop app allows you to see the songs that your friends are listening to, but they need to share the information to you. Similarly, the For You tab of Apple Music will show the same information with you.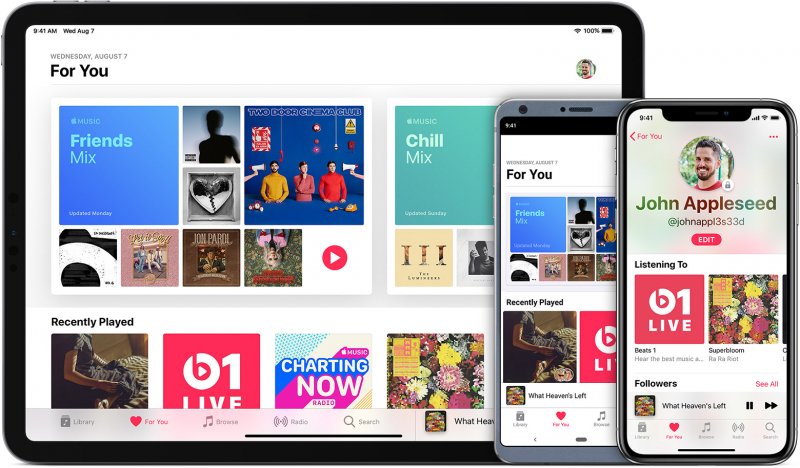 Part 2. Bonus Tip: Best Way to Convert Your Apple Songs For Offline Playback
We recommend using DumpMedia Apple Music Converter for downloading and converting any Apple M4P songs, albums, and playlists to MP3, M4A, AC3, M4R, MKA, AU, FLAC and more for listening offline.
Since you can't listen to Apple Music on your other devices because they are protected by DRM, this tool helps in removing the DRM protection of various Apple songs such as the following so that you can play your favorite songs anywhere:
Apple Music tracks
Purchased M4P songs in iTunes
iTunes M4B audiobooks
Audible AA/AAX audiobooks
Moreover, DumpMedia Apple Music Converter is a powerful Apple Music Converter with up to 16x conversion speed and retains the original quality of your songs, 100%.
Features of DumpMedia Apple Music Converter
Conversion of thousands of audiobooks and songs from the iTunes music library.
It allows you to listen to Apple Music tracks on various devices offline.
It helps you keep all of your Apple Music songs playable even after canceling your subscription.
Retains ID tags of the original songs.
Supports customization of the output song.
For the steps on how to use DumpMedia Apple Music Converter to convert your songs for offline playback, proceed to the provided link.
Part 3. Wrapping it Up
Below are the key highlights of our comparison between iTunes VS Spotify.
iTunes‌
Live radio
Social Features
Works with HomPod
Social Recommendations that are human-curated
Supports matching/uploading your own files
Seamless integration with the Apple ecosystem
Spotify
Extensive selection of playlists
Has a web player
Excellent algorithms for personalization
Free tier that is ad-supported
For users who are searching for a way to stream music for free and would not mind annoying ads, Spotify would be your best choice. But, if you are willing to spend extra bucks, choosing between the two becomes tricky.
If you have already invested in Apple system devices such as a HomePod or an Apple TV, then Apple Music would be more suitable because of its seamless integration with various Apple devices and its capability of importing an existing iTunes library.
But, if the before mentioned features are not included in your considerations, then Spotify is absolutely a good alternative because of its excellent personalization and music discovery features.
By the way, if you are looking for a way to download and convert various Apple Music songs and save it on your computer or mobile device, we recommend using DumpMedia Apple Music Converter. You are free to try this software anytime.