Technology has been so advanced nowadays. Several different companies have created amazing products and even innovated their current creations to cope up with the ranging development in the industry. One of those which has been improved are those items being utilized in the music industry.
If you are a very technology savvy person, you are surely aware of new devices introduced to public and one of those are smart speakers such as Sonos. If you love listening to songs via Spotify application and you got a Sonos speaker, the guide on how you can play Spotify Music on Sonos speakers will be discussed here.
So, if you wanted to know more, make sure to stay on this page.
Contents Guide Part 1: What Is Sonos Speaker And How Does It Work?Part 2: How to Play Spotify Music On Sonos SpeakersPart 3: In Summary
Part 1: What Is Sonos Speaker And How Does It Work?
There has been a lot of smart speakers being used by people worldwide. One of which is this Sonos speakers. If you do not have one, you must firstly find out more about this gadget. We are to explain more on the first part of this article.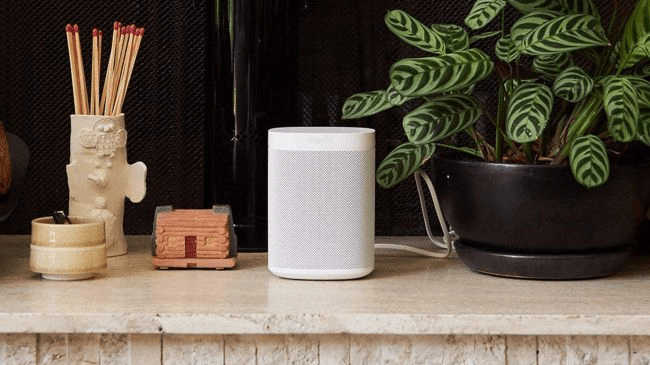 As initially mentioned, a Sonos speaker has been identified as one of the leading devices in its line. It has been known to be the best leader in terms of home audio streaming and listening. Having the capability to work with digital assistant applications such as Google Assistant and Alexa, many are really into using these speakers.
What is more fascinating about this is that it can accommodate and support some music streaming services which makes its streaming library indeed expansive. This purely supports Audible, Tidal, Pandora, Stitcher, and of course Spotify.
Using Sonos speakers, you can have the best listening experience as it has developed a way to play several different tracks in any part of your home, have those songs synced together, and have those controlled using only your mobile phone.
Sonos works by using a wireless network to perform the communication and connection between every speaker set up at home and the controller (or the device to be used for control). In order to use the sonos speaker, you would need to have it connected on the same WiFi network your controller will be connected. Once connection has been successfully established, the playing of music will now be a lot easier.
Now, the music experience will be upgraded to a whole new level once you have added other speakers on other parts of your home. You can have one speaker play one song and another speaker to play another song. You can just do it by using your mobile device as controller.
Now that you got to know about Sonos speaker more and how it actually works, we will now be delving on the ways you must perform in order to successfully play Spotify Music on Sonos speakers.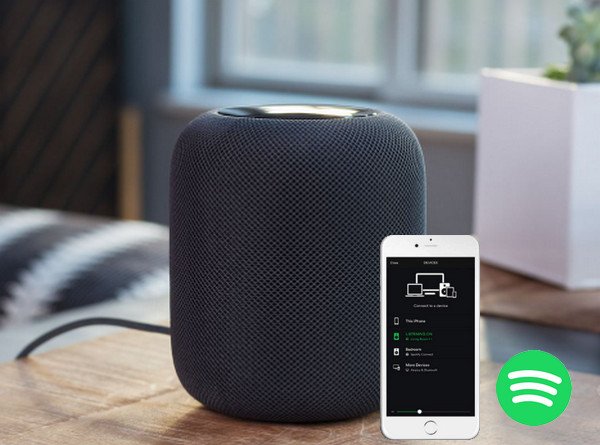 Part 2: How to Play Spotify Music On Sonos Speakers
In this portion, we are to explain two ways of playing Spotify music on Sonos speakers. The process differs if you are a Spotify premium user or a free Spotify user. Let us begin by discussing the guide for a premium Spotify user.
For Premium Spotify User
If you are Spotify lover since then, you are surely aware that there are two types of Spotify users: free and premium. In order to be a premium user, there would be a need to pay a certain monthly fee as subscription.
Being a premium user lets one enjoy the limitless capabilities and features Spotify has. You can have the songs downloaded for offline listening and playback, perform unlimited skipping and selection songs, and avoid the repetitive advertisements to experience uninterrupted music experience. Being a premium Spotify user makes it a lot easier to lplay Spotify Music on Sonos speakers.
Below would be the guide that you need to follow.
Install the Sonos application on your device.
Open your Spotify application.
Play any Spotify songs you love.
To get to know more about these steps, you would need to continue with this post.
Step 1: Install The Sonos Application On Your Device
The first thing that you would need to accomplish is to have the Sonos application installed on your device (mobile phone, tablet, or even personal computer). You can have it downloaded and installed for free.
Once you have successfully installed it, you can now proceed with the setup of your Sonos speakers by performing and following all those steps that you will be seeing in the application.
You should also take note to hit the "Add Music Service " button and choose "Spotify" among the options you will be seeing. Ensure as well that "Control Sonos From Spotify " has been turned on in the Setting tab.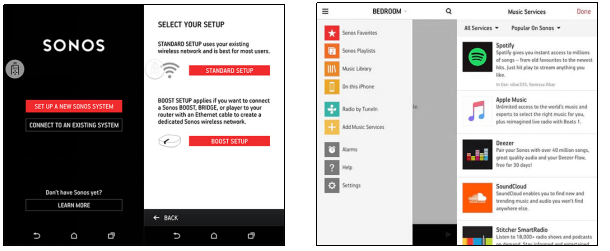 Step 2: Open Your Spotify Application
Now that you got the Sonos application properly installed, you would need to open your Spotify application on your device. Make sure that both the device and the Sonos speakers are connected to the same WiFi network. If you are not yet logged in, you can just enter your Spotify credentials and information to proceed.
Step 3: Play Any Spotify Songs You Love
Upon successfully setting up everything, you can just hit and play any Spotify songs you wanted to play on your Sonos speakers and select it among the devices available. As mentioned in the first part of this article, if you are to use several Sonos speakers at home, you can control which song to play using your device and the Sonos application.
So above are the 3 simple steps you need to figure out in order to play Spotify Music on Sonos speakers.
The dilemma now arises if you are not a Premium Spotify user which means that you are free user. Well, if you are a free Spotify user, the below guide will be beneficial for you.
For Free Spotify User
In case you happened to be a free Spotify user, you should not worry that much because you can still enjoy your listening experience using your Sonos speakers. A free Spotify user of course has a more limited capabilities compared to the premium user. If you are free user, you can just play Spotify Music on Sonos speakers for free over the internet.
You do not have the ability to download songs for offline playing and would encounter numerous repetitive advertisements all throughout your music experience.
In order for you to enjoy Spotify songs even if you are a free Spotify user, you just need to make sure that you will be using an amazing third-party tool which has the capability of downloading your favorite Spotify songs. In here, we will get to know more about DumpMedia Spotify Music Converter.
If you are not yet aware, this professional software application has the ability to convert your favorite Spotify songs to any format not only MP3 (as well as other popular and unknown formats) which makes it flexible enough to respond to any of your needs.
Apart from this great thing, you can as well enjoy its feature of removing the songs' DRM (Digital Rights Management) protection (since we all know that Spotify songs are DRM protected) alongside with conversion. In using this, you can play Spotify Music on Sonos speakers offline anywhere and anytime.
Here are the simple steps to use this.
Download and install DumpMedia Spotify Music Converter.
Choose any you desire as the resulting one.
Proceed with conversion by ticking the Convert button.
Let us look into these steps further.
Step 1: Download And Install DumpMedia Spotify Music Converter
Of course, the first thing you need to do is to have this DumpMedia Spotify Music Converter downloaded and installed on your personal computer. Once done, just open and launch the program to start as well as your Spotify application.
You can begin adding the files by performing dragging and dropping or even adding just the file's URL (link). This program supports batch conversion which makes it possible to convert not only a file but a number. Converting a lot at a time is not an issue.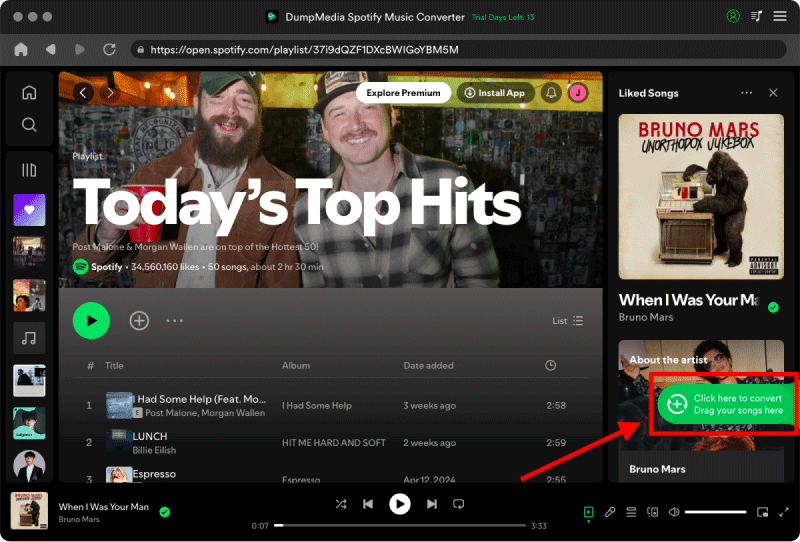 Step 2: Choose Any Format You Desire As The Resulting One
Upon importing and uploading the songs to be converted, the next step would be the selection of the output format. Make sure that you will choose any format you desire among those that you will be seeing in the screen. In this case, we ought to convert the songs to a format which has been generally supported by numerous media players.
You can have the songs converted to MP3 format. You can do this by heading to the "Convert All Tasks To " button located in the top right corner of the screen.
Step 3: Proceed With Conversion By Ticking The Convert Button
The last step would be hitting the "Convert" button to begin the conversion process. This will only take some time since the program is designed to function five times faster than any other converters.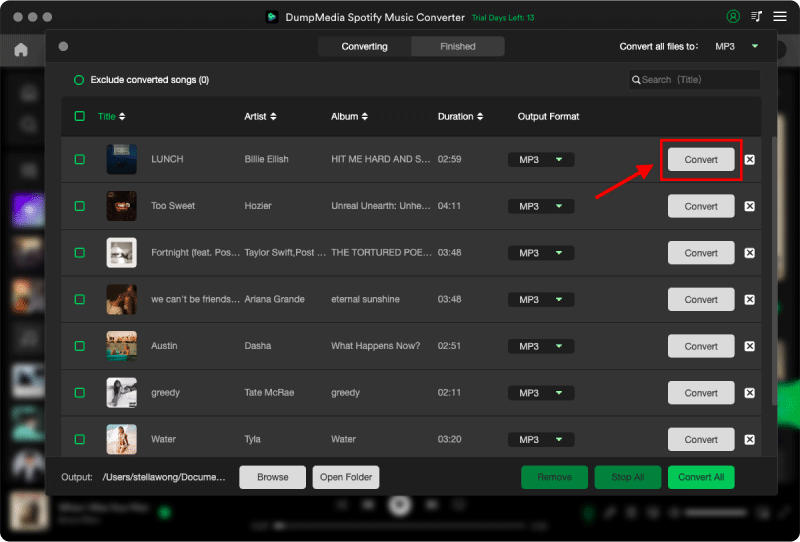 While conversion is being done, status bars will be shown in the screen wherein you can monitor the progress of the process for each song.
Now that we got the Spotify songs converted and downloaded using this DumpMedia Spotify Music Converter, you can just import those converted songs to any media or music players supported by Sonos speakers such as Google Play Music, Amazon Music, and more.
Part 3: In Summary
The two ways of play Spotify Music on Sonos speakers have been discussed and well explained in this post. You have the guide whether you are a Premium or a Free user.
Are you looking for such guides as well? Why not use those presented in this post? If you have experienced using any, why not share your thoughts in this post?