Who would not know who Adele is and how great she is when it comes to music? Well, many had been popular in the music industry because of their talents be it in music, drama, theater, dance, arts, and more. And, Adele is one of the numerous stars who is surely known not only in her place but in the whole world, of course.
Are you also one of the many fanatics who love Adele and all her songs? If yes, then you should learn how to download Adele Apple Music.
If you had been following her for a long time now, you must be aware that she had produced and created amazing songs which became hits and were included in the top charts and lists.
In this blog post, we will be highlighting more information about how to download Adele's songs from Apple Music. We are also to teach you how you can have those saved and downloaded on any of your devices in the easiest way possible.
If you are looking for such a tutorial, then you are fortunate for this post was created for users like you. So, hop in!
Contents Guide Part 1: Adele's Background: Who Is She?Part 2: Adele's Songs And Albums In Apple Music ApplicationPart 3: How To Download Adele's Songs In Apple MusicPart 4: To Wrap It All
Part 1: Adele's Background: Who Is She?
Adele Laurie Blue Adkins or more popularly known by many as "Adele" is an amazing person who does not only sing and perform but is also a songwriter. She is British by nationality and was born in the year 1988 in England. She was raised by her mom who had her while young. Unfortunately, she was from a broken family but that did not hinder her from becoming who she is in the industry now.
The family found out about her talent in music when she was 15, the time she was idolizing amazing singers and groups like Destiny's Child.
Being too passionate when it comes to music, Adele was awarded 15 Grammys and Oscar recognitions. She even surpassed hits and charts garnering tremendous amounts due to millions of song albums sold. Her albums entitled "19" and "21" actually opened a larger array of opportunities for her.
She stopped after being a mom and came back the year 2015 with her hit ballad song entitled "Hello". Added to her famous songs are "Someone Like You" and "Rolling In The Deep".
Because of being famous in the industry, many producers are getting a hold of Adele. Her songs had been made available on many music streaming services and sites such as Spotify and Apple Music application getting numerous followers from millions of subscribers and listeners from around the globe.
Let us get to know more about Adele's songs and albums which are readily accessible from the Apple music application.

Part 2: Adele's Songs And Albums In Apple Music Application
As initially mentioned, Adele has been recognized so many times because of the many awesome songs and albums she created and shared with the public. In this part of the article, we will be presenting all of Adele's music which is readily available in the Apple Music application for streaming.
Among the popular songs of Adele on Apple Music are:
Hello– which was released in the year 2015. This song showcased Adele's amazing soaring voice in a ballad type of song. This song had stolen the number one spot in the Billboard charts becoming Adele's fourth chart-topper creation. This remained even at the top list in the United States.
Someone Like You– which was released in the year 2011. This song was from her album entitled "21" and it became Adele's second song to maintain the top one spot in the music charts. Reports had mentioned that the songs were created as Adele's way of getting over her past relationship with Alex Sturrock who happened to be a photographer.
Rolling In the Deep– which was released in the year 2011 as well. This song was the number one song that made Adele snap the Billboard charts. This is so record-breaking keeping itself at the top for seven consecutive weeks.
Send My Love(To Your New Lover) – this song was released to the public year 2016 and was from Adele's "25" album. This was the fifth song of Adele hitting the top one spot in the Billboard's Adult Contemporary charts. It got the eighth spot on the "Hot 100" in September of the same year it was known to listeners.
When We Were Young– this as well as included in Adele's album entitled "25". As the title suggests, this was a song about looking back while growing older.
Here are Adele's albums which you can stream from the Apple music application.
19 – This album was considered Adele's debut album and was named after her age during the time she was recording it. It helped Adele get the fame she deserved by having both "Chasing Pavements" and "Hometown Glory" as her singles.
21 – This was recognized as the follow-up album of "19" which was released in the year 2011. The same thing with "19", was recorded during the time Adele was 21 years old. It was a hit considering that more than three hundred thousand copies were sold just within the first week it was released.
25 – By the year 2015, Adele released her album named "25". And, this was a bigger hit reaching the number one spot on iTunes during that time in more than a hundred countries worldwide. Within seven days, specific to the United States only, more than three million copies were sold.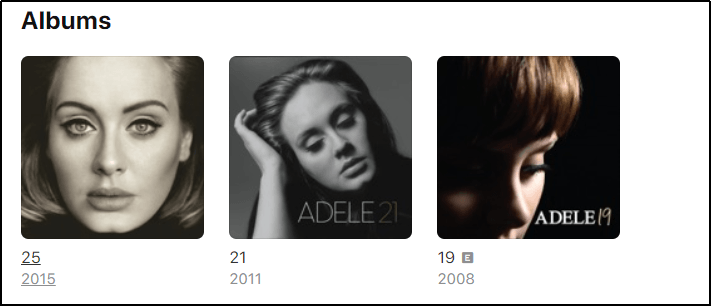 Apart from songs and albums, you can as well get to view several music videos.
Now, wondering how you can get a copy of all Adele's music mentioned. Check out the process in the next part of the post.
Part 3: How To Download Adele's Songs On Apple Music
The downloading process is very easy. For those who are not aware, then you must keep an eye on this part.
If you have been a fan and a lover of Apple music for some time, you should know that the songs in there cannot be directly downloaded even if you are paying the monthly subscription fee. What is the main reason?
Well, it is because all those are protected by what is called DRM (Digital Rights Management) protection. This hinders any user from illegally downloading, copying, and playing content on any unauthorized devices and media players.
What should you do to solve it? Well, the answer is to use a tool capable of DRM removal at the same time can download the songs from the Apple music application and even have those transformed.
The software application recommended is this DumpMedia Apple Music Converter.
How can you use it? Here are the steps you should follow to get Adele's music accessible on your devices.
Install the DumpMedia Apple Music Converter.
Add the songs to be converted and fix the output setting.
There you go! Convert!
Wanted to know more about the three steps mentioned?
Click to have a try! It's 100% secure!
Step 1: Install The DumpMedia Apple Music Converter
The first thing you need to do is to download and install the application from its official website. It has both Mac and Windows versions. Because it has a very friendly interface, right after you install the program, you can immediately proceed with launching it on your personal computer.
Take note that you have the option to avail of the trial period to prove that the application is worth it before paying for the paid version.
Step 2: Add The Songs To Be Converted And Fix The Output Setting
The next thing needed is to import any from Adele's music to the application. Since batch conversion is supported, you can choose as many as you want in one go. Once done with the selection, this is the time that you get to choose the output format you are to use.
There are many available options in the software so make sure to choose the one suited to your needs and playable on the media player you are to use. You can perform adjustments in the settings of the output format as well.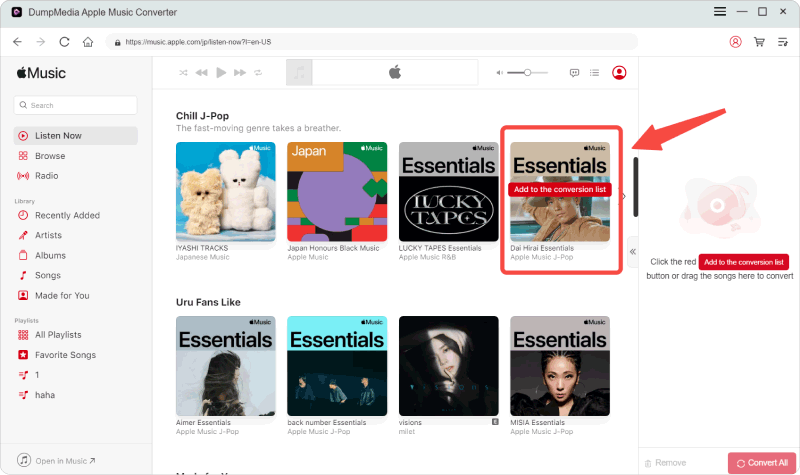 Step 3: There You Go! Convert!
Finally, you can hit the "Convert" button to proceed with the process. Since the speed of the application is quite fast, you can expect that the output will be made available in minutes only.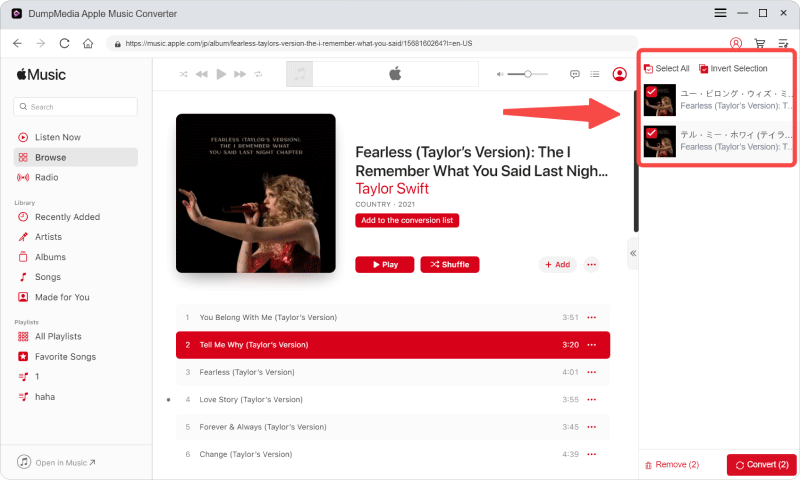 Viola! You already got all those favorite Adele music of yours alongside DRM removal. You can even share those songs with others and stream those offline anywhere you are.
Part 4: To Wrap It All
Adele's music from the Apple Music application can be downloaded easily. You just need to rely on a great software application such as DumpMedia Apple Music Converter.
Are you an Adele fanatic? What are you waiting for?