For those who have a subscription on Apple Music, it can be a frustrating ordeal to discover that you cannot sync Apple Music playlist to your iPod Classic.
If you will check out the Apple Communities, you might find this issue plaguing some users. In case you are facing the same ordeal, you will find this post beneficial.
Generally, it is important to note that iPod Classic along with other specific iPod models that do not have Wi-Fi capability cannot play and sync to Apple Music.
The reason for this issue will be revealed as you continue reading this post. In case you already know the reason, you can find the solution on Part 2 and 3 of this post.
Contents GuidePart 1. The Reason Why You Cannot Sync Apple Music to iPod ClassicPart 2. How to Download Apple Music Playlist to Your iPod ClassicPart 3. How to Sync Apple Music to iPod Classic Using iTunesPart 4. Useful Tips on Devices Supported by Apple Music
Part 1. The Reason Why You Cannot Sync Apple Music to iPod Classic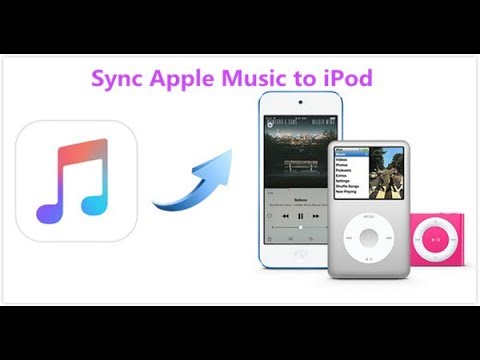 Generally, songs on Apple Music could not be copied to several iPod models, specifically iPod Classic, iPod Nano, iPod Shuffle and iPod Touch 4th Gen. The reason why is simple – these iPod models do not have Wi-Fi compatibility.
Obviously, this is a small trick that Apple utilizes. This aims at preventing users from downloading and storing songs to be played offline without paying for the subscription. All the songs on Apple Music have DRM protection in which you cannot play them on non-authorized devices unless the DRM is taken out.
Luckily, there is a method where you can get rid of DRM from Apple Music so that you can enjoy music on your iPod Classic. The solution to this issue is to use DumpMedia Apple Music Converter. Until now, this is considered as the ideal tool to convert Apple Music files (MP4) to DRM-free formats such as MP3, M4A, FLAC, and AAC.
Part 2. How Do I Transfer an Apple Music Playlist to My iPod?
Once you remove the DRM protection, you have the option to transfer all your songs from Apple Music from iTunes to your iPod Classic via iTunes.
Let us now take a close look at the noteworthy features of DumpMedia Apple Music Converter and how to use it to download Apple Music to your iPod Classic.
Noteworthy features of the Apple Music Converter by DumpMedia
Capable of removing DRM protection from Apple Music files
Change Apple Music files to standard MP3, M4A, AC3, M4R, etc.
Preserve superior output quality
The rapid conversion speed of up to 16X
Now that you are familiar with the notable features of this Apple Music Converter, it is time to download the software and start to download DRM-free songs from Apple Music.
Let us proceed to the steps on how to use the Apple Music Converter by DumpMedia. Initially, to ensure the smooth operation of the software, you must install the latest version of iTunes and download Apple Music songs from the cloud.
Open the software and you will see its main interface.
The software will load your iTunes media files. Select the playlist or check out the entire music library first on the left panel. On the right side, it displays the details of every song including name, artist, duration, etc. Choose the songs that you want by marking them one by one. You also have the option to search for a specific song. Simply key in the name or title of the song in the "Search Bar".
Proceed to Output Format to designate MP3 as the output audio format. In case you want to preserve the original quality of Apple Music, you must set the bitrate of 256 Kbps since it is the original bitrate of Apple Music.
Note: The supported audio formats by iPod Classic include AAC (8-320 Kbps), MP3 (8-320 Kbps), Protected AAC (from the iTunes Store), Audible (types 2, 3, 4, AAX+ and AAX as well as Audible Enhanced Audio), MP3 VBR, WAV, Apple Lossless, and AIFF.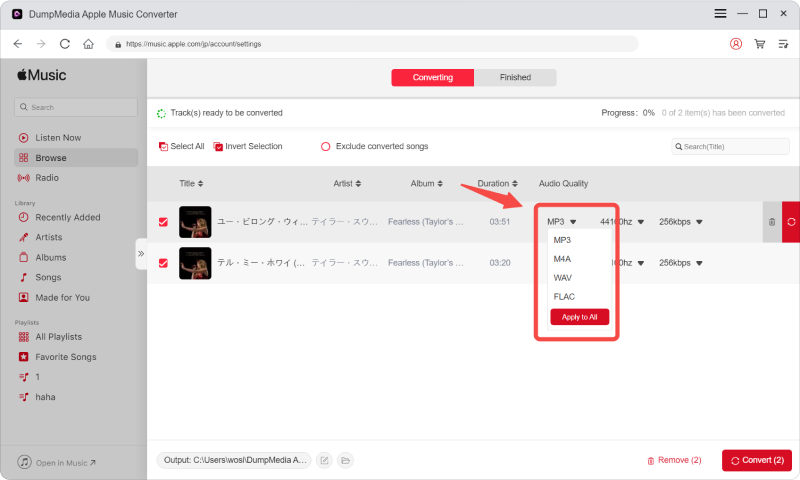 Tap on the "Convert" button to initiate the conversion process. Once it is completed, tap on "Explore Output File" to find the downloaded songs. At this point, you can proceed to Part 3 where you will sync Apple Music to iPod Classic using iTunes. After that, it is possible to share your songs with friends.
If you want to import some songs to another application like Spotify, here is a simple guide for you.
Part 3. How to Sync Apple Music to iPod Classic Using iTunes
As the last part, let us take a close look at the steps on how to sync Apple Music to iPod Classic with the help of iTunes.
Prepare your Apple Music songs that are free from DRM protection. Once you have converted your Apple Music songs to the MP3 format using DumpMedia, proceed to the output folder to check the converted songs. You can save the songs in a new folder and rename it, indicating that they are free from the DRM protection.
Note: For those who are using iPad, iPhone or iPod Touch and want to sync to Apple Music, you can utilize Apple Music Converter by DumpMedia. It functions as an ideal alternative to iTunes when transferring DRM-free Apple Music, audiobook, video and more between iOS device and PC. Generally, it is more convenient than using iTunes and will not remove any important data on your device.
Add your DRM-free Apple Music to your iTunes Library. Access your iTunes on your Mac or PC. Proceed to the "Music Playlists", tap right and choose "New Playlist" to create a new playlist where you will save your DRM-free Apple Music.
Link your iPod Classic to iTunes using a USB cable.
Proceed to "Music" which is under the "Settings" tab. Tap on the "Sync Music" option. Remember that only one device can sync with one iTunes library at a time.
Once a pop-up window appears stating "Are you sure you want to remove existing music, movies, and TV shows from this iPod and sync with this iTunes library", select "Remove and Sync" to proceed. Take note that it is necessary for you to back up your iPod music first before the syncing process.
At the Sync Music interface, choose "Selected playlists, artists, albums, and genres" and go to "Playlist" to find the playlist that you created where you saved the DRM-free Apple Music.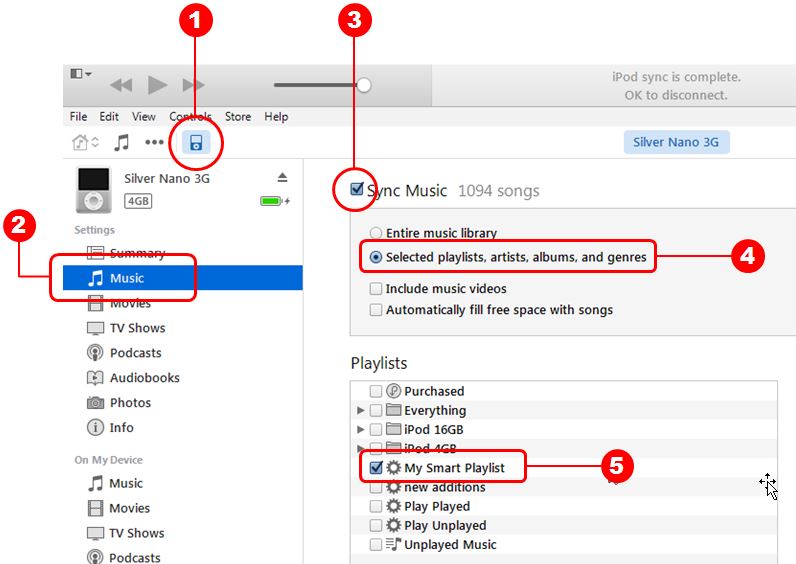 Transfer your Apple Music that is free from DRM to your iPod Classic. Once you see the "iPod sync is complete" message on top of iTunes, it simply means that all the songs were successfully transferred to your iPod Classic.
At this point, you can proceed to "On My Device > "Music" to check your songs.
Part 4. Useful Tips on Devices Supported by Apple Music
Generally, Apple Music is available on iPhone, iPad and iPod Touch with iOS of 8.4 or higher. It is also available for the Apple Watch with an iOS of 1.0.1 or later, Macs and PCs with iTunes, Apple TV and even on Android.
Here are some of the iOS devices that support Apple Music:
iPhone – iPhone 4S and newer models
iPad – iPad 2, iPad mini and newer models
iPod – iPod Touch 5th/6th generation