One of the many hobbies of people nowadays is to listen to any type of song in different genres – be it jazz, pop, rock, R&B, or any other. And, those tracks can easily be accessed through several popular platforms and music streaming services like Google Play Music, Amazon Music, Spotify, Tidal, and of course Apple Music.
If you are an Apple Music subscriber, you are surely well aware that those songs in the application are in certain file formats. And, having those converted to another type such as FLAC could be bothersome. But, do not worry that much because the easiest guide to convert Apple Music to FLAC will be explained in detail in this post.
Apple Music indeed found its way to be known to the public. Offering millions of tracks to every user, this has been considered one of the many favorites in the music streaming industry. It has several features you can enjoy including its radio station.
Though you can enjoy all those beautiful songs offline if you are subscribed to a premium, you still cannot have those easily downloaded and transformed because of the DRM protection each has. If you are not sure about the mentioned protection, you can grasp some details and know how to convert apple music to FLAC in this post.
Contents Guide Part 1: What Is DRM (Digital Rights Management) Protection?Part 2: What Are FLAC Format and The Advantages Of Using ItPart 3: How to Convert Apple Music to FLAC FormatPart 4: To Sum It All
Part 1: What Is DRM (Digital Rights Management) Protection?
DRM or known as well as Digital Rights Management is the certain protection being used by owners to protect their works and contents from illegal copying, downloading, and playing in unauthorized devices.
This is the reason why it is difficult to get a copy of DRM-protected files such as those songs you can find in Apple Music and even in the Spotify application. To have this resolved, there would be a need to use a fascinating software application which will also be presented in this article.
Before getting to know more about the tool initially mentioned, let us first look at the benefit of saving your files in FLAC format and the possible reasons why people even wanted to proceed with the conversion.
Part 2: What Is FLAC Format and The Advantages Of Using It
What Is FLAC Format?
FLAC format, which is also popularly termed a Free Lossless Audio Codec, is considered the most famous lossless format you could think of. This makes FLAC the most used format for people who intend to save their files in a lossless format. And many Apple Music subscribers want to convert apple music to FLAC so that they can enjoy apple music offline.
Because it's lossless, though you wanted to perform a conversion of the original file, the quality will be maintained even after the transformation process. This is one of the best features of this FLAC format – you can be assured that the quality will never be at risk even after processes were performed.
This file format is often compared to MP3 format. But these two have significant differences over the other. This was developed in the year 2000 by a technology pillar named John Calson. He made FLAC an open-source platform which made way for other parties to contribute to the development of the mentioned format.
Advantages Of FLAC File Format
Here are the advantages of using the FLAC file format.
As initially stated, you have nothing to worry about the quality of the output since by using FLAC format, you can have the same quality as the original. Files in this format have absolutely a higher quality compared to those in MP3, WMA, or AAC.
Files saved in FLAC format take only a little of your storage space which means that you can still use up that free space for other files or contents you wanted to keep.
FLAC format can be best used as well for archiving CD files.
Several media players support FLAC as well making it playable in any type.
FLAC format supports not only metadata including titles but as well as images, album art, and more.
Another great thing is that those files in this format are very resistant to errors. This only means that even though a portion has been affected, that would not make everything damaged or corrupted.
Finally, we are now aware of what type of file format FLAC is and how it can be advantageous for users. Now, we are to head to the guide on how one can easily convert Apple Music to FLAC format.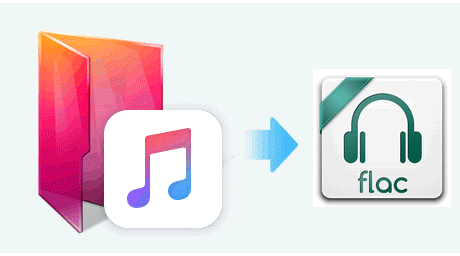 Part 3: How to Convert Apple Music to FLAC Format
If you will be searching the web, surely, you will be seeing a lot of choices and converters which you can utilize. All those can perform the conversion and give you the results you are looking for. However, you must be able to choose which among those will be the most suited for your needs.
And, our recommendation is this software application named DumpMedia Apple Music Converter. The reason why we are suggesting this to every user will be highlighted in the succeeding texts.
DumpMedia Apple Music Converter is one of the many amazing tools created by DumpMedia. It has been known as one of the most useful FLAC converters in the industry offering great software applications for users.
Apart from having both audio and video converters, an offline video downloader, and a Spotify Music converter, it also introduced an application capable of transforming Apple music as well as audiobooks in several formats desired by every user. You can try to convert M4P files to MP3 here.
Here are the features you can enjoy in the mentioned converter.
No more wondering and asking about the easiest DRM (Digital Rights Management) protection removal process since DumpMedia Apple Music Converter can do this task.
You can choose any from the numerous resulting file formats which it offers.
As mentioned, this can convert not only Apple music songs but Audiobooks as well.
Worry no more about offline playing and streaming of any Apple music songs because you can do that with the aid of this tool.
The interface the tool has is too easy to navigate and understand.
The conversion process is very fast and you can perform even batch conversion.
Steps to Convert Apple Music to FLAC with DumpMedia Apple Music Converter
Here are the simple guides to converting Apple Music to FLAC:
Download and install DumpMedia Apple Music Converter.
Perform adjustments on the settings of the resulting output.
Tick the convert button to begin the process.
Let us look into these three steps further.
Click to have a try! It's 100% secure!
Step 1: Download And Install DumpMedia Apple Music Converter
Of course, we need to ensure that DumpMedia Apple Music Converter has been downloaded and installed on your personal computer. Once installed, open and launch the program. Once the program has been launched, iTunes will also be activated. No need to worry about this just proceed with the process.
Under the "Library" menu, tick "Music" if you wanted to copy the songs you have. Once done, you will now be seeing all the songs and playlists stored in your iTunes library. To be able to choose the songs to be downloaded and converted, you can either tick the checkboxes right next to each or make use of the search bar to easily find the specific songs you wanted to be downloaded.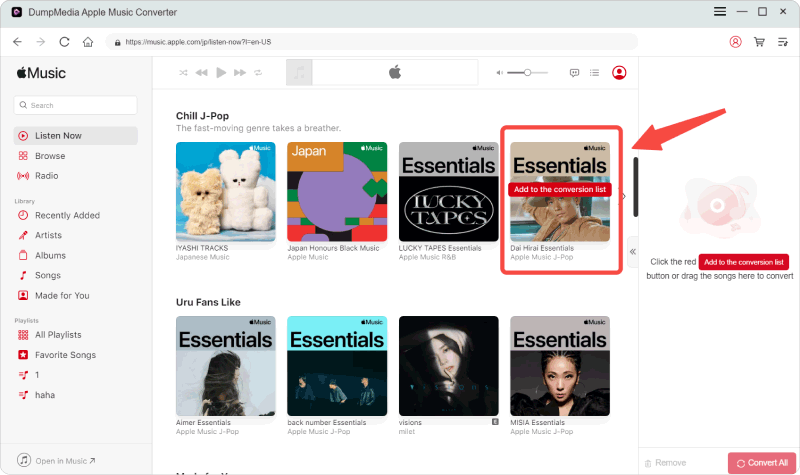 Step 2: Perform Adjustments On The Settings Of The Resulting Output
The next step that should be done is to perform the adjustments on the settings of the resulting output. You can choose any format from those that would be listed. The application supports many DRM-free formats including MP3. This as well supports those in AC3, M4A, M4R, AIFF, FLAC, AU, and even MKA format. Make sure to choose FLAC among the resulting output formats that you will be seeing on the screen.
The tool will also allow you to change other options such as the bit rate and sample rate. You can as well perform the renaming of the resulting file. In this step, you would also need to specify the output path or the target location wherein the files will be saved.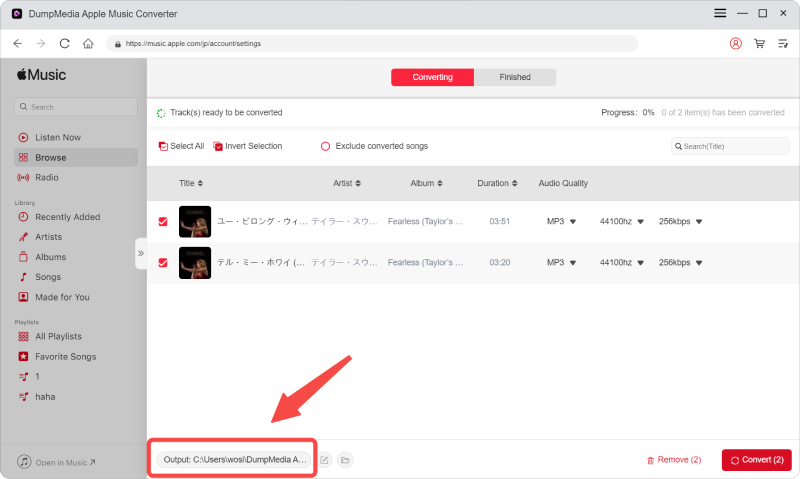 Step 3: Tick The Convert Button To Convert Apple Music to FLAC
Upon completing all the adjustments wanted for personalization or customization, the final step would now be the conversion process. You can just hit the "Convert " button which is located at the bottom right corner of the screen.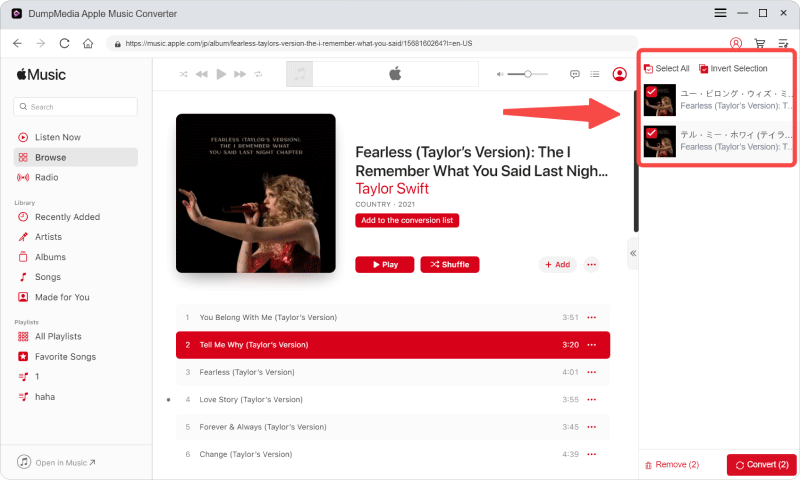 After completion of the above steps, all those Apple Music songs will be downloaded and saved on your personal computer in FLAC format. The guide is indeed too easy to follow, right? Because the speed of conversion is as well fast, you will not notice that your file is already available.
Part 4: To Sum It All
This article presented you with a guide that you can use to convert Apple Music to FLAC format. Of course, there would be a need for an application such as DumpMedia Apple Music Converter to successfully do it. Apart from this, we also presented some ideas about the FLAC format itself and the advantages of using it.
If you are looking for the same guide, then this will surely work for you. Can you think of other methods? Or, have you used this one? What was your experience?