With the innovative mind of people, there has been an emergence of numerous types of devices and gadgets. At the present days, you will not see any person not using any device including mobile phones, laptops, tablets, and more. Even gaming consoles have been brought to greater level. Who would have thought that even by using mentioned gaming consoles, can you stream music while playing ps4? Yes! That is right!
Actually, in this post, the main agenda would circle around the discussion on how you can successfully stream Apple Music on PS4.Being an Apple Music lover and a person who is into playing games at the same time would definitely be worthwhile, right?
Before heading onto the main topic initially stated, we are first to check out the many capabilities of PS4 and the advantages you can experience by using such.
Contents Guide Part 1: What Is PS4 And What Can You Do With It?Part 2: How to Stream Apple Music On PS4Part 3: Summing It All
Part 1: What Is PS4 And What Can You Do With It?
PlayStation 4, or is mostly known as PS4 has been very famous as one of the best gaming consoles in town. It is actually the eighth-generation gaming console which was created and developed by Sony. Since the date it was released to public, many people already bought and patronized it.
After immediately launching its predecessor, PS3, PS4 was popularized in the whole world November of year 2013. It has been introduced to the United States, Australia, Europe, and even in Japan. This is considered as well as one of the major competitors of Mirosoft's Xbox One and Nintendo Switch which are as well huge players in the gaming industry.
Get to know more about PS4 by looking the perks you can get to enjoy while using it.
Advantages Of Having A PS4
If you decided to buy a PS4, you can enjoy freebies from Sony including free month subscription of Sony Music unlimited.
You can have your Blu-rays and DVDs played on your PS4 device.
PS4 has been known to offer better gaming performance compared to its competitors.
You can get to enjoy several other applications on your PS4 including Netflix.
The gadget has a huge storage which can handle up to five hundred giga bytes of data. It is so flexible because you can even upgrade to add more.
The controller the PS4 device has is too awesome making it very much handy for users.
Charging your PS4 controllers having your console on standby mode is no longer an issue.
Get to stream your favorite and most loved songs on your PS4 console!
Surely, if you own a PS4, you are already well aware on those advantages you can enjoy while using it as previously stated. And, mentioned on the last part is its capability to support the streaming of your favorite and most loved songs even if you are playing all those games you like!
But what if you are an Apple Music lover? How are you to do it? Check that out on the next part as we head to the main focus of this post.
Tip: Online and Offline Ways To Play Spotify Music On PS4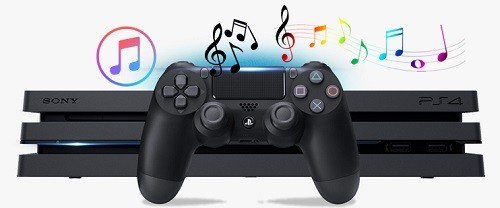 Part 2: How to Stream Apple Music On PS4
Although using a PS4 is very much beneficial to many game lovers out there, unfortunately, it does not support Apple Music application. If you happened to be an Apple Music subscriber and you already have the list of your favorite songs there that you wanted to listen to using your PS4, there would be a need for you to seek the help of an amazing third-party software application.
Since Apple music songs are as well DRM (Digital Rights Management) protected, the software application you should use must have the capability of removing it. Do you know one? If not, then get to know more details about this DumpMedia Apple Music Converter,the tool which will surely get rid of all your worries and problems.
What Is DumpMedia Apple Music Converter?
DumpMedia Apple Music Converter is a great tool which has the capability to remove the DRM (Digital Rights Management) protections of the Apple Music songs. Because Apple Music songs are DRM protected as initially mentioned, it is impossible for users to download the songs directly and have those played in any other unauthorized devices. But, no need to worry about that.
In addition, with this DumpMedia Apple Music Converter, you can have as many Apple Music songs you wanted to be converted and downloaded for offline streaming! Plus, you got to have a way to share those songs with friends not worrying about file formats since this converter can also perform the conversion of files!
Now, if you are asking on how you can simply make use of this, we are of course to discuss the steps needed in this post as well.
Download Apple Music Songs Using DumpMedia Apple Music Converter
Here are the simple guides to use this DumpMedia Apple Music Converter.
Download and install DumpMedia Apple Music Converter.
Perform adjustments on the settings of the resulting output.
Tick the convert button to begin the process.
Let us look into these three steps further.
Step 1: Download And Install DumpMedia Apple Music Converter
Of course, we need to ensure that DumpMedia Apple Music Converter has been downloaded and installed on your personal computer. Once installed, open and launch the program. Once program has been launched, iTunes will also be activated. No need to worry about this and just proceed with the process.
Under the "Library" menu, tick "Music " if you wanted to copy the songs you have. Once done, you will now be seeing all the songs and playlists stored on your iTunes library. To be able to choose the songs to be downloaded and converted, you can either tick the checkboxes right next to each or make use of the search bar to easily find the specific or certain songs you wanted to be downloaded.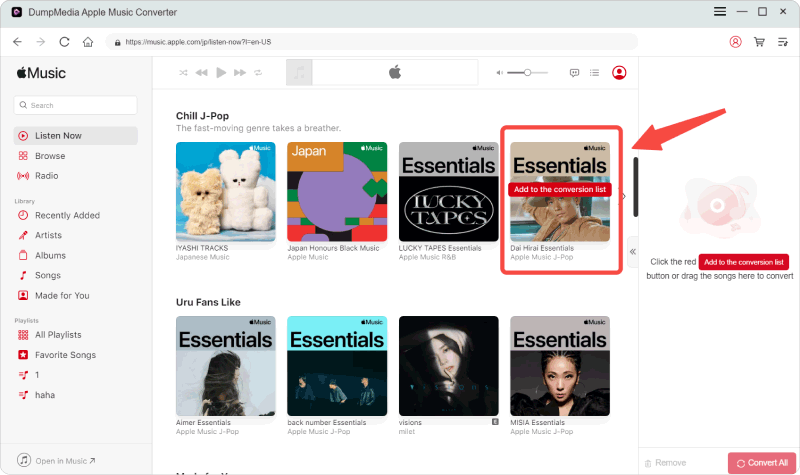 Step 2: Perform Adjustments On The Settings Of The Resulting Output
The next step that should be done is to perform the adjustments on the settings of the resulting output. You can choose any format from those that would be listed. The application supports many DRM-free formats including MP3. This as well supports those in AC3, M4A, M4R, AIFF, FLAC, AU, and even MKA format. Selecting MP3 or any other formats as the output format would of course depend on you. You can also choose AAC (M4A) format. Both are compatible with PS4 console.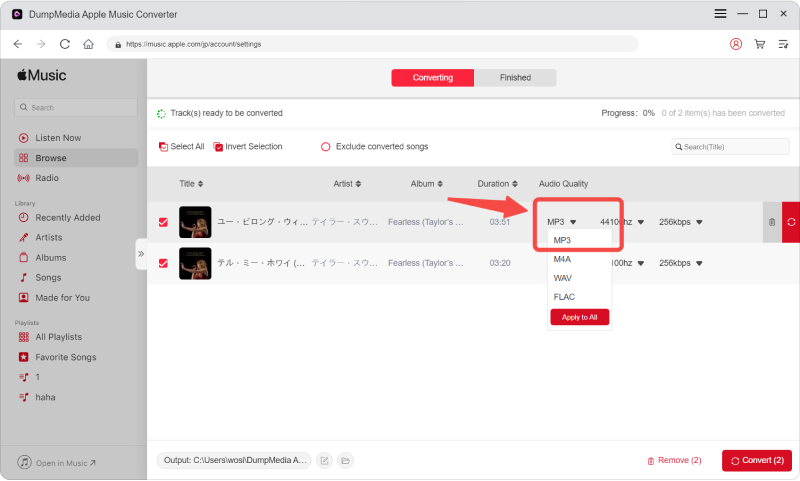 The tool will also allow you to change other options such as the bit rate and sample rate. You can as well perform the renaming of the resulting file. In this step, you would also need to specify the output path or the target location wherein the files will be saved.
Step 3: Tick The Convert Button To Begin The Process
Upon completing all the adjustments wanted for personalization or customization, the final step would now be the conversion process. You can just hit the "Convert " button which is located in the bottom right corner of the screen.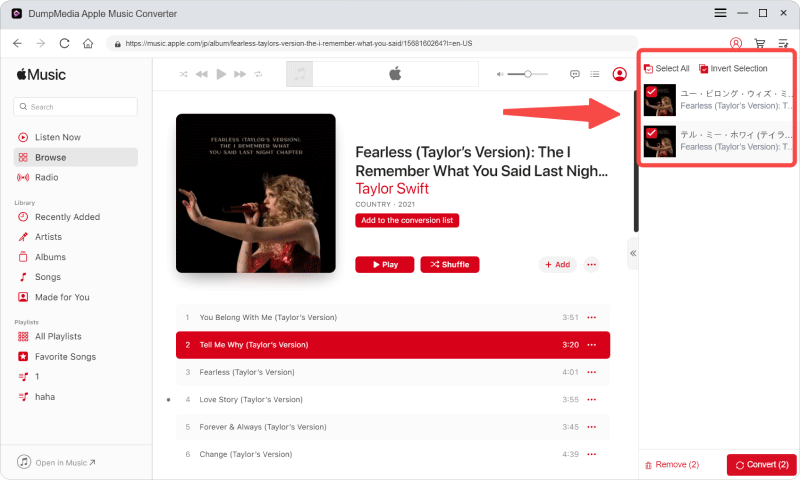 In just three simple steps, you can have your favorite Apple Music songs downloaded, converted, and saved on your personal computer. You can even share those to your friends or to anyone you wanted to. Once all files are available at your device, the next thing you need to do is to have those transferred for successful playing on your PS4.
Transferring The Downloaded Apple Music Songs To USB
You can make use of a USB drive for the transferring of the downloaded songs. Here are the basic steps to proceed with the process.
Ensure that USB drive has been inserted correctly.
Plug the USB drive on your PS4 console.
We are to discuss both steps briefly on the next portion.
Step 1: Ensure That USB Drive Has Been Inserted Correctly
To begin, you should have a USB drive with you with enough storage which is capable of storing all those downloaded and converted songs you have. Insert it on your personal computer, create a folder, and perform the dragging and dropping of files.
Step 2: Plug The USB Drive On Your PS4 Console
Once all songs have been saved onto the USB drive, you can now insert the drive in your PS4. Once done, you will see an icon for "USB Music Player " on the content area. You can just tap the "X" button to finally start the application. Now, you can freely perform the selection of songs from the folders created. Upon doing so, you can now enjoy all those converted songs on your PS4!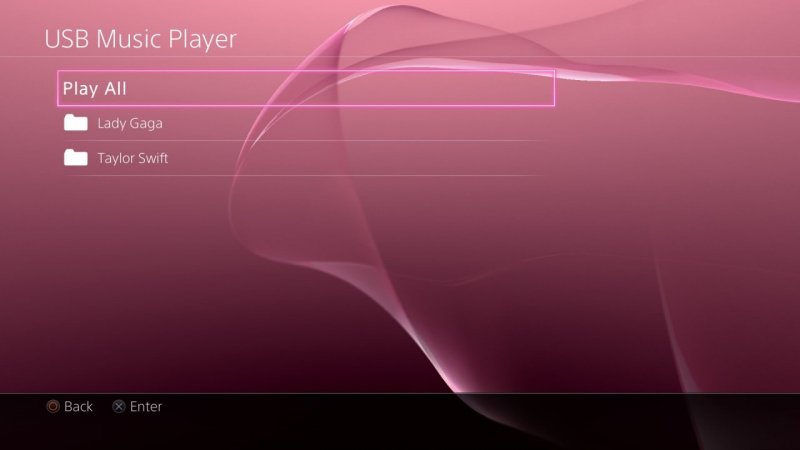 Part 3: Summing It All
Worry no more because you can now have all those downloaded Apple Music songs played and streamed on your PS4 gaming console. Why would you remain in a situation wherein you are only playing if you can listen to songs while doing it, right?
Hope this article helped you in some way! What can you say? State your ideas on the comment section!