Listening to music is one way of relaxing and spending your free time. But if you are having a dilemma in playing such songs you love in the gadgets you have, this would still be a waste of time and a hassle for you.
Do you have lots of favorite AAC audio files that are in your iTunes library but are currently having a hard time playing those on your devices?
And have you questioned about that Can I convert protected AAC files to MP3? If you do, you should learn how to convert protected AAC to MP3 format. But how How do I unprotect AAC files? Well, this post is mainly dedicated to every person who is in the look for.
But firstly, do you have an idea of what protected AAC files are? To give you an idea, check out the first part of this article.
Contents Guide Part 1: What Is Protected AAC Audio File?Part 2: Convert Protected AAC to MP3 -- The Fastest WayPart 3: How to Convert Protected AAC Audio Files To MP3 Format In iTunesPart 4: In Conclusion
Part 1: What Is A Protected AAC Audio File?
Protected AAC audio files are usually those songs stored in iTunes. AAC was actually the default format being used by iTunes application up until the year 2009. The reason why such files have been known to be "protected" is that because those files are under the DRM protection or Digital Rights Management as known as well by some.
This is the reason why people cannot play protected AAC audio files in any unauthorized gadgets immediately.
However, as time passes by, after the year 2009, Apple was able to develop a new and better format as a replacement for AAC file format. iTunes is now utilizing "iTunes Plus". This is as well often called as a DRM free AAC format or iTunes purchased AAC audio file.
What is iTunes Plus?
As initially mentioned, this is often called as a DRM free AAC audio format. This has been considered as a high-quality format as well for iTunes songs and music videos. If you currently do not have this iTunes Plus, you can have yours upgraded too easily.
For your reference, here is what you need to do.
Head to your iTunes application. Make sure to log in once you opened the application.
Hit the "My Music" menu which you can see at the top part of the interface.
Choose and tick the songs or even the albums you wanted to upgrade.
Now, you need to click the "Move to Trash option.
Tick the iTunes Store tab.
You will be seeing links on the right side of the iTunes interface, make sure to click "Purchased".
Hit the "Music" button and find the songs you wanted to upgrade.
Then lastly, to be able to download the new version of the songs, you just need to hit the "Download icon" you will be seeing alongside each file.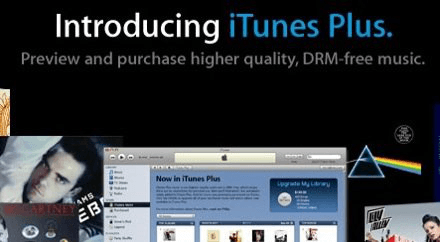 Now, the next problem is if you still got protected AAC audio files and you wanted those to be converted to MP3.
Part 2: Convert Protected AAC to MP3 -- The Fastest Way
To ensure a hundred percent conversion success rate, the most recommended thing is to use an amazing software application, the DumpMedia Apple Music Converter.
DumpMedia, being a great tool offering video and audio converters, has been a great help for many users nowadays. Aside from having amazing video/audio converting features, a Spotify Music Converter, and a video downloader, it also has an Apple Music Converter which lets you convert your favorite and most loved Apple Music to MP3 format or any other formats you desire to be highly playable in any media player!
This tool is capable of removing DRM protection and allows you to convert songs to thousands of available formats. It even lets you listen to Apple Music songs offline, and even keep your songs running although your subscription has ended! You can also try to convert your M4P files to MP3. Great, right?
Let us now take a look on how we can use this DumpMedia Apple Music Converter is a tool for easy download of any AAC audio files and how it can aid in the removal of DRM protection of such media the fastest way possible giving you a way to have those playable in any gadget you want.
Download and install DumpMedia Apple Music Converter.
Perform adjustments on the settings of the resulting output.
Tick the convert button to begin the process.
Let us look into these steps in detail.
Download And Install DumpMedia Apple Music Converter
Of course, we need to ensure that DumpMedia Apple Music Converter has been downloaded and installed on your personal computer. Once installed, open and launch the program. Once the program has been launched, iTunes will also be activated. No need to worry about this and just proceed with the process.
Under the "Library" menu, tick "Music" and you will now be seeing all the songs stored on your iTunes library. To be able to choose the songs to be downloaded and converted, you can either tick the checkboxes right next to each song or make use of the search bar to easily find the songs you wanted to be downloaded.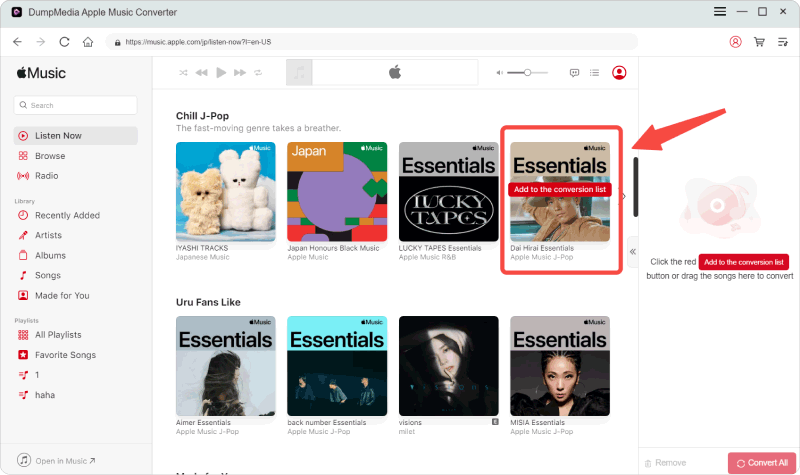 Perform Adjustments On The Settings Of The Resulting Output
The next step that should be done is to perform the adjustments on the settings of the resulting output. You can choose any format from those that would be listed. The application supports many DRM-free formats including MP3.
This as well supports those in AC3, M4A, M4R, AIFF, FLAC, AU, and even MKA format. Selecting any of those formats will do. The tool will also allow you to change other options such as the bit rate and sample rate. You can as well perform the renaming of the resulting file.
In this step, you would also need to specify the output path or the target location wherein the song or music will be saved.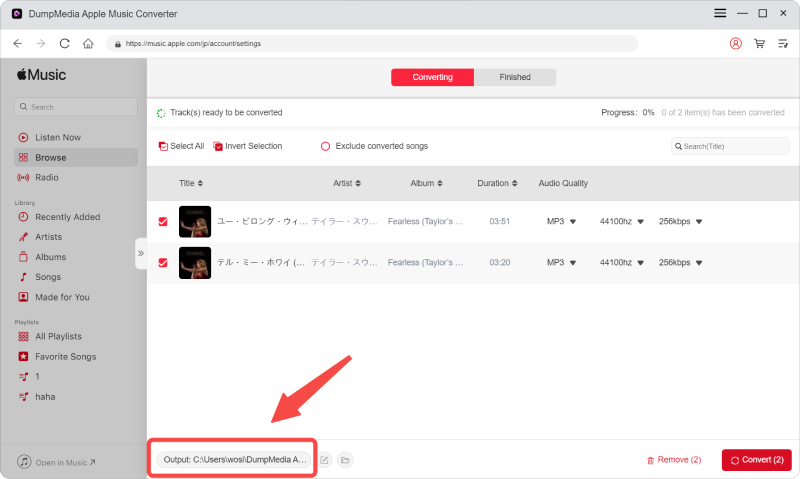 Tick The Convert Button To Begin The Process
Upon completing all the adjustments wanted for personalization or customization, the final step would now be the conversion process. You can just hit the "Convert" button which is located at the bottom right corner of the screen.
After a few minutes, your AAC files will now be converted and finally downloaded. You can now enjoy the files anytime you want to! In addition to this, alongside with conversion, DRM protection will also be removed at the same time the file was transformed.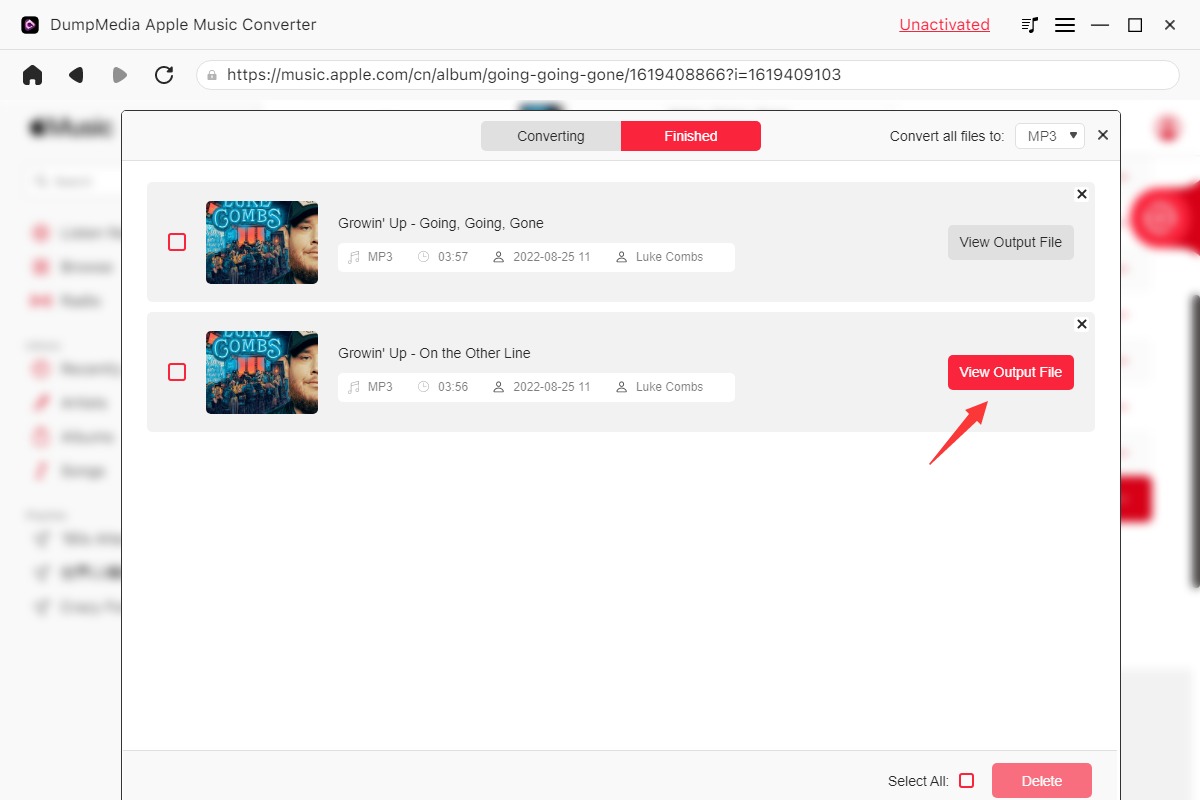 Part 3: How to Convert Protected AAC Audio Files To MP3 Format In iTunes
In this portion, you actually have two options.
You can either utilize the iTunes match subscription or
Burning of protected AAC files to CD then proceed with CD to MP3 ripping
Let us know more about each below.
Utilize The iTunes Match Subscription
Now, the first option you can resort to is to use the iTunes Match subscription to upgrade your protected AAC files to iTunes Plus which is a DRM free application. The steps in upgrading have been highlighted in the previous part of this post.
Once DRM protection has been completely removed, you can immediately use iTunes in the conversion process. This can be done by heading to the "Preferences" button and then ticking the "Import Settings" and choosing MP3 as an encoder.
Just make sure that you choose the AAC files you wanted to transform followed by hitting the "File" button then the "Create MP3 Version" option.
The only drawback of this option is that there are cases recorded that not all conversions were successfully completed and finished.
Let us head onto the next.

Burning Of Protected AAC Files To CD
Apart from the first option, you can as well try burning of protected AAC files to CD then proceed with CD to MP3 ripping. In this method, you will be required to create a playlist and have a blank CD for the burning process. Once burned, you will be importing the songs back to iTunes by utilizing the MP3 encoder. This as well works but not all the time.
Aside from this, many users have been complaining about the long process and the tedious procedures to be performed to finally complete and finish.
If you have tried any of the two and you, unfortunately, experienced an issue, you have nothing to worry about since we are to offer you the best way you can do.
Part 4: In Conclusion
Now, you are well aware of the best way you can do to be able to transform your protected AAC audio files to MP3 format and have those played in any gadget or device you want to.
DumpMedia Apple Music Converter is the best option you can look into. You have other ways to solve the issue however, if you failed in using those, you will experience the hassle of performing the process again.
Apart from the above information, you as well got the idea about what a protected AAC file is and the reason why it can't be played in any other devices or gadgets.
What do you think of this post? Do you have any other ideas in mind? Why not share those by leaving a comment below?