Audio files come in many different formats. You will be encountering files either in AAC, WAV, FLAC, MP3, M4A, M4B and more. However, the discussion here will be circling around those two from the mentioned formats and particularly how you can convert M4A to MP3 in an instant.
They say M4A is indeed a good format. This is actually the audio format being used by Apple applications like iTunes. Well, yes, that is right. However, most people find it inconvenient to use M4A and prefer other popular formats like MP3. One main reason is due to compatibility. And, if you are many of the users who find using M4A files a bit harder, then you might be curious on how you can convert M4A to MP3.
By giving it a thought, MP3 is very much supported, considered, and recognized by a lot of music and media players. We are always rooting for the benefits we can give you and we know that this guide, teaching you how to convert M4A to MP3 will surely be helpful. Let us begin the discussion as we are to tackle three different conversion ways here.
Contents Guide Part 1: Is M4A Better Than MP3?Part 2: Can I Convert M4A to MP3 in iTunes?Part 3: What Is the Best M4A to MP3 Converter?Part 4: How Do I Convert M4A Files to MP3 Online?Part 5: To Sum It All
Part 1: Is M4A Better Than MP3?
In the above introduction, we slightly compared M4A and MP3. In this portion of the article, we will be digging deeper to see which among the two is actually a better audio format.
What Is M4A Format?
M4A format can only cater to audios. This means that you cannot use such in videos as this is not an official MPEG-4 file, unlike MP4. This is mostly used by people in order to keep unprotected iTunes songs and is a format that has lossy AAC compression.
In some cases, it can also use the lossless ALAC. If you would like to know further, below show the advantages and disadvantages of using M4A as an audio format.
The Advantages
Since M4A files have lossless compression, users find it advantageous to keep because of a smaller size.
If a user is using an Apple device like iPhone, files in M4A format can be used as a ringtone as long as the file will be renamed to the M4R version.
There are some M4A files that are not protected. This means that users can stream the audios without worrying about payment and any other license things.
The Disadvantages
Compatibility! M4A format is not supported by a lot of devices and gadgets.
As mentioned, this is an audio format only which means that it does not support videos.
What Is MP3 Format?
MP3 format, the same with M4A is as well an audio-only format. But compared to M4A, this format is much more popular and known as this was first introduced to the public back then. Below are the pros and cons of using MP3 as an audio format.
The Pros
You can use MP3 format especially in sharing as it is widely supported by different media players.
Due to the algorithm it has, storage is not an issue for users.
Downloading audio files has been made easier through this format.
The Cons
MP3's quality is not as good as that of M4A
Upon learning those perks and drawbacks of both M4A and MP3, which do you think is a better format? If you thought MP3 as a better one, then continue reading to know how you can convert M4A to MP3.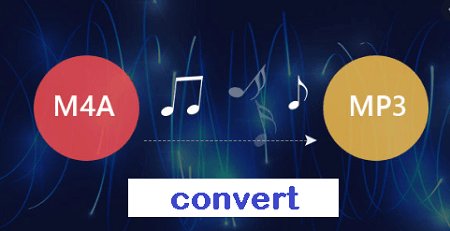 Part 2: Can I Convert M4A to MP3 in iTunes?
Since M4A files are mostly playable in the iTunes application, do not be shocked as this can as well be used to convert M4A to MP3.
Surely, you already have this application installed on your device and it would not be very difficult to perform this guide. So, here is how you can utilize iTunes to convert M4A to MP3 fast and efficient.
Open the iTunes applications.
Change the import settings.
Start the conversion.
Of course, we wanted to explain everything in detail to you. This is why we have provided the explanation below for the three steps mentioned. But if you don't want to see the text explanation, you can watch the YouTube video: https://www.youtube.com/watch?v=NXlrTPmodL8
Step #1. Open The iTunes Applications
The first thing that needs to be done is to open your iTunes application. Once you launch the application, make sure to click the "File" button followed by the "Add Folder to Library" option. Choose the folder wherein the M4A files are saved and hit the "Open" button to add those to your iTunes application.
Step #2. Change The Import Settings
In the main interface, choose the "Edit" button that is located in the top bar of the screen. Hit the "Preferences" button. You will see the "General" tab. Hit the "Import Settings" button then choose "MP3 Encoder" before hitting the "OK" button. You have the option to adjust the settings such as bit rate and more.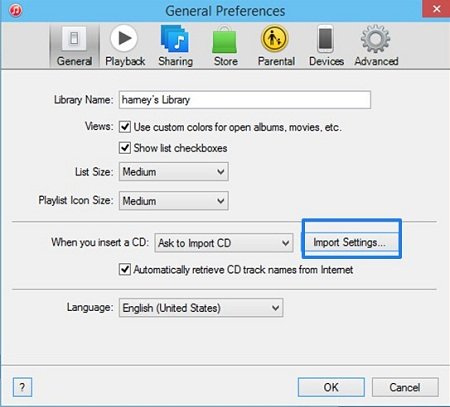 Step #3. Start The Conversion
Go to the left panel of your iTunes application and highlight "Music" under "Library". Select the albums wherein the M4A songs to convert are in.Then hit the "Advanced" option. Now, you need to select "Create MP3 Version" to save the M4A files as MP3 in the iTunes application.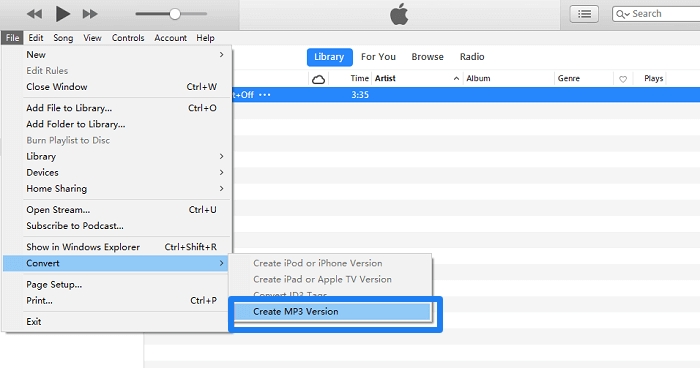 The use of iTunes application to convert M4A to MP3 is very much recommended by many because it is efficient (as you do not have to install any other applications), it is free of use, and the guide is simple to use.
Part 3: What Is the Best M4A to MP3 Converter?
By keying in "convert M4A to MP3" on the web, you will be seeing lots of music converters, both online and professional.
From the list that you will be seeing, what we truly suggest is the use of this DumpMedia Apple Music Converter. Have you used this before? Or, is this the first time you heard and learned about this professional converter? What makes this stand out from the other tools?
The tool is capable of converting M4A files to MP3.
It supports many other formats.
Downloading is possible as DRM protection is removed alongside the process of conversion.
Quality is as amazing as you could imagine.
Expect for the output in only a few minutes because the tool has fast conversion and downloading speed.
If you wanted to learn other amazing details about the tool, you can refer to its official website as a reference. In the meantime, what we will be discussing here is the guide to convert M4A to MP3 using the tool.
Add the M4A files to convert.
Select MP3 as the output format.
Begin with the conversion process.
Explanations will also be discussed in the succeeding texts for your easy reference.
Step 1. Add The M4A Files To Convert
After installing this DumpMedia Apple Music Converter, launch it and add the M4A files to be converted. Do this by dragging and dropping the songs onto the platform. Remember, you can add as many as you want since the tool can support batch conversion.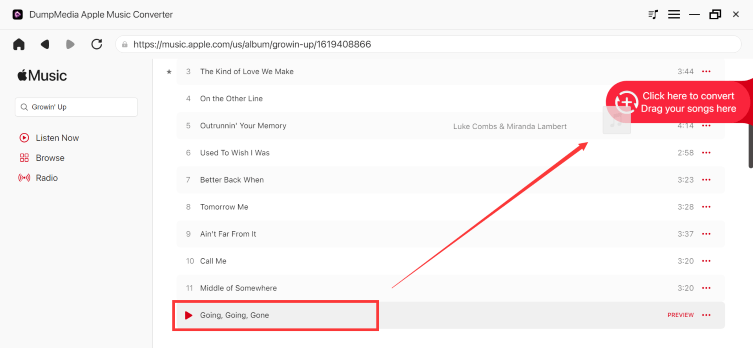 For any installation guide and requirements, make sure to check out the official website for reference.
Step 2. Select MP3 As The Output Format
Once songs have been added, you need to choose MP3 as the format of the resulting file. Do this by choosing from the list under the "Output Format" option. In this portion, you can also change some output settings like bit and sample rates.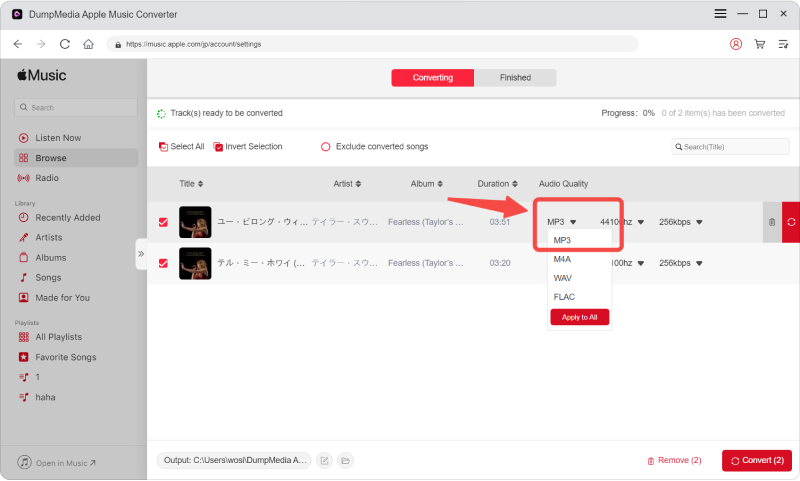 Step 3. Begin With The Conversion Process
After settling everything. The last thing to perform is to hit the "Convert" button at the bottom portion of the screen.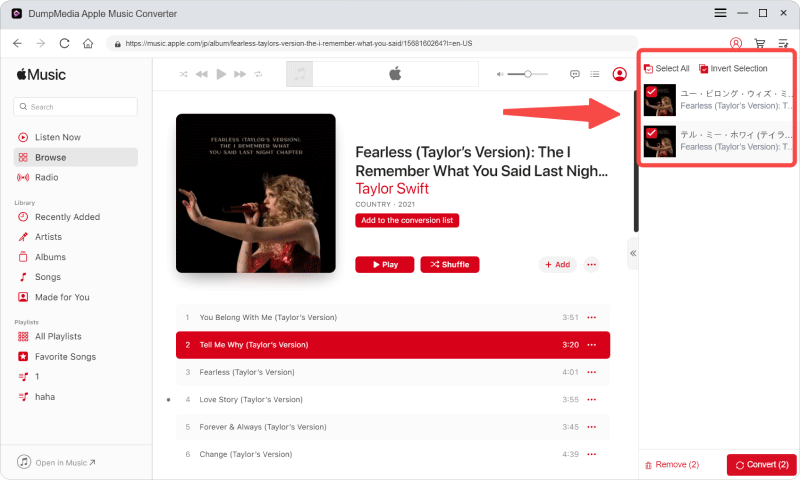 After a few minutes, the songs will be available in MP3 format. You can now save the songs to any device and have it streamed and played anytime and in any media players.
Tip: If you need to convert your M4P files to MP3 format, just check out this guide.
Part 4: How Do I Convert M4A Files to MP3 Online?
Another option that is free and could also be utilized to convert M4A to MP3 is an online converter. There are many online converters, but you need to make sure that the one you are to use is free of viruses and malware that can affect your personal computer and even the files you have in it.
We suggest the use of Zamzar.com. How can you utilize this online tool in the conversion of M4A audio files to MP3? Here is a guide for you.
Navigate and head to the official site, Zamzar.com.
You will easily see all options and the first thing needed is to add the M4A file from your computer.
Under the output format, choose MP3.
There is a need for you to enter an email address to receive the files after conversion.
After doing the above, you can just simply tick the "Convert" button to start the process.
The use of online converters is very straightforward – add files, choose the output format, and convert. In almost all online tools, this will be the pattern. So, if you choose to use this method, the same guide will surely appear in case you are to use tools other than Zamzar.
Part 5: To Sum It All
Ways to Convert M4A to MP3 is too easy, right? You have three ways to use – conversion through iTunes, DumpMedia Apple Music Converter, or an online one. Which do you think is the best and which one is the most likely you will use?