Freemake Video Converter is one of the most popular choices for converting video and audio files to your desired formats. This tool allows you to edit and convert videos in a single application. It has a very attractive design, supports various formats, and even beginners can use it easily. However, Freemake is no longer free. This evident in the program's big limitation - it always asks the user to buy the application to unlock other features and to remove the watermarks from the output videos.
Unless you purchase the tool, you are not able to increase the speed of conversion either. And if you are going to convert many videos at the same time, it will take a very long time of waiting before you can do so. Because of these limitations, many users are opting for other alternatives for Freemake Video Converter. So in this article, we are going to discuss the top 6 Freemake Video Converter alternatives this 2019. To begin with, we give you our most recommended Freemake alternative, DumpMedia Video Converter, in the next section.
Contents GuidePart 1. Most Recommended Alternative for Freemake No Longer FreePart 2. Other 5 Alternatives to Freemake Video ConverterPart 3. In Conclusion
Part 1. Most Recommended Alternative for Freemake No Longer Free
We recommend using DumpMedia Video Converter as an alternative to Freemake Video Converter. DumpMedia is a powerful and high-speed all-in-one audio and video converter, downloader, editor, and player. Enjoy the convenience of a friendly interface equipped with a lot of features to meet all of your video needs. The software supports many formats including MPEG, 3GP, FLV, MKV, AVI, WMV, MOV, MP4 along other regular video formats.
DumpMedia also allows you to improve your video's quality by upscaling its resolution by converting it from SD to HD resolution and vice versa. To convert your multimedia files to your desired formats, download the software first and follow the steps below:
Step 1: Launch the DumpMedia application
Step 2: Add your audio or video file to the application
Step 3: Choose your desired output format and destination folder
Step 4: Start the conversion process
Launch the DumpMedia Application
After downloading the DumpMedia installer, launch the application by following the steps below for Windows and MacOS operating systems.
For Windows users:
Go to the Search icon(magnifying glass) beside the Windows icon in your computer's Task Bar.
Type DumpMedia on the text field.
Click on the DumpMedia application on the search results.
For MacOS users:
Click on the Launchpad icon in your computer's Dock. The launchpad icon is a gray circle with a darker gray rocket at the center.
Type DumpMedia on the Search bar at the topmost part
Hit the Return button on your keyboard to launch the application.
Add Your Audio or Video File to the Application
Click the Add Files button located at the top-left section of the interface to import your files or you can drag-and-drop them directly into the main interface.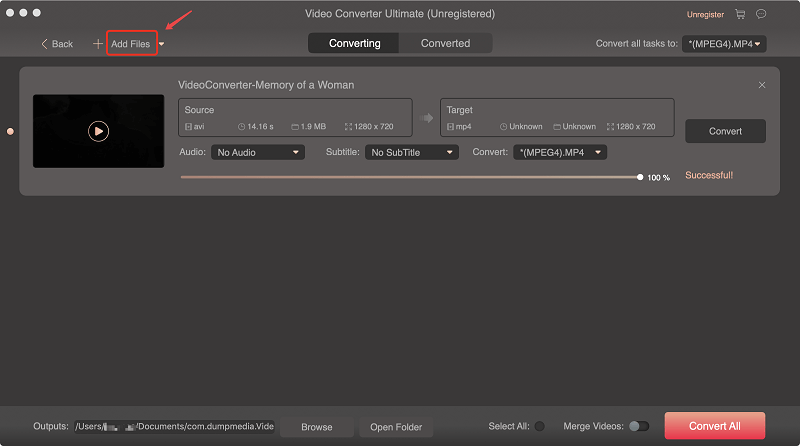 Choose Your Desired Output Format and Destination Folder
Look for the Convert all tasks to text at the top right corner of the interface. Select your desired output format. At the bottom of the interface, click on the Browse button and browse your computer to the desired destination folder of the converted files.
Start the Conversion Process
Click the Convert button to start the conversion of your audio or video file. Wait for the conversion to complete.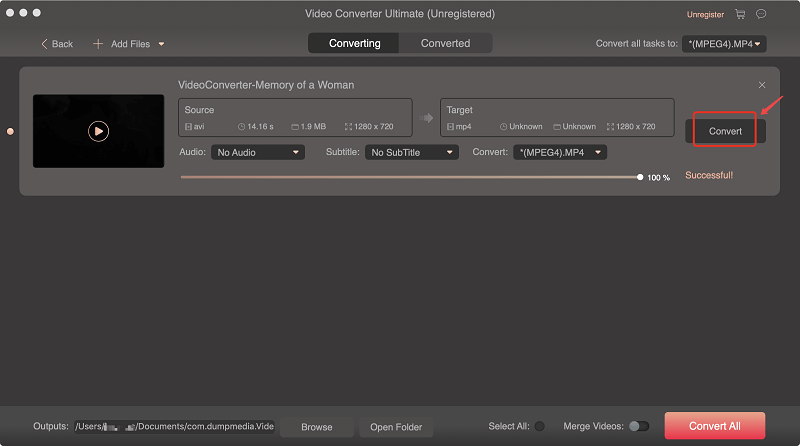 Part 2. Other 5 Alternatives to Freemake Video Converter
#1 Handbrake
Handbrake is one of the best alternatives for Freemake Video Converter because it can perform transcoding of video formats at a fast speed. You can also use this tool to change your file's video encoder, adjust bitrate and frame rate, and others. Moreover, Handbrake is available in Mac, Windows, and Linux versions. Below are the advantages and disadvantages of Handbrake.
Advantages
A free and open-source tool for video transcoding.
Supports various operating systems which perfectly suits users who are working on different platforms.
Amazing output presets which support the conversion of videos to various devices such as Android devices, Apple devices, Game consoles, and others.
Allows compression of video sizes and the addition of subtitles to videos.
It does not put a watermark on your transcoded videos.
Disadvantages
It can only produce videos in MP4 and MKV formats. The latest Handbrake version, which is Handbrake 1.0.7, does not allow you to convert videos to other formats like AVI.
Handbrake does not have a user-friendly interface and sometimes, it outputs files that are not in sync.
You cannot convert videos online and extract an audio track from your video files.
#2 Any Video Converter
Any Video Converter is an excellent program for video conversions. Unlike Freemake which freezes suddenly, Any Video Converter functions fast and outputs videos of excellent quality. However, newbie users might take some time before they can find their desired profile from this tool's list of output formats. Moreover, Any Video Converter is available in Windows and Mac versions. Below are the advantages and disadvantages of Any Video Converter.
Advantages
It provides a lot of multimedia output formats and output devices.
You can use it if you want to convert your own videos or those from online streaming platforms of over 100 sites.
You can rip CDs and extract audio from them along with other videos.
It supports the simultaneous conversion of multiple files.
It provides basic editing functions for your videos.
You do not have to worry about watermarks on the output videos.
Disadvantages
Extra software and plugins are embedded in Any Video Converter's installer so you need to uncheck those before you proceed with the installation.
Because of the too many output formats supported by Any Video Converter, it takes some time before you can find your target format.
#3 MPEG Streamclip
This tool is a free and powerful video converter, editor, and player with versions available for Windows and Mac users. It supports various input formats including AIFF, MP4, MPEG, VOB, and AVI. For the output formats, you cave save them in DV, AVI, QuickTime, MPEG-4, MPEG, and TS file formats. Below are the advantages and disadvantages of MPEG Streamclip.
Advantages
You can use it to play various movie files aside from MPEG ones.
You can convert MPEGs between muxed or demuxed formats for authoring.
It allows encoding of movies to various formats such as iPod.
Cutting, trimming, and joining movies can be done.
It is able to download Google and YouTube videos through UR
Supports exporting of videos to MPEG-4, DV, AVI, and QuickTime files in excellent quality.
Disadvantages
You cannot adjust the audio and video quality.
MPEG Streamclip freezes for a moment when the encoding starts and at various points during the encoding process.
It has a very confusing interface and a complex toolbar located at the bottom so it might intimidate newbie users.
#4 Format Factory
Format Factory is free and features multiple functions for file conversion. As a superb alternative to the Freemake Video converter, Format Factory prides itself on its ability to change the image, audio, and video formats effortlessly. However, this tool does not have a Mac and Linux version. Below are the advantages and disadvantages of Format Factory.
Advantages
Supports output video formats in MOVE, AVI, MKV, MP4, and others.
It can change audio formats like M4A, MP3, and others.
Decreases the file sizes of the videos so you get to save more device and disk memory.
It can repair damaged audio or video files.
It has a mode for batch conversion of videos.
It can convert the majority of video formats to GIF.
Supports multiple languages.
Disadvantages
You can't use Format Factory to convert online audio tracks and videos.
Includes additional software and plugins during installation which you need to manually uncheck before starting the process.
#5 FFmpeg
This is an open-source command-line tool for converting, recording, and streaming audio or video files. Since it only uses a command line for the conversion process, users that prefer tools with GUI might find it hard to use FFmpeg. So you need to invest your time in learning this tool but it is ensured that you'll get productive results once you have mastered this using it. Below are the advantages and disadvantages of FFmpeg.
Advantages
It supports a wide variety of formats so many free video apps actually use FFmpeg as their background engine. The only thing these free video apps need to do is to design a user interface for the app to make the conversion easier to users.
Allows conversion, recording, and streaming of multimedia files.
Disadvantages
It is only a command-line tool so it is harder to use especially to beginners.
For a bit of info, the free video apps using FFmpeg as their background engine has slower conversion processes because the GUI created for the command line uses system resources. The process even becomes slower when you are converting a lot of videos.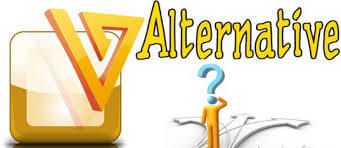 Part 3. In Conclusion
You will find a lot of options when you search for Freemake Video Converter alternatives on the web. However, you no longer need to experience the hassle of finding for one because we have already discussed the best Freemake Video Converter alternatives in this article. You can choose from the top 6 alternatives listed above for converting your multimedia files into other formats.
But if you are looking for a powerful and easy to use video converter, DumpMedia Video Converter would be perfect. Hopefully, we were able to find what you were looking for in this article.