In the modern gaming world, it's better to have a high resolution in terms of TV or monitors. It is a must for those tech geeks out there too. If you always watch TV or you use a monitor as a second screen for your computer, then you might notice the difference between various screen resolutions.
This is true, especially if you use monitors all the time. Screen resolutions of 8K are the top of the line at the moment. 4K is running behind it as it became very popular during these times. Other people use 1080p and 1440p. While others still use the 720p screen resolution.
In this article, we will have a screen resolution comparison of 720p, 1080p, 1440p, 4K, and 8K. We will dig into the details and compare one from the other. In this way, you'll know the difference between these varying screen resolutions.
Contents GuidePart 1. Screen Resolution: What Is It?Part 2. Screen Resolution ComparisonPart 3. Extra Tip: Converting VideosPart 4. In Conclusion
Part 1. Screen Resolution: What Is It?
A screen resolution refers to the measure of a screen's pixels while considering height and width. For instance, if a particular monitor has a resolution of 1280 x 720p, this means, that its width contains 1280 pixels. On the other hand, its height has a measurement of about 720 pixels. The total amount of pixels within the said monitor can be calculated by multiplying 1280 by 720. This will result in 921,600 pixels. Obviously, the higher the screen resolution, the sharper and better-looking the image will be.
The most popular resolutions include the following:
720P (1280 x 720, HD)
2K (1920 x 1080, 1080P, FHD, Full HD)
144P (2560 x 1440, WQHD, QHD, Quad HD)
4K (3840 x 2160, UHD, 2160P, Ultra HD)
8K (7680 X 4320, FUHD, 4320P, Full Ultra HD)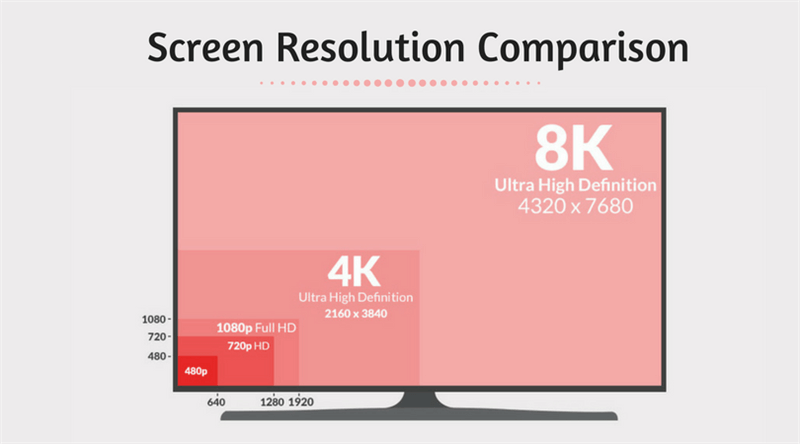 Part 2. Screen Resolution Comparison
In this section, we will compare various screen resolutions. We will start with the 720P resolution and next with 1080P vs 1440P. Next, we will compare 2K and 4K. Then, we will end with 4K versus that of the 8K screen resolution. Let's get started.
#1: The 720P Resolution
This contains double the clarity of standard definition televisions (360P). 720P is usually the minimum requirement when it comes to playing high-definition media content. Typically, modern televisions, consoles, and gaming displays use higher resolutions. However, this doesn't entail that 720P is phased out.
There are channels that still broadcast using the 720P resolution. Today, this resolution is the smallest and cheapest HD resolution and is used on older types of TVs. It is also used on monitors powered by USBs, mobile phones, and other devices that stream media.
#2: 1080P Versus 1440P
Another screen resolution comparison we will have is between 1440P and 1080P. 1440P is actually one type of resolution for Quad HD. It is measured as 2560 x 1440 and provides 4x better resolution compared to 720P HD. A lot of smartphones, gaming monitors, and other devices use the resolution 1440P QHD. This is because of the display's refresh rate. It can actually be increased to that of 144Hz as long as there is a compatible supporting graphics card.
1080P refers to the 2K type of resolution. It has 5x sharper and better resolution compared to the 720P HD. It is best for gaming and other reasons that might require a sharp image. However, it is best used for Nintendo GameCub, PS1, PS2, and other devices.
1080P usually allows you to have a refresh rate of 60Hz, especially for those computer monitors. However, if you have top-of-the-line graphics cards, you can increase the refresh rate to a maximum of 144Hz.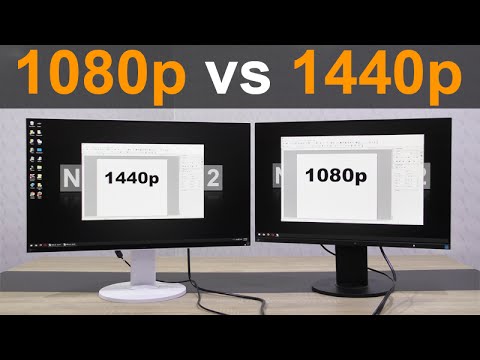 #3: 2K Versus 4K
2K, as said before, refers to the 1080P resolution and is most commonly found on PCs. This is an FHD resolution that is popular among gaming geeks around the world. It is best used for the refresh rate of about 60 frames per second (FPS). This is one of the best among various games played globally. These features also come at a reasonable price. That means it is a great advantage among users.
When it comes to screen resolution comparison, 4K is one of the best resolutions out there coming 2nd place short of the 8K resolution. If you want to watch a movie, then the resolution 2160P is the best to use. It has one of the best qualities when it comes to displaying images compared to other monitors. 4K is still one of the most expensive monitors to buy out there. However, UHD and other streaming resolutions available on Netflix and Amazon content will definitely enhance your streaming and watching experience.
#4: 4K Versus 8K
4K refers to resolutions that have 4000 pixels (horizontal). It has sharper and clearer quality pictures and is one of the reasons why a lot of movie enthusiasts prefer 4K over other resolutions. 4K even allows you to zoom into pictures and reframe them without quality loss per inch. It also supports 5.1 audio channels.
8K, obviously, wins the screen resolution comparison race and provides double the horizontal resolution compared to that of 4K. It is very sharp and vivid that even when you go in front of an 8K monitor, you won't notice any block of the pixel. It definitely provides you with an exciting and overly-enhanced visual experience. 8K monitors have about 33 million pixels in it. On the other hand, 4K resolutions have pixels of about 8 million. Also, 8K monitors can support audio channels of about 22.2.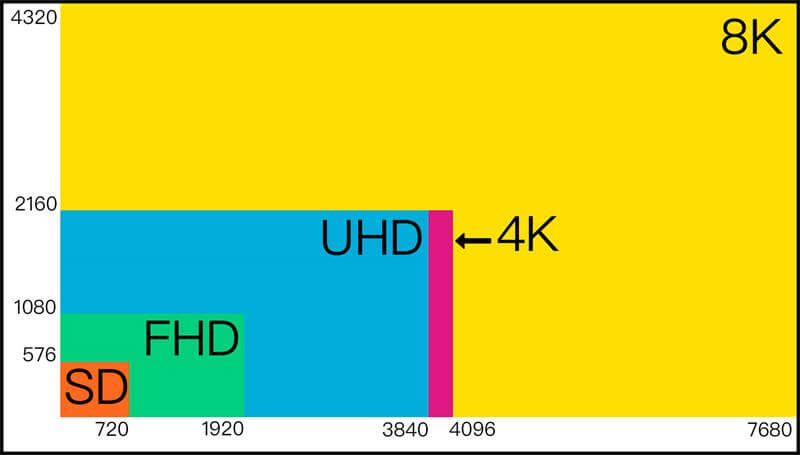 Part 3. Extra Tip: Converting Videos
If you have a video that you want to convert from one format to another, you can use DumpMedia Video Converter. In this way, you can use them on different devices with different screen resolutions. In this way, you can use your videos and transfer them from one device to another.
If you also want to watch a video from YouTube onto your monitor, you can download them using DumpMedia Video Converter. After this, you can transfer it to a USB in order to plug it into TVs. The said software is great in terms of downloading and converting videos for multiple purposes.
Part 4. In Conclusion
In this article, we've made a screen resolution comparison. We have mentioned 720p and compared 1080p with 1440p. We've also compared 4K with 8K screen resolutions. If you encounter a black screen problem,here is a detailed guide about how to solve black screen problems with youtube. Apart from this, we have recommended a tool that will allow you to download and convert videos, DumpMedia Video Converter. In this way, you can transfer your videos from one device to another and even watch them on high-resolution monitors if you wish.