If you are a student of a degree-granting university and you love Apple Music, then you are in luck. Apple has a program that grants discounts to students in eligible countries and universities worldwide.
This program will give students a 50% discount on the monthly subscription rate for up to 48 months. Once subscribed to Apple Music, the student also gets an Apple TV plus access for a short period. This program is possible through the Apple Music Unidays website, which verifies student eligibility.
In the following sections, you will find essential details about this program, including a step-by-step guide on getting the student discount. After that, you will get bonus information that will show you an alternative way to keep your Apple Music songs without the need to maintain an active subscription.
Contents Guide Part 1. An Introduction to Apple Music UnidaysPart 2. How to Get Unidays Apple Music Student Discount? Part 3. Bonus: How to Keep Apple Music Songs Forever?Part 4. Conclusion
Part 1. An Introduction to Apple Music Unidays
Most tech companies give discounts for their software subscriptions to students. Apple is no different in this regard. In the case of Apple Music, eligible students can get 50% off the regular monthly rate for up to 48 months or until they graduate or stop enrolling in school. To verify students' eligibility from different countries across the globe, it uses the Apple Music Unidays website.
Most countries that offer Apple Music also offer this discount to students of their local schools. Unfortunately, no official published list of these eligible schools and countries exists. As a student, you have to register to determine if your country and school are eligible.
In addition to the 50% discount, a student subscriber will also get access to Apple TV Plus, Apple's video streaming offering similar to Netflix, HBO Max, and Disney Plus. While Apple TV's database content is not that big compared to Netflix and other video content providers, it still has good choices of exclusive movies and original programs. In the next section, you will find the exact steps to get an Apple Music discount.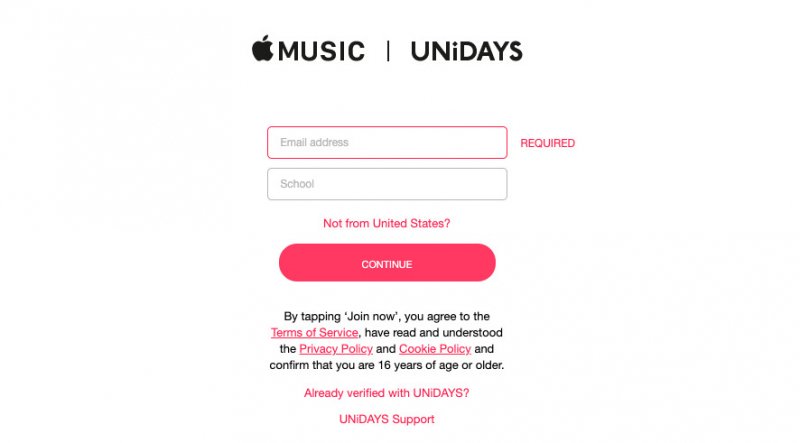 Part 2. How to Get Unidays Apple Music Student Discount?
You have several options in signing up for an Apple Music student discount. You can either use your mobile phone or your desktop computer or Mac. In this guide, we will use a computer.
Step 1. Install iTunes on your Mac or PC if you haven't yet.
Step 2. Launch the iTunes application. Next, select "Music" in the upper left corner of the application and then choose "For You."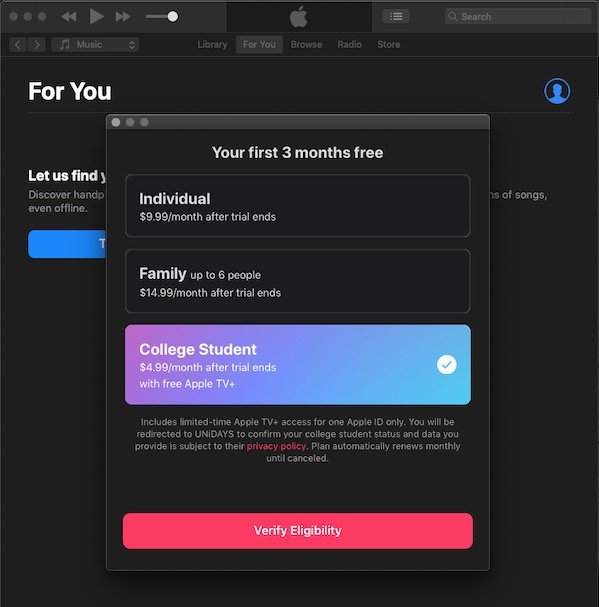 Step 3. If you haven't subscribed to Apple Music yet, choose the trial offer. On the other hand, if you are currently subscribed to Apple Music, choose "Sign in" and then switch to a Student Membership.
Step 4. Verify your eligibility as a student by clicking on the "Verify Eligibility" button. You should be redirected to the Apple Music UNiDAYS website.
Step 5. Enter all the required information when prompted and follow all the instructions provided. For the email address, you can opt to use your school's email address (if you have one) or use a personal email. Next, search for your school's name.
Note: Unfortunately, while many schools and countries have been supported, it is still not 100%. If you cannot find your school, you will not get a student discount. For further assistance, click on Unidays Support.
Step 6. You may be asked to log in to your school's portal in this next step. In a few countries and regions, you may need to sign up for this offer while connected to your school's network. After you verify yourself as a student, you will be redirected to iTunes to complete the process.
Step 7. Back in iTunes, sign in using your Apple ID and password. If you haven't registered to Apple before, select "Create New Apple ID." After this, follow all on-screen prompts as needed to complete the creation of your new Apple ID.
Step 8. Enter the requested data, such as billing address and credit card information. Make sure to review the information you entered to avoid any mistakes in your entries.
Step 9. Click "Join."
That's all there is to it. You can now enjoy your favorite songs thanks to Apple Music Unidays.
Part 3. Bonus: How to Keep Apple Music Songs Forever?
With all the information you received, getting an Apple Music student discount should be a piece of cake now. However, when your subscription ends, you will still lose all your favorite Apple Music songs even if you downloaded them for offline listening. Consider using third-party software called DumpMedia Apple Music Converter to get around this problem.
This tool can remove the DRM protection applied by Apple to any song in the Apple Music database. Once removed from DRM protection, you should now be able to convert your songs to several formats of your choice. Mp3 is one of the most common formats users prefer because most music players support this format.
Here are some of the outstanding features of DumpMedia Apple Music Converter that make it stand out:
Unlimited playback of your downloaded and converted Apple Music songs even after your Apple Music subscription comes to an end.
Option to choose the audio formats you want during conversion. Supported output formats are MP3, FLAC, M4A, etc.
Conversion speeds that can reach as high as five times faster compared to other tools available today
Regular software updates and hotfixes
Timely customer support for your queries and concerns
Below are the steps you need to download, convert and permanently save your Apple Music songs.
Step 1. Download the DumpMedia Apple Music Converter installer from DumpMedia's website and install it on your computer. Make sure to select the correct installer for your OS.
Click to have a try! It's 100% secure!
Step 2. Launch the converter and then pick the Apple Music songs or albums you want to convert.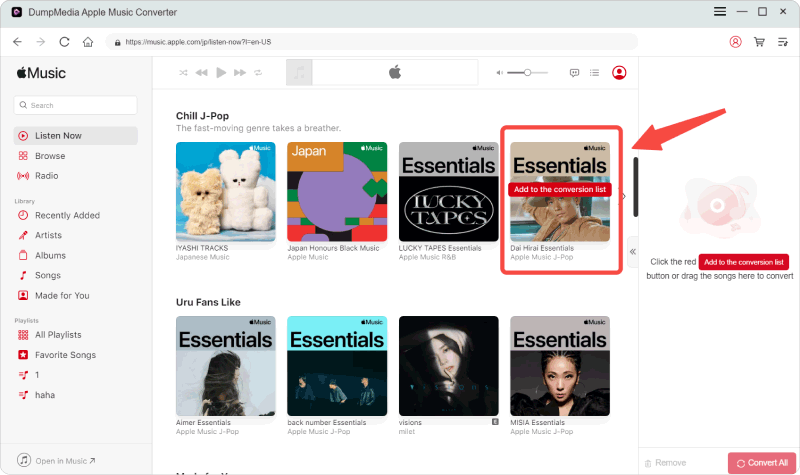 Step 3. Choose the output file format you prefer for your converted songs.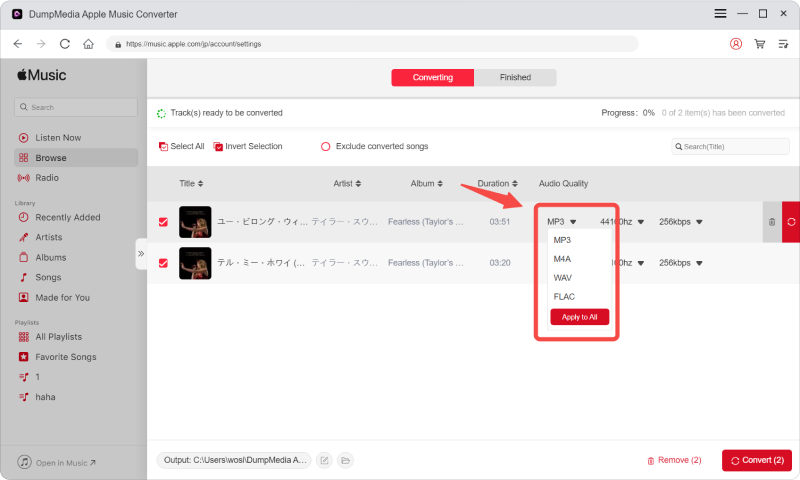 Step 4. Wait for the prompt message stating that the conversion has finished. Once done, copy your songs to any of your music players and devices.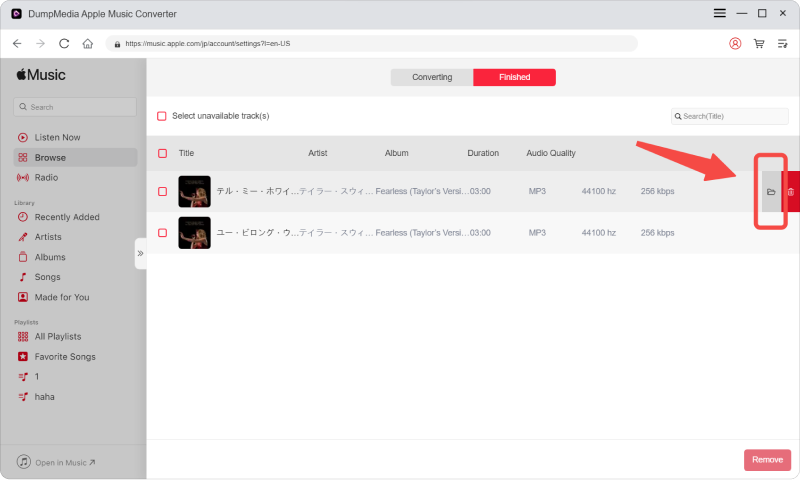 Voila! All done. You just converted and saved treasured music that you can play on several music players and devices even without your Apple Music Unidays subscription.
Part 4. Conclusion
Whether you're studying for an upcoming exam, chilling alone in a corner, or jogging around the campus, good music will always be an excellent companion. With Apple Music Unidays, you can get a sizable discount - 50% off the regular monthly rate.
As long as you belong to an eligible university, you can get an Apple Music student subscription along with limited-time access to Apple TV Plus. This deal is a bargain, especially for students who cannot afford the regular monthly rate.
With the information provided by this article, you should be able to subscribe to Apple Music and get a student discount if eligible. If you encounter issues in signing up for a student account for some reason, you need not worry.
DumpMedia Apple Music Converter is here to remove your dependency on a perpetual Apple Music subscription. With DumpMedia Apple Music Converter, download and convert all your favorite Apple Music songs and save them on different devices. The converted files will be playable anytime, even without an active Apple Music subscription.