Many Spotify users like enjoying their favorite Spotify songs with the help of Spotify visualizer tools for a very long time. Until now, it is still among the most popular means of entertainment. Previously, Spotify offered a default visualizer for its songs but for whatever reason, Spotify removed this feature.
But don't worry because other ways still exist for you to enjoy the visualization of your favorite Spotify songs. This is why you came across this article anyway. In today's discussion, we will give you 8 Spotify visualizer tools, both online and third-party tools, which you can use for your Spotify music. So keep on reading to know more!
Contents GuidePart 1. Top 4 Online Spotify VisualizersPart 2. Top 4 Third-Party Spotify Music VisualizersPart 3. The Best Method to Convert Copy-Protected Spotify SongsPart 4. Wrapping It Up
Part 1. Top 4 Online Spotify Visualizers
#1 Kaleidosync Visualizer
Kaleido Sync Visualizer is one of the web-based tools for visualizing Spotify music and was developed by a user named Itsappleseason. Just go to the link we have attached in the tool name, go to your Spotify account and log in. Itsappleseacon released Kaleido Sync Visualizer on Reddit which soon became widely known to Spotify users and netizens. The animation of these tools consists of geometrical patterns that bring out simple, trendy, and fresh music visualizations.
#2 Jamescastells Spotify Visualizer
This is among the coolest Spotify visualizers online. Upon logging in to your Spotify account, you can sync your favorite Spotify songs to Jamescastells and start enjoying this music visualizer tool once your Spotify music starts playing. Jamescastells gives out trendy colors and cool patterns for users to enjoy and it is a popular online visualizer for Spotify music that suits the taste especially of the young generation.
#3 Wavesync Spotify Visualizer
Wavesync visualizer for Spotify music is another tool developed by the Kaleidosync visualizer owner/s - Itsappleseason. When Kaleidosync received a warm welcome, Itsappleseason immediately launched the Wavesync Spotify visualizer which is also a web-based visualizer.
Similar to Kaleidosync, Wavesync will ask its users to log in to their Spotify account before they can use this other colorful visualizer. However, unlike Kaleidosync, Wavesync's animations have shifted to lines instead of geometrical patterns. But Wavesync still has the same trendy and fresh animations which makes it another great choice for enthusiasts of Spotify visualizers.
#4 Spotify Web Visualizer
This tool is an extension in Google Chrome which allows users to view music visualization in full-screen mode while listening to their favorite Spotify songs on the web. However, we do not recommend using Spotify Web Visualizer because it just produces static screensavers and no visual effects at all. But you are still free to try this tool.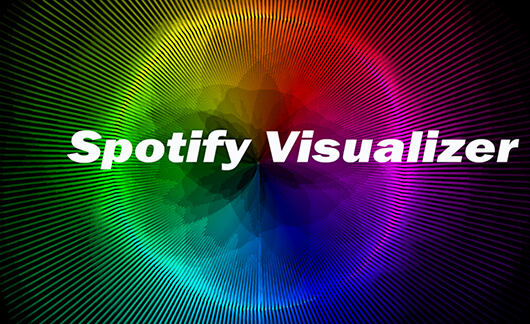 Disadvantages of Using Online Visualizers for Spotify
Online visualizers for Spotify songs have their own drawbacks.
First of all, you need to have an internet connection before you can use these tools which makes it impossible for users to enjoy listening to their desired Spotify music when their devices or computers are offline.
Second, unlike third-party tools for Spotify visualization, online Spotify visualizers online have relatively simple animations. So if you prefer more engaging visual effects, then third-party Spotify music visualizers are your best alternatives, which will be discussed in the next section.
Part 2. Top 4 Third-Party Spotify Music Visualizers
#1 VLC Media Player
Aside from being an excellent media player, VLC media player also offers a built-in visualizer for audio playback. Users can choose from its six various default visualizations: ProjectM, Goom, Vu Meter, Spectrum, Scope, and Spectrometer. Each visualization has its own style but all are cool and very fun to use.
Choose one visualization before playing your Spotify songs. VLC also allows you to change from one visualization style to another even if the song is still playing. Due to this, the VLC media player's multiplicity and convenience made this tool the first option of many Spotify music lovers regarding Spotify music visualization.
#2 PotPlayer
This is another highly recommended Spotify music visualizer because of its special algorithm. PotPlayer can perform animation effects in real-time according to the type and volume of your chosen Spotify music. This feature allows PotPlayer users to view animation effects that are unique for each type of song.
#3 VSXU Spotify Music Visualizer
This Spotify music visualizer is a powerful and cool music visualizer for Windows users which has a particularly excellent music recognition functionality. Whether you are listening to Spotify songs offline or online, VSXU music visualizer is able to easily recognize the music being played and matches the visualizations with the song.
Moreover, VSXU also provides its users with a wide collection of animations that are variable, from lines to patterns, from simple to complex ones. VSXU shows animation effects that are constantly changing depending on the type of music which is an awesome feature.
#4 Windows Media Player
This is a default media player that is pre-installed in Windows computers which come with music visualizations. To use Windows Media Player's music visualization tool, follow the steps below.
Go to the bottom-right corner of Windows Media Player and click on Switch to Now Playing.
Click on Play to start playing a song.
Right-click on any open area on the interface and choose Visualizations.
Choose a category then select the visualization you want to use.
After you have read about these tools, we know that you are now very eager to try on these third-party tools for Spotify music visualization. However, you should be aware that Spotify has protected its songs from copyright infringement through the use of the OGG Vorbis format which not all third-party Spotify visualizers can support.
Thus, you need to convert your selected Spotify songs to a format supported by your chosen third-party Spotify visualizer. For this, you can use DumpMedia Spotify Music Converter which will be discussed in the next section.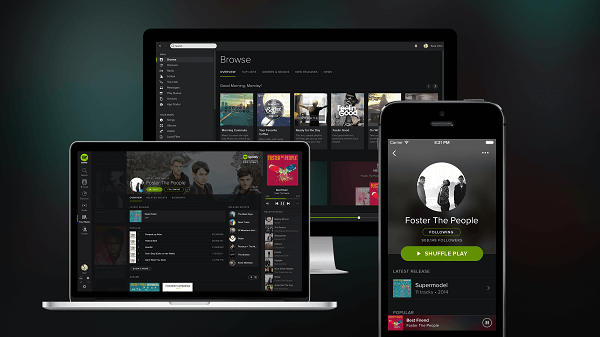 Part 3. The Best Method to Convert Copy-Protected Spotify Songs
For this task, we recommend using DumpMedia Spotify Music Converter for downloading and converting any Spotify music, playlists, or albums to MP3, M4A, WAV, and FLAC. This tool can keep the original quality of your Spotify files. It is a powerful and high-speed Spotify converter that allows you to enjoy your Spotify music without a premium subscription. Thus, giving you free Spotify for offline listening!
Features of DumpMedia Spotify Music Converter
Easy Removal of Spotify DRM.
Quick Download and Conversion of Spotify Songs.
Support For Free Offline Playback of Spotify Music on Various Devices.
Preservation of Metadata Indo and ID3 Tags.
Aside from the above-mentioned features, DumpMedia Spotify Music Converter is also available in three languages but we are working on adding more. You can even customize the quality of the output audio file according to your needs.
Now, to convert your multimedia files to your desired formats, follow the steps below:
Step 1: Download the DumpMedia application.
Step 2: Launch the DumpMedia application.
Step 3: Add your Spotify song to the application.
Step 4: Choose your desired output format and destination folder.
Step 5: Start the conversion process.
Below are the more detailed steps for converting your video files to your desired format using DumpMedia.
Download the DumpMedia Application
Before you can start using the application, of course you need to download the software first. The good news is, DumpMedia has a free Mac version for you to try the software first before you decide on whether it is the right tool for you or not but we assure you that you will not be disappointed with its features.
Launch the DumpMedia Application
After downloading the DumpMedia installer, launch the application by following the steps below for Windows and MacOS operating systems.
For Windows users:
Go to the Search icon (magnifying glass) beside the Windows icon in your computer's Task Bar. Type DumpMedia on the text field. Click on the DumpMedia application on the search results.
For MacOS users:
Click on the Launchpad icon in your computer's Dock. The launchpad icon is a gray circle with a darker gray rocket at the center. Type DumpMedia on the Search bar at the topmost part Hit the Return button on your keyboard to launch the application.
Add Your Spotify Song to the Application
Add the URI of your Spotify song/playlist/album on the search bar or you can drag and drop your files to the application.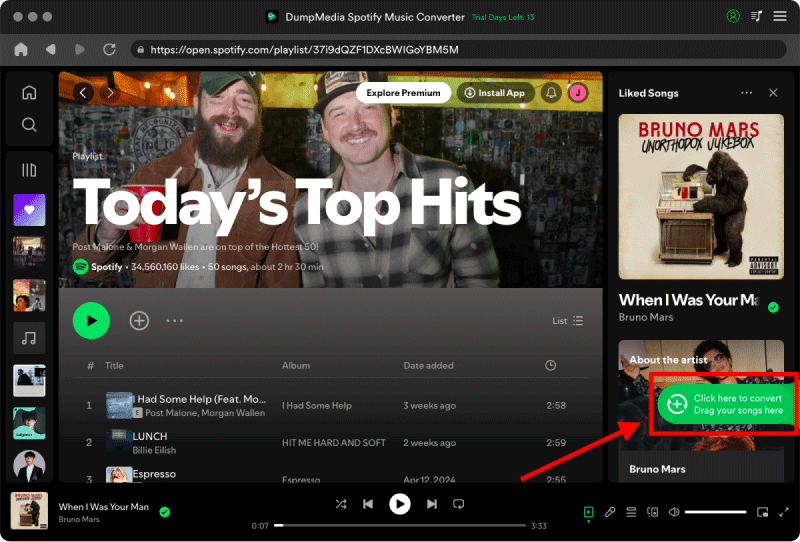 Choose Your Desired Output Format and Destination Folder
Look for the Convert all tasks to text at the top right corner of the interface. Select your desired output format (FLAC, WAV, M4A, or MP3). At the bottom of the interface, click on the Browse button and browse your computer to the desired destination folder of the converted files.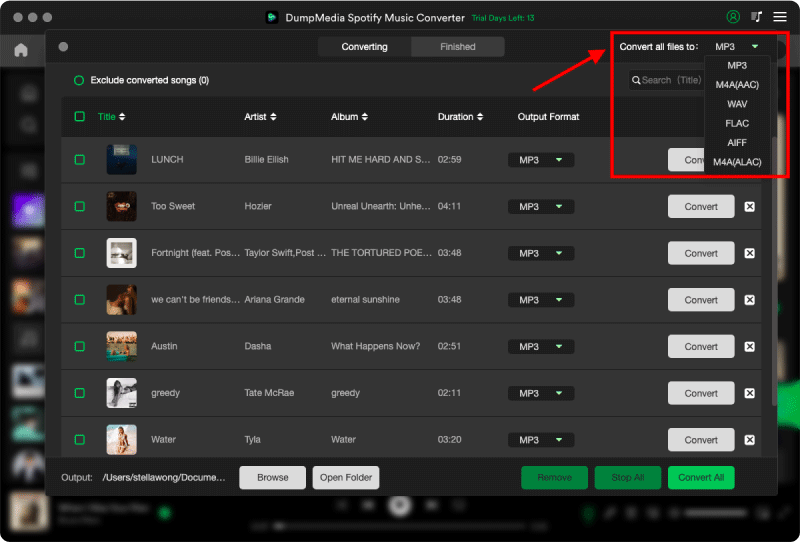 Start the Conversion Process
Click the Convert button to start the conversion of your music file. This tool perfectly removes DRM protection from Spotify and you are free to listen to them offline anytime and anywhere.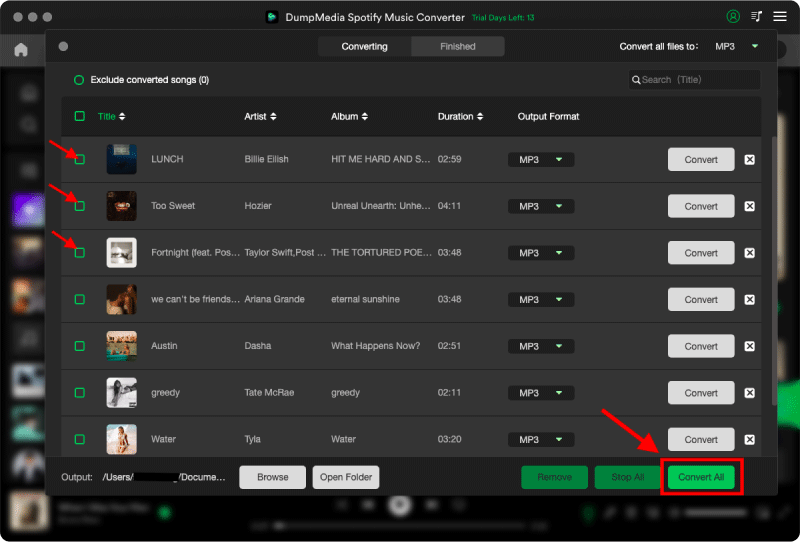 Part 4. Wrapping It Up
Being able to visualize your favorite Spotify songs is an excellent way of enhancing your listening experience. In this article, we gave you 8 online and third-party Spotify visualizer tools you can use to help you enjoy listening to Spotify songs more.
But do note that not all third-party tools can support Spotify's DRM-protected file format so you need to convert the songs to another format supported by your chosen third-party Spotify visualizer. For this, you can use DumpMedia Spotify Music Converter.