Spotify is one of the leading music apps today. You can stream your favorite artist's music anytime. For as long as you are connected to the internet or have mobile data.
Play music with Spotify whenever your sad, happy, or just trying to set up a mood. However, Spotify has a major setback. You are not allowed to download the playlist of Spotify into a music file format (i.e. Mp3, WAV, FLAC, and M4A) to be available for streaming offline.
Even if you are a premium Spotify user, you still can't download a playlist. By the way, Spotify subscription costs almost $10 per month. So you may need to rip music from Spotify.
But what if you are somewhere with no internet connection or poor connection? What if you run out of mobile data? What if you do not have both and you want to listen to a song?
There could be a lot more of What Ifs. Endless actually and yet you are spending $10 monthly for Spotify music that you cannot download and save offline.
So, can you rip music from Spotify? Definitely, YES! With all of the available resources and applications, ripping music from Spotify is a piece of cake that is for free!
Keep reading to find out how to rip music from Spotify with a Spotify Music Converter and stream offline over and over again.
Contents GuideSection 1: Why You Cannot Download Playlist, Album or Songs from Spotify?Section 2: How to Convert Music from Spotify Easily?Section 3: Other Top Spotify Music ConvertersSection 4: Wrapping All Up
Section 1: Why You Cannot Download Playlist, Album or Songs from Spotify?
You cannot easily download music from Spotify because it is protected with DRM or Digital Rights Management. You cannot decrypt it without a Spotify Ripper Converter to convert music from Spotify to MP3 or other formats even if you have a premium subscription.
Stop wasting $10 monthly just to stream to your favorite music that you cannot even save for offline. Although Spotify Premium subscribers have the privilege to download the playlist on a maximum of 3 devices and listen to it offline. However, the playlist is still protected with DRM and in a format of OGG Vorbis.
To remove and decrypt the DRM, you need to use a Spotify Music Converter to do the job. With Spotify Music Converter, you can easily download and save music into any music file formats. Ripping music from Spotify is not difficult any more.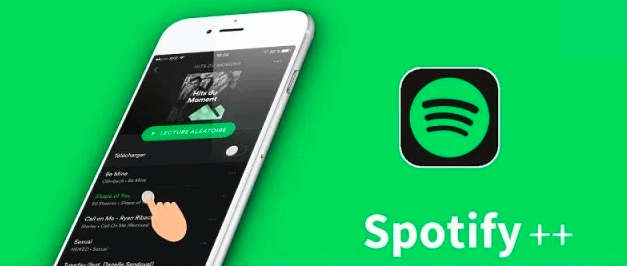 What Is A Spotify Music Converter?
Spotify Music Converter is a handy tool that converts albums, songs, playlists, podcasts, and radio from Spotify into different audio formats. It will decrypt the DRM on Spotify music to allow you to save any songs and be available to stream music offline.
Spotify Music Converter also allows you to convert a complete playlist from Spotify. Most of the tools will just let you drag and drop to convert your playlists at high speed.
Now, you can stream to your favorite songs without any annoying ads in any devices you want all day long.
Section 2: How to Convert Music from Spotify Easily?
There is a lot of Spotify Music Converter available. However, not all of it is safe and convert playlist from Spotify at high speed with good quality.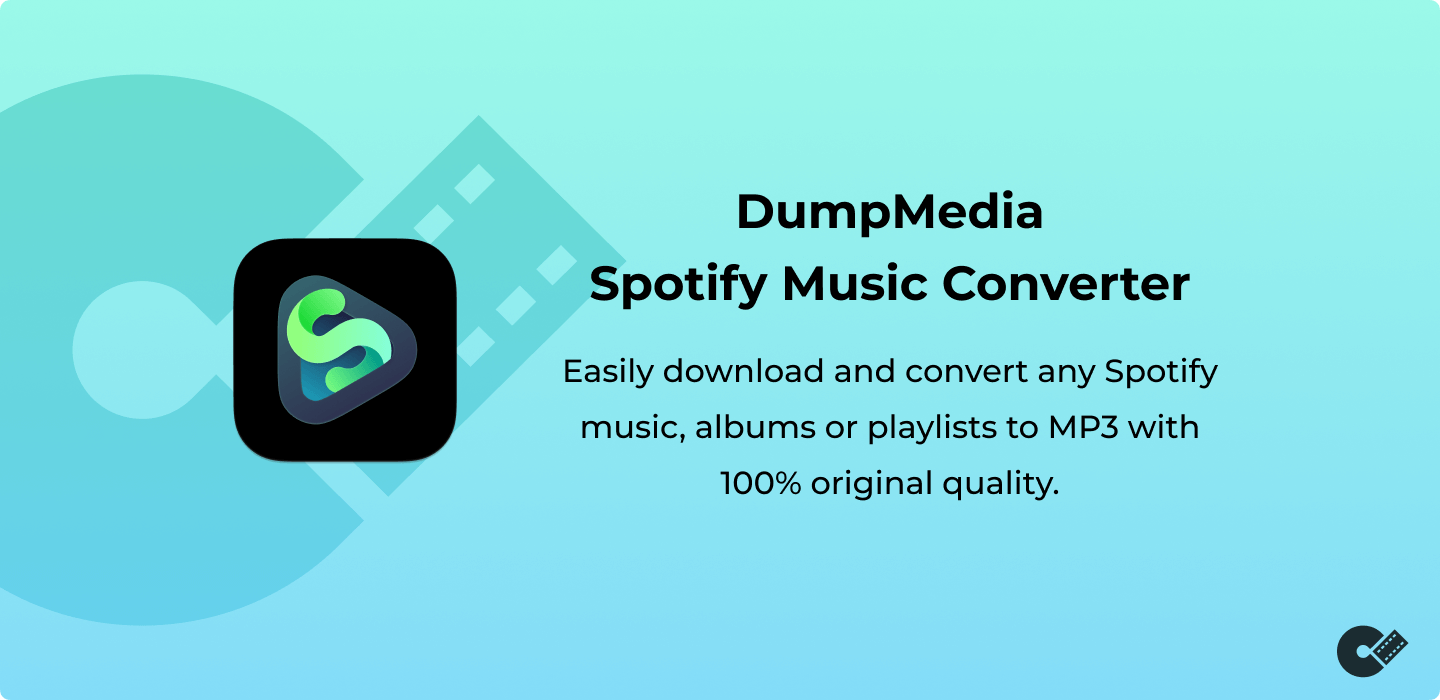 DumpMedia Spotify Music Converter is one of the best Spotify music converters. Spotify songs that are converted into MP3 files are save as 320 Kbps audio. It does not matter if you have a free or premium subscription on Spotify. It is available on both subscriptions.
Converting with DumpMedia is easy just follow these steps.
Step 1: Run the DumpMedia Spotify Music Converter
Download and install DumpMedia Spotify Music Converter and select to run the program.
Step 2: Select Songs from Spotify
Selectively choose songs, playlists, albums, podcasts and etc. that you want to convert from Spotify. Just select Add files and drag the files you want to convert into DumpMedia converter.
You can also Add songs to convert by copying the songs URL and pasting it into the search bar of the converter. The search bar is located at the bottom while the song URL in Spotify is located at the three dots the artist. Click the Add button to finish adding files.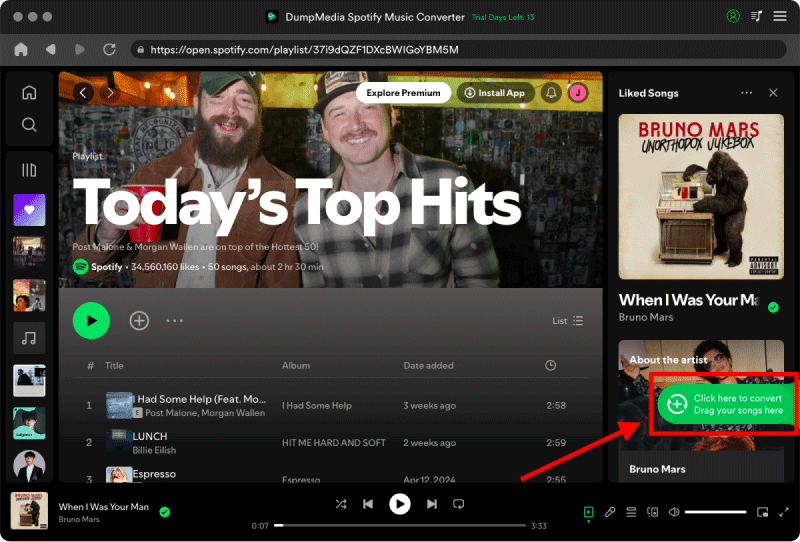 Step 3: Selecting the Audio File Format
You can choose which audio file format you prefer. Songs can be converted into MP3, M4A, WAV, and FLAC. Click the "Convert all tasks to" to choose the output file format you want.
You can also alter the sample rate and bitrate of the songs to have high-quality songs.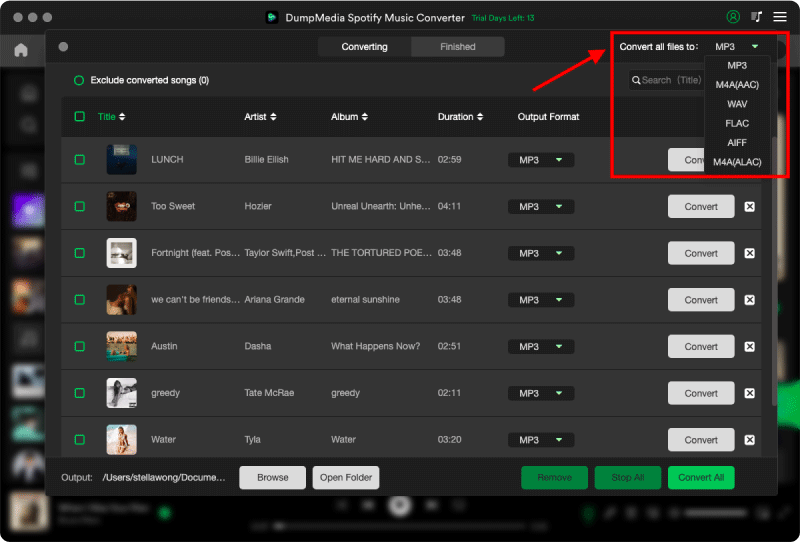 Step 4: Save into A Folder
Click "Browse" to save your converted songs in preferred folder or folders.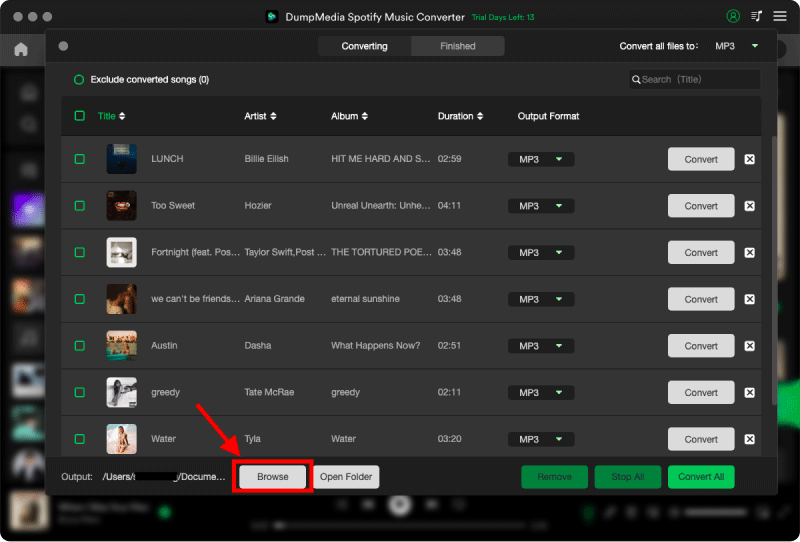 Step 5: Convert the Songs
Select the Convert button and DumpMedia will start to convert your songs. Wait for a few minutes to complete the process.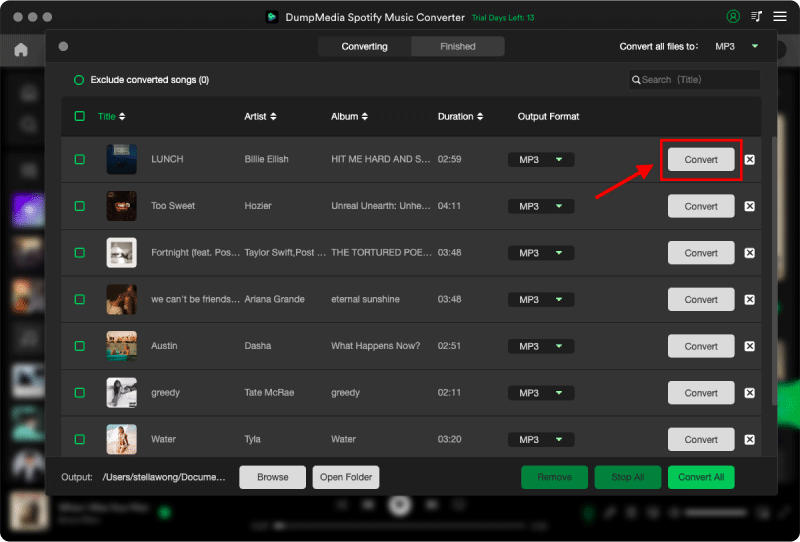 Step 6: Done!
After the conversion process completes, go to Finished and check all the results. Enjoy!
Section 3: Other Top Spotify Music Converters
Here are some of the Top Spotify Music Converters with the best output songs. With these Spotify Music Converters, you are able to rip music from Spotify and decrypt spotify offline files. It is possible to keep the Spotify songs offline forever.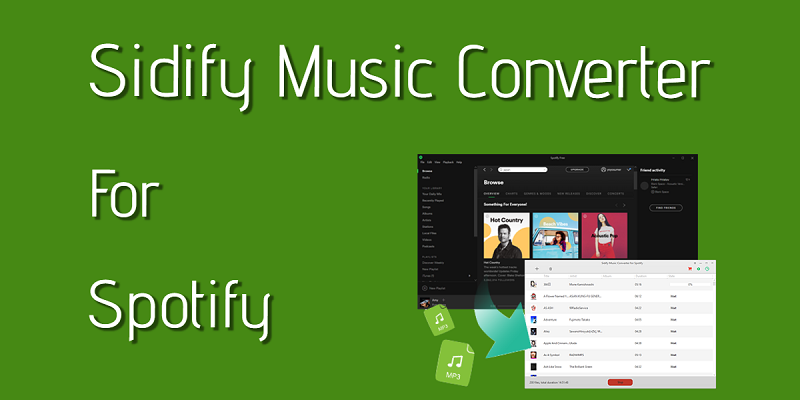 Sidify Spotify Music Converter
It will convert your favorite Spotify songs, albums, playlists, podcasts, and radio into different audio file formats. Just like DumpMedia, Sidify system is drag and drop in converting songs. It also keeps the ID3 tags of the songs.
It will convert tracks from Spotify into the most common audio file like MP3, FLAC, AAC, WAV, M4A, M4B, and others. With AudFree, you have many audio formats to choose from.
Convert your songs, playlist, albums and etc., from Spotify while preserving all of the metatags of the songs like song title, artist, album, artwork, track number, genre, etc. in the output songs
A free app that converts your files to any format. It also supports other streaming services.
Section 4: Wrapping All Up
Spotify is a cool application that allows you to stream online with your favorite songs, albums, or listen to podcasts. However, some people prefer to download songs offline so they can listen to it on any devices and music player. But Spotify does not have this offer currently.
The best solution to this is downloading and installing a Spotify Music Converter. With the Spotify Music Converter, you can now easily save your favorite tracks, albums, and even your playlists in any audio file formats.
It saves your time and a $10 monthly subscription from Spotify as most Spotify Music Converter works for free and premium subscribers.