iTunes is a seriously huge mess. It has a lot of features and capabilities which makes it very functional. But on the downside, these features make it very cumbersome or tedious to use. When using it to stream Apple Music, an enjoyable experience is lacking.
This is because the app is hungry for memory (RAM), fails to operate properly at certain times, and makes the process of listening to music so slow because loading speeds are super sluggish. That's why iTunes won't be your best bet if you want to listen to Apple Music on PC or Mac.
Emm, you will question that so How do I use Apple Music on my PC? In this guide, we'll teach you how to get you to gear ready for Apple music on Windows PCs or Mac computers without using iTunes. Thus, you don't have to go through great lengths just to get good music going. Read on to learn more.
Contents GuidePart 1. The Best Way on Listening to Apple Music on PC without iTunesPart 2. Listen to Apple Music on PC without iTunes Using BrowsersPart 3. To Wrap It All Up
Part 1. The Best Way on Listening to Apple Music on PC without iTunes
DumpMedia is a company known for creating multiple, useful software that's fully-functional, convenient, and practical. One of the things that could help us with our current problem is their product called DumpMedia Apple Music Converter.
In order to be able to listen to Apple Music without iTunes, this software will enable you to remove the DRM of the songs and download them directly to your computer. Thus, you will have a roster or albums, playlists, and songs at your fingertips.
These downloaded songs can be transferred from one device to another. Thus, you can listen to music on the go and even play them offline. DumpMedia Apple Music Converter works on both Mac computers and Windows PCs. Even after you have canceled your Apple Music subscription, you'll still have the ability to listen to the music offline.
DumpMedia Apple Music Converter supports a lot of audio file formats such as MP3, M4A, FLAC, AC3, AU, and a whole lot more. Audiobooks can be downloaded and converted as well. It works by allowing you to select the music you want to download. After this, you simply have to choose the output format and output folder. Finally, you just have to click "Convert " for the process to start.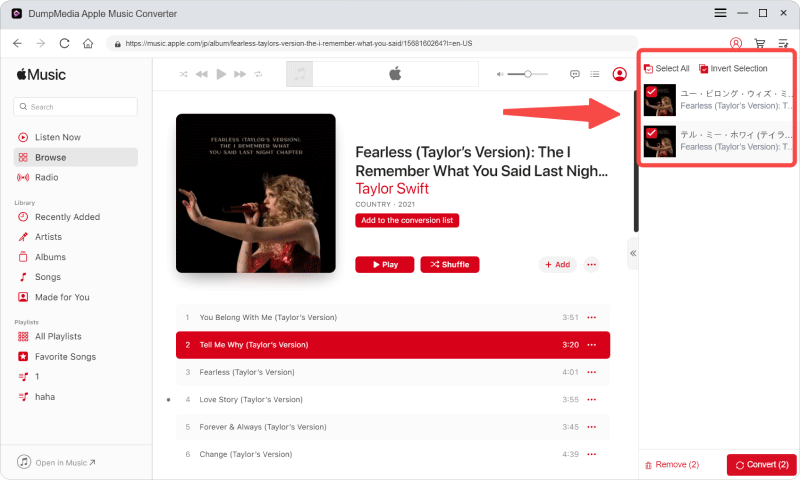 Part 2. Listen to Apple Music on PC without iTunes Using Browsers
Because Apple has made MusicKit JS available to the public, a lot of third-party software developers have the ability to make web applications that can connect to Apple Music. Thus, if you want to listen to Apple Music on PC or Mac, you simply use a web browser such as Chrome, Firefox, or Safari.
It is important to note that your security is still protected even though you are using third-party applications. Credentials are authorized through Apple. However, to be safe, you can also activate the two-step verification or two-factor authentication process.
So, to lead on to the meat of this section, let's delve into the top web players allowing you to listen to Apple Music on PC or Mac without iTunes:
Official Apple Music Web Player
Apple has released the beta version of its Apple Music web player on September 5, 2019. There are a lot of features that come with this beta version. However, it's not a full-fledged player yet compared to other platforms out there. The beta version allows you to listen to music that you like and add songs to your queue.
The biggest drawback, you can't sign in to Apple Music using the web-based player. However, Apple says the functionality will be available in the future. And, they are continuously doing actions in order to improve the web player's functionality and robustness.
feverTunes
This is one way to listen to Apple music using your web browser. The best thing about the platform is its interface - it's very appealing to look at with its dark theme. Users get to go through an intuitive experience with options and tabs that are perfectly positioned throughout the interface.
Once you log in using your Apple ID and corresponding password, access to your playlists and albums will be possible within your Library. Playback options are very useful allowing you to instantly play songs, loop music, and shuffle various tracks.
The Browse section gives you a list of the top songs, playlists, and albums. The tab is known as "For You " gives you various recommendations based on the tracks you prefer. In addition, the platform offers a tab called Curators. This is where you can locate a lot of curated playlists that are of different genres.
A big drawback of feverTunes is it doesn't allow you to make your own personalized playlists. However, it has a Settings panel allowing you to choose between dark and light themes. Plus, you can choose the bitrate you wish to stream the songs too. The highest quality bitrate it allows is 256 kbps.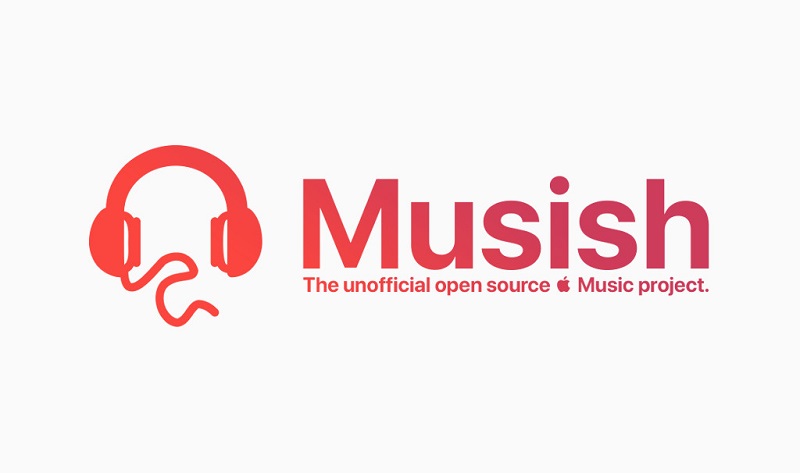 Musish
This is another way to view and listen Apple Music on PC or Mac without iTunes. The theme of the platform is like that of the Apple Music application within Android and iOS. A navigation panel can be seen on the left side of the interface.
The said pane allows you to access various music and your Library that is divided into organized sub-sections. It has a search bar allowing you to scan the entire Apple Music plus your own Library.
You might want to go for Musish if you wish to create your own customized playlists -- an ability feverTunes doesn't have. Users looking for an iTunes alternative can benefit well from using Musish for Apple Music.
ThinMusic
The last on our roster of web players is ThinMusic. The name says it all -- the interface is very minimalistic without anything fancy. It has three different tabs labelled Search, Browse, and Queue.
The Browse tab has your playlists and songs including Apple's recommendations based on your preferences. Queue allows you to queue various tracks. Finally, the Search tab obviously allows you to search for tracks, albums, and playlists.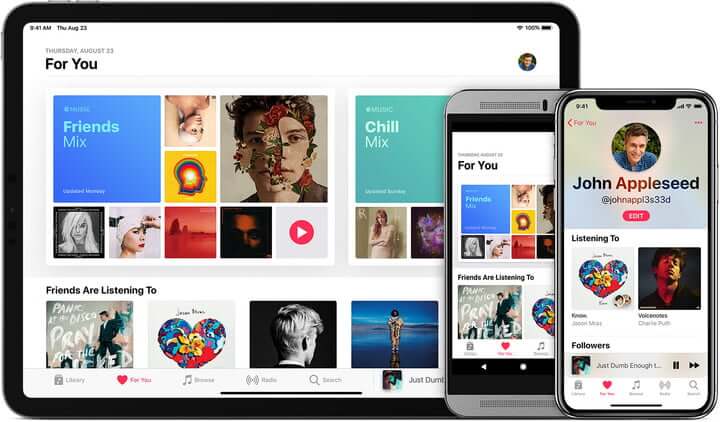 Part 3. To Wrap It All Up
If you want to use and listen to Apple Music on PC or Mac without iTunes, your best bet would be to download the songs through DumpMedia Apple Music Converter. Another option would be to use web browsers to listen to songs you love.
How about you? How do you make sure you experience Apple Music without iTunes? Do you have a way of doing it that's not included here? Let us know your thoughts by typing in your comments below.