Plex is a streaming media that can store a user's multimedia files such as videos, movies, photos, songs, and TV shows on a single server. Moreover, it allows a user to access multimedia content from all devices anytime, anywhere for streaming. But Plex cannot recognize the file structure of DVDs, Video_TS. Thus, for you to enjoy watching your DVDs on Plex, you need to convert DVDs to Plex. In other words, rip your DVD to a Plex-supported video format.
However, finding a tool for ripping to Plex will not be that easy. Some people consider using the most famous DVD ripper - HandBrake. Unfortunately, using Handbrake can be problematic. For example, HandBrake might break down during the process of ripping your DVDs.
So in this article, we will give you our four most recommended tools to rip your DVDs to Plex. Then as a bonus, we will also discuss how you can convert your ripped DVDs to other formats using DumpMedia Video Converter. But first, let us take a look at Plex's supported formats in the next section.
Contents GuidePart 1. Plex-Supported Formats & Recommended Plex Encoding SettingsPart 2. Four Tools to Convert DVD to PlexPart 3. Bonus Tip: Converting Your Ripped DVD to Your Desired FormatPart 4. In Conclusion
Part 1. Plex-Supported Formats & Recommended Plex Encoding Settings
First, let us be clear which formats Plex supports. Do note that Plex's limitations on the video quality and media compatibility also differ by device.
Support For Standard Videos
The standard codec Plex natively supports is MP4 which is encoded using H.264+AAC. Contents that aren't natively supported are automatically transcoded and directly streamed by Plex. Moreover, videos that satisfy the following standards can normally be played directly using Plex.
Container Format: MP4
Video and Audio Encoding: H.264+AAC
Resolution: Up to 1920x1080
Video Frame Rate: 30fps
Bit Depth of Video: 8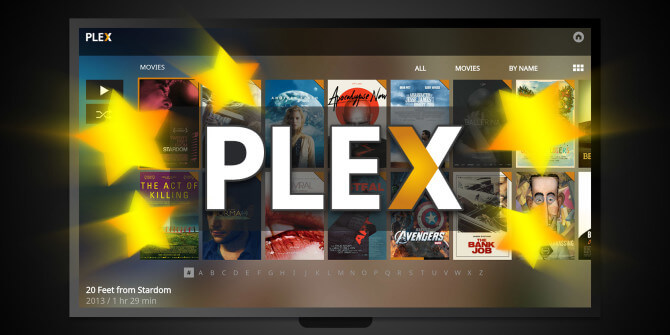 Video Support For 4K (UHD) Videos
Some ultra-high definition (UHD) devices can be recognized by Plex but they are working on bringing the playback of 4K videos to other gadgets. 4K content that matches the format below can be directly played on devices that Plex supports:
Container Format: MP4
Video Encoding: H.265 (HEVC)
Resolution: Up to 3480x2160
Video Frame Rate: 30fps
Bit Depth of Video: 8
Similar to the standard videos in the previous section, 4K videos that do not satisfy the parameters above will need to be transcoded or directly streamed.
As for converting/ripping a DVD for Plex, the most popularly used are MakeMKV and HandBrake. But MakeMKV only extracts the audio and video from the DVD. That is why MakeMKV is fast and the resulting file size is large. The same goes for HandBrake.
When ripping a DVD to MP4, output file sizes of HandBrake can reach up to 6GB for feature-length DVDs. And as mentioned in our introduction, HandBrake crashes often while the ripping process is ongoing and is very slow. This, MakeMKV and HandBrake cannot be used for ripping commercial DVDs.
So below we give you the top 4 tools you can use for ripping your DVDs for Plex playback.
Part 2. Four Tools to Convert DVD to Plex
#1 WinX DVD Ripper Platinum
WinX DVD Ripper Platinum is a DVD ripper that you can use to rip your DVDs to Plex for free. It is compatible with both Windows and Mac users and can rip your DVDs at a very fast speed because it is powered by high-performance technologies.
Other than converting to MP4, you can also use WinX DVD Ripper Platinum to convert your DVDs to WMV, MPEG, MOV, MP3, FLV, Apple TV, iPhone, Android, and others. Moreover, it supports a wide variety of DVDs, commercial or homemade. This tool allows you to adjust the output audio and video parameters including the aspect ratio, frame rate, bit rate, codec, and resolution to match different devices.
#2 EaseFab DVD Ripper
EasedFab DVD Ripper is another highly recommended DVD ripper to help you convert your DVDs to a Plex-compatible format. With this tool, you can convert commercial DVDs to Plex format easily at a fast speed without losing quality.
Moreover, you can store your purchased DVD discs to your local computer or hard drive for streaming over your home network for devices such as:
Plex Media Server
iPod Touch
HTC one
Samsung Galaxy S2
And others.
EasedFab DVD Ripper is a professional in ripping DVD discs, ISO images, DVD copies, and others.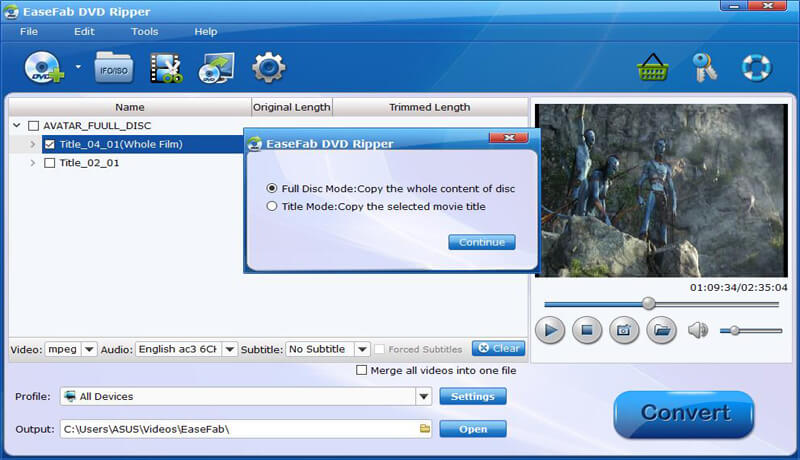 #3 VideoSolo BD-DVD Ripper
VideoSolo BD-DVD Ripper can bypass copyright protections on your DVDs and can convert the majority of DVDs to formats supported by Plex. This allows you to play your DVDs on Plex even the copyrighted ones.
This tool is recognized as one of the best rippers for DVDs to the Plex Media Server. You can rip your DVD files to a wide range of formats such as MOV, AVI, MP4, and others. Unlike its competitors, VideoSolo BD-DVD Ripper's most advanced feature is its ultra-fast speed in ripping. So with this tool, you can make the DVD ripping process no longer a time-consuming task.
#4 WonderFox DVD Ripper Pro
WonderFox DVD Ripper Pro has a simple interface so you can use it easily. It uses the latest decryption technology which makes it stand out from its competitors. It helps you rip your DVDs for playback on Plex and can back up your encrypted DVDs. This tool can also unlock region codes and remove the copy protection of a DVD with Cinavia Protection, X-project DRM, RCE, CSS, UOPs, and Sony ArccOS. So no worries as all of the encrypted DVDs you purchased can be decrypted by WonderFox DVD Ripper Pro.
Other features of this tool are the following:
Produces high-quality video and audio
Allows you to set output parameters including frame rate, bit rate, and video resolution
Has editing functions like video clipping and cropping
Supports over 300 formats and devices
Add and disable subtitles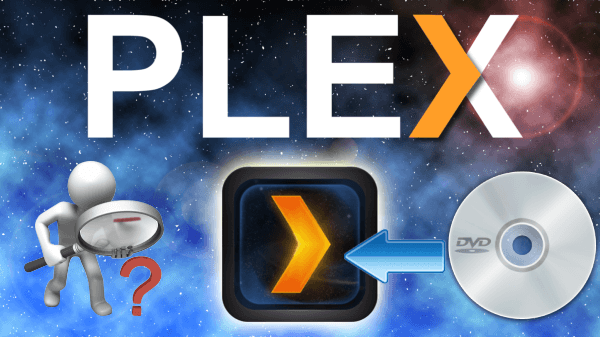 Part 3. Bonus Tip: Converting Your Ripped DVD to Your Desired Format
We recommend using DumpMedia Video Converter as a tool for converting various multimedia files into other formats. DumpMedia is a powerful and high-speed all-in-one audio and video converter, downloader, editor, and player. It can convert your multimedia files into many formats with minimum quality loss. Enjoy the convenience of a friendly interface equipped with a lot of features to meet all of your video needs.
Now, to convert your multimedia files to your desired formats, download the software first and follow the steps below:
Step 1: Download the DumpMedia application
Step 2: Launch the DumpMedia application
Step 3: Add your video file to the application
Step 4: Choose your desired output format and destination folder
Step 5: Start the conversion process
Below are the more detailed steps for converting your ripped DVDs to your desired format using DumpMedia.
Download the DumpMedia Application
Before you can start using the application, of course you need to download the software first. The good news is, DumpMedia has a free Mac version for you to try the software first before you decide on whether it is the right tool for you or not but we assure you that you will not be disappointed with its features.
Launch the DumpMedia Application
After downloading the DumpMedia installer, launch the application by following the steps below for MacOS operating systems.
Click on the Launchpad icon in your computer's Dock. The launchpad icon is a gray circle with a darker gray rocket at the center.
Type DumpMedia on the Search bar at the topmost part
Hit the Return button on your keyboard to launch the application.
Add Your Video File to the Application
Click the Add Files button located at the top-left section of the interface to import your files or you can drag-and-drop them directly into the main interface.
Choose Your Desired Output Format and Destination Folder
Look for the Convert all tasks to text at the top right corner of the interface. Select your desired output format. At the bottom of the interface, click on the Browse button and browse your computer to the desired destination folder of the converted files.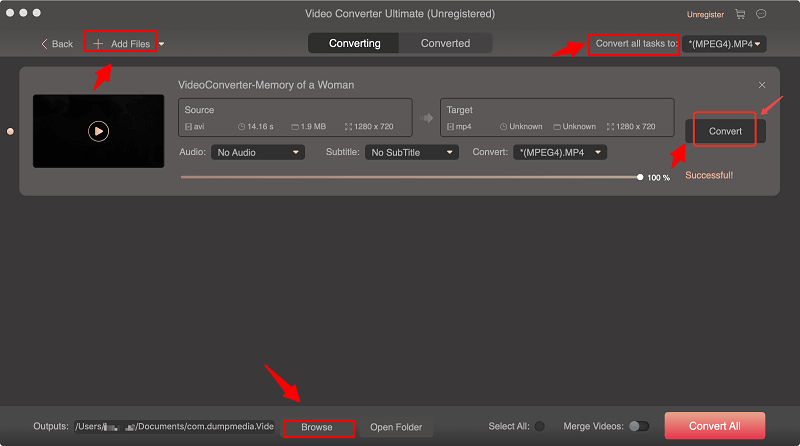 Start the Conversion Process
Click the Convert button to start the conversion of your video file. Wait for the conversion to complete.
Part 4. In Conclusion
Plex Media Server is designed for organizing your personal media files so that you can watch them anytime, anywhere. If you own one of these tools, you can easily stream your videos on your computer, phones, iPad, or TVs both in the comfort of your home and outside. Sharing DVD content using Plex is an effortless task. All you need to do is convert your DVDs into digital files and store them on a Plex server.
In this article, we have discussed the formats supported by Plex Media Server and 4 tools you can use to rip your DVDs to a Plex-supported format. And as a bonus tip, we gave you a step-by-step guide of our most recommended tool on how to convert your ripped DVDs to other formats using DumpMedia Converter Server. Hopefully, you were able to find what you were looking for in this article.