Listening to music always lifts our moods. But, what if along the way, you are interrupted by advertisements you are not interested in? That is very frustrating, right? Instead of lifting your mood, that will add up to the stress you are feeling.
We always wanted to experience an undisturbed listening experience without the interrupting advertisements here and then. This is why you need to be aware that there is Spotify Ad Blocker which can help you out.
If you will hit your keypad and look for ways via Google or other search engine sites, you will definitely arrive at a page with so many options in it.
If you do not want to comprehend much and immediately wanted to get to know the best in the field, then you must be so lucky because this post was created just to highlight the best application for each device – Windows computer, MacBook, Android device, iPhone mobile phone.
Contents Guide Part 1: Spotify Ad Blocker For Windows ComputerPart 2: Spotify Ad Blocker For Mac ComputerPart 3: Spotify Ad Blocker For iPhone Mobile PhonePart 4: Spotify Ad Blocker For Android Mobile PhonePart 5: Wanted Not to Face Any Ads Forever? Use DumpMedia Spotify Music ConverterPart 6: To Wrap It All
Part 1: Spotify Ad Blocker For Windows Computer
EZBlocker
When it comes to blocking Spotify Ads in a Windows computer, the best and most recommended is this EZBlocker. In using this tool, you must keep in mind that the latest version of the Spotify application must be installed on your device. Also, you must have a Windows computer running in 7, 8, and 10 versions. It these will be met, then you are good to go.
This EZBlocker is an Ad blocker developed and created by a man named Eric Zhang. Of course, the initial aim is to block the advertisements in Spotify application to promote smooth listening experience to users.
The idea is that once installed and you start playing Spotify music on your Windows computer, this ad blocker will mute all ads to avoid the effect on the sounds being produced on your computer. You can have it easily downloaded from its official website. The latest version of the application is as well shown there.
If you are wondering how you can use it, you just need to simply download and install it and then launch it in your Windows computer. You need to make sure that the "Start Spotify with EZBlocker" option will be ticked.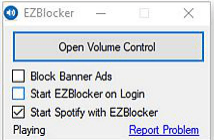 Spotify Ad Remover
Spotify Ad Remover is also one of the tools you can use to turn-off or even block all the advertisements you are hearing from Spotify application. This only works on Windows computers with versions of XP or 10.
Regarding installation, interface and steps to follow are easy. It comes with an uninstaller as well which you can use in case you no longer wanted to use the application. In order for you to use this, you can just follow the below guide.
Install and run this Spotify Ad Remover application on your device as Administrator.
All the Spotify Ads will be shown on the screen. Now, just tick the "Block" button to disable the Ads in your Spotify application.
See? You can do as simple as that. You need to keep in mind that there might be needing to restart your Spotify application to see if the changes had taken effect. After blocking the ads, you can simply close this application. Running in the background is actually not needed.
Part 2: Spotify Ad Blocker For Mac Computer
Now, if you are utilizing a Mac computer, then the best to use is this Spotifree application. This is suitable in iMac, MacBook Pro, and even MacBook Air. What is great about this one is that this is totally free and can be used immediately once installed on your Mac computer.
After downloading and installation, you can just launch the app on your Mac computer to enjoy an ad-free listening experience. Nothing to worry about the performance of your MacBook while using Spotifree as it will not affect much. You'll actually not notice that you have it running on your device.
Part 3: Spotify Ad Blocker For iPhone Mobile Phone
Are you using an iPhone while listening to your Spotify application? Now, one way to block ads in case you are using an iPhone mobile phone is by downloading the Spotify app itself from the Tweakbox application. This is accessible in the Apple store. Under the Tweakbox category, you will be seeing Spotify.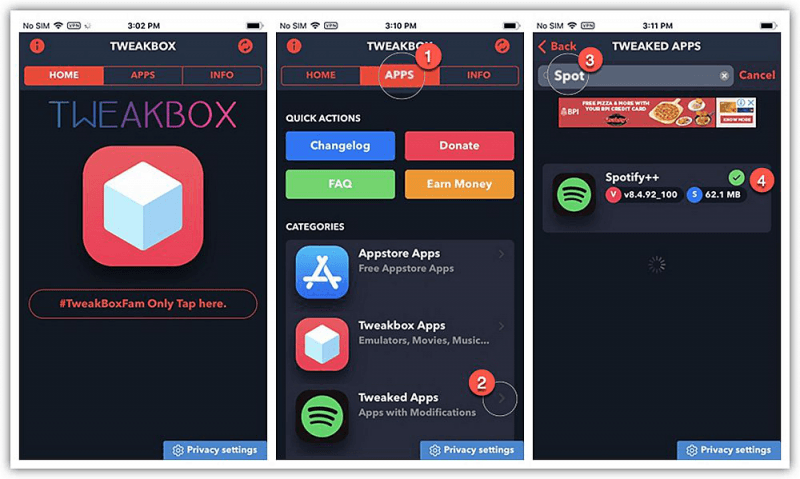 Here are the steps you need to know to successfully use it.
Go to the Apple store and look for the Tweakbox application. Download and install it.
Now, after installation, make sure to launch it in your device.
Once arrived at the main interface, you will be seeing numerous options. From those, choose the "Apps" button.
After clicking, hit the "Tweaked Apps" and once done, input "Spotify on the next screen.
Once the installation has been completely done, you can just enter your Spotify user and password and finally enjoy listening to favorite songs without ads.
Apart from using this method on your iPhone, you can also have it utilized on your other iOS devices such as iPads or iPods. If you are using these devices while listening to Spotify songs, you can also use this ad blocker.
Part 4: Spotify Ad Blocker For Android Mobile Phone
What about those users who are into Android mobile phones and devices? What could be the best way to block the advertisements in your Spotify application?
Well, the best suggestion is to use the application named "TutuApp". Apart from its main purpose, blocking the ads, you can also use it for other functions like adjusting the music quality of the songs you are listening to. This also works the same with the Tweakbox mentioned for iOS devices. You can just simply download the Spotify Mod version under the TutuApp to proceed.
You will be seeing a detailed procedure below which you need to follow.
The first thing needed to be done is to install the TutuApp in your Android device.
After installation, you will see the main interface of the TutuApp. Now, look for the Spotify App in it. If you cannot see it immediately, then you can utilize the search bar for searching.
Once you see the Spotify application, you will notice a "Download" button. Hit this button to continue with downloading and installation.
Now, you can enjoy Spotify music on your Android device without worrying about the advertisements.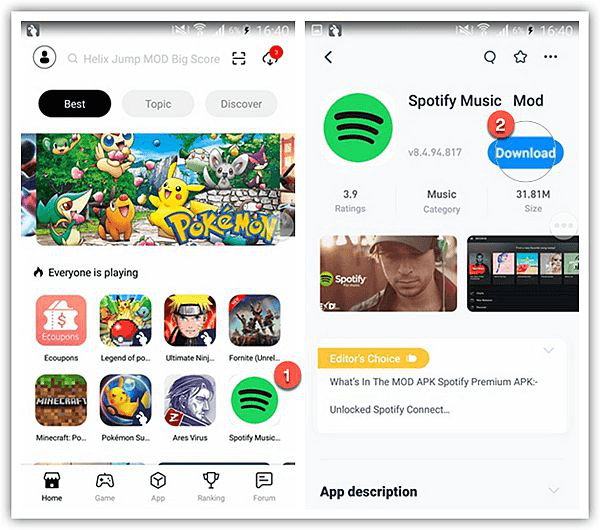 Part 5: Wanted Not to Face Any Ads Forever? Use DumpMedia Spotify Music Converter
Have you found the above tools helpful in any way? Well, you must!
In this portion, we will share one amazing way on how you can finally remove all advertisements on your Spotify account if you are a free user. Same way, if you are a premium account owner, you have nothing to worry about the premium subscription fee which you need to pay on a monthly basis.
You can rely on a professional software application named DumpMedia Spotify Music Converter. This is best suited and compatible with both Windows and Mac computers. You can enjoy the trial period and proceed with the paid version after trying out the perks you can enjoy from using it.
What Can It Do?
The tool is capable of downloading and converting the Spotify songs in just a few minutes. Because batch conversion is supported, you can input as many songs as you want. It has a very friendly user interface which makes it easy to navigate.
It also supports numerous output formats. The guide which you need to follow is as well simple. The best thing about this is that the DRM protected songs will be removed alongside the conversion process.
Do you want to use this tool? You can have it downloaded from the official website. The guide to the procedure on how you can use it can also be accessed from the mentioned website.
Part 6: To Wrap It All
You have seen all the Spotify Ad Blockers which you can use in either Windows or Mac computers, Apple devices, and even Android gadgets. These are the most recommended among the options which you will see on the web.
Apart from those Ad blockers, you can also have a way on how you can save all your Spotify favorites in one go. That is by using this DumpMedia Spotify Music Converter. This will let you keep all Spotify songs on your personal computer, and you can even have those shared with others since DRM protection will be removed as well.
What do you think? Are you to use the Spotify Ad Blockers or try this DumpMedia Spotify Music Converter? Let us know your thoughts by leaving it on the below section.