Life without music is totally boring. Thankfully, with technology's great advancements, we can now enjoy streaming songs just through our fingertips. Well, big thanks to amazing music streaming platforms like Spotify. The offline or online playing of tracks has been made possible. Now, you can enjoy any moment with the song you like as long as you have the app and a Spotify-compatible device wherever you go!
This post will be delving more into Spotify and this main topic – "Spotify downloader Mac". If you have seen how great the Spotify app is, probably, you are one of the million Premium account owners around the globe.
It's true that with a premium subscription, you can download tracks for streaming in offline mode. However, you should know that all those tracks you save will vanish the moment your subscription ended or got canceled.
Contents Guide Part 1. Can I Download Spotify Music to My Mac?Part 2. Top Free Spotify Downloaders on MacPart 3. What's The Best Spotify Music Converter on Mac?Part 4. Summary
Part 1. Can I Download Spotify Music to My Mac?
Before we head on to the list of those Spotify downloaders on Mac, we will first give you an idea of how downloading on Spotify will be possible through your subscription plan.
The Spotify application, the same as other music streaming platforms, is offering several subscription plans to its streamers. It actually has a student plan (the discounted one for students who are enrolled in universities), the individual plan, and the family plan. If you have a Spotify account and a subscription plan, one of the benefits that you can enjoy is downloading Spotify songs for offline playing.
In this portion, as mentioned, before we give you an idea of which Spotify downloader on Mac you can use, we will first briefly explain how downloading through your Premium Spotify account will be possible. Actually, the process is too easy.
Step #1. Of course, you need to log in to your Spotify account on your Mac computer. Make sure to provide the correct username and password to avoid any issue while signing in.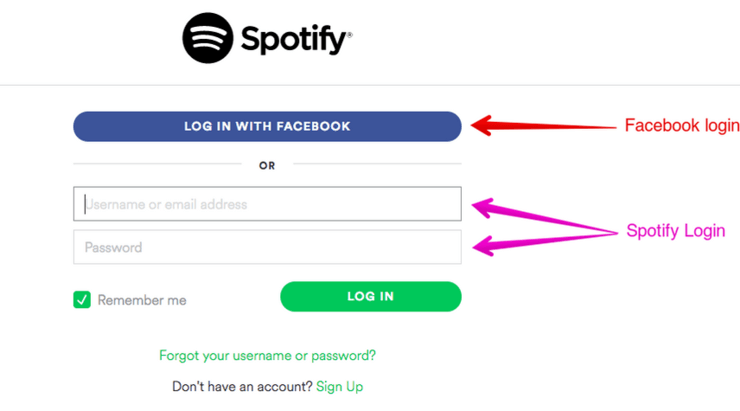 Step #2. Look for the playlist that you wish to download for offline listening.
Step #3. Right after clicking the playlist that you like; you will see a "Download" button at the upper portion of your screen. Toggle the slider to start downloading the songs under the chosen playlist. The green color signifies that the downloading is currently being done by the app.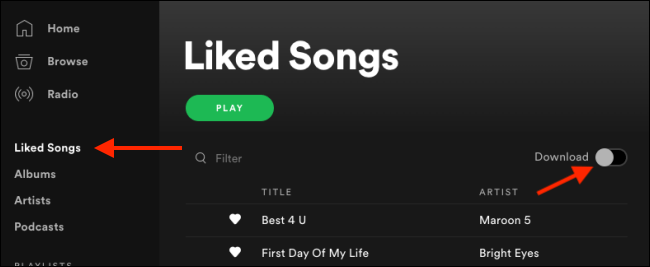 Step #4. Once successful downloading of the playlist has been done, you must be able to see the songs already available for offline streaming. You should also see a green symbol next to it signifying that it has been downloaded.
Here's a simple tip for you:
If you wish to see all the downloaded playlists on your Mac, just head to "Settings" then tick "Advanced Settings", and "Offline Songs Storage". You should be able to see the location of those you downloaded.
Now, what if you are using the Spotify app for free? What if you are worried that the downloaded songs will be removed right after your subscription ended? Well, find out more about the main topic of this post, "Spotify downloader Mac", to cast your worries away.
As you head to the next part, you'll see a list of Spotify downloaders on Mac. Perhaps, upon reading, you would be able to choose which Spotify downloader on Mac you can utilize.
Part 2. Top Free Spotify Downloaders on Mac
Surely, some of us would want to keep copies of our favorite Spotify songs. That will only be possible if you have tools or apps with you. In this section, we'll discuss more about Spotify downloaders on Mac. Compare each with another via the description we'll provide.
#1. iScream
One free Spotify downloader on Mac is this iScream. It's actually a recording app that is built to capture audios via the microphone (or any other input devices) to have them saved in either MP3, WAV, or AAC file format.
This is also easy to use but the process is a bit manual. You have to tap the "Start" and "Stop" buttons manually while recording. Also, ID3 tags can't be obtained. If you are thinking about the ads (if you happen to be using a free Spotify account), unfortunately, those can't be skipped.
#2. Audacity
The same with iScream, Audacity is as well a free recording audio software application. It can also be used as a tool for editing. Its advantage is it's free of use. However, it also has drawbacks that are the same as iScream. Additionally, using this isn't advisable for beginners since it has a complicated user interface.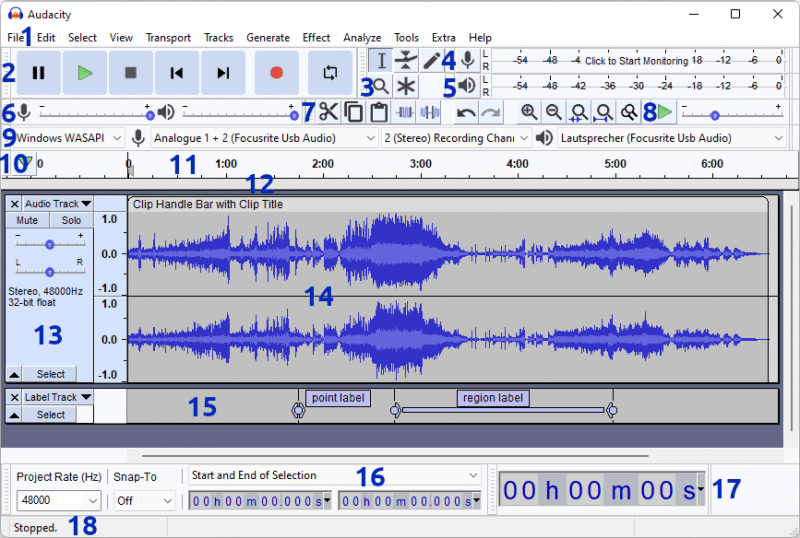 #3. AllToMP3
Apart from the first two, another Spotify downloader on Mac is AllToMP3. Apart from being able to download songs from the Spotify app, it also supports downloading from Deezer, SoundCloud, and even YouTube. Well, others are using AllToMP3 because it has an easy interface to deal with. Another remarkable with this free app is that you can keep the ID3 tags of the songs after downloading.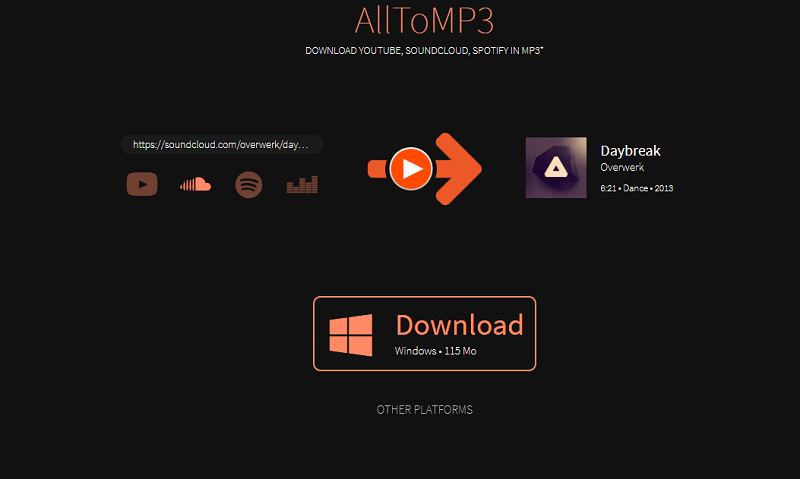 However, there have been reported cases that some users experienced having wrong downloaded songs. It must also be noted that it can only download the first 100 songs in the playlist chosen.
We are glad to share some free Spotify downloaders on Mac in this part of the article. However, since these are free tools, you might be disappointed about the drawbacks they have.
If you are just downloading a playlist or a song one-time and you are fine with an "average audio quality", it's truly recommended to just rely on free apps. However, if downloading is something you are looking to be done habitually, then you must think twice!
In the next part, you'll learn how to avoid disadvantages and limitations while trying to download Spotify songs or playlists.
Part 3. What's The Best Spotify Music Converter on Mac?
Though free Spotify downloaders on Mac are good, surely, with the limitations, you are still looking for a much better way. And that's what we have for you in this section.
Through the use of apps like this DumpMedia Spotify Music Converter, you'll be able to avoid any of the drawbacks mentioned in the second part. You can have the DRM protection of the Spotify songs removed to download any track and even have them transferred to another device you wish to use.
With this app, you can convert the Spotify songs into the output formats it supports maintaining 100% original quality, ID3 tags, and even metadata information.
It's also simple to use and the things you need to accomplish before installing this app on your Mac are only simple. To see the complete list, we suggest visiting DumpMedia's official website.
To give you a reference of how to use the DumpMedia Spotify Music Converter as a professional Spotify downloader on Mac, we have here the steps you need to follow.
Step #1. After completing the installation requirements, just install the DumpMedia Spotify Music Converter on your Mac computer.
Click to have a try! It's 100% secure!
Step #2. Immediately launch the app and then tick the "Open the Spotify Web Player" button. You have to input your Spotify account credentials.
Step #3. When you are at the Spotify page, just choose which playlist, album, or song you want to download. There is a green button at the left side of your screen, drag and drop the tracks there.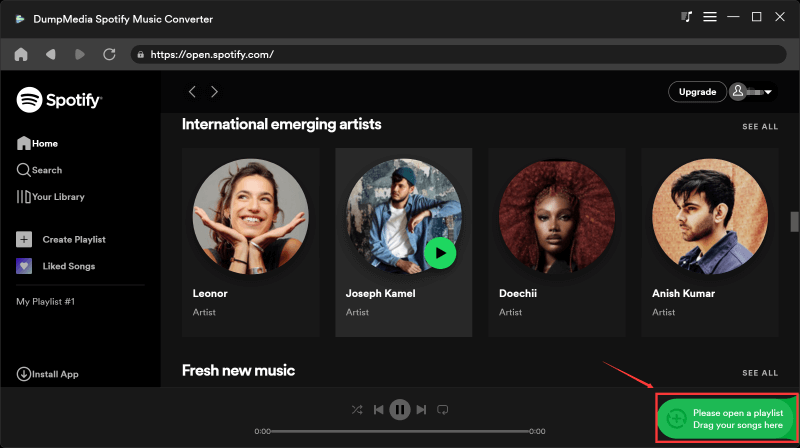 Step #4. Don't forget to specify the destination folder and the output format you want to use. There are options available so just choose whichever you like.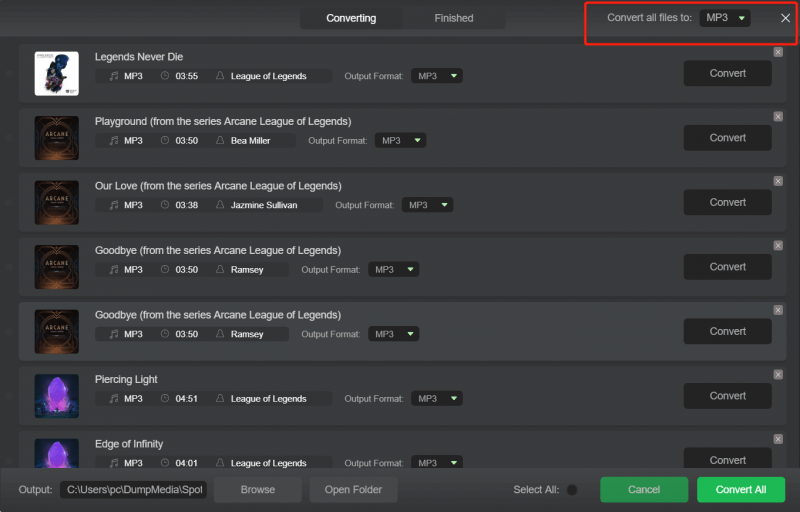 Step #5. Tap the "Convert" button and you're done! While the conversion is ongoing, the DRM removal process will also be done by the app.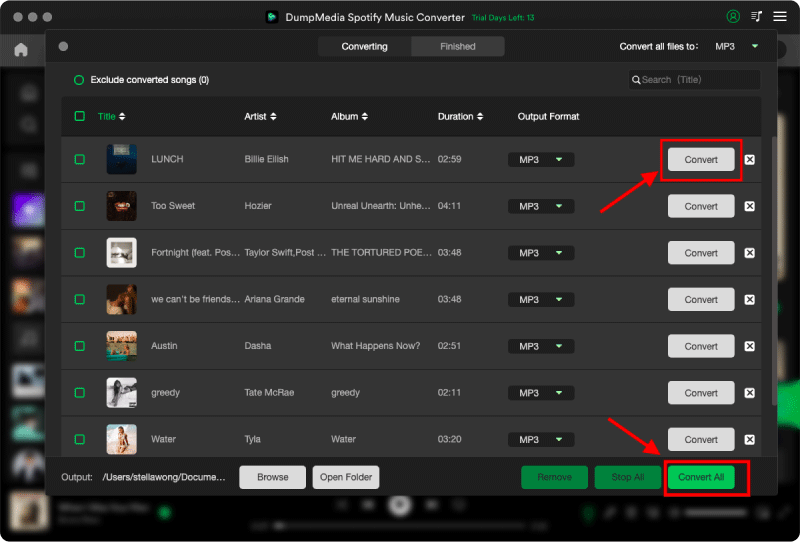 In a few minutes, you can see the converted files saved on your Mac. Stream them offline anytime!
Part 4. Summary
Now that you are at the last part of this post, we are glad that you have known more about this "Spotify downloader Mac" topic. Remember that free apps are good to use but if you wish to have better outputs and you wish to avoid drawbacks, relying on professional apps like the DumpMedia Spotify Music Converter is highly suggested.
Click to have a try! It's 100% secure!