"I find using Deezer convenient enough when streaming my favorite tracks. However, I wish to avoid paying the monthly premium fee. I recently read and learned about Deezer++. What can I benefit from using this?"
Deezer has now been recognized as one of the superior music streaming platforms like Spotify and Apple Music. This is a platform that is also offering free and premium plans to users. Of course, the Deezer Premium users who are paying the required monthly fee are entitled to enjoy the app's exclusive features – high-quality audio streaming, no ad interruptions, offline streaming, and more.
The same as the other music streaming apps, Deezer also has several available subscription tiers that are priced differently. If you are totally fine with subscribing to one of Deezer's paid plans, there should not be any issues. However, if you feel like paying the monthly fee is quite a burden, looking for a way to enjoy the perks of a Deezer-paid account without spending any penny is then a must! Well, knowing about Deezer++ could possibly be the answer! And, this is what we are to discuss in this post! If you wish to know the basic details about Deezer++ and how you can get and use it, make sure that you will read all the sections of this article!
Contents Guide Part 1: Deezer++ IntroductionPart 2: How to Get and Use the Deezer++ AppPart 3: The Best Deezer++ AlternativePart 4: More Ways to Enjoy Deezer Premium for FreePart 5: Summary
Part 1: Deezer++ Introduction
Deezer++ is actually the tweaked version of the Deezer app. This is a modified version of the app that makes a user enjoy the same features that the Deezer paid plan owners are enjoying without needing to pay subscription fees! You can download the Deezer++ on platforms like AppValley or TutuApp.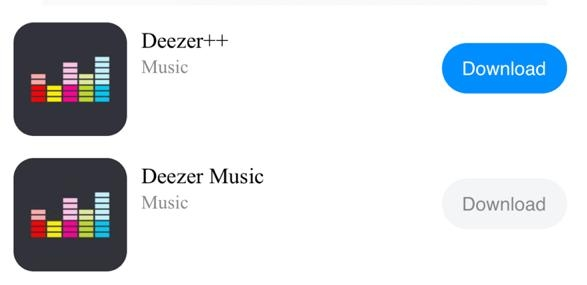 To check out the benefits you can get from using Deezer++, you may refer to the below.
You can stream as many songs as you like via Deezer++. The tracks are even categorized based on popularity, the language used, and many other different factors.
You can also enjoy ad-free streaming. Thus, ensuring that your music streaming experience won't be interrupted.
This tweaked version also has a simple interface that can be managed and handled by everyone. The streaming is totally smooth and clean!
Suggestions for new tracks to listen to will also be displayed on the Deezer++ app.
The audio quality of the tracks is also good enough.
You can enjoy unlimited skipping and no forced shuffling.
Streaming in offline mode is possible as well. You can download and stream as many famous Deezer songs, albums, or playlists as you like.
If using Deezer++ seems appealing to you, then you should now know how you can finally get and use it. We have the details in the second part for your reference.
Part 2: How to Get and Use the Deezer++ App
As previously mentioned, you will know how you can get and finally use the Deezer++ app by reading this section of the article.
If you are quite worried that the Deezer++ app is not safe to use, you don't have to think that much. It is totally safe and installing it won't cause any issues. With this being installed on your device, you can get to stream more than 50 million tracks making your music listening experience an amazing one.
Here is the detailed procedure of how you can enjoy Deezer Premium for free on your iOS device via the Deezer++ app.
Step #1. On your device, launch the browser you prefer using. This is where you can download a third-party app store like TutuApp for iOS gadgets. Once you saw it, tap the "Install" button to proceed with the installation process.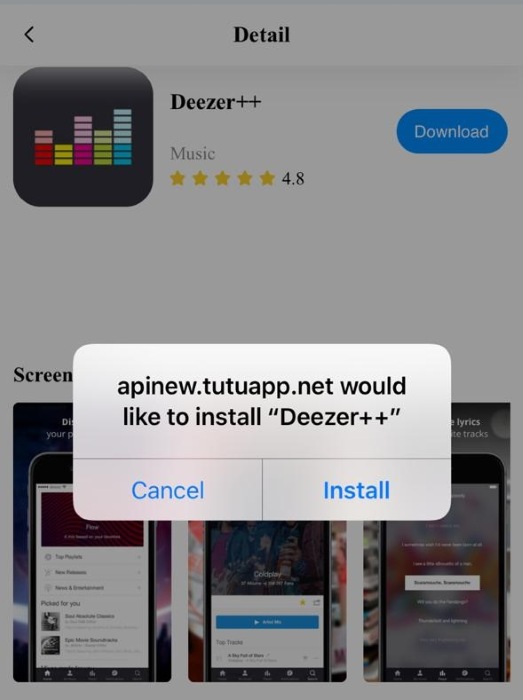 Step #2. After the complete installation, choose the "Settings" button. To proceed, the TutuApp must be known and enabled as a "trusted app". Click the "Profile & Device Management" option to do that.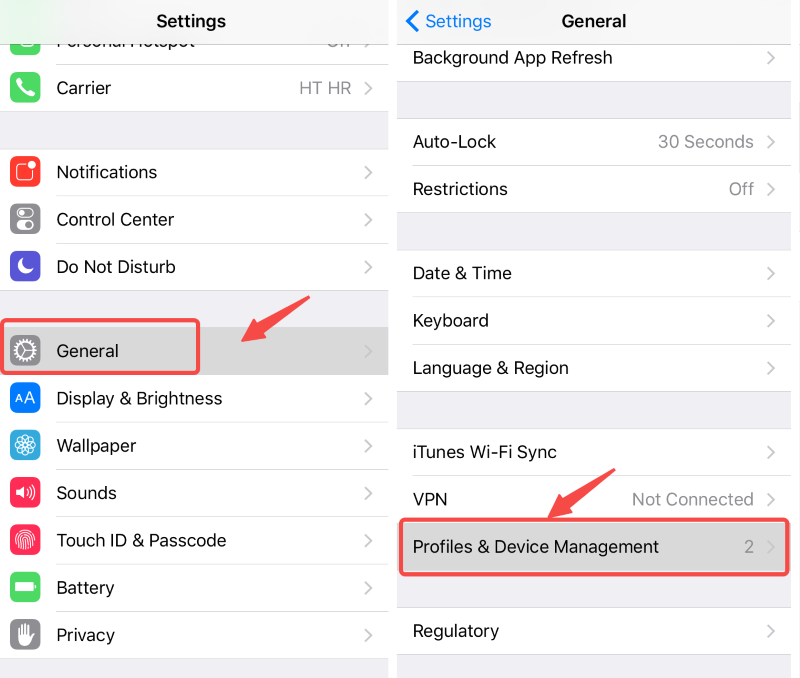 Step #3. Once you are done with the second step, open the TutuApp, and then look for Deezer++. You shall see an "Install" button next to it. Tap it to continue with the installation of Deezer++ on your iOS device.
Step #4. You have to go to "Settings" and then to "Profile" and "Device Management" menus to also enable and trust the Deezer++ app. Once this has been done, you should now be able to enjoy streaming your Deezer favorites the same way as you stream them using a premium account.
As simple as following the above procedure, you can get to enjoy listening to your Deezer favorites without thinking of paying any fee! Indeed, the use of the Deezer++ app is an advantage.
Part 3: The Best Deezer++ Alternative
Though there has been an assurance that the use of the Deezer++ app is safe, some users would still worry about using it since it is still a tweaked version. If you would wish to enjoy your Deezer favorites without thinking about anything, you are probably looking for the best Deezer++ alternative.
You should know that you can actually keep copies of your Deezer favorites without worrying if viruses could harm your devices or not. The use of trusted apps like the DumpMedia DeezPlus is the answer! With this app, there are lots of benefits you can even enjoy. Here is a quick summary of this app's features for your reference.
You can back up all your Deezer music favorites with the help of DumpMedia DeezPlus as it can aid in the downloading process allowing you to access them on any device or media player you wish to use.
This app does the conversion of Deezer tracks, albums, as well as playlists so you are able to listen to them in offline mode on any gadget you prefer.
This professional tool supports various output formats such as MP3, FLAC, WAV, and M4A. So, compatibility isn't a problem at all.
DumpMedia DeezPlus has advanced decryption technology helping you convert the songs at a fast speed of 4x compared to other apps.
All the ID tags and metadata information as well as the original quality of the songs will totally be preserved. Losing information won't happen at all!
There are also some advanced features that you can enjoy by using the app. The app is multi-language. This is currently available in 3 languages. It also has settings that are customizable. Moreover, you won't have any issues with file uploading since dragging and dropping files during uploading is supported.
Of course, this app's interface was designed to be simple enough to let anyone use it with ease.
Now that we know a lot about the DumpMedia DeezPlus, it is now the time to present you the detailed step-by-step procedure of how you can use this to convert and download copies of your Deezer favorites.
Step #1. Ensure that you met all the installation needs of DumpMedia DeezPlus. Proceed with the installation of the app on your PC afterward. Launch it right away, and then start dragging and dropping the Deezer tracks, albums, or playlists into the main page of the app.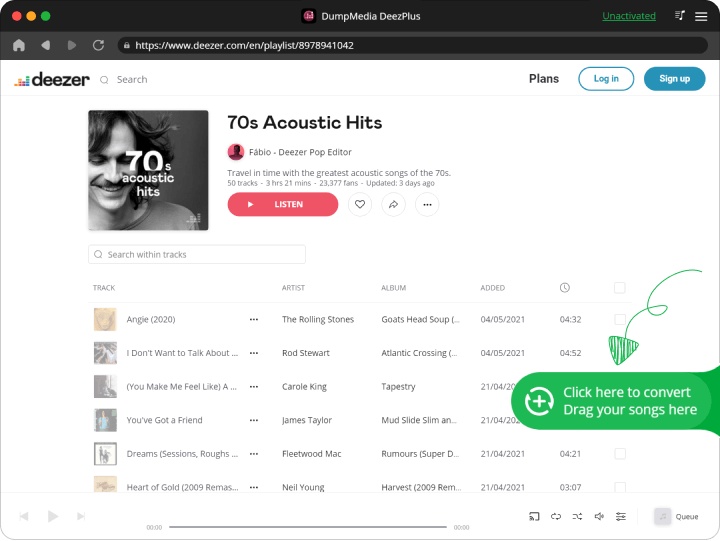 Step #2. Choose an output format that you wish to use (from the list of supported file formats). Using MP3 will always be a good recommendation.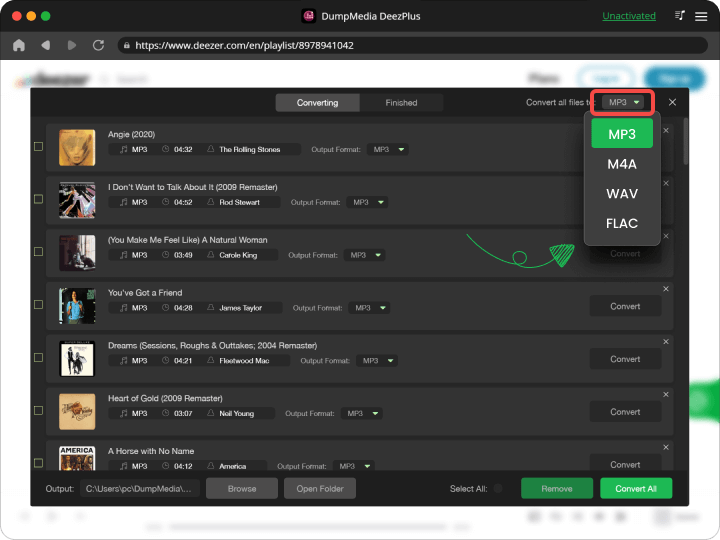 Step #3. Once you are all good, click the "Convert" button that is at the bottom of the screen. By doing so, the app will then start converting the uploaded files.
Since the app works pretty fast, the converted Deezer tracks shall be available within just a few minutes.
Part 4: More Ways to Enjoy Deezer Premium for Free
Apart from using the Deezer++ software, there are also other methods of enjoying Deezer Premium for free. Here are some of those.
Actually, you can also take advantage of the free trial offer that is being advertised by the app. This can be enjoyed within 1 month or 30 days. All you have to do is to sign up.
Since Deezer++ can only be installed on iOS devices, Android users can also check out equivalent apps for them. Freezer APK is a good example.
You can also enjoy the perks of the Deezer premium through gift cards received from friends or loved ones.
Part 5: Summary
Using the Deezer++ app is indeed an advantage for iOS device users as they can enjoy the exclusive features offered to Deezer premium account owners without paying any fee. For other users, they can also check out some other methods such as those mentioned in the previous part. Moreover, if users would wish to keep copies of their Deezer music favorites for playing on any type of device or media player, they can take advantage of the DumpMedia DeezPlus.