"How do I download and transform Deezer to MP3 format?"
It is normal for Deezer and other popular music streaming platform users to look for ways how they can keep their favorites accessible in offline mode or even after getting their subscription canceled. In the case of Deezer subscribers, those who are currently enjoying the downloading and offline streaming perks. The only drawback is that those can only be accessed within the app itself.
To get the Deezer tracks accessible on any device and even without an active subscription, the best thing to do is find ways how downloading Deezer to MP3 format will be possible. Fortunately, when browsing through the web, several options and workarounds will surely be displayed.
Let us begin by presenting you with the official method in the first part.
Contents Guide Part 1: How to Convert Deezer to MP3 [Official Way]Part 2: How to Convert Deezer to MP3 [Best Way]Part 3: Other Ways to Convert Deezer to MP3Part 4: Summary
Part 1: How to Convert Deezer to MP3 [Official Way]
Before we head to the other different methods to download Deezer to MP3, we will first share here how the downloading can be done via the official way (for users with active Deezer subscriptions).
Downloading Deezer Tracks on Mobile Devices
Step #1. Launch the Deezer app and head to the "Favorites" section.
Step #2. Choose the "Music" button to see the list of the tracks under your favorites section that you might want to consider for downloading. You can also tick the "Podcasts" button in case you are looking at downloading your favorite podcasts.
Step #3. To start the downloading process, you just have to tick off the slider next to the "Download" menu. In a few minutes, the selected content shall be available for offline listening.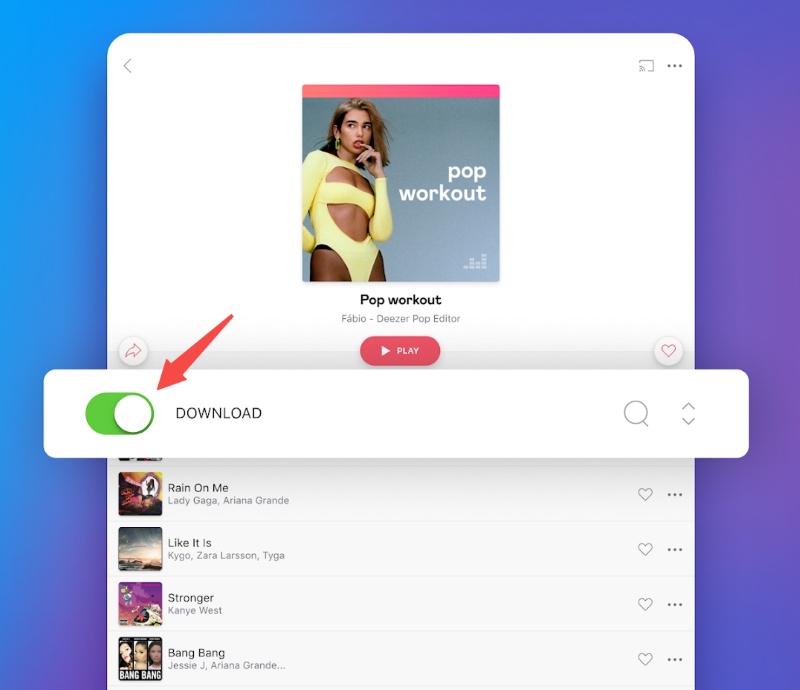 Downloading Deezer Tracks on Desktop
If you are to use the Deezer app on your desktop, to download your favorites, all you have to do is just go to the album or certain playlist, and just click the "Download" button on the page.
Take note that all these songs that are downloaded using your Deezer subscription can only be accessed as long as your subscription is active. The tracks are in an encrypted format so you can't have them played outside the app.
Part 2: How to Convert Deezer to MP3 [Best Way]
As we have previously mentioned in the introduction part, there are bunches of ways to download Deezer music and convert Deezer to MP3 format. Before we head into the list of those, we are glad to share first the best method we know. And, in this section, that will be discussed.
From reading the first part, you surely understood that without the subscription, downloading Deezer songs might seem impossible. Plus, they are in encrypted formats so playing them outside the app can't easily be done. Well, worry no more as there are apps like the DumpMedia DeezPlus that can get these problems all sorted out for you. Here, we will be focusing on how effective the DumpMedia DeezPlus is when it comes to handling the downloading of Deezer to MP3.
The DumpMedia DeezPlus has the ability to aid in the downloading process of Deezer tracks and getting them transformed to any of its supported formats such as MP3. This is fast enough to complete the conversion process within just a few minutes letting the user save time. The conversion that would be done by this app is totally lossless as well so the ID tags and all metadata information including the original quality of the tracks will be preserved. There are also advanced features that can be enjoyed by the users.
Of course, the app was designed to ensure that even beginners shall be able to handle the conversion without any issue. For everyone's reference, here is also a guide to converting and downloading Deezer to MP3 via the DumpMedia DeezPlus.
Step #1. Once the app has been successfully installed on your PC, launch it right away. The process shall the moment you add the Deezer songs to be converted. Dragging and dropping them would be the best way to upload the songs.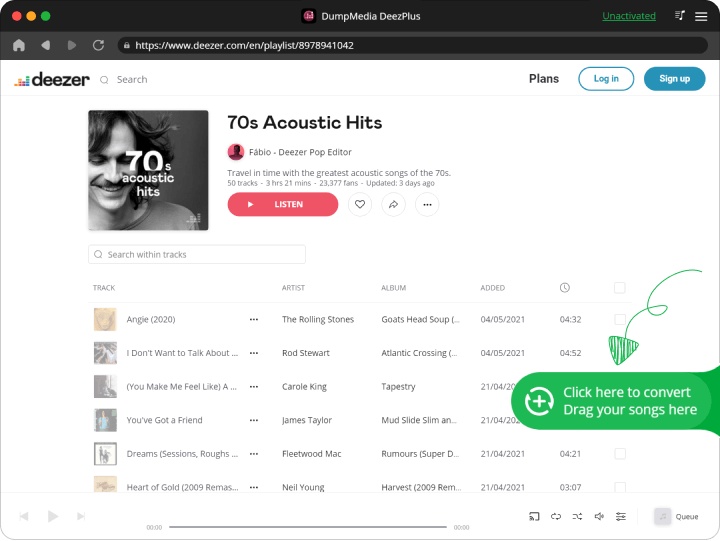 Step #2. As we are aiming to download Deezer to MP3 format, make sure to select MP3 as the output format desired.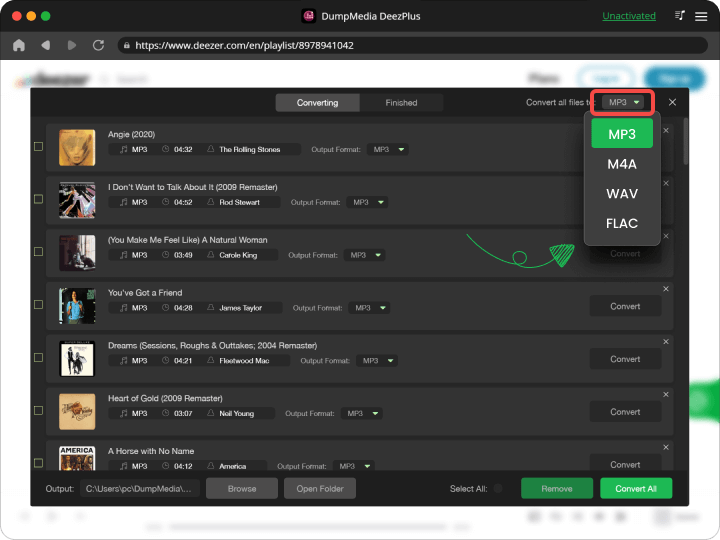 Step #3. The conversion shall start once the "Convert" button at the bottom of the screen has been clicked.
Within a few minutes, the MP3 versions of the selected Deezer songs shall be made available. These can now be accessed offline on any device. Android users can just drag the tracks from their PC once they have their devices connected via a USB cable. Those iOS users can use the iTunes app during the transfer.
Part 3: Other Ways to Convert Deezer to MP3
Apart from sharing with you the best way to download Deezer to MP3 in the second part, of course, we will also share other methods just in case you would wish to check them out. We have a list here that you can use as your reference.
Online Methods
You might be surprised, but there are actually some online methods that you can try. However, if you'll rely on such methods, you have to ensure that your PC has been connected to a stable network to avoid issues.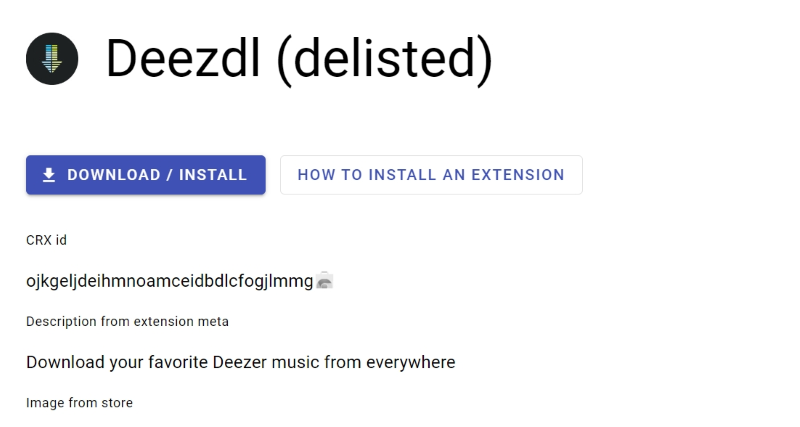 One of the online methods of downloading Deezer to MP3 is via the use of Chrome extensions such as Deezdl. All you must do is launch your Google Chrome browser, head to the web store, and just look for Deezdl to install it. Once this has been installed, the Deezer web player shall be shown. Just locate the tracks you'd like to download and tap the "Download" button. Those should be saved as MP3 files.
Apowersoft Online Audio Recorder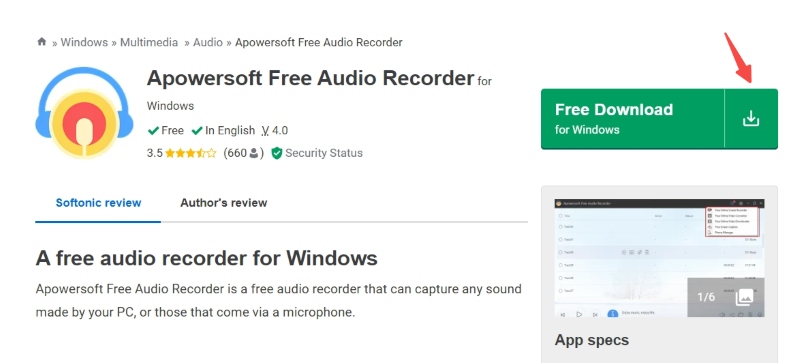 Another online tool that is also free to use is Apowersoft Online Audio Recorder. Unlike the first one, this is a recorder that can capture any audio from your PC (not only those from the Deezer app). Here is also a quick guide for your reference.
Step #1. Visit this app's official website. Right away, you shall see the "Start Recording" button. Tap it.
Step #2. A launcher will be needed to be downloaded and installed. Choose "System Sound".
Step #3. Head to a playlist on Deezer and play it. Tap the "Start" button on Apowersoft to start recording the audio.
Step #4. Once the recording has been finished, all you need do is to click the "Stop" button.
Mobile Tools
If you have been wondering if there are ways to download Deezer to MP3 directly to your mobile devices, you will surely be glad to know that there are indeed existing methods and tools you can use. Some will be mentioned here.
Telegram is a platform wherein you can find several bots for different music streaming platforms including Deezer, of course. This can be installed from the Google Play and Apple Store and can be used on both Android and iOS devices. All you need to ensure is that you will be able to download and install the Deezer music bot. Once done with that, you would need the link of the Deezer playlist as well, and then head back to Telegram to tap the "Start" option. The downloading shall begin once the link has been posted.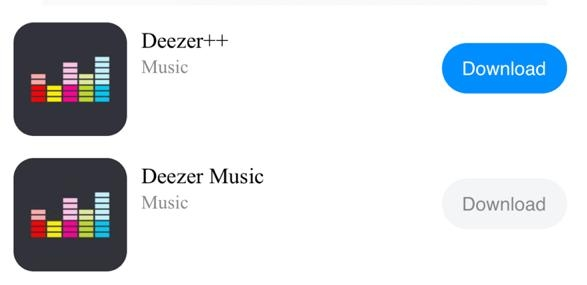 You can also use tweaked versions of the app such as Deezer++. This can be found on Siri Shortcuts but is only available for iOS users. With this app, downloading Deezer to MP3 can easily be done as well as enjoying all the other exclusive perks of a premium subscriber. Here is also a guide that you can use as a reference.
Step #1. Run "Shortcuts" and then look for "Deezer++".
Step #2. Look for the playlist to be downloaded on your music library and just copy the link.
Step #3. Paste this copied link into the "Search" bar to load the tracks.
Step #4. The download shall begin once the "Download" button has been tapped.
Apart from these 2, there are still other tools that can be used to download Deezer to MP3 format.
Part 4: Summary
Downloading and converting Deezer to MP3 format is indeed a very easy task to do. Though Deezer premium account owners can download songs for offline streaming, their ability to access the songs on any device is still limited. Fortunately, there are great apps like the DumpMedia DeezPlus that can easily aid in the process.