Today we're going to be talking about Amazon Prime Music. If you're like me, you don't have time to wait for a song to download. You want it now. That's why I'm so excited about this service.
Do you wonder how to let amazon music download to phone? Amazon Prime Music is one of the best streaming music services that allow you to download songs and playlists for offline listening. It's a great way to listen to your favorite tunes without using up your data or having to be connected to Wi-Fi. In this article, we explain how you can download music from Amazon Prime Music and listen to it later.
Ever since the launch of Prime Music, Amazon has been offering access to millions of songs from artists both new and old. There are over two million songs in the library, so there's plenty of variety for everyone. You can listen to these songs on your computer or mobile device as well as through Alexa devices such as the Echo Dot or Echo Show.
Contents Guide Part 1: How to Download Amazon Music to Phone for Offline PlaybackPart 2: How to Download/Convert Amazon Music Songs EasilyPart 4. Summary
Part 1: How to Download Amazon Music to Phone for Offline Playback
Amazon Music's offline mode is the perfect way to listen to your favorite songs and albums while you're on the go. You can download music and playlists to your phone so that you can enjoy them even if you don't have an internet connection.
There are two ways to store Amazon Music download to phone: by downloading individual songs or downloading an entire album. And this cannot be done if you do not have Amazon Unlimited.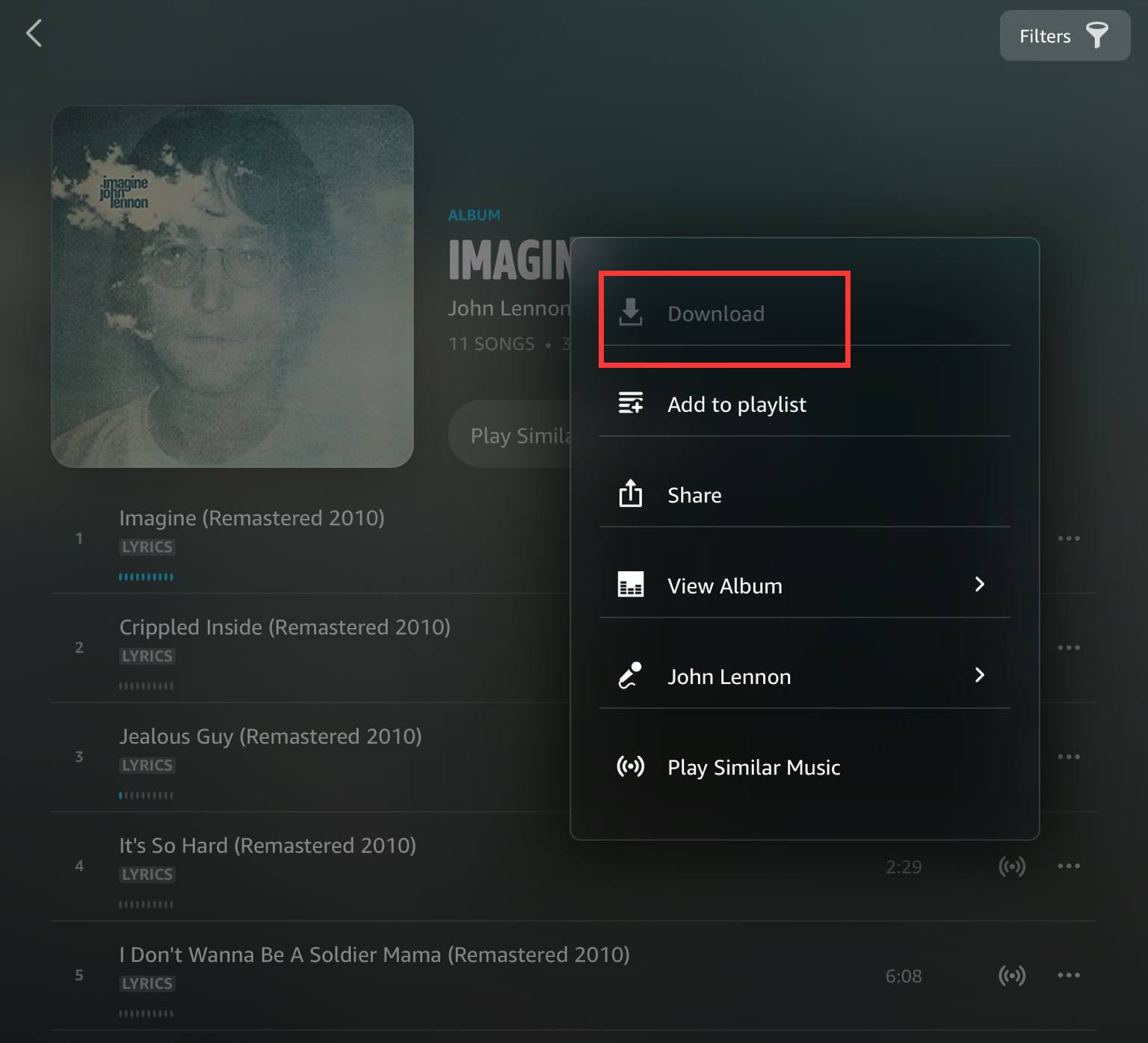 To download individual songs, open up the Amazon Music app on your phone. Select the song you want to download and tap the menu button in the top-right corner of your screen (three horizontal lines). Then select Download from the menu options that appear. The song will begin downloading immediately, so be patient! Once it has been downloaded, it will appear under Your Music Library in Your Library tab within the My Library tab.
To download an entire album, open up the Amazon Music app on your phone. Select an album from its corresponding genre or artist page; this will take you into the album's full track list—which includes all of its songs and any bonus tracks associated with those songs—and then tap on each song individually until they are all selected (which will be indicated by a check mark). Then tap on Download.
Open the Amazon Music app on your iPhone or iPad.
Tap the hamburger icon in the upper-left corner of the screen, then tap Settings.
Scroll down and tap on Download to device under the Cloud tab.
Go back to Settings, then tap Downloads under Cloud storage.
Select All downloads and tap for all devices at the top right corner of this page so that it turns blue. This ensures that all your downloaded music is available on all your devices associated with your account.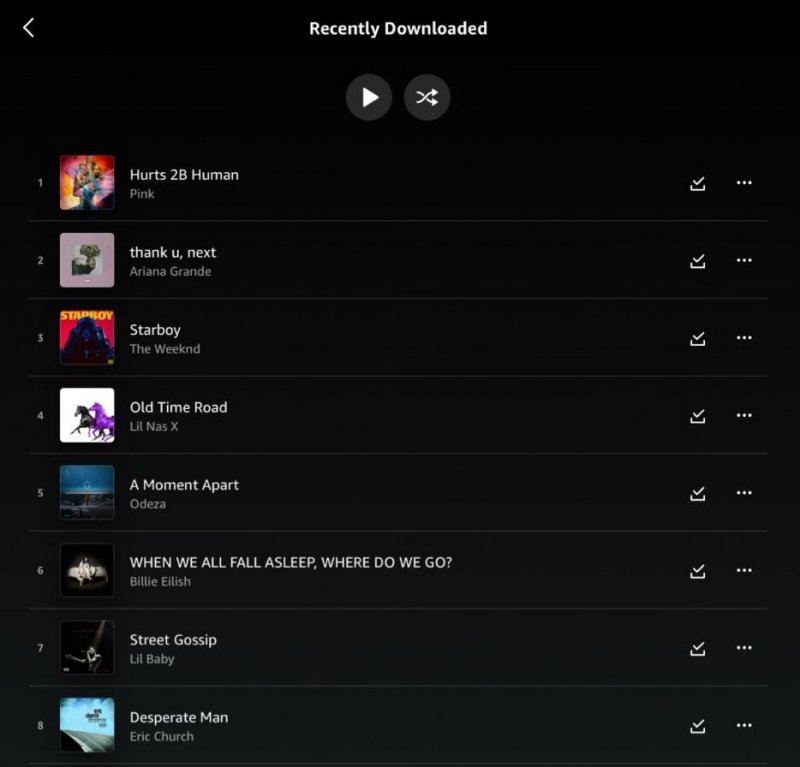 Part 2: How to Download/Convert Amazon Music Songs Easily
Amazon Music is a music streaming service that provides users with access to millions of songs. Users can listen to songs before buying them and can download them for offline listening. Saving Amazon Music download to phone also allows users to create playlists and add songs to their library. However, you cannot download music from Amazon Music directly on your phone. You have to use a third-party app or converter tool instead. This part will teach you how to do that with DumpMedia's Amazon Music Converter.
You may want to try this program if you are looking for a good tool that allows you to download or convert Amazon music songs easily. It is one of the best tools available out there today because it has a simple interface that makes using it very easy for anyone who wants to convert their favorite songs from Amazon music service into different formats so that they can play them on their devices without any problem.
In this part of the guide, we will show you how to convert and download Amazon Music songs to MP3 files easily. The process is simple, but it depends on your device. If you want to download a song from Amazon Music on your computer, then this guide is for you. You can use DumpMedia music converter to get the job done. Here's how it works:
Step 1: Download DumpMedia Amazon Music Converter from their website. Install the software on your computer and run it by double-clicking on the icon that appears after installation is complete.
Step 2: After installing the software, open it and begin adding Amazon Music tracks to convert. Drag and drop the music to the main interface for quick uploading.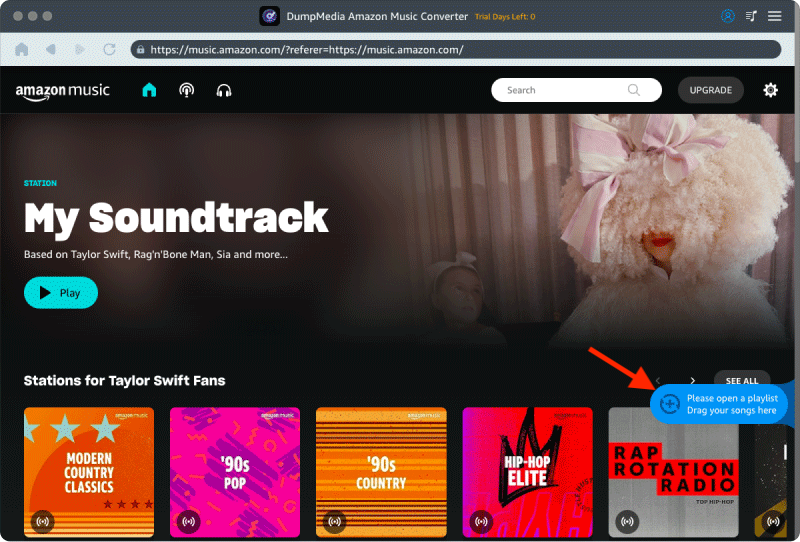 Step 3: Set the output settings to your liking. It is critical to note that the output format and output folder must be specified, making it easier to locate your Amazon Music Download to phone.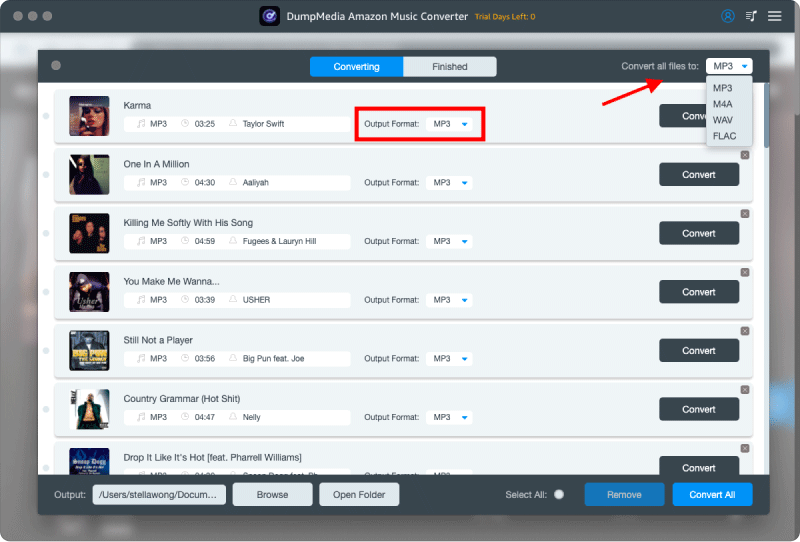 Step 4: Once the scanning process is complete, a list of files will appear in the main interface, with all their details such as artist name, song name, album name, etc. Just click "Convert" button to start downloading them one by one or batch converts all of them at once to MP3 or M4A audio formats.
That's it! You're done! Your converted music will be saved as MP3 files in your default music folder on your device (usually Documents/My Music).
Part 4. Summary
Downloading Amazon Music to Phone is a comprehensive solution for anyone who wants to transfer their music from Amazon Music to their phones. It's an excellent Amazon Music downloader and converter and has all of the features you need to get your music from your computer onto your mobile device.

This article has explained the benefits of using DumpMedia's Amazon Music Converter to convert amazon music download to phone. You can use this program to convert songs in your Amazon Music library to MP3 format and store them on your computer or mobile device. The software works with Windows and Mac OS X, so you don't have to worry about compatibility issues.
DumpMedia Amazon Music Converter is a great option if you're looking for a free way to convert files on your computer. This program allows you to easily transfer files from Amazon to any device of your choice, allowing you to listen to all of your favorite tracks no matter where you are. You may download the app right now and begin converting your music!