Windows Media player or WMP, is the default built-in media player for Windows Computers made by Microsoft. WMP is used for playing videos, audios, DVD and it can even view images. Basically, it handles all the media related content on your computer.
With that being said, it seems that from time to time, Windows Media Player is having a hard time with playing files that are located on DVD. You may encounter this prompt message saying "Windows Media Player won't play DVD". This issue may sometimes be very hard to resolve.
But there are some solutions that can help you. Here are some of the possible causes and also the solutions to this issue that you have encountered.
Contents GuideHere Are the Solutions to Fix Windows Media Player Won't Play DVDOther Solutions You Can Try for Windows Media Player Won't Play DVDConclusion
Here Are the Solutions to Fix Windows Media Player Won't Play DVD
Clean Dirty Disc
We cannot sometimes recognize the problem of why Windows Media Player won't play DVD, but sometimes we ignore the fact that our disc is just dirty. So we need to make sure that the disc is not just clean but also not broken. DVD drives cannot read dirty and scratched DVD.
Install Proper Codecs
Frankly speaking, most of the time, the real problem is with the Codec. Whenever you encounter such issues, it is often caused by digital copy protection with commercial DVD. Codec is software that decodes the material on a DVD. Newly created DVDs are usually installed with copyright protection software. This software prevents you from playing DVDs on a normal format. So decoding needs to be done before you can play a DVD and a Codec is needed.
You can try to solve this problem in a simpler and easier way. You can look for the problems on Windows Media Player DVD troubleshooter. You just need to:
Go to Control Panel
Select the 'Troubleshooting' button
Choose 'All Categories' or 'View All'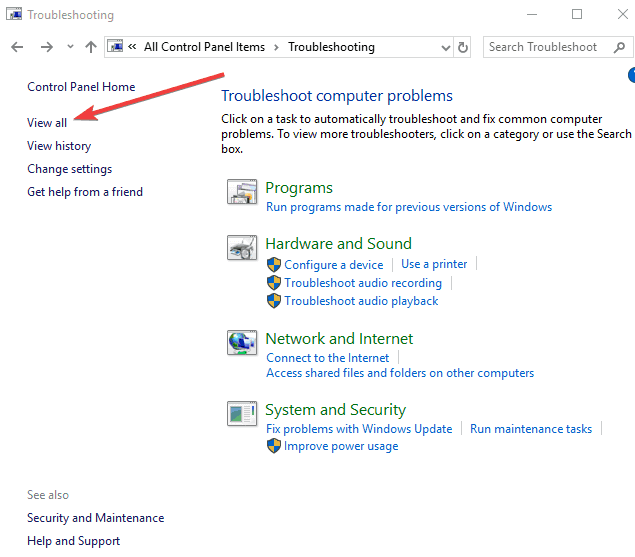 There are a lot of Codec packs you can look for on the internet. You can try to look for the Codec Pack that has reviews. In that way, you can properly choose what Codec pack you want to use.
Once you have successfully installed a proper Codec Pack, you just have to reboot or restart your computer in order to apply the changes. Then you can open the Windows Media Player by searching it on the Start menu. Once you open the Windows Media Player:
You will notice the 'Organize' button located at the upper left window, navigate your cursor to that button then click 'Options'.
You can now see the DVD tab and then select the 'Advance' button.
Following this process, you can see the Codec Pack you have installed.
You should remember that when you play a file from a DVD, you cannot set a default Codec to be used. Codec packs are sorted by priority so it is advised and it is much easier to uninstall another Codec pack which you may have. Uninstalling other Codec Pack will reduce conflicts on your Windows Media Player.
Uninstall and Re-Install Windows Media Player
Probably the most practical and logical move you can do is to re-install the program. To re-install Windows Media Player, you just need to:
Go to Control Panel. On the search bar located at the upper right corner of the Control Panel window, type in 'windows features' and hit 'Enter'.
Navigate to the 'Media Features' and then you can see the 'Windows Media Player' as you expand the list.
Select or uncheck the 'Windows Media Player'.
Reboot or Restart to save changes on your computer.
Do the same process by going to Control Panel and back to the Windows Features.
Check again the dialog box of the Windows Media Player. This will method will initiate the re-installing process.
Reboot or Restart your computer again to save changes.


Rip DVD to Windows Media Player
You may notice that Windows 8 and 10 does not support DVDs anymore. The reason for this is because of the licensing fee. In that case, Windows Media Player cannot play DVDs on Windows 8 and 10. In this solution, you will need a DVD converter that can convert DVD to other files that are supported by Windows Media Player. You can search for a tool or software that can rip and supports all the Windows Media Player supported file. Ripping DVDs, to some people is a complicated solution, but others think that it is very effective.
But you need to remember that if you rip the DVD to another format and try to play it on Windows Media Player, you may notice and hear audio but there are no video displayed. This is because of the video codec that is not installed. For this, you will need to install an extra codec pack just to solve this problem. So if you rip DVDs, it is strongly advised to choose WMV format. This format is supported by Windows Media Player because it is developed by Microsoft.
Other Solutions You Can Try for Windows Media Player Won't Play DVD
The procedures mentioned above should already solve the issues you encountered with Windows Media Player App. But you can also try these options in any case you are still having problems with the app.
Remove or Uninstall Suspicious Tools – Tools or software that involves DVD, audio or video editing, or sometimes new updates installed you are unaware of.
Sound and Video Drivers Update – Updating drivers is one of the methods you can try if you encounter issues with Windows Media Player, especially issues that seem to have unknown reasons.



Improper Setting in your Player – Sometimes, you encounter issues with Windows Media Player just because of improper settings. You can adjust the setting of the windows display and lower the quality and screen resolution.
Conclusion
If you encounter problems with Windows Media Player, you can always try the solutions mentioned above. If the problem still occurs, and it seems that you can't find any solution to the issue with Windows Media Player, you can try and install other Media Players on your computer as an alternative. But this option should be your last priority because the solutions and procedures discussed earlier will definitely solve your problem.