If you're one of the Apple fans, you wouldn't want to miss the newly released mobile phones one of which is the iPhone 7 (Plus). If you have one of these then you're one lucky guy. However, do not be overly filled with joy because iPhone 7 cannot support the playback of all audio and video media files. Moreover, you'll also have problems when sharing unsupported iPhone 7 video formats.
So it is needed to convert these unsupported media files to an iPhone 7 video format for playback and from an iPhone 7 format to other formats for sharing on your social media accounts. Wondering how you can solve these incompatibility issues? Keep on reading to know more! But first, let us discuss the supported formats of the iPhone 7 and the common reasons why these incompatibility issues occur in the next two sections.
Contents GuidePart 1. iPhone 7 Supported Video and Audio FormatsPart 2. iPhone 7 Video Incompatibility Issues and Why They OccurPart 3. How to Converter iPhone 7 Unsupported Videos Formats With LosslesslyPart 4. Conclusion
Part 1. iPhone 7 Supported Video and Audio Formats
Supported Video Formats
#1 H.264 Videos
Up to 60 fps and 1080p resolution
AAC-LC audio (High Profile, 48 kHz, 160 Kbps)
Stereo audio
MOV, MP4, M4V formats
#2 MPEG-4 Videos
Up to 30 fps, 2.5 Mbps, and 480p resolution
AAC-Lc audio (Simple Profile, 48 kHz, 160 Kbps)
Stereo audio
MOV, MP4, M4V formats
#3 M-JPEG (Motion JPEG) Videos
Up to 30 fps, 35 Mbps, and 720p resolution
Ulaw audio
Stereo audio (PCM)
AVI format
#4 HEVC Videos
iPhone 7 is equipped with A10 chip that can support HEVC videos.
Thus, if you are planning to stream unsupported formats on your iPhone 7 such as AVCHD, M2TS, MKV, WMV, AVI, and FLV, you should convert this to M4V, MOV, and MP4 formats. This will be discussed later.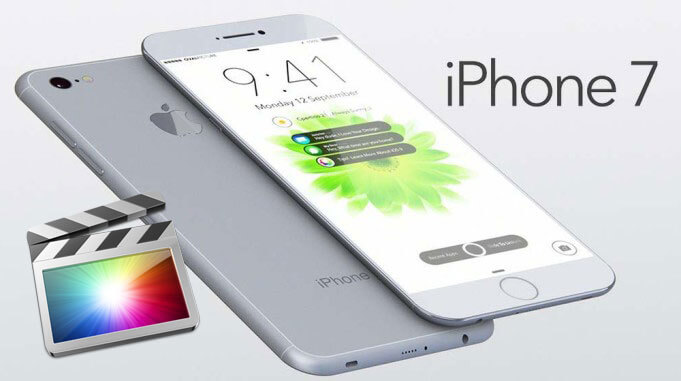 Supported Audio Formats
MP3 (Min 8 Kbps, Max 320 Kbps)
AAC
Protected AAC
HE-AAC
MP3 VBR
Apple Lossless
WAV
AIFF
Audible (AAX; AAX+; Enhance Audio; 2, 3, and 4 formats)
Part 2. iPhone 7 Video Incompatibility Issues and Why They Occur
Sometimes, you will have trouble when playing or sharing iPhone videos because of iPhone's limited library of formats. When your video is not compatible, you will likely run into the following situations.
#1 Unsupported Video Format Error
Some iPhone users complain about this unsupported video format error even if they are playing iPhone-compatible formats such as MOV on their phones. Since MOV is included in iPhone's supported extensions, users become confused about why they are not able to play it properly. So let us check out why this problem occurs.
Reason 1. Newer Video Formats or Incompatible Codecs
AVI, MP4, and MOV are containers and not codecs. This means that these containers can contain various codes aside from M-JPEG, MPEG-4, H.264, and H.265. That is why even if the file extension is supported by the iPhone, your device will still have problems playing them. Moreover, some video formats can only be played using the newly released iPhones. For instance, Dolby Vision and mobile HDR 10 formats can only be handled by iPhone 8 onwards.
Reason 2. Corrupted Video
This is another reason why your video becomes unsupported by your iPhone. While iPhone devices are popularly used in storing videos and movies offline so that users can watch them without an internet connection, not all videos downloaded online can be handled by iPhone especially those that came from untrusted sources.
Reason 3. Higher Resolution
Even if you can play HEVC videos on all iPhone devices that run on iOS version 11 and later, this does not mean that you can play all resolutions. Older iPhones do not support the playback of 4K videos. Moreover, no iPhone device supports 5K videos and higher. Some iPhone devices have maximum allowed resolutions. So when you play a video with a higher resolution on your phone, the resolution will be converted to 2K but can still cause stuttering playback.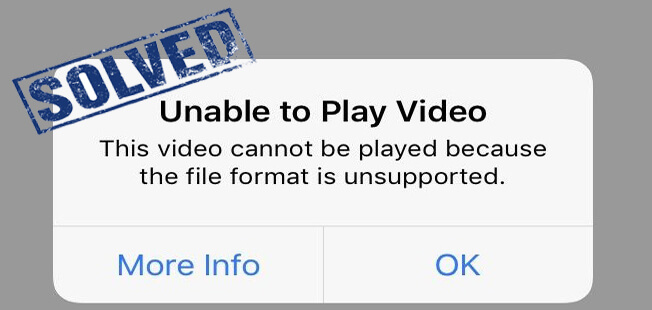 #2 Unable to Share Recorded Videos from iPhone
If you are not able to upload or shared your recorded videos on the iPhone, this may be caused by the following 2 reasons.
Reason 1. Too Large File Sizes
HD and 4K videos are too big even if they are in the HEVC format. Moreover, most email and social media services have strict video file size limits. For instance, one iPhone video minute at 30 fps 4K can reach up to 300MB but WhatsApp only allows up to 16MB.
Reason 2. Limited HEVC Compatibility
HEVC is a great recording format for iPhone videos because the videos recorded in this format are half smaller than H.264 but still with the same great quality. But, the support for HEVC is limited because of royalty requirements regarding the patent. For instance, WhatsApp and Instagram do not support HEVC format.
With all of these problems, you may be wondering if there is still a way to solve these incompatibility issues. Of course, there is! You just need to convert your video files to compatible formats using a reliable video converter software which will be discussed in the next section.
Part 3. How to Converter iPhone 7 Unsupported Videos Formats With Losslessly
We recommend using DumpMedia Video Converter as a tool for converting various multimedia files into your desired format. DumpMedia is a powerful and high-speed all-in-one audio and video converter, downloader, editor, and player. It can convert your multimedia files into many formats with minimum quality loss. Enjoy the convenience of a friendly interface equipped with a lot of features to meet all of your video needs.
Features of DumpMedia Video Converter
Enhancement of video quality. Fix dark, overexposed, and shaky videos by upscaling from SD to HD video resolution and adjusting the brightness and contrast of your videos.
Video editing. Clip, crop, rotate and add watermarks to your videos. Aside from the brightness and contrast, you can also adjust the hue, saturation, and volume of your videos. You can even combine multiple videos into one single file and preview the results in real-time.
Video and audio conversion. Convert your audio and video files to your desired high-quality formats to eliminate playback incompatibility issues.
Support for various devices. DumpMedia supports many devices such as iPod, iPad, iPhone, Samsung Galaxy, Blackberry, Nokia Lumia, Google Nexus, and others.
Supports video conversion to and from different resolutions. Convert your videos to and from SD, HD, FHD, and UHD resolutions. You can also rip your homemade DVDs to MP4.
Ultra-high video conversion speed. Convert your video files 6x faster than normal without quality loss and re-compression.
For more information about DumpMedia and its supported formats and devices, feel free to check out this page link.
Now, to convert your multimedia files to your desired formats, download the software first and follow the steps below:
Step 1: Download the DumpMedia application
Step 2: Launch the DumpMedia application
Step 3: Add your video file to the application
Step 4: Choose your desired output format and destination folder
Step 5: Start the conversion process
Below are the more detailed steps for converting your video files to your desired format using DumpMedia.
Download the DumpMedia Application
Before you can start using the application, of course you need to download the software first. The good news is, DumpMedia has a free Mac version for you to try the software first before you decide on whether it is the right tool for you or not but we assure you that you will not be disappointed with its features.
Launch the DumpMedia Application
After downloading the DumpMedia installer, launch the application by following the steps below for MacOS operating systems.
Click on the Launchpad icon in your computer's Dock. The launchpad icon is a gray circle with a darker gray rocket at the center.
Type DumpMedia on the Search bar at the topmost part
Hit the Return button on your keyboard to launch the application.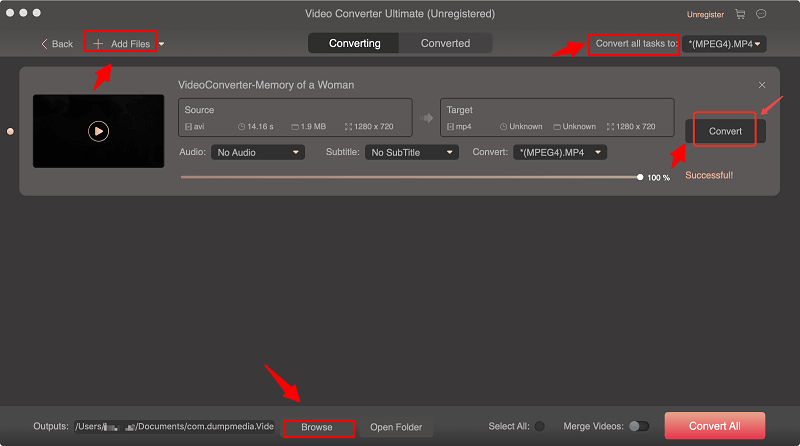 Add Your Video File to the Application
Click the Add Files button located at the top-left section of the interface to import your files or you can drag-and-drop them directly into the main interface.
Choose Your Desired Output Format and Destination Folder
Look for the Convert all tasks to text at the top right corner of the interface. Select your desired output format. At the bottom of the interface, click on the Browse button and browse your computer to the desired destination folder of the converted files.
Start the Conversion Process
Click the Convert button to start the conversion of your video file. Wait for the conversion to complete.
Part 4. Conclusion
iPhone devices have always been popular in playing movies and recording videos because of its high-resolution outputs and a big screen. It can play MPEG-4 and H.264 files plus AAC audio in MOV, M4V, and MP4 formats. In addition, it also supports M-JPEG files in AVI formats having stereo audio. Lastly, it can record HEVC and H.264 videos in the MOV format.
If you are encountering incompatibility issues regarding iPhone 7 video formats, you can use our most recommended video converter tool, DumpMedia Video Converter, to convert your videos to your desired formats. By the way, feel free to check out our other blogs for more guides on other software issues and how to solve them here. Cheers!